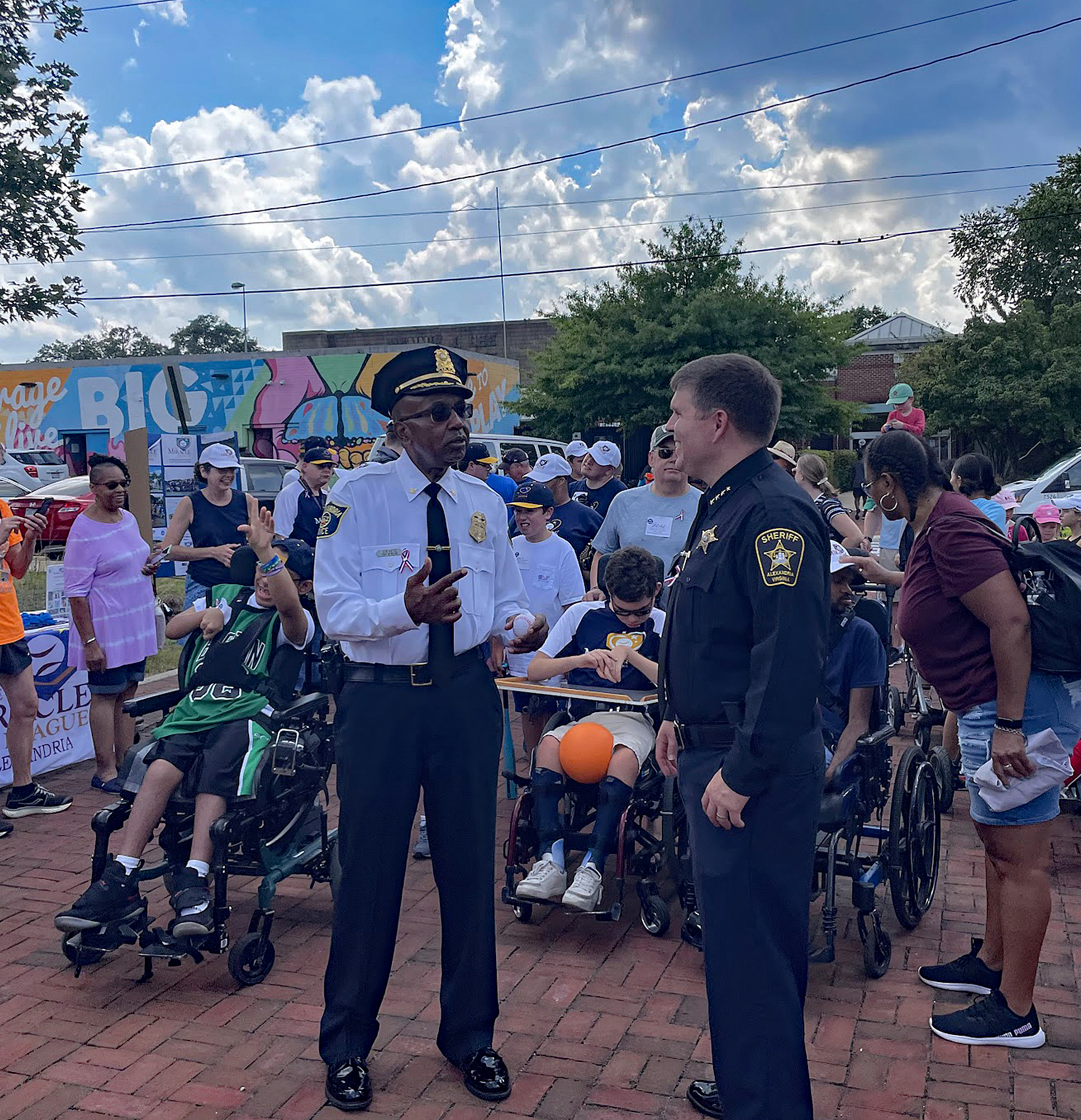 Alexandria, VA – On September 11, the Alexandria Miracle League, a baseball league dedicated to serving those with special needs, celebrated Alexandria's first responders on the 22nd anniversary of 9/11. If one scoured the entire country, they would struggle to find a scene more representative of what those first responders rushed to protect on that fateful day.
People of all different backgrounds, ethnicities, and abilities came together, despite the heat and the rain, to play a regular good old baseball game. The cherry on top was the endless free hotdogs served by the Omega Psi Phi fraternity, which has volunteered with the Miracle League for ten years. If this is not emblematic of the American spirit, what is?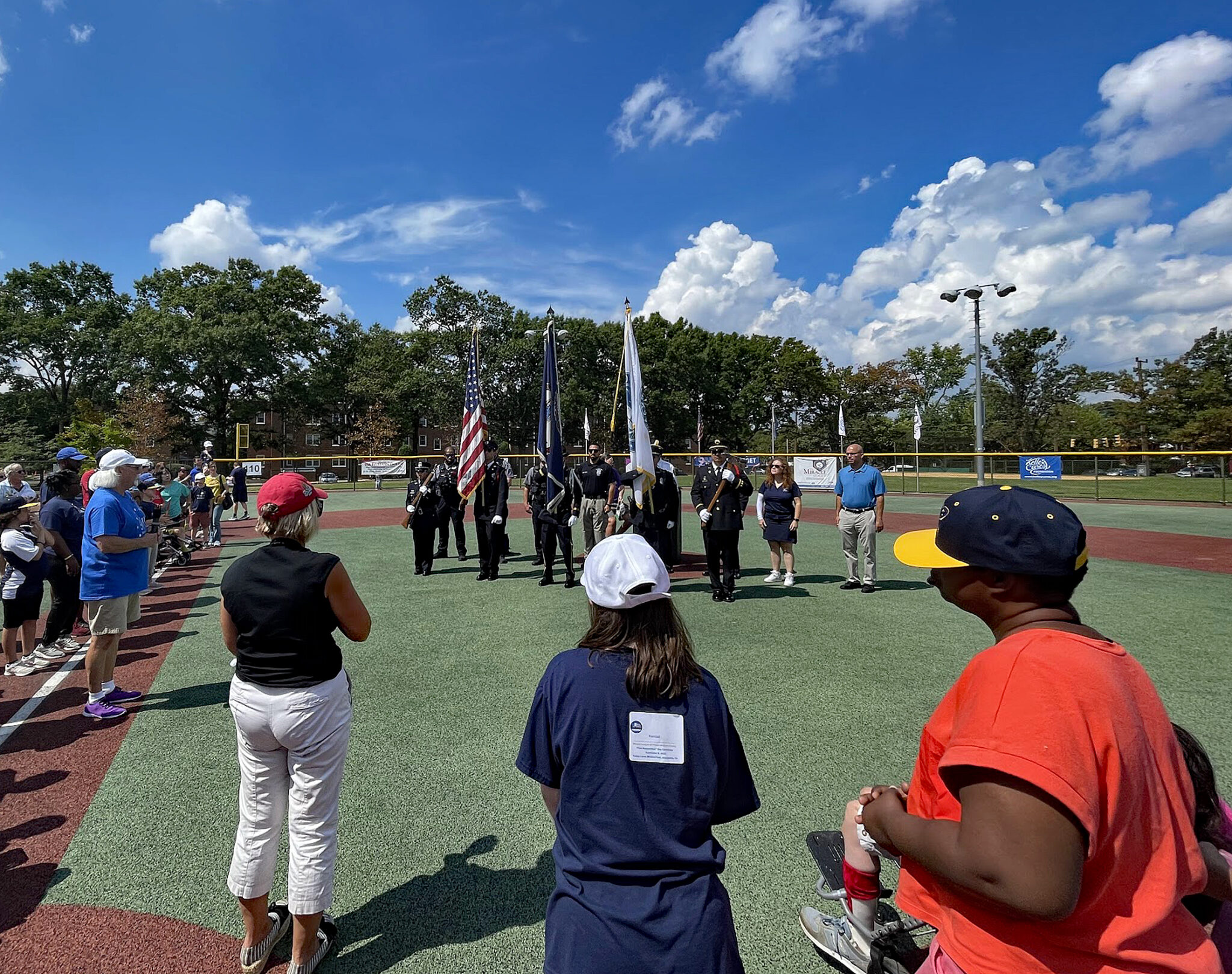 First responders, including police, sheriffs, fire, and EMS from Alexandria and Prince William County (whose citizens participate regularly in the league), attended the 9/11 Remembrance ceremony. The Alexandria honor guard presented the flag; Mayor Justin Wilson and several city officials spoke. After the opening ceremonies, they joined together to be the "Angels in the Outfield," buddies to the players who needed assistance.
Master Police Officer Trujillo from Prince William County thanked the volunteers and said that this is what community is all about, "being brothers and sisters to each other." Alexandria Chief of Police Don Hayes reminded the crowd how important it is to empower your neighbors, noting that the achievement of the volunteers and the players proves "you can do a lot of things with the proper support."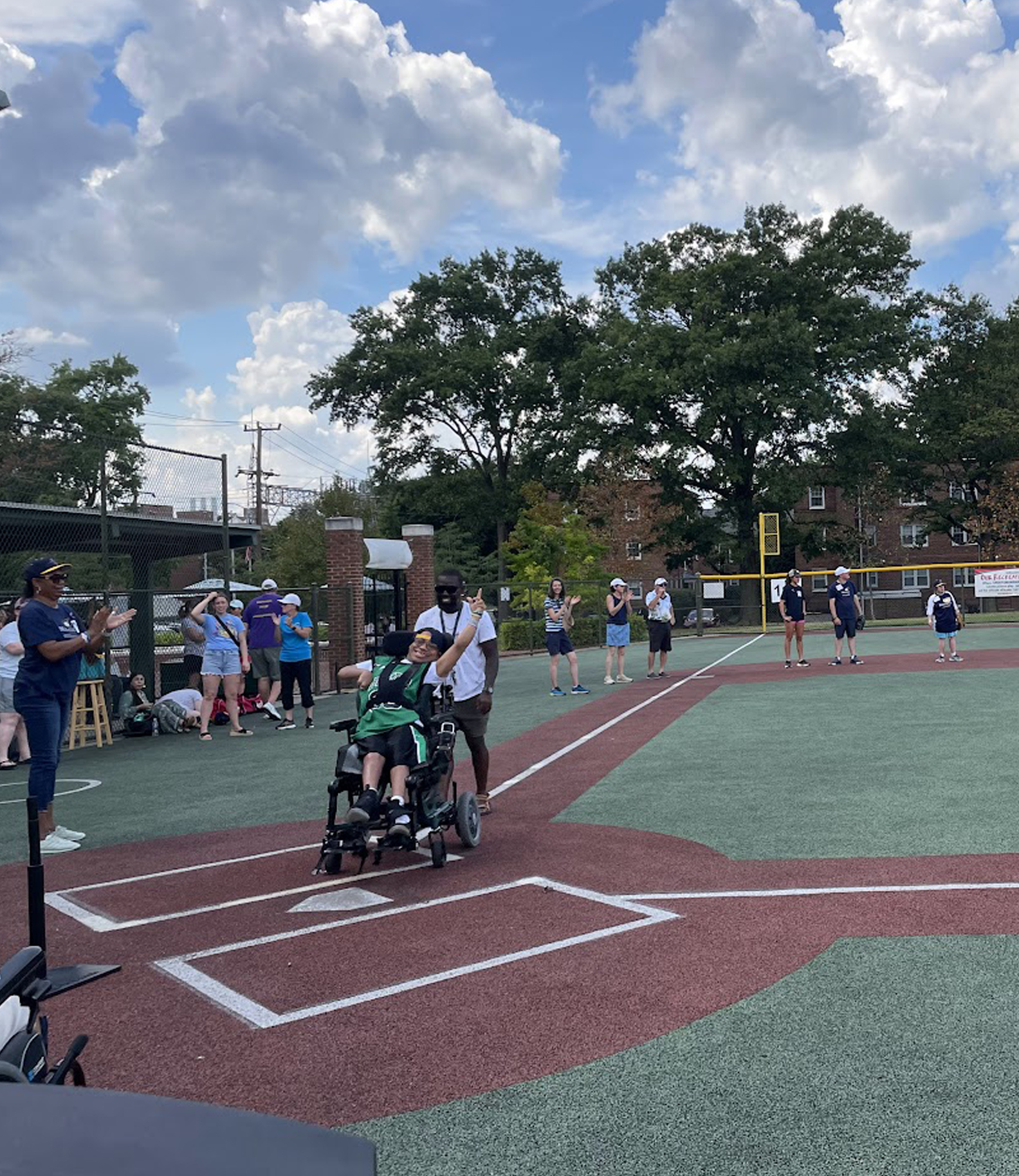 That message was proved at home plate. Even as darker and darker clouds rolled in and the first raindrops dripped onto the field, Mac Slover, a key founder of the MLA, made sure that everyone had their turn at bat and got to round the bases.
Bill Rivers, Mac's "co-captain" of the league, welcomed everyone home with big smiles and pats on the back. The audience cheered each player by name with unique chants and shouts. There are no golf claps at MLA, only joy.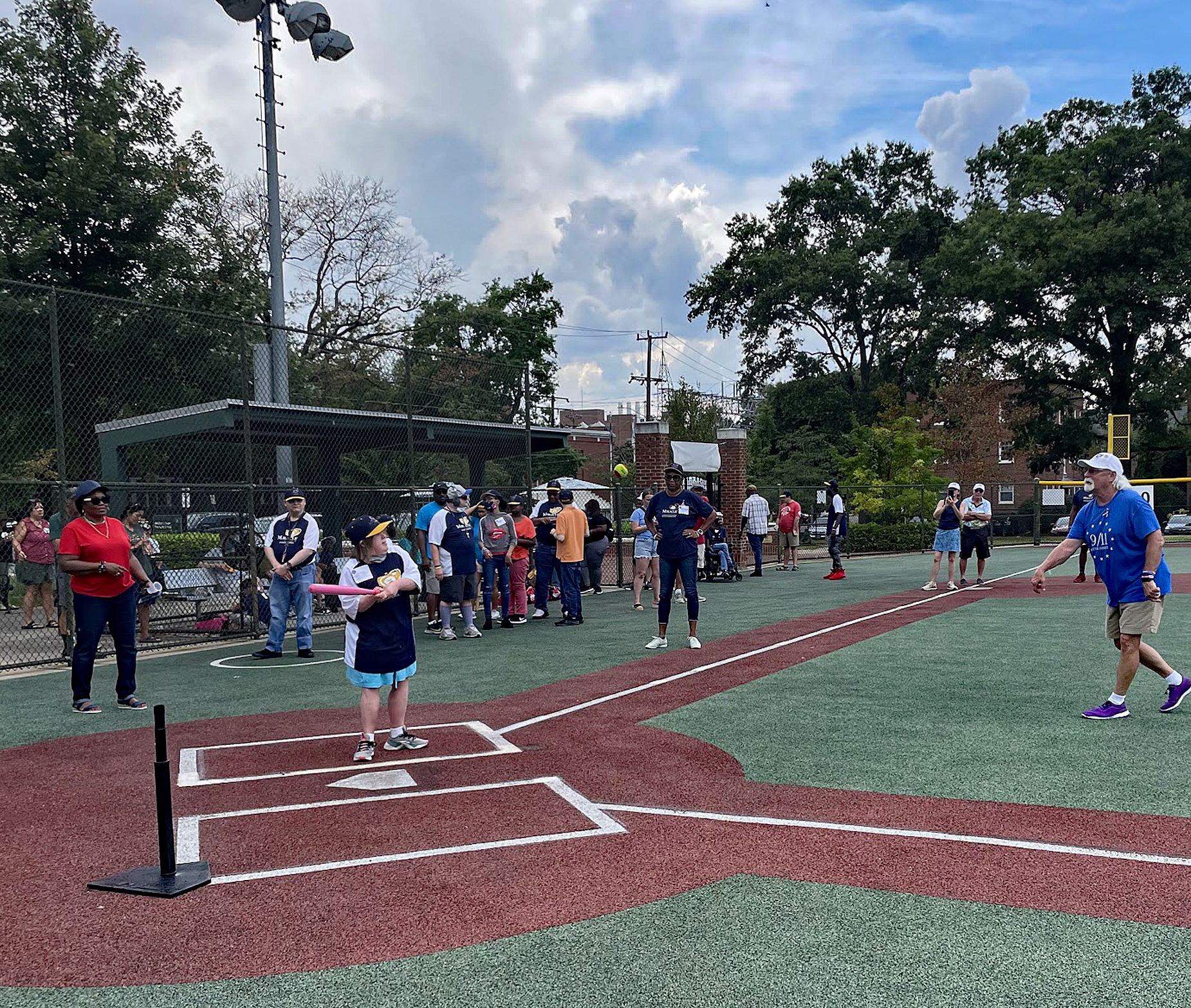 Councilmember Sarah Bagley attended the game for the first time. A softball player herself, she said, "Sport is such a great way to build communities and build friendships." Bagley said Mac Slover did a great job elevating this 9/11 to be extra special for both the players and the first responders.
A flag created to commemorate all those lost in the attacks hung over home plate and billowed as the wind picked up. When the rain arrived in full force, everyone crammed into the recreation center to continue eating, talking, and laughing. Family, food, friends, baseball. Dark days can't stop neighbors from gathering. They only bring them closer together.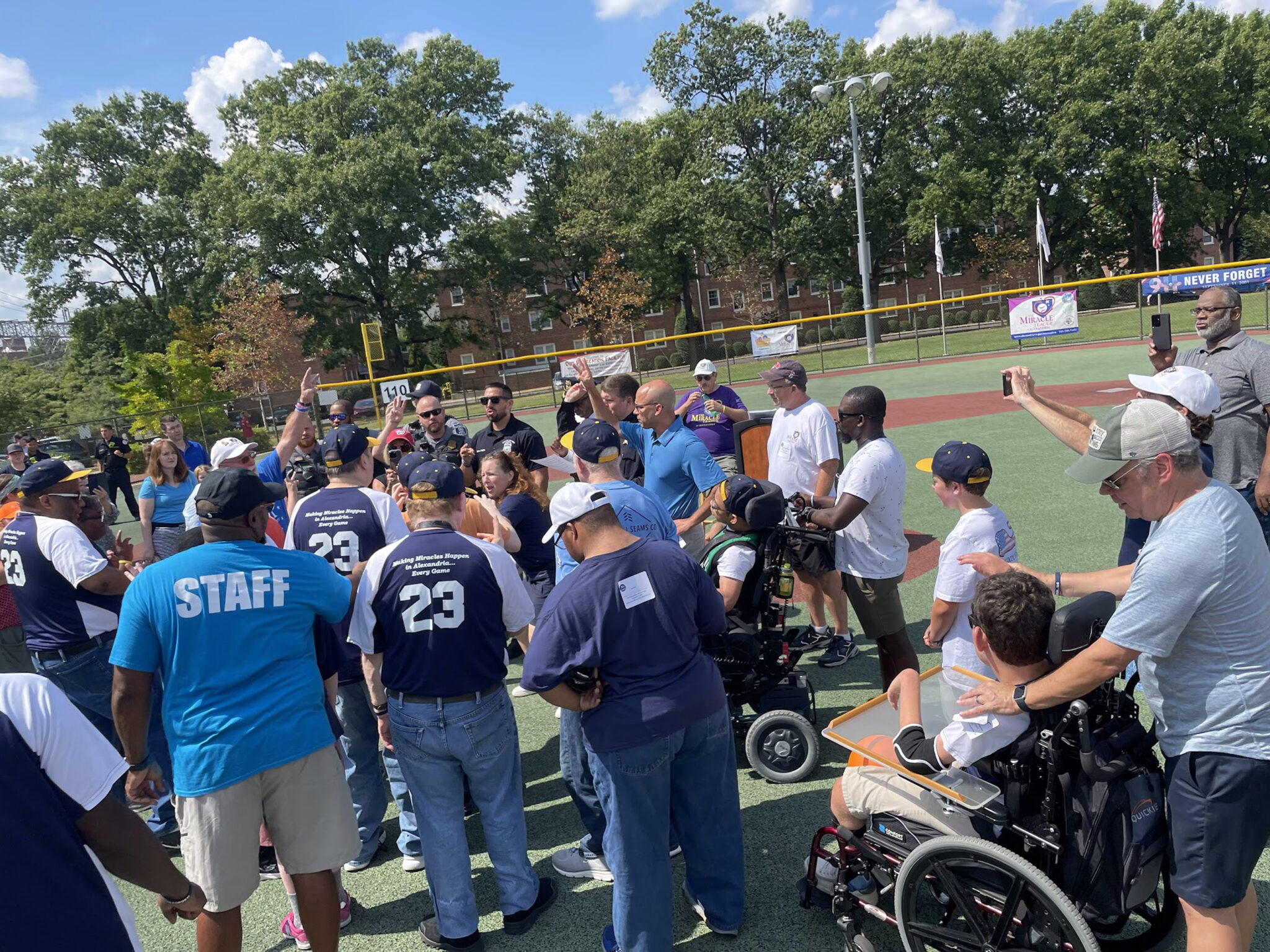 Everyone is welcome to join the Miracle League of Alexandria as a player or a volunteer. Find more information at miracleleagueofalexandria.com/.
ICYMI: Alexandria's New Douglas MacArthur Elementary School Has Opened At Last!