Cover Story
It's Time for Del Ray's Art on the Avenue!
For 28 years, the finest art extravaganza in the Mid-Atlantic!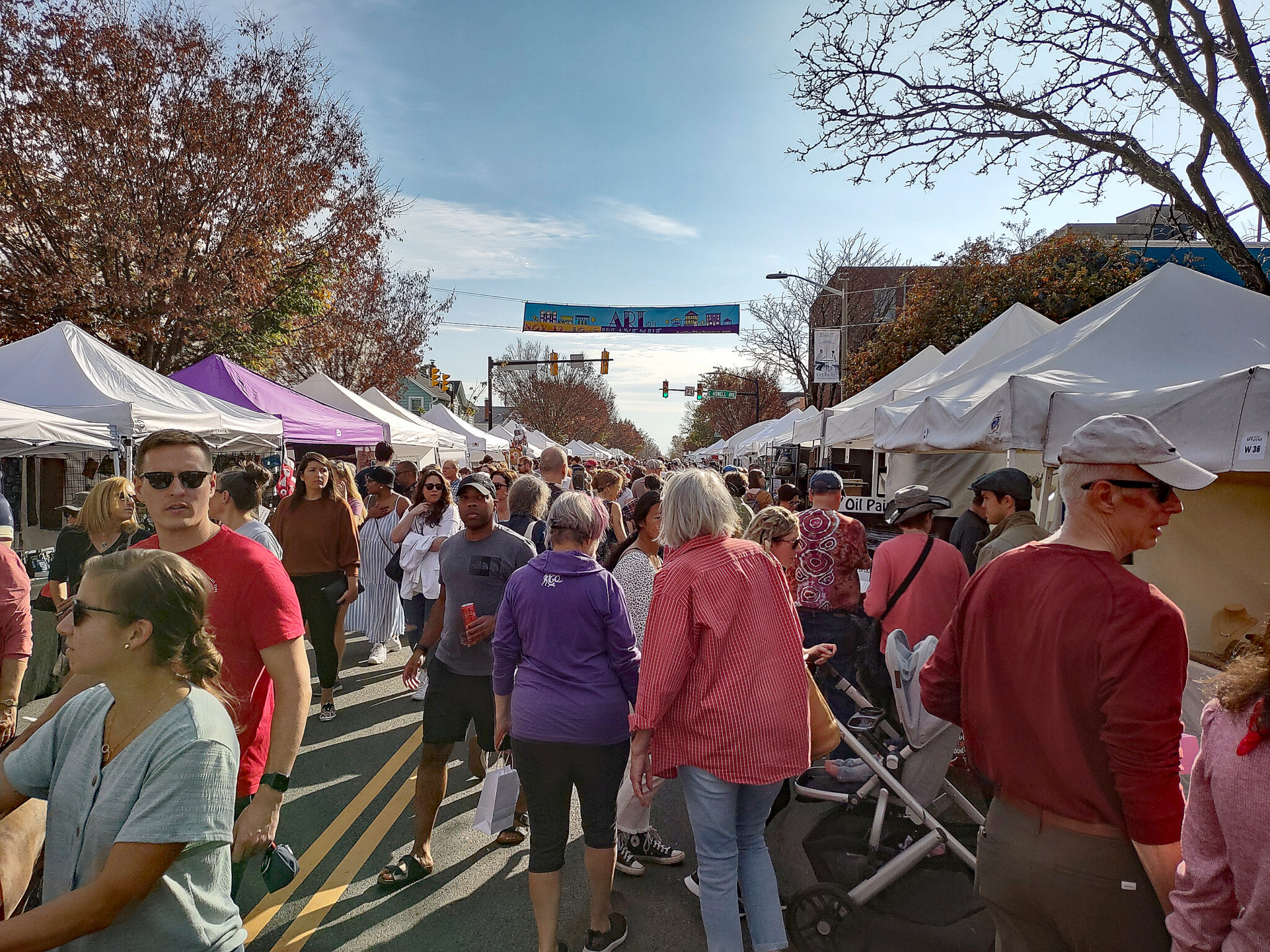 Alexandria, VA – Art on the Avenue, Del Ray's signature arts festival, returns to Mount Vernon Avenue on Sat., October 7, from 10 am to 6 pm. The volunteer-run event is one of the top art events in the region, featuring over 350 artists, four stages of live entertainment, international food, a pie-baking contest, free children's craft activities, and more.
Art on the Avenue regularly draws some 50,000 art enthusiasts to Alexandria for the art, the fun, and our beautiful city.
"I have participated in Art on the Avenue continuously for more than 20 years," said artist Donna Silvestri of on u jewelry. "It is absolutely our favorite show because Del Ray offers such a dynamic and vibrant community."
With over 350 artists, artisans, and craftspeople participating, the multicultural arts festival has something for everyone, every gift occasion, and every budget. Here are Zebra's picks for can't-miss artists:
Noura Barka, GN Art
One of Art on the Avenue's youngest artists, Noura Barka loves theater, dancing, singing Taylor Swift, and bonding with her mother over pottery and other arts and crafts. "I started doing art because it was a way that my mom and I connected when I was younger," said Barka. "I see inspiration from a lot of my work in nature. A lot of my things are based on ladybugs or flowers." For this year's Art on the Avenue, Barka will focus on pottery; she'll also have good luck charms and painted rocks.
Ty Brickhouse, Ty Brickhouse Designs, tybrickhouse.com
A triple threat, Ty Brickhouse is a technical writer for an engineering company and a yoga instructor while still maintaining a studio practice in ceramics and jewelry. "I love experimenting with new mediums," said Brickhouse. "I've informally studied metalsmithing and tambour beading, which are completely opposite on the jewelry-making spectrum. I'm curious at my core about how things are made, and I am in a constant discovery mode." Brickhouse's Art on the Avenue debut will include a wide range of vintage material incorporated into hand bead-embroidered earrings, chunky strung necklaces, and mixed media pieces.
Joe Crandell, Joe Crandell's Horseshoe Art
A retired Marine construction worker and part owner of Crandell's Horse Works, Joe Crandall upcycles horseshoes into incredible creations, from holiday decorations to outdoor drink holders and even table bases. "I find inspiration all over – I see something similar and try to change it to fit my liking. My Santa's sleigh is one of my original designs." (Pro tip: his horseshoe pumpkins are a fall favorite and often sell out early.)
Lena & Marin Doerrer, Sisters Of A Saint, sistersofasaint.etsy.com
This team of teenage sisters born and raised in Del Ray has the perfect gift for the book lover on your list: candles, tea, and other accessories inspired by famous authors and Catholic saints. Their cozy blends channel Jane Austen's famous quote: "There is nothing like staying at home for real comfort."
Holly Hagen, Creative Capes, creativecapes.com
A longtime Art on the Avenue favorite, Creative Capes features handmade satin capes and accessories personalized with children's first initials. "Watching children burst with pride, self-esteem, and happiness when they slipped on their custom cape and accessories made me realize how impactful a cape could be," said artist Holly Hagen. "It brings me great joy to help kids realize their inner strengths, encourage active play, good citizenship, and stimulate their imaginations."
Kara Macek, Kara Macek Watercolors, karamacekwatercolors.com
Kara Macek is making her Art on the Avenue debut with paintings focused on the natural world, ranging from floral close-ups to more traditional landscapes. "I find inspiration in nature, particularly in the natural landscapes and scenery around the Chesapeake Bay in Calvert County, Maryland, where my family has a cabin, and Northern Michigan, where we spend time in the summer," said Macek. "I love dramatic shadows and am constantly noticing light and dark shapes whenever I am outside."
Phallon Perry, phallonperry.com
A Baltimore native, Phallon Perry is passionate about telling stories of children who are often underrepresented or misrepresented in literature; she said her books aim to "help children reach greater heights and to understand the beauty that surrounds them." Like a Butterfly, her third children's book, was written in collaboration with her then 5-year-old daughter, Autumn.
Donna Silvestri, on u jewelry, onujewelry.com
A longtime Art on the Avenue favorite, Donna Silvestri founded on u jewelry in 1989 as a sideline to her fashion-stylist career in New York's Fashion District. "I love taking a little bit of something and creating a 'look' from it. It's totally rewarding," said Silvestri. "But in all honesty, I find inspiration by looking at people and what they wear. By visiting foreign lands and visiting the off-the-main-path markets and shops." Silvestri will have her full line of eco-chic handcrafted jewelry at this year's festival, including her newest design — Fairy Tale necklaces and bracelets.
Meg Talley, Meg by Hand, megbyhand.com
Meg Talley studied metalsmithing, jewelry, and industrial design at the University of the Arts in Philadelphia and has been making jewelry – what she calls "little tokens that collect our stories" – for about a decade. "I crave the handwork that making jewelry requires: drawing, sculpting, forging, filing, polishing," said Talley. "Manipulating raw materials into small treasures is immensely gratifying and an exciting challenge." This year, Talley is introducing cherry blossom pieces and sculptural pendants. "I love how a piece of jewelry collects memories as it is worn. I make each piece carefully and consider every detail," said Talley.
Abby Zadareky, Abby Rose Creative Art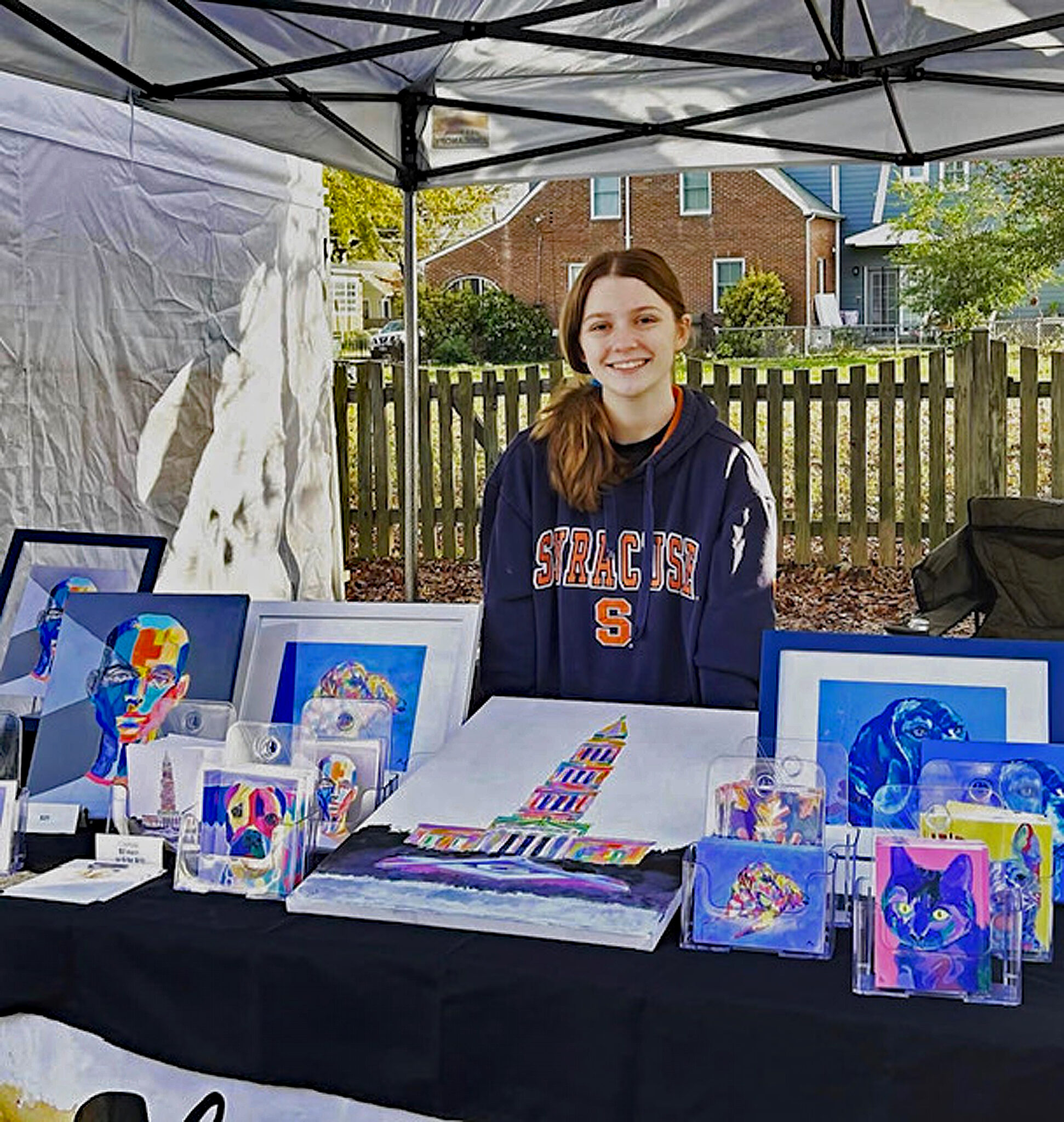 Even though she's just a junior in high school, this will be Abby Zadareky's fifth year bringing her bold animal paintings to Art on the Avenue. "I really like the Fauvist style of painting, which uses brilliant paint colors," said Zadareky. Do good while supporting a young Alexandria artist—a portion of all sales will be donated to the Animal Welfare League of Alexandria.
There's something for the whole family
While art is the star of the fall festival, several community traditions have emerged from the fall event, including the annual pie baking contest held in memory of longtime Art on the Avenue volunteer Pam Fitzgerald.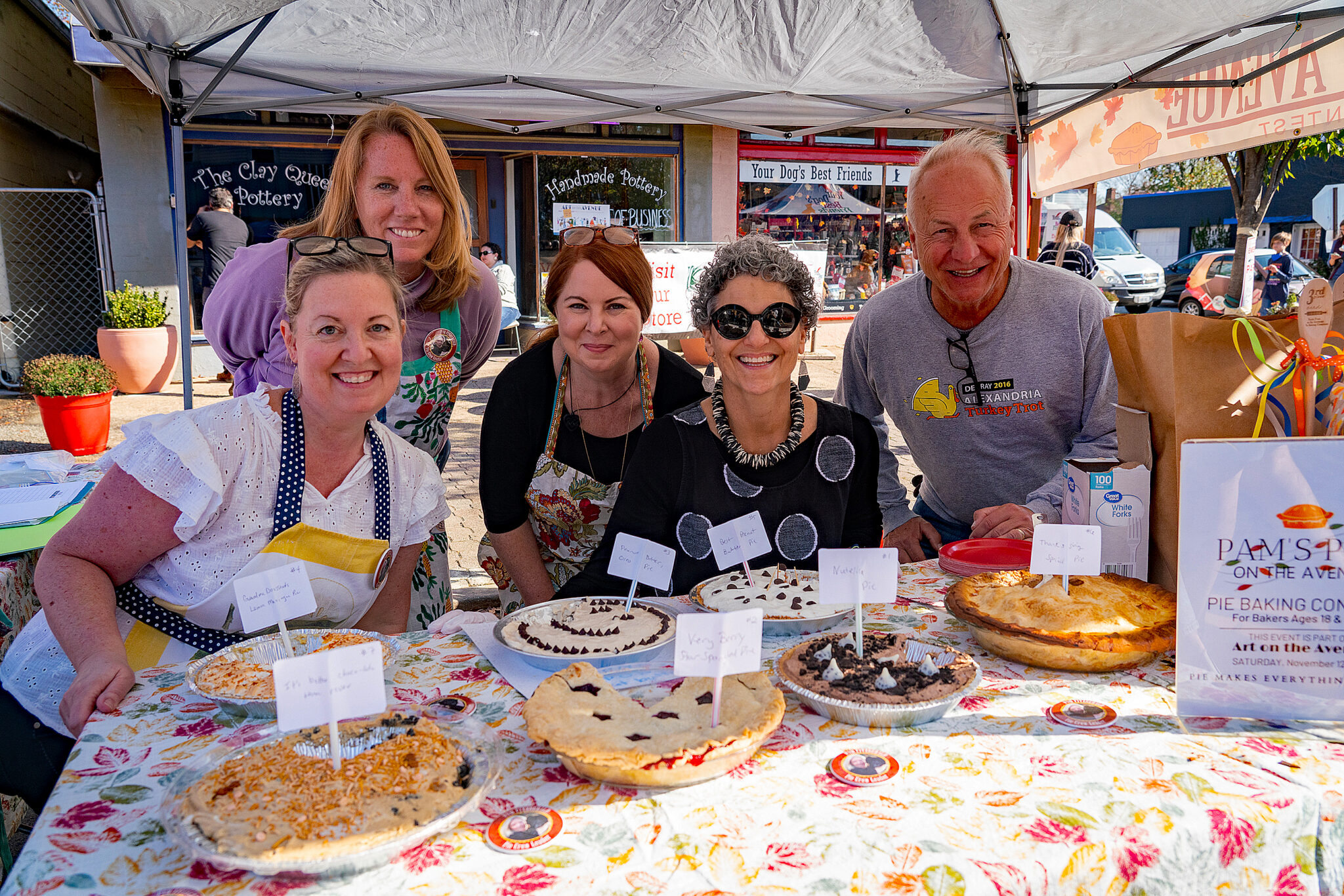 Contest chair Randee Hilton says, "Traditions matter, and pie makes everything better!" Hilton won the annual contest so many times that she was named a judge to give neighbors a chance to win, then took on the coordinator role. All are welcome to enter the contest; submissions must be dropped off at the Pie Booth during the festival between 10:15 am and 11:45 am. After judging, slices will be available for sale to benefit the Alexandria Domestic Violence Safehouse.
Rounding out the day's activities are four stages of live music; food offerings from local restaurants and food trucks, plus healthy options from top Del Ray Farmers' Market vendors; and free children's activities led by local nonprofits, including scarecrow building and pumpkin painting.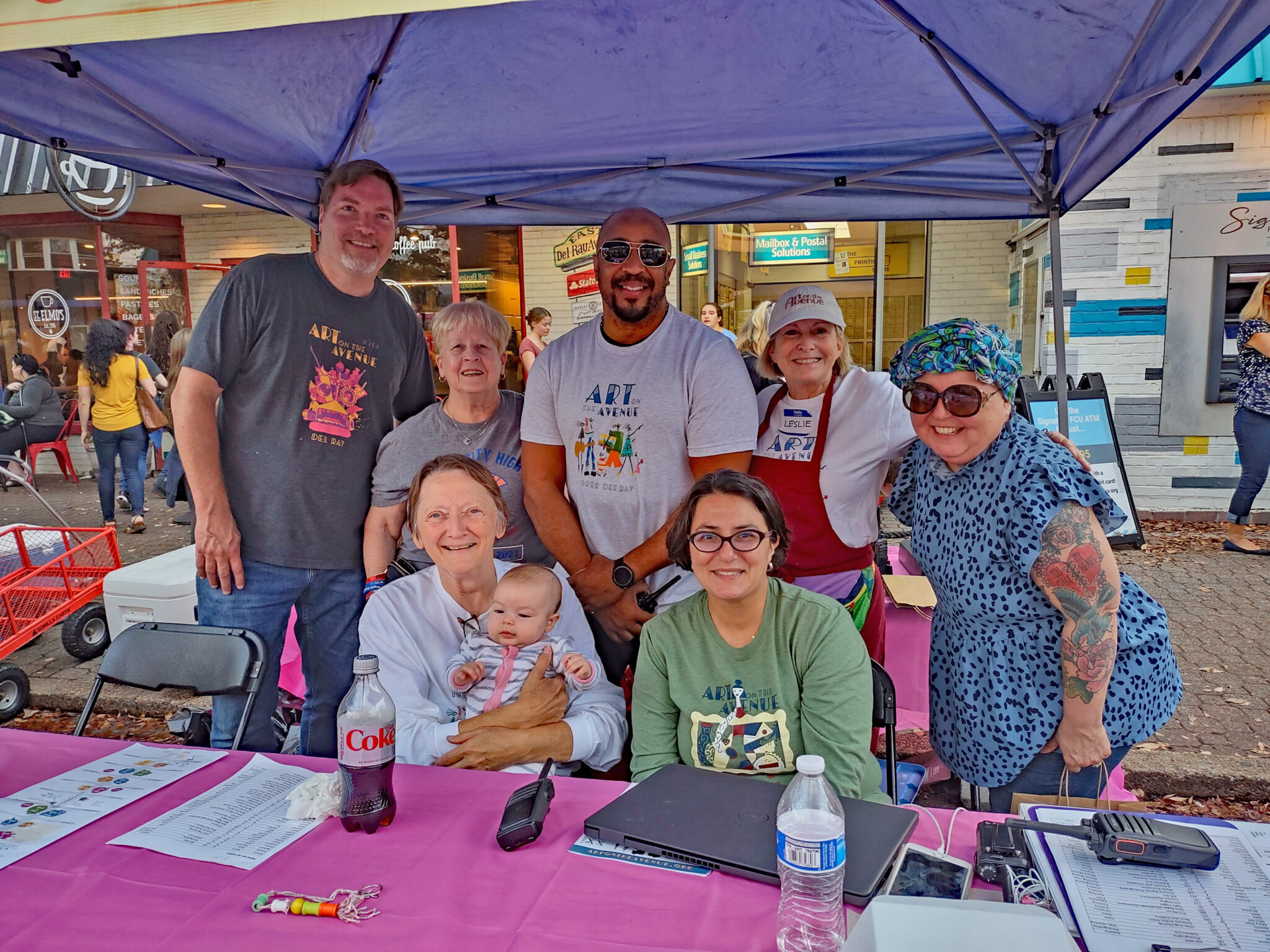 Art on the Avenue takes place on Saturday, October 7, from 10 am to 6 pm on Mount Vernon Avenue between Hume and Bellefonte Avenues in the Del Ray neighborhood of Alexandria, with free trolley transportation available from both the Potomac Yard and Braddock Road Metro stations. The event, voted by Virginia Living readers as one of the top arts events in Northern Virginia, is volunteer-run, with support from the local business community. Learn more and find the complete listing of artists and the entertainment schedule at artontheavenue.org.
ICYMI: Music Festival in Alexandria Sept. 23 Benefits Nonprofit That Develops Kids' Love of Nature