Community News
Music
EXCLUSIVE: Crab Shack Live's Fall Backyard Concert in Del Ray Featuring Isaac "Deacon Izzy" Bell and 10-Piece Band, Saturday, October 21
Performances Celebrate the Music of Late Songwriter Mac Miller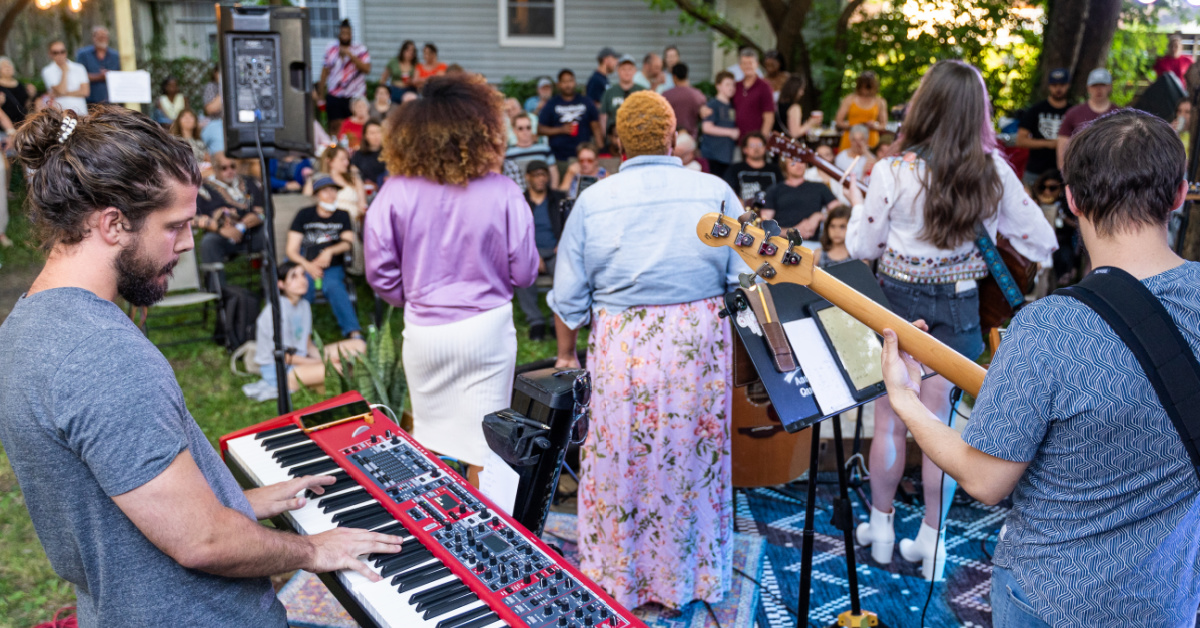 ALEXANDRIA, VA – Looking for your last taste of outdoor live music before winter? Look no further than Jack Kilby's back yard in Del Ray, where the music maestro will host Crab Shack Music's fall edition of their Crab Shack Live series celebrating the music of late songwriter Mac Miller.
In 2017, Kilby began recording local artists at his home studio in Del Ray, Alexandria, and giving concerts in the backyard of his home lovingly known as "the Crab Shack." What began with a laptop and two-input recording interface evolved into Crab Shack Music LLC, one of the most popular recording spots for the DMV area's brightest young artists in genres from country to hip hop, jazz, and experimental fusion.
"The best part about doing it in my yard is being able to put on the show I want- the music, the musicians I want, with the gear and other infrastructure so readily available," he says.
The show will feature an opening DJ set by the multi-talented Isaac "Deacon Izzy" Bell and will follow up with a 10 piece band (under the musical direction of bassist Eliot Seppa) performing a set of Mac Miller's songs from his discography.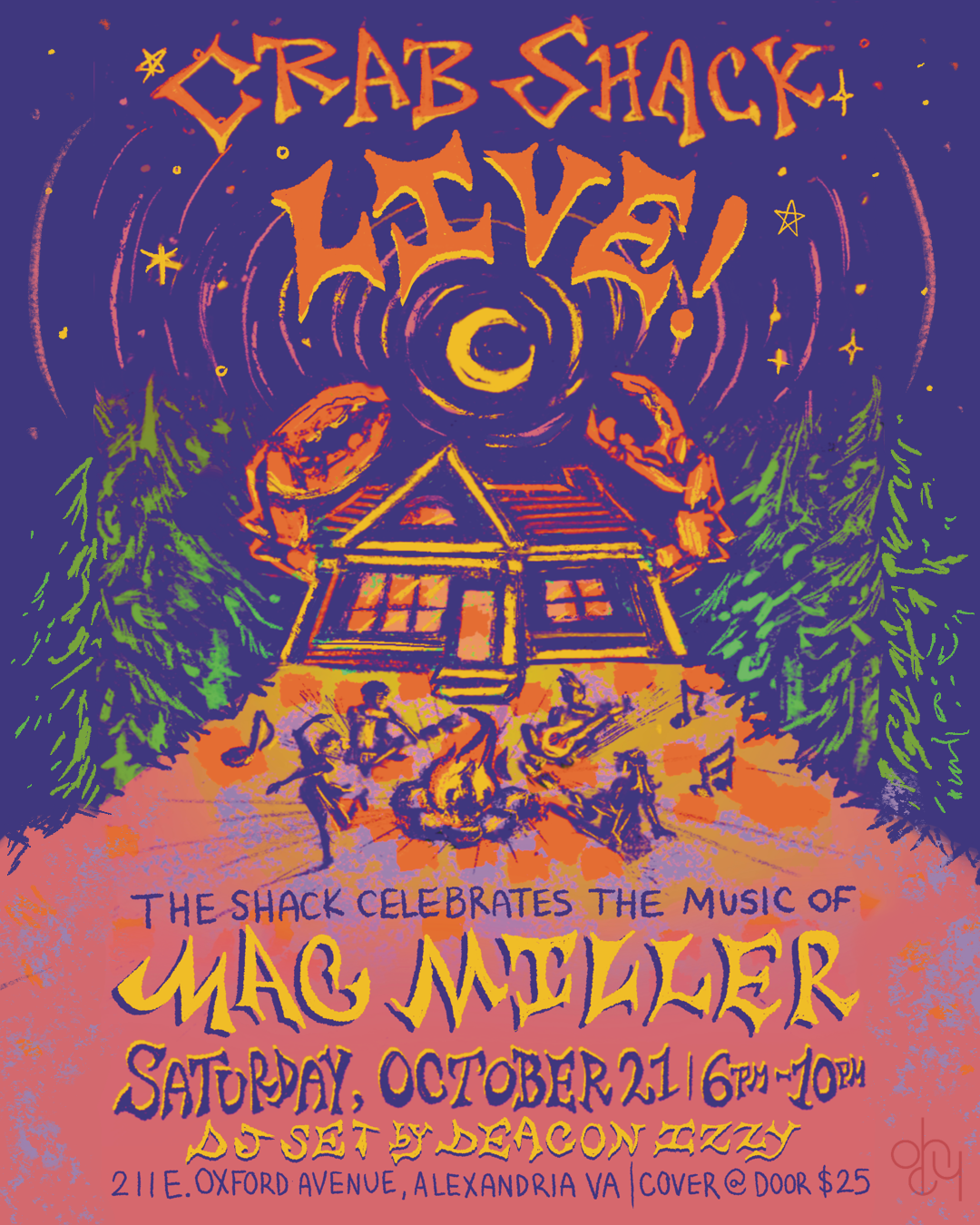 Food and drinks will be available, and Crab Shack owner Jack Kilby hopes the weather on October 21 will be "cold enough for a campfire and s'mores, but not so cold the musicians fingers can't function!" The Shack's spring performance of Billie Eilish's music attracted175 people and Jack is looking forward to building on the successes and lessons from each show.
The fall concert will celebrate the music of Mac Miller, born Malcolm McCormick. "One of my best friends and drum students introduced me to Mac when his 2018 album 'Swimming' came out. He ended up passing about a month later. I was really drawn to his honesty and the way he could so simply articulate complicated emotions. As I went back into his discography, I became even more of a fan, while also being sad I never got to see him live or appreciate him while he was here."
Kilby says Miller showed a knack for poetry and writing at a young age and was encouraged by his teachers to pursue those talents. At 19, his debut album 'Blue Slide Park' became the first independent album to reach #1 on the Billboard charts in 16 years.*
He added another eight recorded albums in his brief career, including 'Swimming' which was Grammy-nominated in 2018, and 'Circles,' released posthumously in 2020. Mac unfortunately joined the brilliant but complicated artists like Amy Winehouse, Jimi Hendrix, and Jim Morrison in what Miller himself foretold as "the 27 Club" – musicians gone too soon as a result of drug addiction and/or overdose. Miller passed as a result of fentanyl-laced cocaine on September 7, 2018. His music acknowledged the complexity and hard truths of the human experience and his charming, "innate likeability"* contributed to his popularity in his brief but bright career.
Kilby fits 200 people comfortably in his backyard-turned-private-concert-venue, and only sells tickets at the door. "I want to piggy-back off of the success of this spring's show and this gives me another opportunity to showcase the amazing musicians I get to work with and bring to Del Ray. "This promises to be the best one yet!" Kilby pledges."
The Crab Shack is at 211 E. Oxford Street, and tickets are $25.00 at the door.
*Akelson, Michael. Mac Miller Was a Person Worth Knowing, Even to Those Who Never Met Him, Medium.com, 8 Sept. 2018, mike-akelson.medium.com/mac-miller-was-a-person-worth-knowing-even-to-those-who-never-met-him-c33d79491aa#:~:text=Armed%20with%20an%20innate%20likability,simplistic%2C%20party%2Dcentric%20music.
IN OTHER NEWS: Alexandria Lawyer Helps Free Death Row Inmate