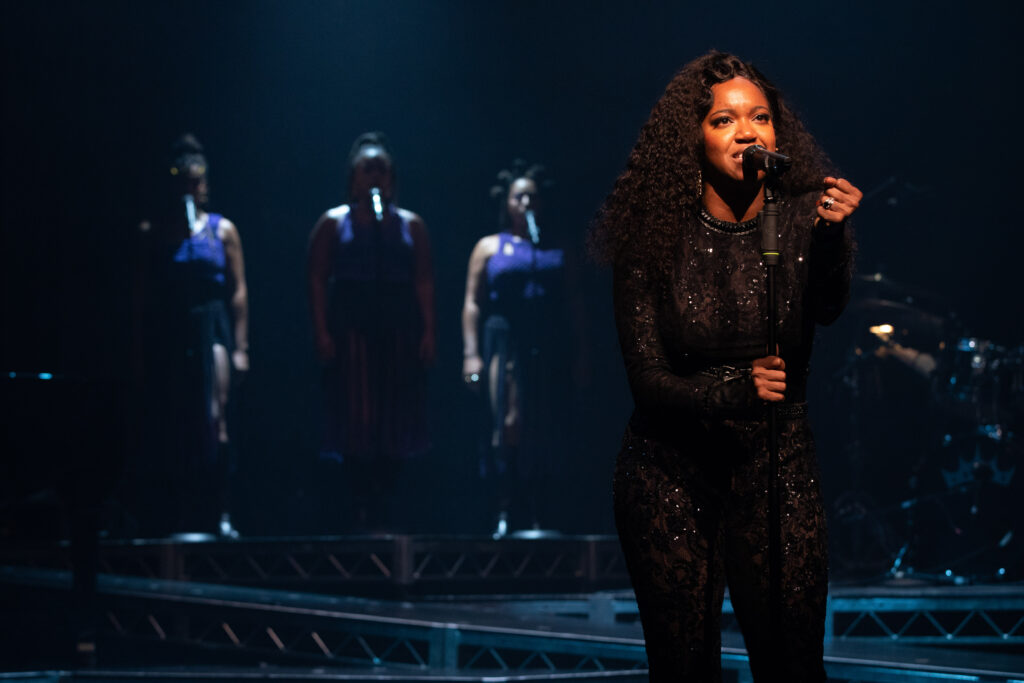 ALEXANDRIA, VA – On a stage built with zigzag catwalks, three black-robed Witches appear. With smoke wafting from the bowls they carry, they crisscross the metal runways, incanting the familiar "Double, double, toil and trouble" when there emerges a statuesque goddess in a skintight, black-sequined jumpsuit. Long, dark, wavy hair crowns her magnificence as she fiercely calls out, "What's the story?" "Black, brown, femme," reply the Witches, urging her to seize power.
Creator and lead Whitney White inhabits the role of Lady Macbeth, except in White's version of the play, the Lady calls the shots. With the witches as her collaborators in a soulful sisterhood, this sultry mama is all about female empowerment – flipping the script by taking Macbeth's role and wholly owning it. Backed by an onstage band of keyboard, drums, electric guitar, electric bass + additional electronika, our Lady Macbeth can sing.
And how! Rocking a three-and-a-half octave range, White wows the audience through 13 musical numbers incorporating Gospel, Hip-Hop, and Soul.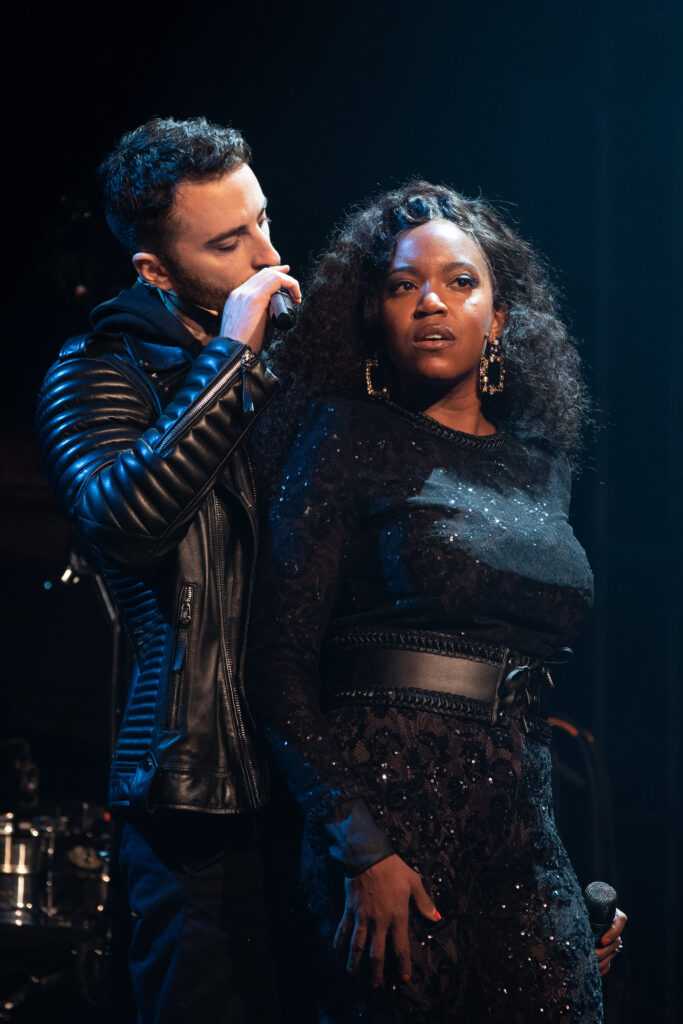 This seductive, sultry Lady Macbeth is as eager to find love as she is to have control and she lets us know it in the number, "Knowledge is Power." She wants it all. And why not? When Macbeth strolls onstage, tatted and chest-bared, slickly virile and playing a full-size accordion, she lets us know she's found her man with the song, "Hallelujah."
White occasionally backs herself up on piano and, in her softest and highest vocal range, which could captivate and tame a charging lion, this Lady convinces us she is going to get what she wants, whatever it takes.
The dialogue alternates between street slang and familiar Shakespearean lines. Referring to King Duncan, she and the Witches rap to Macbeth, "You better kill that motha." With the notable Shakespeare line, "Screw your courage to the sticking place and we'll not fail," she promises him that together they will take the throne.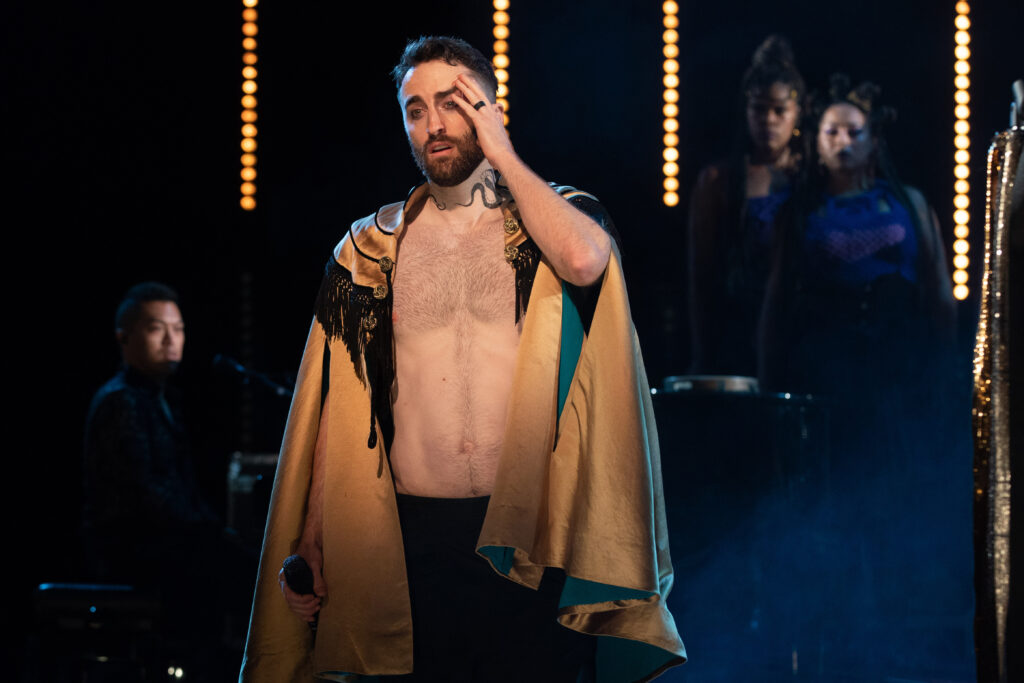 When he refuses to commit the murder, she calls him a coward. Here the theme of female empowerment also includes the wife committing the murder to get Macbeth crowned and crowning herself in return—quite the power play for this Lady.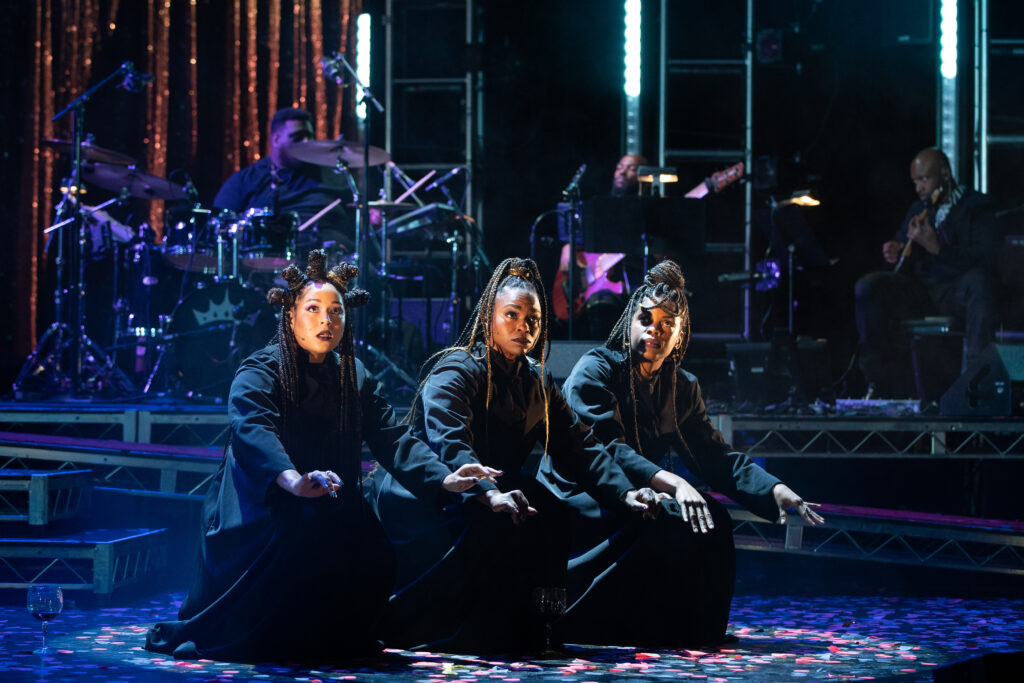 The production features 13 musical numbers and plays out in rock concert form. Most impressive is the cleverness of the script, the humor, the superb vocal chops of the entire cast, and their crafty performances. Highly original, White's fresh twist on Lady Macbeth gives us pause to ponder all Shakespeare's writings. What if a woman were in charge?
Highly recommended. Fierce and fabulous!
Starring Whitney White, with Charlie Thurston as Macbeth and First Witch, Stacey Sargeant; Second Witch, Ximone Rose; Third Witch, Chelsea Lee Williams.
Directed by Tyler Dobrowsky & Taibi Magar in association with Philadelphia Theatre Company & Brooklyn Academy of Music. With Choreography by Raja Feather Kelly; Orchestrations by Steven Cuevas and Whitney White; Scenic Design by Daniel Soule; Costume Design by Qween Jean; Lighting Design by Jeanette Oi-Suk Yew; Sound Design by Nick Kourtides; Wig, Hair & Makeup Design by Rachel Padula-Shufelt.
Through October 29. Shakespeare Theatre Company in the Klein Theatre located at 450 7th Street, NW, Washington, DC 20004. For tickets and information, visit www.ShakespeareTheatre.org or call the box office at 202 547-1122.