Backyard History
Julien Pierre Icher, Advisor to French President, Speaks at Alexandria's Lyceum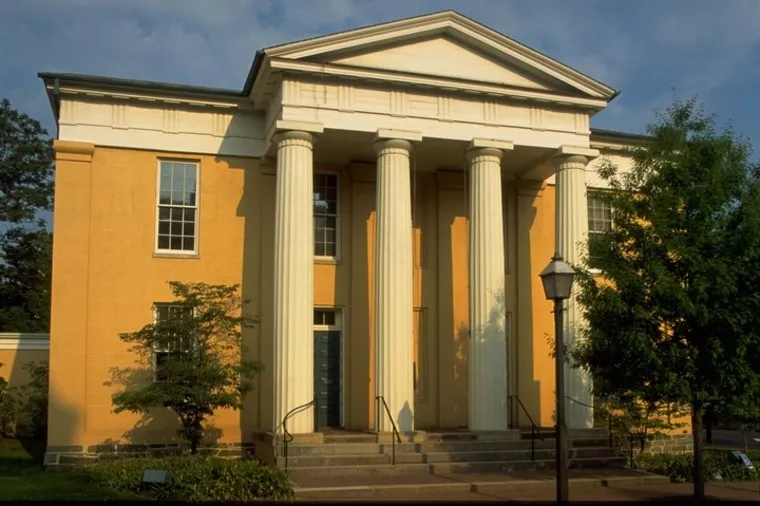 ALEXANDRIA, VA-The Lyceum's lecture hall was packed Oct. 17 for a special visitor from France, who spoke about his country's greatest-ever visitor to America, and Alexandria.
Julien Pierre Icher, an advisor to French President Emmanuel Macron on U.S. history, gave a slide presentation on the remarkable 1824-25 'reunion tour' of the Marquis de la Fayette of the young United States, a half century after his generalship in the American Revolution.
Sponsored by the Alexander Association as part of its ongoing lecture series, Icher explained his website, which illustrates the 6,000-mile journey the aged military hero took through the then-24 states of the Union, an odyssey that included stops in Old Town, then part of Washington, D.C. (The Lafayette Trail, Inc.)
During the epic trip, Lafayette – accompanied by his son, George Washington Lafayette – wept at the Mt. Vernon grave of George Washington, was hailed in every state from Maine to Louisiana, and spoke at the opening of the Bunker Hill battlefield park outside Boston.
Icher, an energetic, 30-year-old French historian and author, spoke in fluent English while focusing his slides on places Lafayette came to know in Alexandria. These included Clagett's Tavern, as Gadsby's Tavern was then known. The Marquis stayed at the extant mansion on 301 S. St. Asaph St., a home associated with town luminaries such as the Washingtons, the Smoots, and the Fairfaxes. On October 16, 1824, the "Hero of Two Worlds" addressed a throng of well-wishers from the steps of the Benjamin Dulany house at 601 Duke St. Two thousand citizens, including a teenaged military cadet named Robert E. Lee, turned out for a grand procession honoring the visitor with cannonades and Washington's campaign tent from the War of Independence.
n April 18, 1781, during the American Revolution, the then-23-year French major general had crossed the Potomac into Alexandria en route to the war's climactic victory at Yorktown, Virginia. There, he and 24-year-old Colonel Alexander Hamilton led daring nighttime attacks to capture vital British bastions. (Yes, the two colleagues were only 23 and 24, respectively.)
Icher also underscored the Marquis's lifelong support for abolition, and how he helped bridge the young nation's divisions of the time. He further told how Virginians Thomas Jefferson, James Madison, and James Monroe worked successfully over many years to free Lafayette from a heavy load of personal debt.
Icher concluded his speech with a 12-minute video that recalled the two visits of "The Nation's Guest" to the U.S. Military Academy at West Point.
A number of events are expected to commemorate next year's bicentennial of Lafayette's memorable 1824 visit to Old Town. [SEE ALSO: Nonprofit Receives $48,000 Check from RUN! GEEK! RUN!]