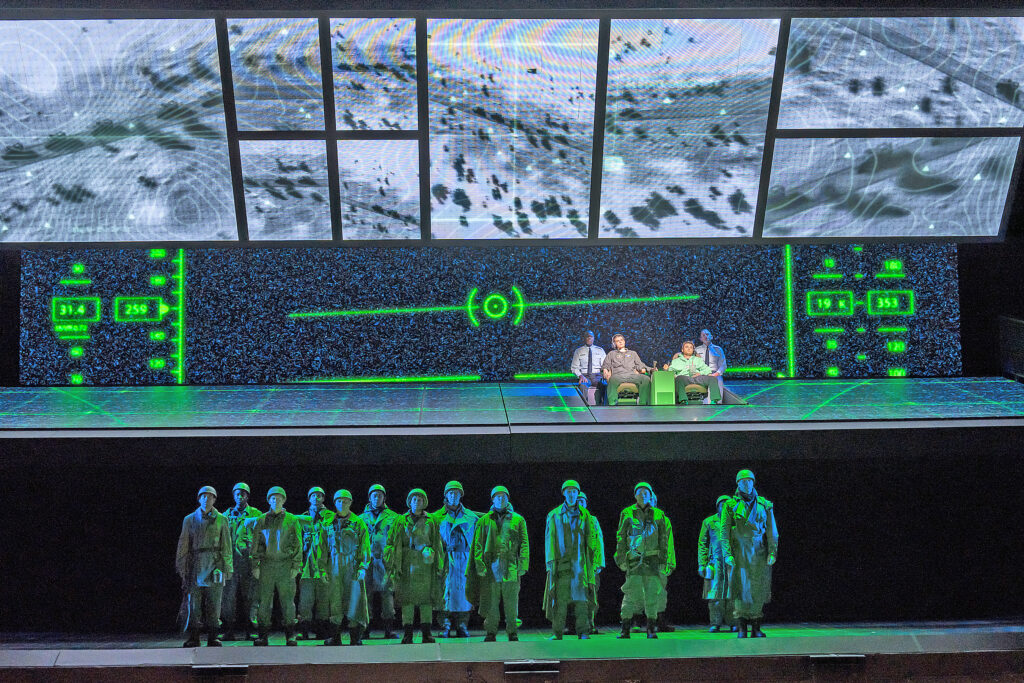 When a young, female top gun returns to the Air Force after raising a child on her husband's Wyoming ranch, she finds the war game has changed dramatically since her eight years of flying F-16s. Grounded soon finds Major Jess sitting indoors in an ersatz cockpit making life-and-death decisions with a joystick.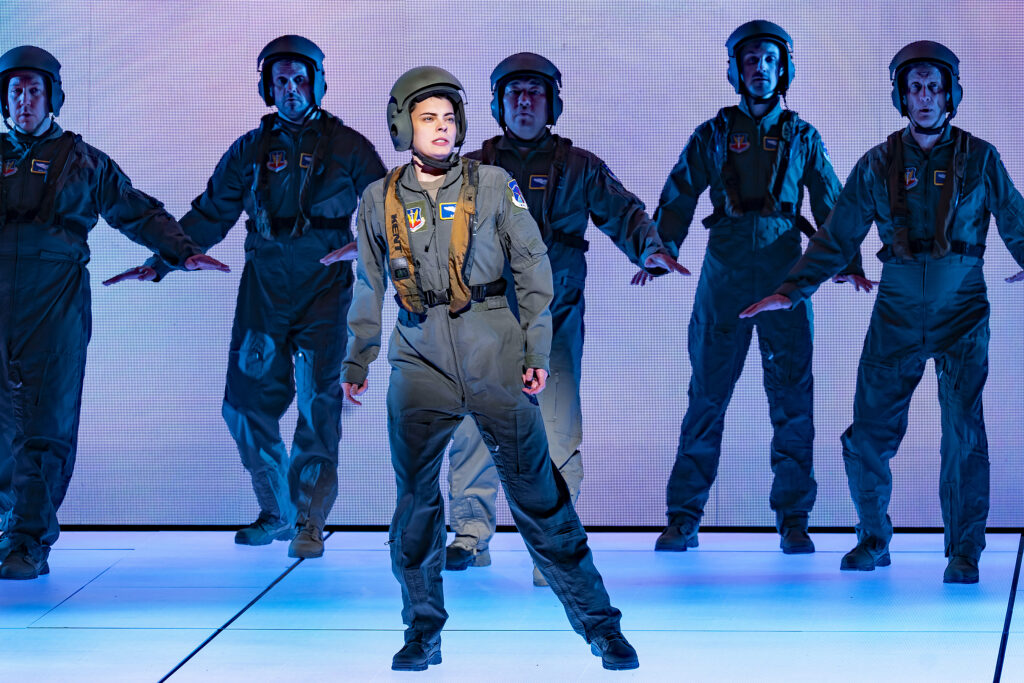 In this setting, remote warfare is conducted by the "chair force" – a couple of young gamers who are better suited to playing video games on the sofa. Although she dearly misses her days of dodging aircraft volleys from 36,000 feet in the sky, her husband, Eric (Joseph Dennis), is thrilled she'll be at home each night after 12-hour shifts trailing convoys and suspicious vehicles in Iraq from the safety of a Las Vegas military base. Split screens in real time follow and target who the crew call "the guilty".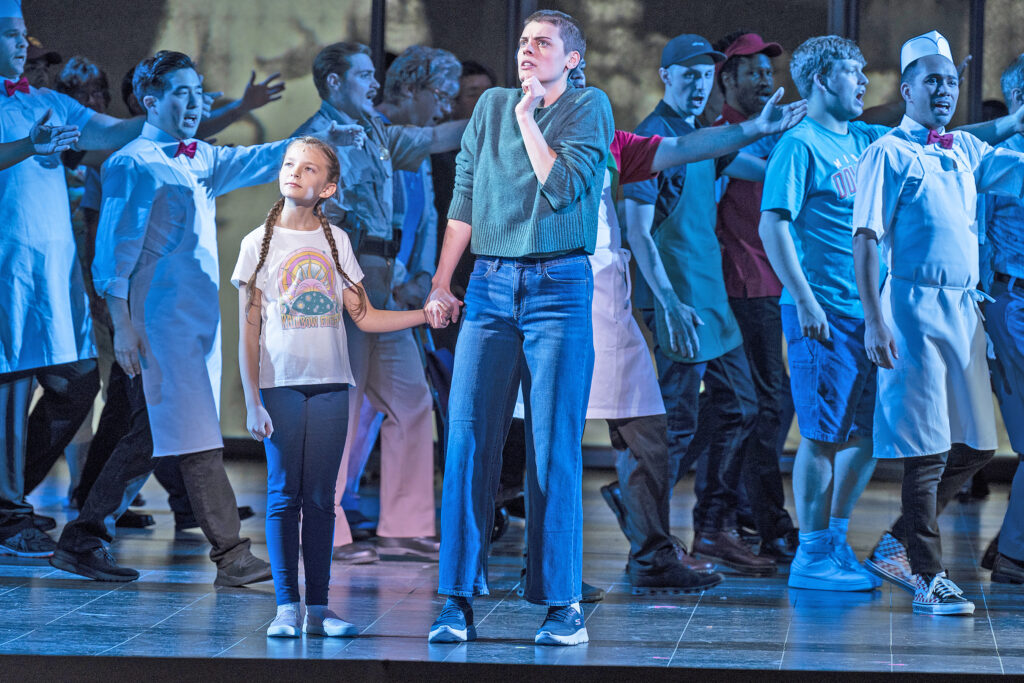 This phenomenal opera is like nothing you have ever witnessed. It combines 3-D rock concert-level visual projections with a story about computerized modern warfare. The set is made up entirely of LED panels to emphasize how the world of Grounded is inundated with digital images.
The libretto is unique and contemporary – melodic and often atonal in an alluring way. And there is a romantic, and deeply human element, in Jess (Emily D'Angelo) and Eric's love story – a dichotomy against the backdrop of decisions made by proxy.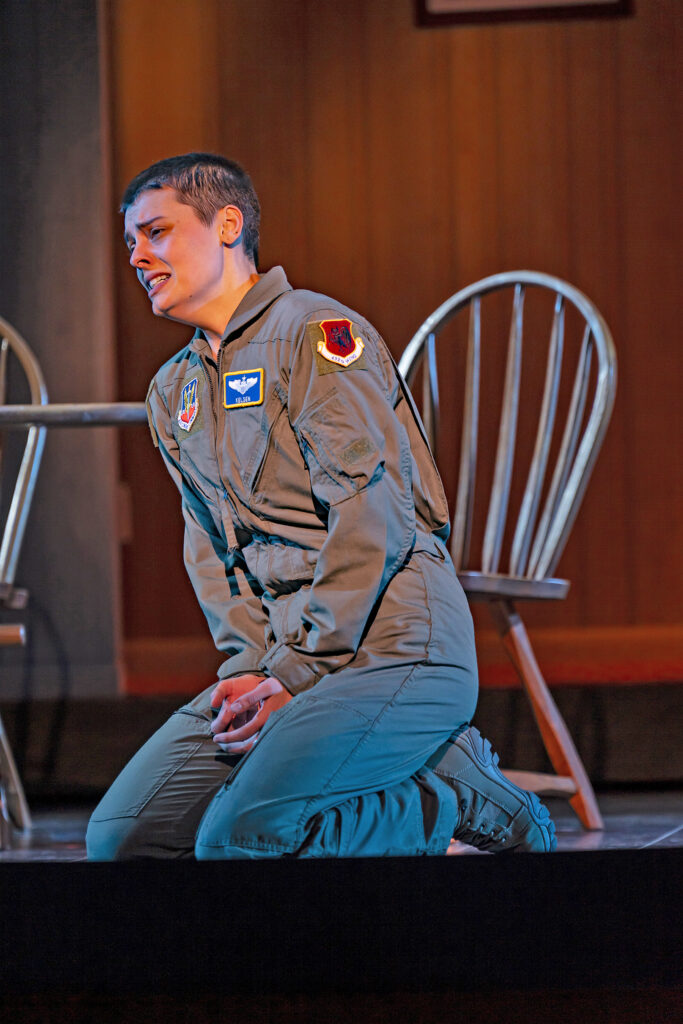 If you've ever seen the brilliant movie Eye in the Sky starring Helen Mirren, you'll understand how these drones, flying 10,000 feet above enemy planes, have the advantage of superseding all other aircraft. The digital technology of the production equals the story of how this detached type of warfare has replaced all human interconnectivity.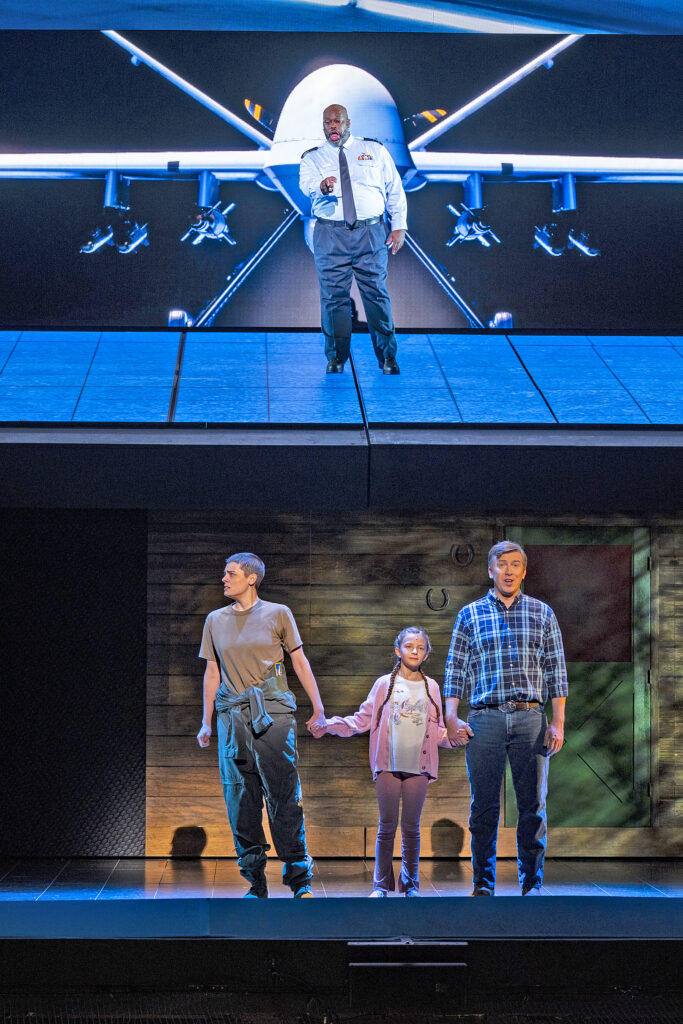 As Jess romanticizes the power her uniform gives her, the chorus, also in flight suits, stands at attention on an angled stage that is spilt horizontally. Her small apartment is revealed beneath where she lives with Eric and child, Sam (Willa Cook). That cozy set switches out to become a local bar where the flyboys carouse. In an ironic twist, where death and destruction reign, Jess finds her ability to leave warfare and its accompanying stress with the "Kill Chain" drone operators, overlapping into her home life.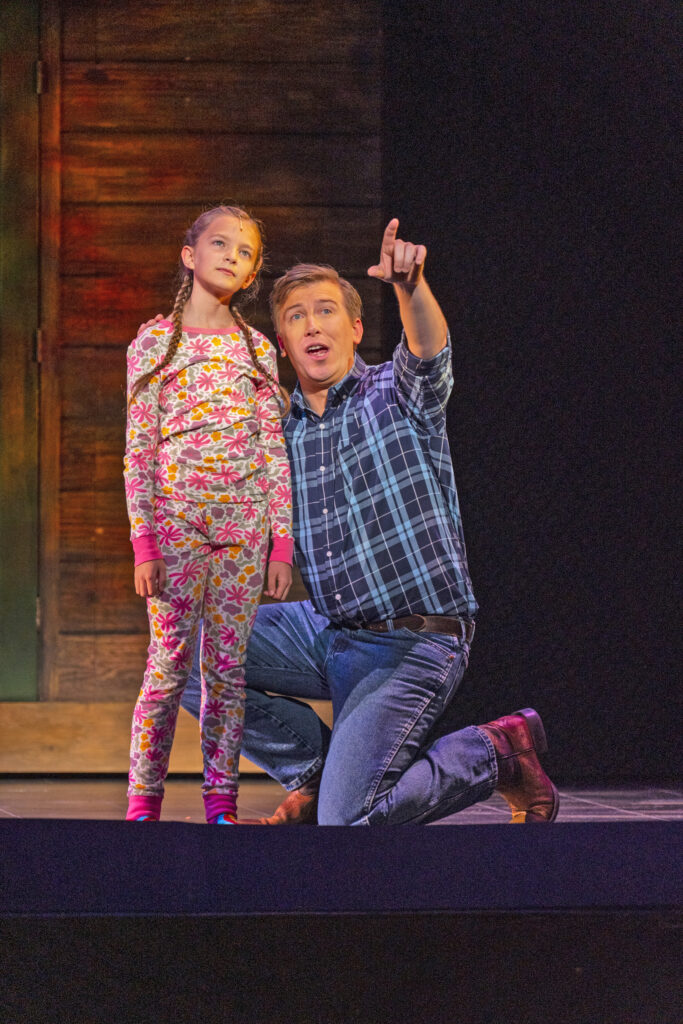 Author of over 30 plays and musicals, George Brant, created this piece as a play before joining forces with two-time Tony Award-winning Composer Jeanine Tesori. Commissioned by the Metropolitan Opera, it is a radical departure from classical opera – in a good way. The audience was mostly young with some avid military folks. As I was walking up the aisle to the lobby at intermission, I heard an older gentleman turn to an audience member and say, "I only go to classical opera, but this is fantastic!" That seemed to be the reaction of the entire audience at this extraordinary world premiere.
Joined by the Washington National Opera Orchestra conducted by Daniela Candillari and the Washington National Opera Chorus, this thoroughly mind-and-musical immersive production will rock your world. If opera continues to source from new composers and new playwrights to tell a contemporary story that is both highly visual and deeply moving, I truly believe that opera will extend its reach to a younger audience… and it must do exactly that to survive into the next generation of audiences.
Highly recommended!!! This production is the talk of the town! I am flinging rating stars around like candy on Halloween.
Composer Jeanine Tesori; Librettist George Brant; Director Michael Mayer; Choreographer David Neumann; Set Designer Mimi Lien; Costume Designer Tom Broecker; Lighting Designer Kevin Adams; Projection Designers Kaitlyn Pietras and Jason H. Thompson; Sound Designer Palmer Hefferan; and Dramaturg Paul Cremo.
With Morris Robinson as Commander; Frederick Ballentine as Trainer; Kyle Miller as Sensor; Teresa Perrotta as Also Jess; Michael Butler as Kill Chain: Mission Coordinator; Joshua Dennis as Kill Chain: Ground Control; Rob McGinness as Kill Chain: Joint Terminal Attack Controller; Jonathan Patton as Kill Chain: Safety Observer; and Sergio Martínez as Kill Chain: Judge Advocate General.
Through November 13 at the Kennedy Center, 2700 F Street, NW, Washington, DC 20566. For tickets and information call the box office at 202 467-4600 or visit Kennedy-Center.org.