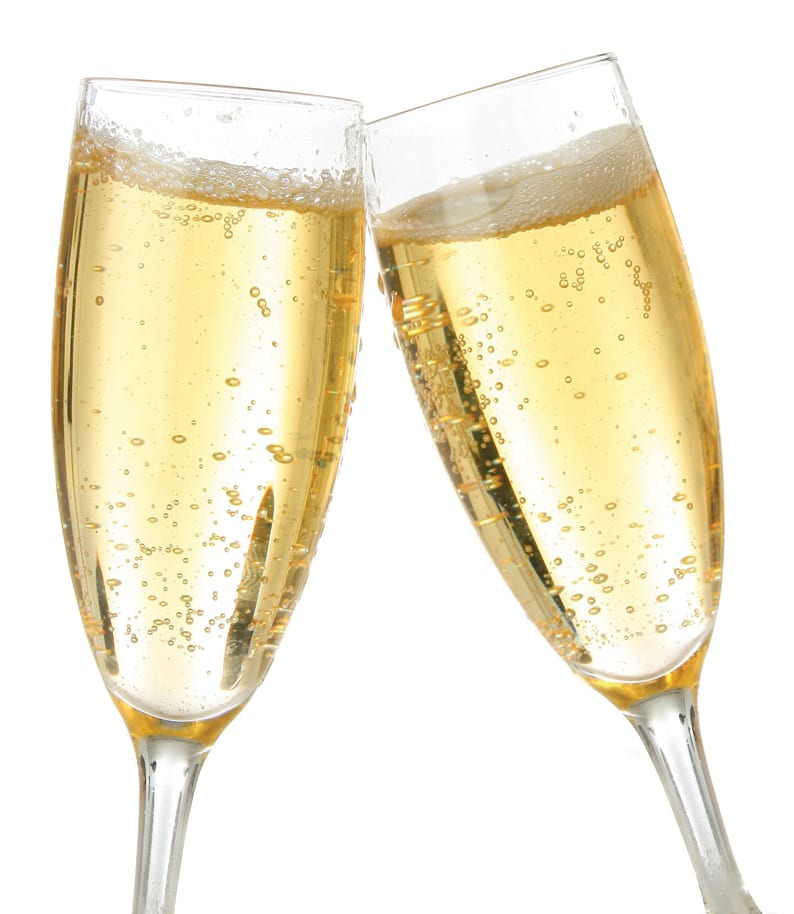 By Mari Stull, The Vino Vixen
'Tis the season to enjoy a bit of effervescence and ascending stars in our glasses – in short, 'tis the season for Champagne and other bubbles. Good thing the Vino Vixen™ has been sampling the bubbly all year round and perfectly pleased to be your guide to pouring the perfect potation for the season…
The Basics
Champagne VS Sparkling
Champagne is a region in France – just outside of Paris. Only those sparkling wines produced in Champagne, France may rightly be called "Champagne." The designation "Champagne" was legally protected in 1919 with the Treaty of Versailles – the treaty that ended World War I. All countries who signed this agreement committed to protecting the Champagne denomination. Sparkling wine from Spain would be called Cava. From South Africa – Cap Classique. From Germany – Sekt. From Italy – Asti. Although the United States was not a signatory to the Treaty, the majority of the American wine industry respects the Champagne designation and refrains from labeling their sparkling wine as "Champagne."
The Grapes
Champagne is produced with one or all of three grapes – Pinot Noir, Chardonnay, and Pinot Meunier. A Champagne produced solely with Chardonnay grapes is normally referred to as a "Blanc de Blanc" (white wine from white grapes). If made Pinot Noir and/or Pinot Noir are used, the Champagne is normally labeled "Blanc de Noir" (white wine from black grapes). The prime difference between the two is that blanc de blancs are typically a bit more delicate and blanc de noirs have a tad more back-bone. As a general rule of thumb, I serve blanc de blancs as aperitifs and blanc de noirs with food. The third type of Champagne is Rose. A rose is beautiful to look at, and even more gorgeous to sip. Produced in two ways – most typical with a bit of Pinot Noir or Pinot Meunier added to the Champagne cuvee. The other method is allowing he skin of the "noir grapes" (Pinot Noir, Pinot Meunier) to stay in contact with the must long enough to impart the desired salmon or pink color. Rose Champagne is not sweet.
Vino Vixen Picks
Under $20
At this price range, you will not find a true Champagne. But, some lovely bubblies do exist under $20. Two of my favorites:
Jean Baptiste Adam $15
Cremant D'Alsace – Alsace, France
The winery was founded in 1614 and remains in the same family today. Cremant is a French term for a sparkling wine outside of Champagne that is produced in the Méthode Champenoise (the Champagne method) – meaning this sparkler has the veritable quality of a Champagne for half the price. This is a delicate Cremant with fine, pinpoint bubbles, and light citrus fruit. Great value and all that French on the label makes it look misleadingly expensive.
Domaine Chandon $15
Sparkling Rose – Carneros, CA
This gorgeous salmon colored sparkler gets that lovely hue with an added dose of Pinot Noir just before final bottling (triage). The fruit is bright and lively with notes of juicy strawberry and a hint of green apple.
Under $50
Piper-Heidsieck -$38
N/V Brut – Champagne, France
Toasty oak with just a hint of nutmeg, and a lingering citrus finish. This Champagne has been one of my favorites this year. It has the structure to complement a meal, and the balance to enjoy as an aperitif. For a stunning visual presentation of their Champagne, check out their website at www.piper-heidsieck.com.
Taittinger -$38
N/V Brut Reserve – Champagne, France
This Champagne is the Audrey Hepburn of Champagnes. Delicate, refined, and elegant. The perfect aperitif to kick off a party – for two or two hundred and two. Has a creamy mousse (bubbles) and notes of pear and a hint of floral.
Over $50
Veuve Clicquot – $58
2002 Vintage (Gold Label) – Champagne, France
Produced only in exceptional years, the most recent being 2002, this Champagne is big, yeasty, and very gutsy. Skip the typical yellow label Veuve and spend a few extra dollars for the vintage. 2002 is made up of 60% Pinot Noir, 7% Pinot Meunier and 33% Chardonnay from only Premier or Grand Cru lots. This Champagne has powerful notes of brioche and hints of spice. Not for the shy or reserved, this Champagne is a show stopper. Cliquot is famous for their whimsical Champagne cases and buckets that often accompany their prestige bottles. Ask your retailer if she has any extra in the back room with your purchase.
Gosset – $80
1999 Grande Millesime – Champagne, France
Founded in 1584, Gosset is the oldest Champagne House in France. With over 400 years of experience, you just know they can turn out a fabulous Champagne. The 1999 vintage is 56% Chardonnay and 44% Pinot Noir. The blend results in a racy Champagne with notes of apricots and fig – a very exotic and evocative wine. $80 is a relative steal for a Champagne of such complexity and quality. This one will age well for at least 8 more years – growing more complex and interesting with each year.
The Last Word
Now is the time to find Champagne values. Retailers stock up during the holidays and for the New Year's celebrations. Distributors and importers often run discounts during this very competitive period and are vying for your palate's attention. Check the Times Community wine inserts and ads for prices even lower than I listed here.
Merry Christmas and Happy New Year to you all!
The Vino Vixen™ is Mari Stull – Syndicated wine columnist, correspondent for Wine Taste TV, and member of the Society of Wine Educators. See her picks in this month's Travel Girl Magazine. Have a wine question or comment for Mari? She can be reached at [email protected].