Community News
Let Loose: Have Fun in Alexandria This Veterans Day Weekend!
Looking for something to do? Here are some suggestions
Alexandria, VA – The weather turned cold quickly! But that doesn't stop businesses from putting on great events year round. Check out what's going on this weekend! See the special events below to commemorate Veterans Day.
The Great Del Ray Poetry Reading
Friday, Nov. 8
7–9 p.m. (FREE)
2300 Mount Vernon Avenue
St Elmo's welcomes poet William Heath, who will read from his new collection, "Night Moves in Ohio." The event, hosted by the Del Ray Players, is also an open-mic night.
Friday After Work Concert Series
Friday, Nov. 8
Showtime: 6–8 p.m. ($15 donation requested for performer)
220 N Washington Street
INĂ performs Cuban and Brazilian music. Beer and wine for sale with light refreshments.
George Washington Whiskey Festival
Saturday, Nov. 9
6–9 p.m. ($85 per ticket)
George Washington's Mount Vernon
3200 Mount Vernon Memorial Hwy
A new event this year! Meet giants of the Virginia whiskey industry, enjoy spirits, and learn how whiskey was made at Washington's estate. For tickets, click HERE.
"Fierce Sisters: African American Women in World War I & World War II" Lecture
Saturday, Nov. 9
Starts: 11 a.m. (FREE)
Alexandria Black History Museum
902 Wythe Street
Renowned author and historian C.R. Gibbs offers moving portraits of African American women who battled on numerous fronts, defying Jim Crow laws and racial stereotypes, during two pivotal wars in world history.
Improv Comedy Show – Auxiliary
Saturday, Nov. 9
Starts: 8 p.m. (FREE; $5 suggested donation)
201 S Washington Street
The last show of 2019! You never know what's going to happen with improv. Come for a great time and expect to laugh.
Plied Yarn Launch Party
Saturday, Nov. 9
10 a.m.–4 p.m. (FREE)
1319 Prince Street
Check out a new variety of yarn at Alexandria's favorite knitting supply store. There are 25 colors! Store owners Karida Collins and Ann Weaver will welcome customers.
Alexandria's Farmers' Market
For info on the Old Town Farmers' Market, click HERE.
For info on the Old Town North Farmers' Market, click HERE.
For info on the Del Ray Farmers' Market, click HERE.
For info on the Four Mile Run and Artisans Farmers' Market, click HERE.
Note: The West End Farmers Market returns in May 2020.
Fort Ward Tours to Honor Veterans Day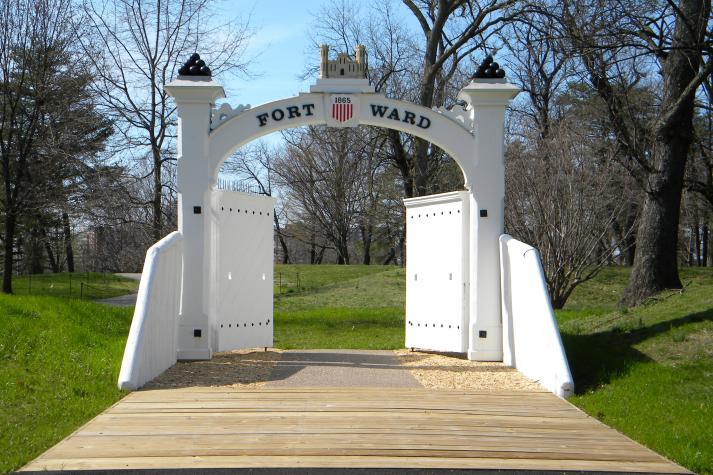 Saturday, Nov. 9
10 a.m. & 2 p.m. (FREE)
4301 W Braddock Road
An interpreter in the uniform of a Union soldier will talk about his service time during the Civil War. Visitors will also learn the history of the fort. Tour is weather dependent.
Flag Placing for Vets
Sunday, November 10
1–2 p.m. (FREE)
2823 King Street
Help place flags at the tombstones of veterans. These soldiers gave their lives so that we can live ours. Barbecue lunch will be offered.
The United States Navy Concert Band Veterans Day Weekend Performance
Sunday, Nov. 10
2–3 p.m. (FREE)
201 Prince Street
The performance will feature both traditional and contemporary music. It's a can't miss event!
Veterans Day Open House at Gadsby's Tavern
Sunday, Nov. 10
1–4 p.m. (FREE)
134 N Royal Street
Did you know that Gadsby's Tavern was saved from destruction by American Legion Post #24? Thanks to their efforts, every Alexandrian can enjoy the Tavern! To commemorate the connection, there is no cost for tours held on Sunday.