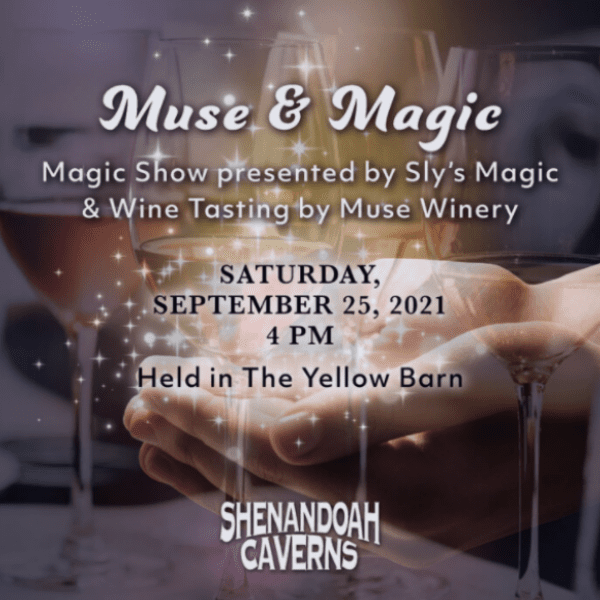 Quicksburg, VA…August 26, 2021…Shenandoah Caverns announces a special event titled "Muse & Magic" on Saturday, September 25, 2021, at 4:00 PM, held in the Yellow Barn at Shenandoah Caverns, 261 Caverns Road, Quicksburg, VA 22847.
Muse & Magic features award-winning estate wines by Muse Winery, a family vineyard located in the heart of the Shenandoah Valley, along with food pairings prepared by a local chef. In addition, guests will be treated to a magic show on the stage of the Yellow Barn, presented by Sly's Magic. Alec "Sly" Negri is a professional magician residing in Northern Virginia.
Tickets for Muse & Magic are $75.00 per person and can be purchased online at https://www.clover.com/online-ordering/shenandoah-caverns-quicksburg or at Shenandoah Caverns. Ages 21 and older. 
Learn more about special events at Shenandoah Caverns at https://shenandoahcaverns.com/special-events.  
About Muse Vineyards
Muse Vineyards, owned by Robert Muse and Sally Cowal, is an estate vineyard located near Woodstock, VA in the heart of the Shenandoah Valley, where science, passion and reverence for the tradition of classic winemaking converge to produce award-winning wines. In 2015, Muse's 2009 Clio, a Bordeaux-style blend, was named Virginia's top wine and awarded the coveted 2015 Virginia Governor's Cup, besting more than 400 entries from across the state. https://musevineyards.com.
About Sly's Magic
Alec "Sly" Negri started performing magic at seven years old. Over the years, he has performed thousands of shows ranging from home parties to Fortune 500 company events, including those for Amazon, NASA, MGM Grand, and the Washington Capitals. Hailing from Northern Virginia, he delights and amazes audiences with a combination of magic, mentalism and humor to bring a unique experience to his audiences. Sly is the recipient of two Order of Merlin Awards. https://www.slysmagic.com/
About Shenandoah Caverns
Shenandoah Caverns was opened in 1922 and celebrates its 100th anniversary in 2022. The site features a Family of Attractions including Shenandoah Caverns tours, Main Street of Yesteryear, American Celebration on Parade, The Yellow Barn, The Gemstone Mining Sluice, the Caverns Cafe, and Earl's Place Airbnb. It is the only caverns in Virginia featuring elevator service. Shenandoah Caverns is located one mile off I-81 near New Market, VA at 261 Caverns Road, Quicksburg, VA 22847. More information can be found at www.ShenandoahCaverns.com.
For Additional Information
For more information, contact Joe Proctor, General Manager at 540-477-3115 or [email protected].