Food Blog: Kelli Goel
Excitement Continues to Build at Café 44
If you haven't been to Café 44, it is time to discover this outstanding Alexandria Restaurant with an amazing waterfront view.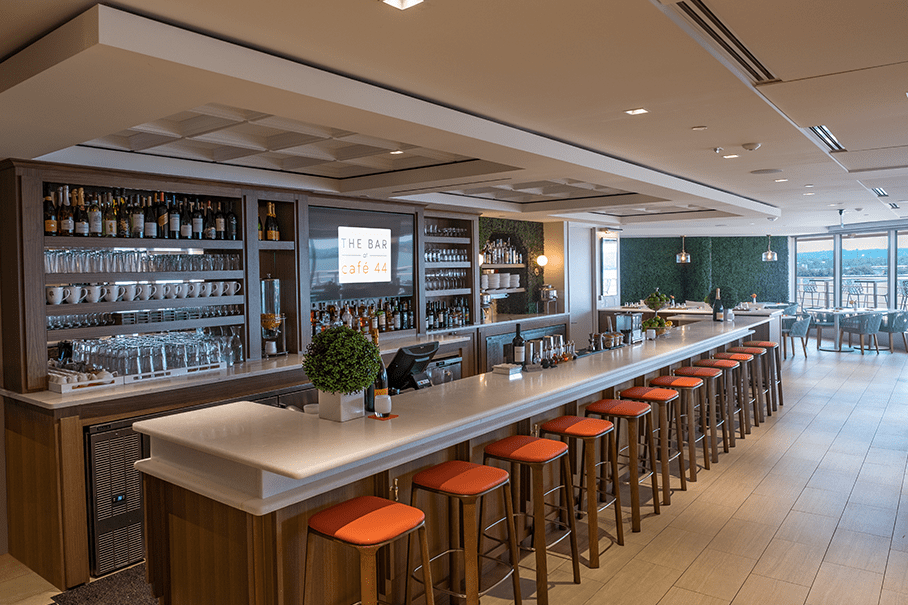 Alexandria, VA – If you haven't been to Café 44, it is time to discover this outstanding Alexandria Restaurant with an amazing waterfront view. Behind it all is owner Jula Coggins.
It's 1:30 p.m. on a Thursday afternoon when I arrive, and Café 44 is buzzing with activity. This beautifully decorated, popular Instagram hot spot is teeming with business lunches, groups of friends, couples, and retirees animatedly chatting while enjoying their food and the ambiance. Impeccably dressed Coggins effortlessly fits into her personalized oasis as she joins me to talk about her restaurant's transformations.
In its five years of existence, Café 44 is constantly evolving. Thanks in part to how well the restaurant is currently performing, Coggins is full steam ahead on an expansion project. She is not disclosing details to the public yet, but know whatever Coggins does, she does it exceptionally well. Coggins and her husband love to dine out and that is what they do all over the world, but she never though she wanted to own a restaurant. Thank goodness she opened Café 44 because it has now become a popular destination for waterfront dining in Alexandria.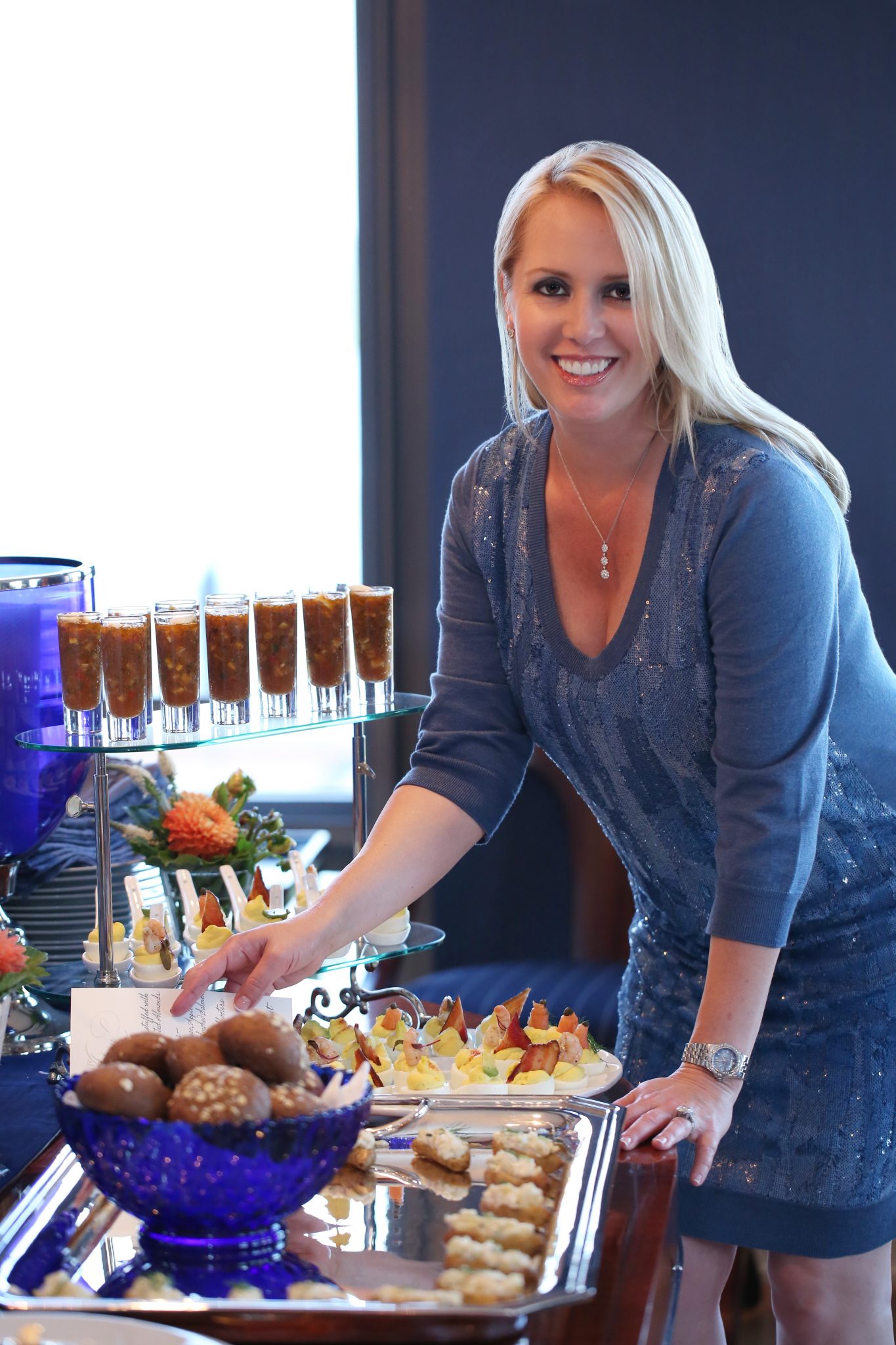 Originally from Atlanta, Coggins and her husband, Keith, moved the headquarters of their business, Coggins International, to Alexandria in 2016. Their company trains roughly 1000 military personnel a year on fuels accounting software Keith created. These students arrive from all over the world and stay for 2-3 weeks, so they needed somewhere to go on their breaks. Feeling as though North Old Town was a bit of a food desert (a term she heard someone say and thought brilliantly described the area), Coggins decided to take it upon herself to change that. She took the roughly 16,000 square feet of raw space on the 4th floor of Canal Center, "a blank canvas" as she describes it and designed their new office with Cuppa Joe Catering at the heart. Due to being zoned as an office, they were not open to the public and catered solely to Coggins' staff and students from 2016-2017.
Being the entrepreneur she is (Coggins is also a realtor, interior designer and President and Chief Executive Officer), she says, "I don't know how to not do anything but move it forward." She worked for a year to get the property rezoned, stating the city was amazing to work with and was excited and supportive of the process. She was able to get the site zoned as a restaurant, received her liquor license, and changed the name to Café 44. The restaurant gets its name from building 44 and Coggins added café because she desired to cater to the tenant clientele in the four buildings which make up Canal Center. What began as breakfast and lunch, progressed into happy hour once she was able to obtain a liquor license. This allowed her to offer private evening events as well as branching out to serving brunch on the weekends. It quickly became the local tenants' hotspot for breakfasts and express lunches.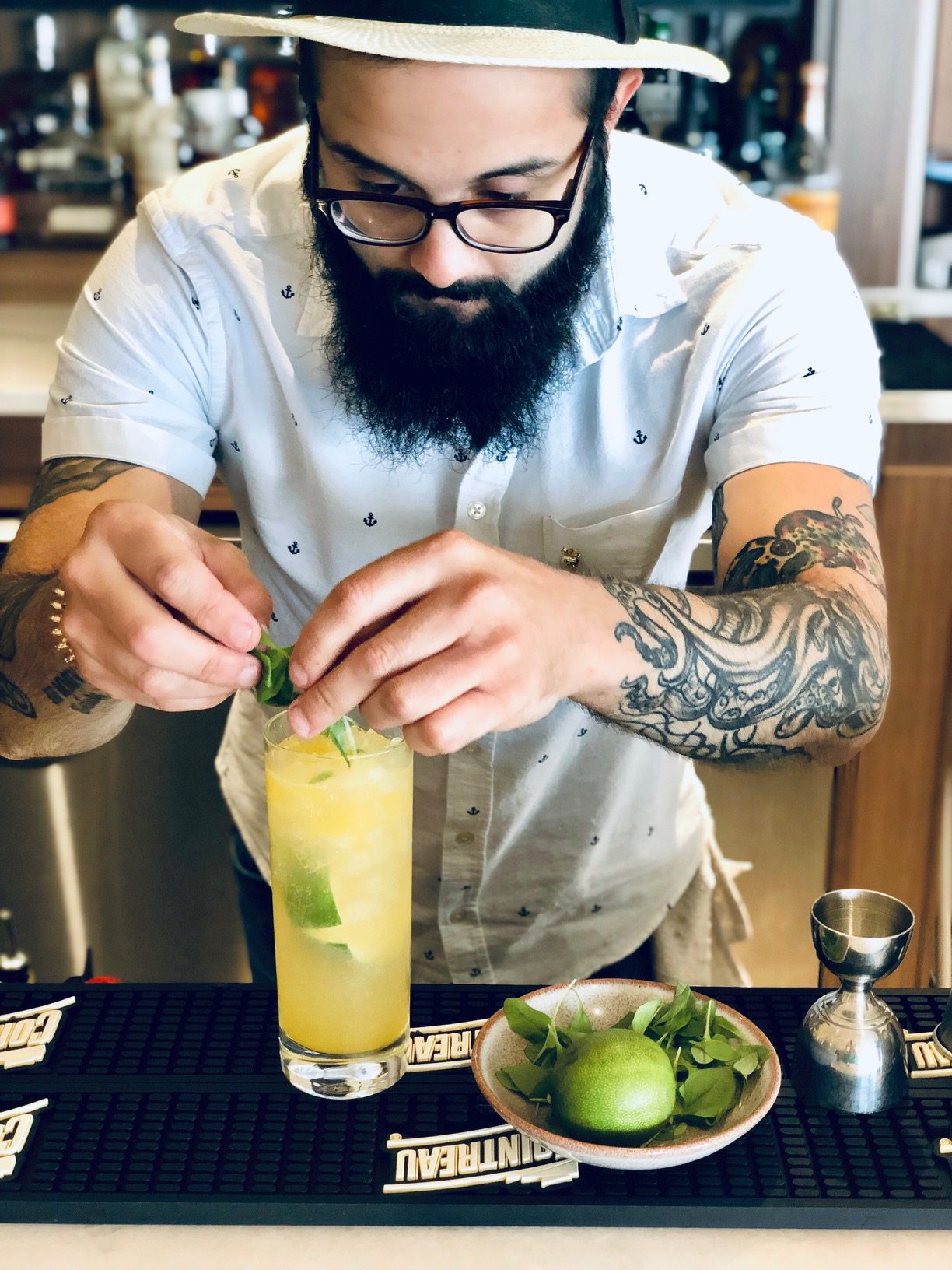 Coggins states, "the décor kept elevating" and once she received the liquor license in 2017, she quite literally raised the bar from counter height to bar height. Instead of the former espresso machine, she added a cocktail station and now serves award-winning signature cocktails. She proudly says of her mixologist, Joe Q., who happens to be her brother, "he makes the best craft cocktails there ever was!"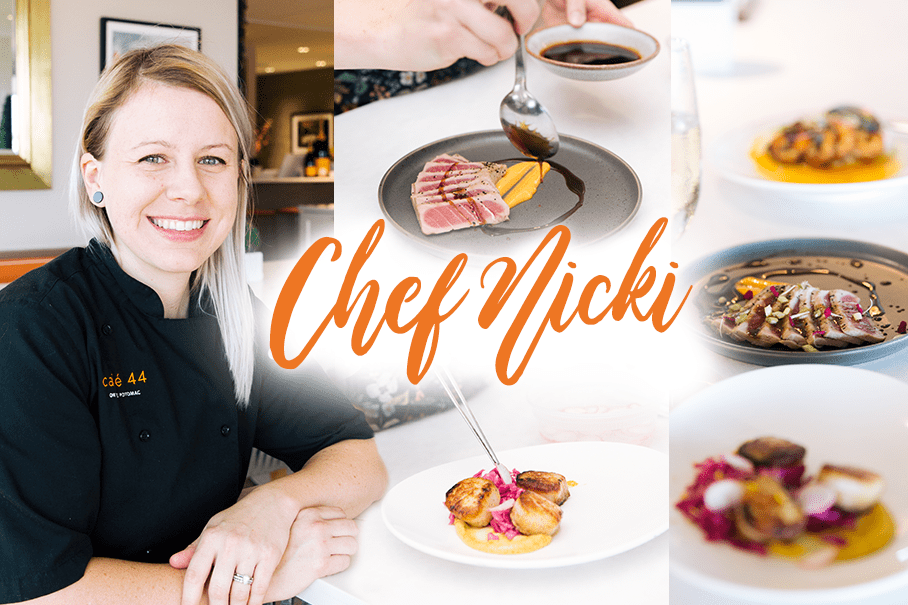 The kitchen was sized for a breakroom, but her amazing Executive Chef, Nicki Schmelzer, has fully maximized the current kitchen. Coggins says Schmelzer joined her in 2019 and "she is a godsend; the perfect fit for us."
Even though her business has been shifting over time, when she was forced to shut down because of COVID in March 2020, Coggins again decided to forge ahead. The tenants were gone, and Coggins International's students were strictly virtual, so all that business went away. In typical Coggins style, she just keeps moving forward and updating to her customers' needs. She decided to forego Mondays and breakfasts and added dinner. She credits adding dinner to her menu, and Publisher Mary Wadland from The Zebra Press for creating the Alexandria Dining-Curbside, Inside and More Facebook Page, allowing the public to learn about Café 44.
At first, she was only allowed to do curbside, which is not easy being on the 4th floor. This allowed them to bring back their staff and as the restrictions eased, they kept adapting. Coggins says they are so fortunate, despite the distancing, masking, and sanitizing her "restaurant family" is thriving as well as her business. The Paycheck Protection Program was a blessing in allowing her to pay her employees. She also acknowledges she was incredibly lucky to already have beautiful outdoor seating that so many restaurants were scrambling to obtain. She added more seating and more heaters as well as an outside bar-Bar 44.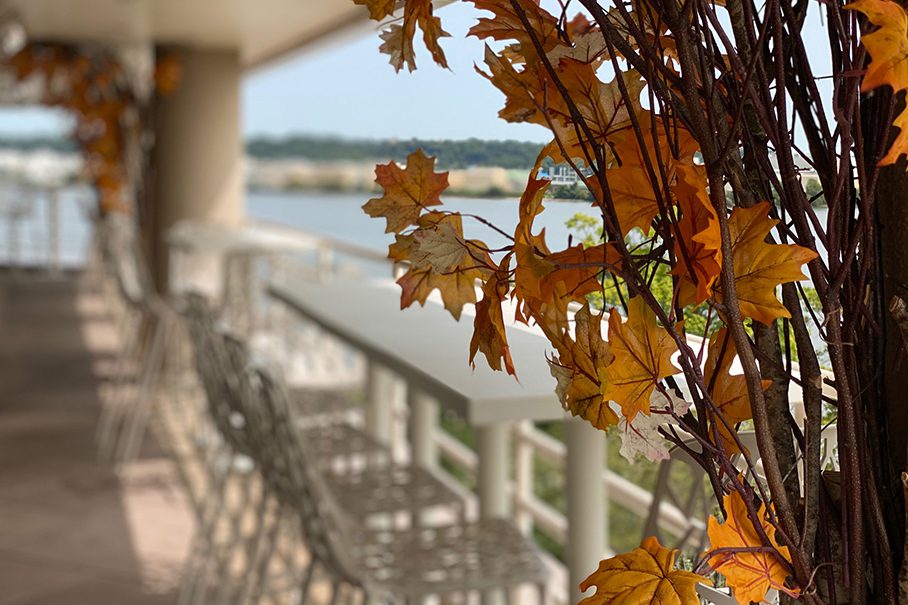 With Coggins' interior design background, she magically transforms the restaurant by seasons. Tuesday, September 21 the restaurant will be adorned with fall décor by The Enchanted Florist. Effective this day, guests will see a new modification. Through guidance from the CDC and the Alexandria Health Department, to dine at Café 44, all guests 15 years and older will be asked to show proof of vaccination (at least one shot within the past two weeks) or present a negative COVID test. It will be acceptable to show a photo on your phone. This effort is to provide a safe environment for her fully vaccinated staff and her patrons. Unvaccinated children will need to wear a mask unless eating or drinking.
Open Table now allows you to be tagged as "Verified for Entry." This will make it easier to return to Café 44 each time because you were already verified as vaccinated.
Café 44 is located at 44 Canal Center Plaza, Suite 401. They are closed Mondays, but open Tuesday through Friday 11:30 a.m. to 10:00 p.m. Saturdays 9:00 a.m. to 10:00 p.m. and Sundays 9:00 a.m. to 5:00 p.m. For reservations or Pick Up, please call 571-344-9100 and visit [email protected].
ICYMI: Help Feed the Hungry During National Day of Service on 9/11 Anniversary