On Exhibit
A Stitch in Time Saves Hope
The COVID Hope Quilt goes on exhibit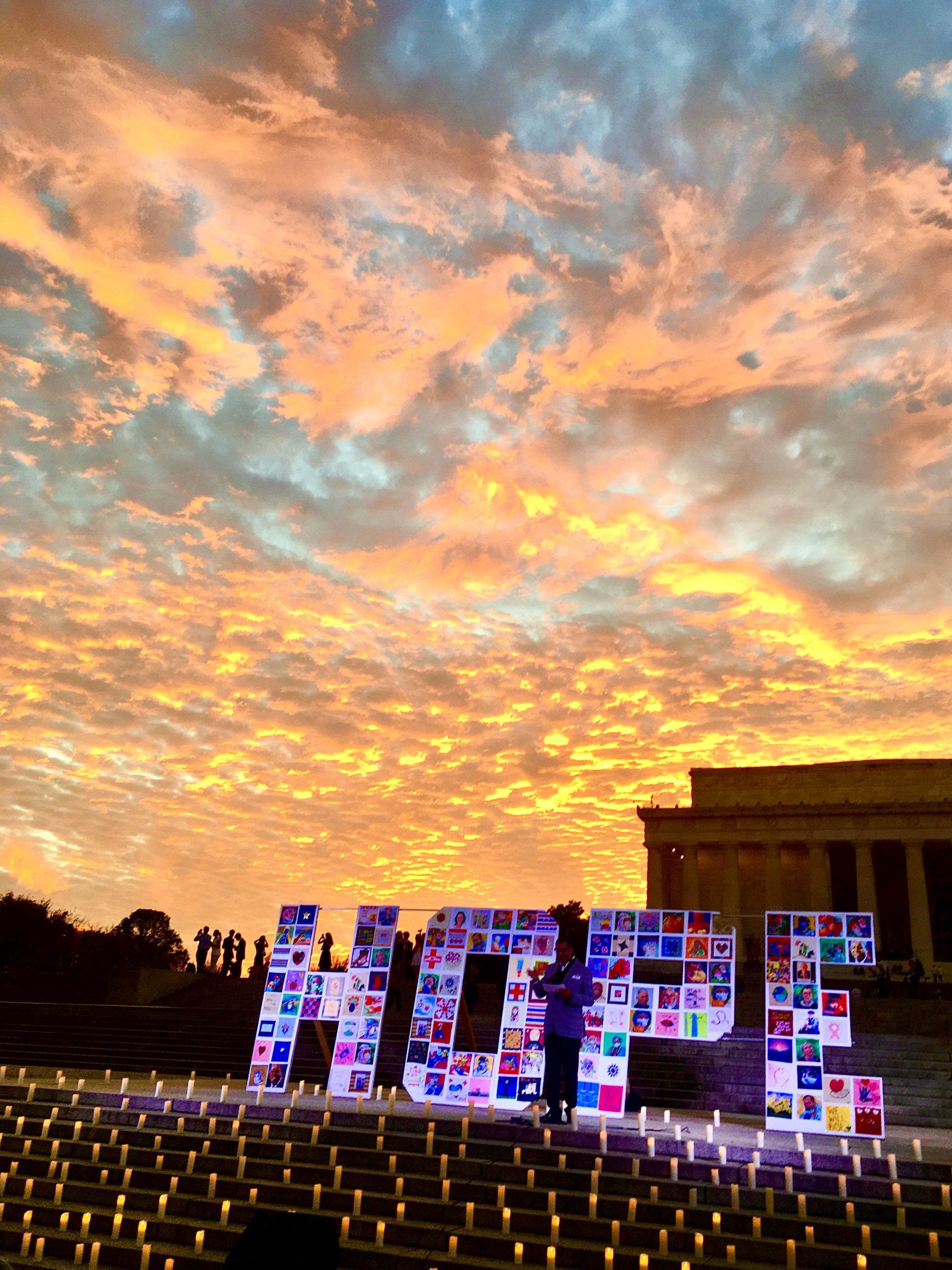 Alexandria, VA – Over a year ago Diane Canney, owner with her husband Mike of Sunset Hills Vineyards and 50 West Vineyards, founded the COVID-19 US Honor Hope Quilt Foundation. Since that time, the organization, spearheaded by Diane's unwavering dedication to the project honoring the sacrifice of frontline workers and memorializing the lives lost to the pandemic, has made local and national news.
You likely have seen the giant eight-foot-tall letters spelling HOPE on Mount Vernon Avenue outside the Del Ray Artisans Gallery. Each letter displays a quilt panel from original art printed on vinyl for the outdoor display. These panels were made by senior adults and school-age children around the DMV and area artists from Del Ray Artisans, the Torpedo Factory, and Loudoun County. Even tourists contributed when the HOPE letters were exhibited at Freedom Plaza in D.C. last October and then for a candlelight vigil at the Lincoln Memorial, followed by a prayer service at the Jefferson Memorial the next day.
Del Ray Artisans and Torpedo Factory artists contributing artwork and panels include Sermin Ciddi, Donna Gallo, Ray Hart, Guy Jones, Rusty Lynn, Kelly MacConomy, Scott MacConomy, Terry Atkin Rowe, Karen Schmitz, Nina Tisara, and Kathy Turner. The HOPE letters will remain in Del Ray through the Del Ray Halloween Parade. Get your Insta pics and selfies while you still can.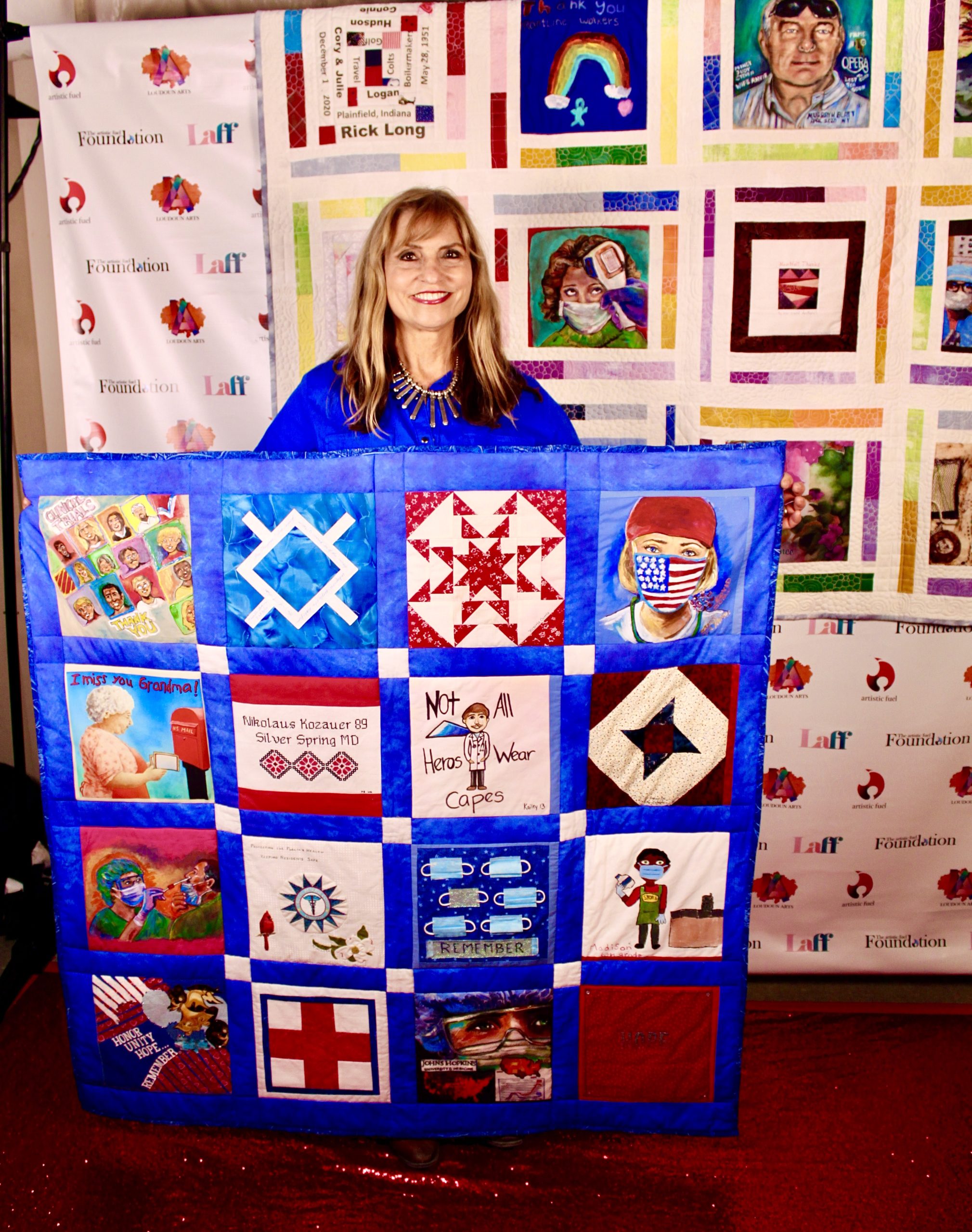 Diane's mother's 95th birthday was the impetus for the ever-growing quilt project. When asked what she wanted for her big day's celebration, Diane's mother, Phyllis Byrum Liedtke, said that she didn't need a present in a box. Instead, she implored Diane to use her means and determination as well as her creative talents to help ease the pain of COVID. Phyllis even contributed one of the first quilt panels.
The quilts now number about 20. Twelve are currently on exhibit at the Virginia Quilt Museum in Harrisonburg, Virginia. The quilts were assembled and sewn by two women in Loudoun County: Priscilla Godfrey and Jeanne Nicholls. These fiber artists turned their labors of love into moving memorials for all those who passed during these horrific times while saluting the courage of the tireless frontline workers who never quit, never stayed home to work, and helped heal a wounded world.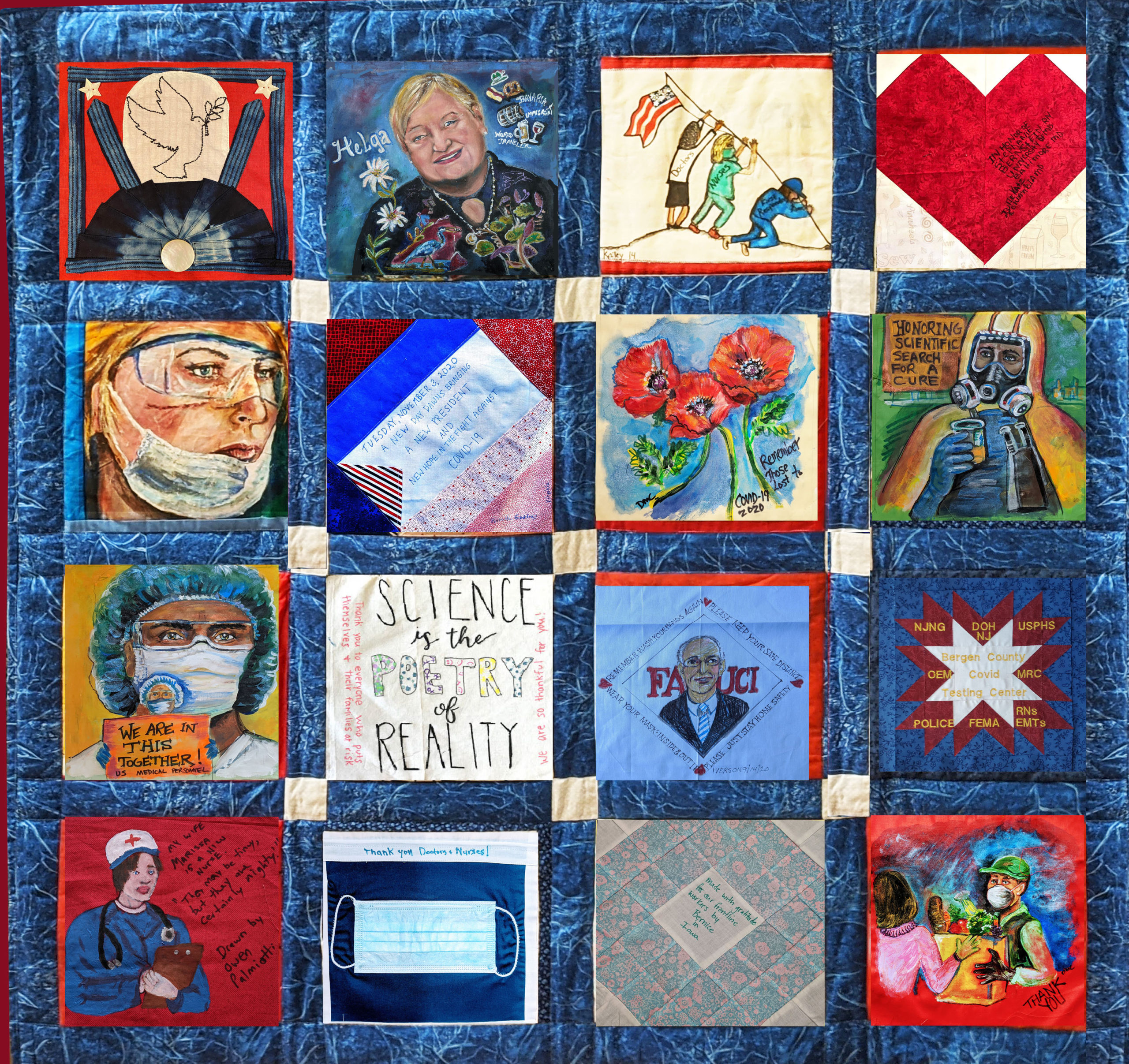 One of the quilts traveled on September 17 to commemorate the first National COVID-19 Memorial in Wall, New Jersey. An impromptu memorial was created that day from shells and rocks to represent the lives lost and offer comfort to those attending who mourned loved ones.
Another stunning quilt created by Texan quilting artist Susie Wong will be on exhibit this month at the Houston International Quilt Festival October 28-31. One of the quilt panels heading to Houston is from Del Ray Artisans' Donna Gallo.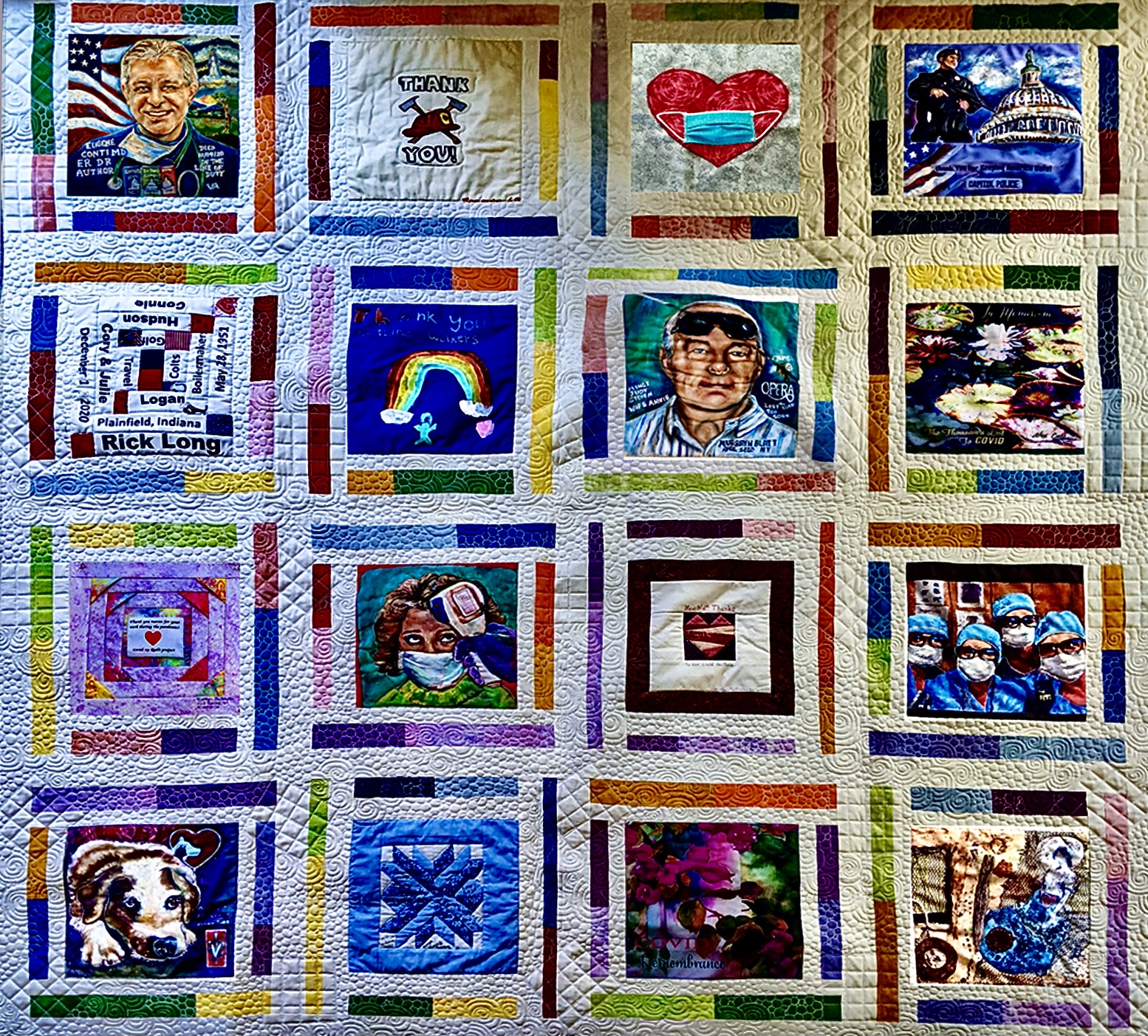 When Diane Canney was asked what she wants to achieve with the COVID Quilt Project, as well as Together We Will Heal and Art of the Matter (two other nonprofits Diane started), she gave it considerable thought. "It's been a struggle at times," she explained, "to keep the focus on hope because there are so many unanticipated obstacles.
"So much about COVID became political. I had hoped one day to have the quilts be part of the Smithsonian, to generate enough momentum that it would fill the National Mall like the AIDS quilt or the sea of white flags covering the Washington Monument grounds. Now I would be gratified if only we could all find a way to heal. Hopefully, through art and other expression therapies coming together, we can."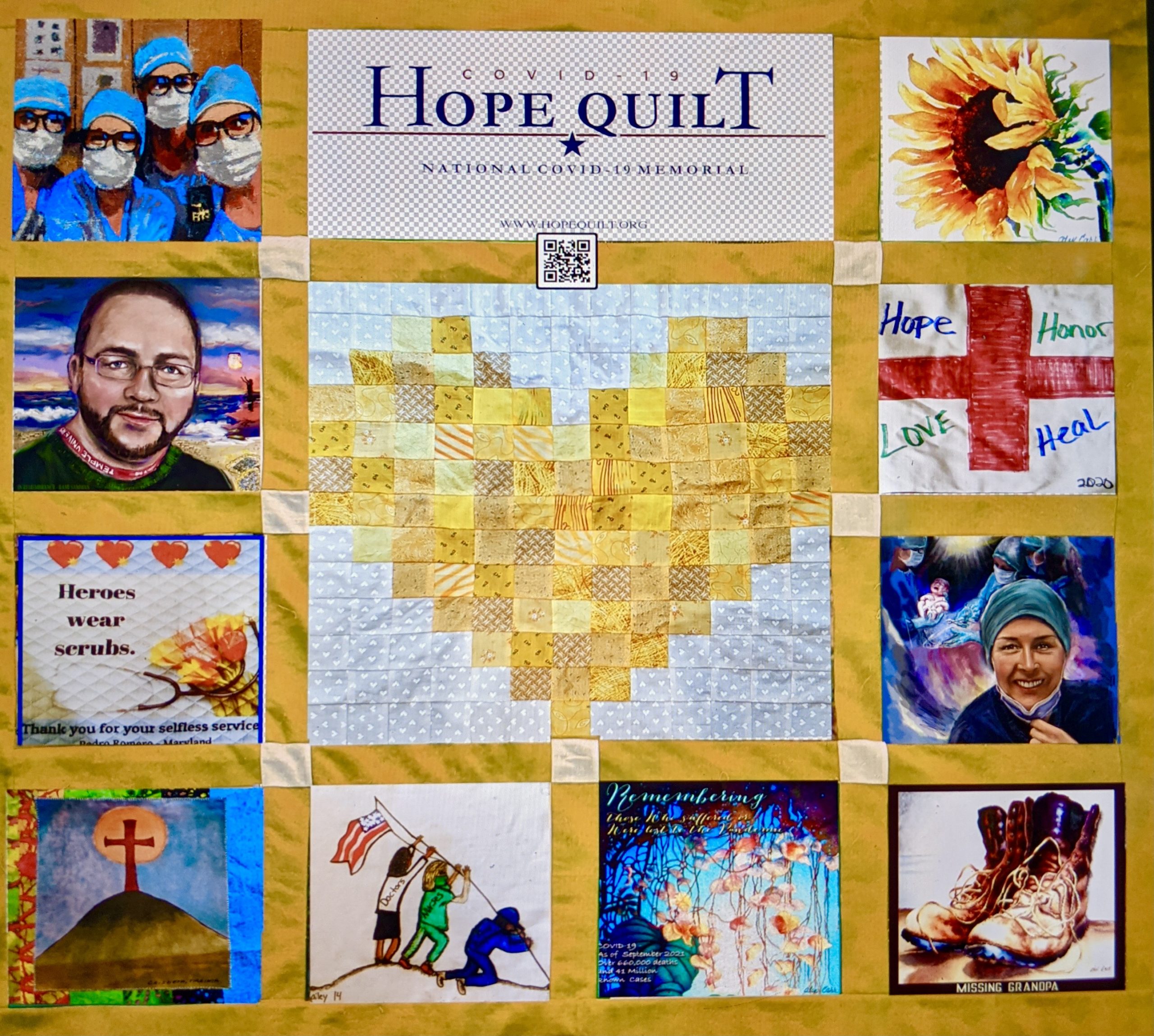 Keeping hope moving forward proved now and then to be an uphill battle. But Diane is a dynamo who isn't easily deterred. We hope that you will have an opportunity to visit the quilt exhibit at the Virginia Quilt Museum. If you want to create a quilt panel to thank a frontline worker or to remember someone who has passed, you can drop by Del Ray Artisans for a free fabric square or go to the COVID Hope Quilt website (www.hopequilt.org) and upload your artwork, which will be printed on fabric to be added to a future quilt.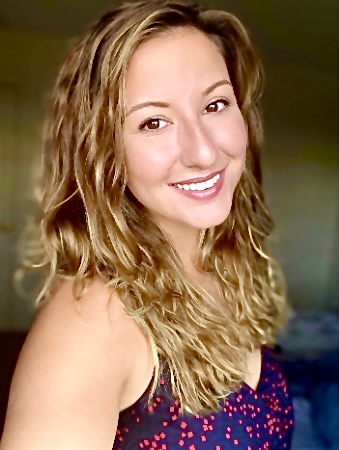 The COVID Hope Quilt display at VQM opened Tuesday, September 21, and is on exhibit through December 18, 2021. The curator is acting museum director Rachel Gregor, a graduate of James Madison University with a B.S. degree in Anthropology. Rachel came to the VQM as the Collections and Curatorial Assistant, recently becoming Interim Director and Curator of the COVID Hope Quilt exhibit, just in time for the fabulous fall show. Rachel can be reached at [email protected].
The Virginia Quilt Museum 301 S. Main Street Harrisonburg, VA. Museum hours are Tuesday through Saturday, 10 am to 4 pm 540-433-3818
ICYMI: Lee-Fendall House Chronicles the History of the Cocktail