Z-Oneology
Country Roads Take Me to the Shenandoah Wine Festival!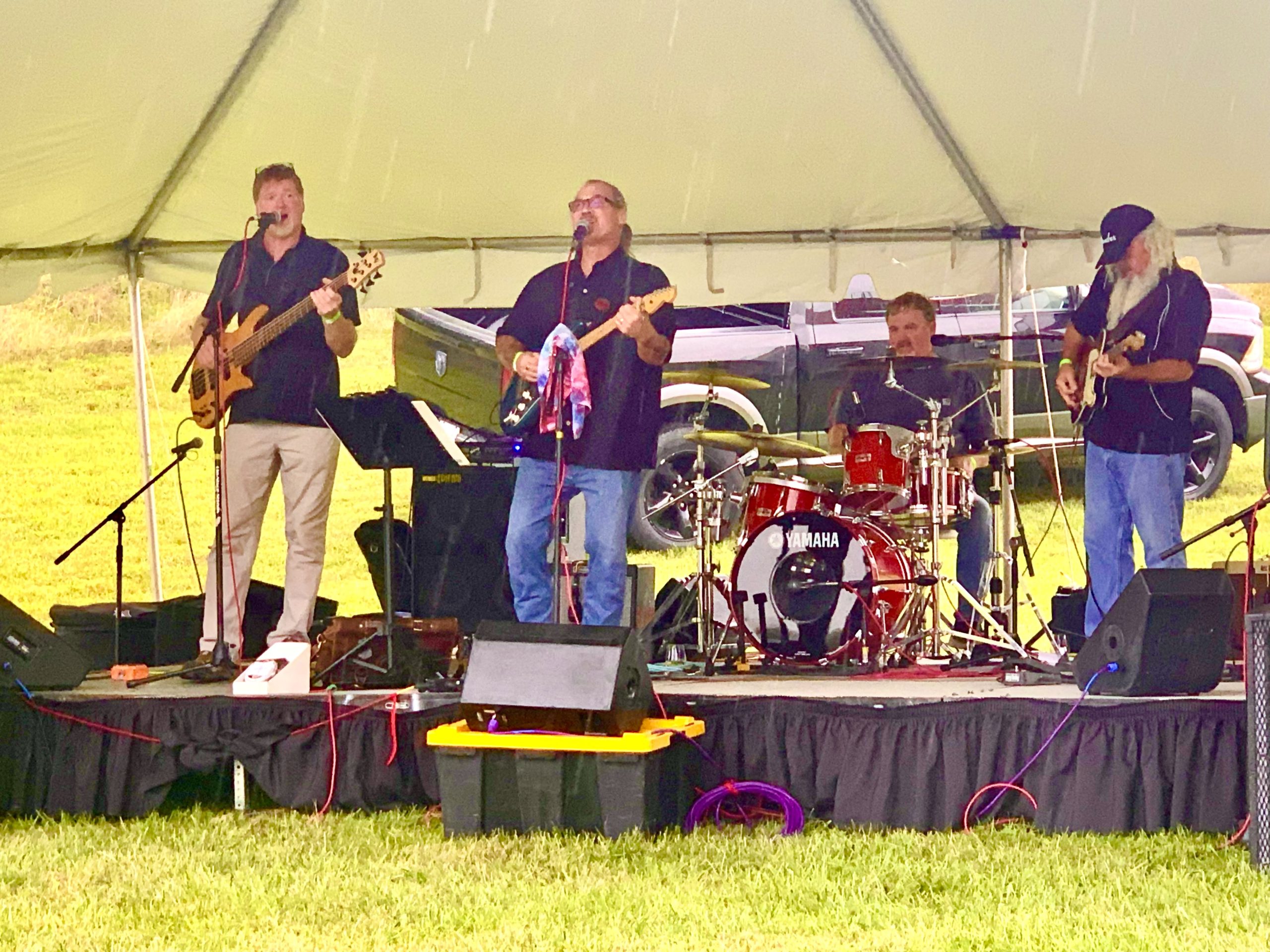 Alexandria, VA – Fall in wine country is a celebration of the harvest, the hard days' work of a long summer, and the promise of wonderful wine to come. For the winemaker, wondrous work is just beginning. But it's Miller time in the vineyard.
Wine festivals are a fabulous way to get the party started. The nearby Mount Vernon Fall Wine Festival and Sunset Tour (October 8-10), now in its 25th year, is always a must-do tradition — the ALX wine lover's nod to summer's finale, a bittersweet passage to autumn.
The seasonal celebration soiree got a kickstart on September 5 when the Shenandoah Wine Trail gathered for the Shenandoah Wine and Music Festival at the Museum of the Shenandoah Valley in historic Winchester. Festival guests were treated to complimentary admission into the marvelous museum, a souvenir wine glass, and live music. Despite an intermittent drizzle from an all-day gray sky, undaunted wine lovers gathered for winery tent tastings, finding sanctuary from the rain now and then, if only to safeguard the integrity of the libations. And the bands played on.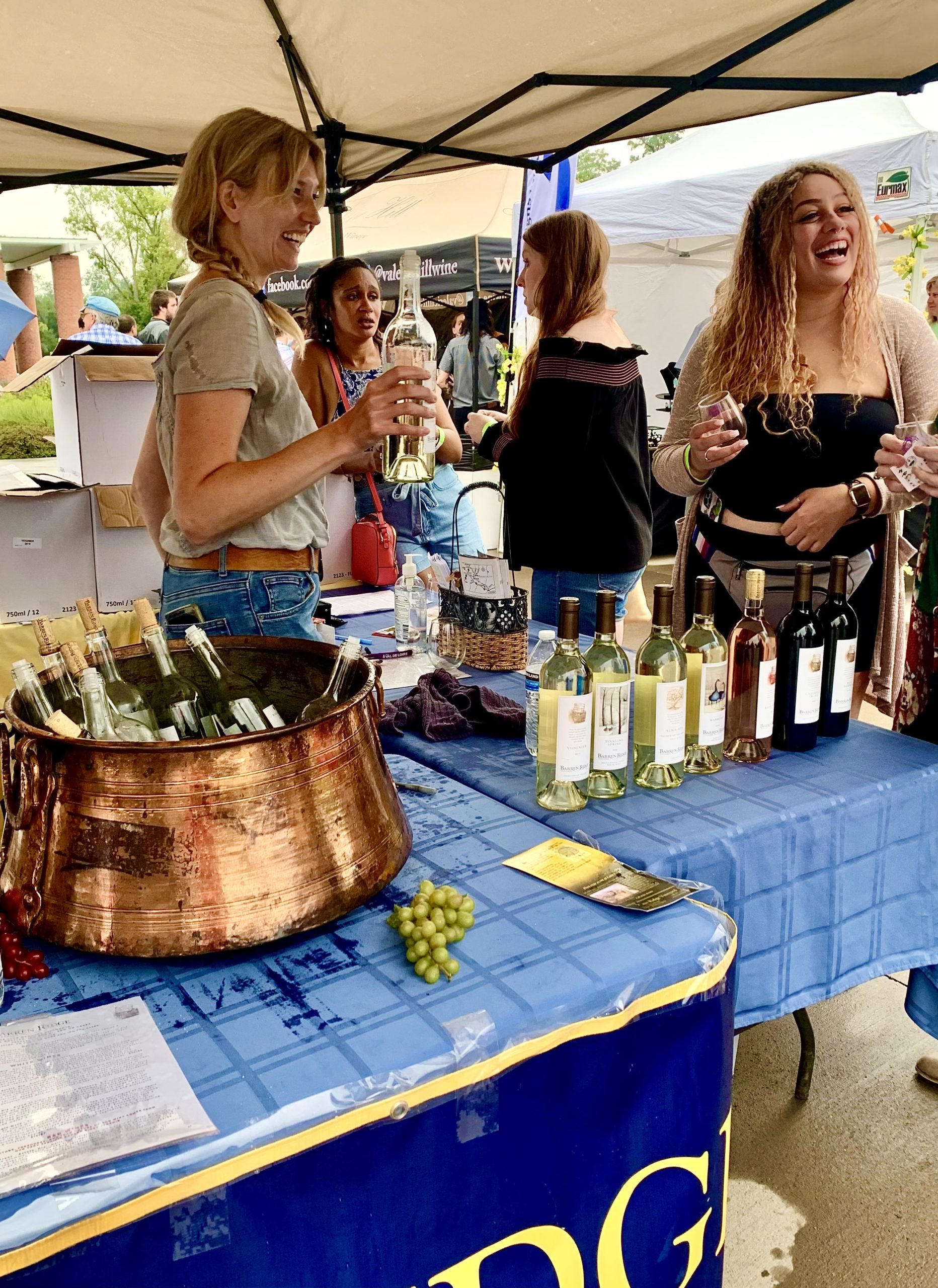 Eight wineries and one cidery represented the Shenandoah Wine Trail, from Winchester down along the winding roads to Charlottesville. Fourteen had been scheduled and advertised, but the weather prospects scared all but the die-hard wine festival vendors away:
Barren Ridge Ridge Vineyards ~ Fishersville
Biredé Family Vineyards ~ Winchester
Brix and Columns Vineyards ~ McGaheysville
Cave Ridge Vineyards ~ Mount Jackson
CrossKeys Vineyards ~ Crawford
North Mountain Vineyard & Winery ~ Maurertown
Sage Bird Ciderworks ~ Harrisonburg
Star in the Valley Estate Winery ~ Strasburg
Valley Hill Vineyard and Winery ~ Stephens City
Foundry Street Project opened the entertainment with country sounds. Stone Rollin' kept the party going with pop/rock wailing the rest of the afternoon, followed by Bruce Ewan and Friends closing out the festival with a stellar blues set.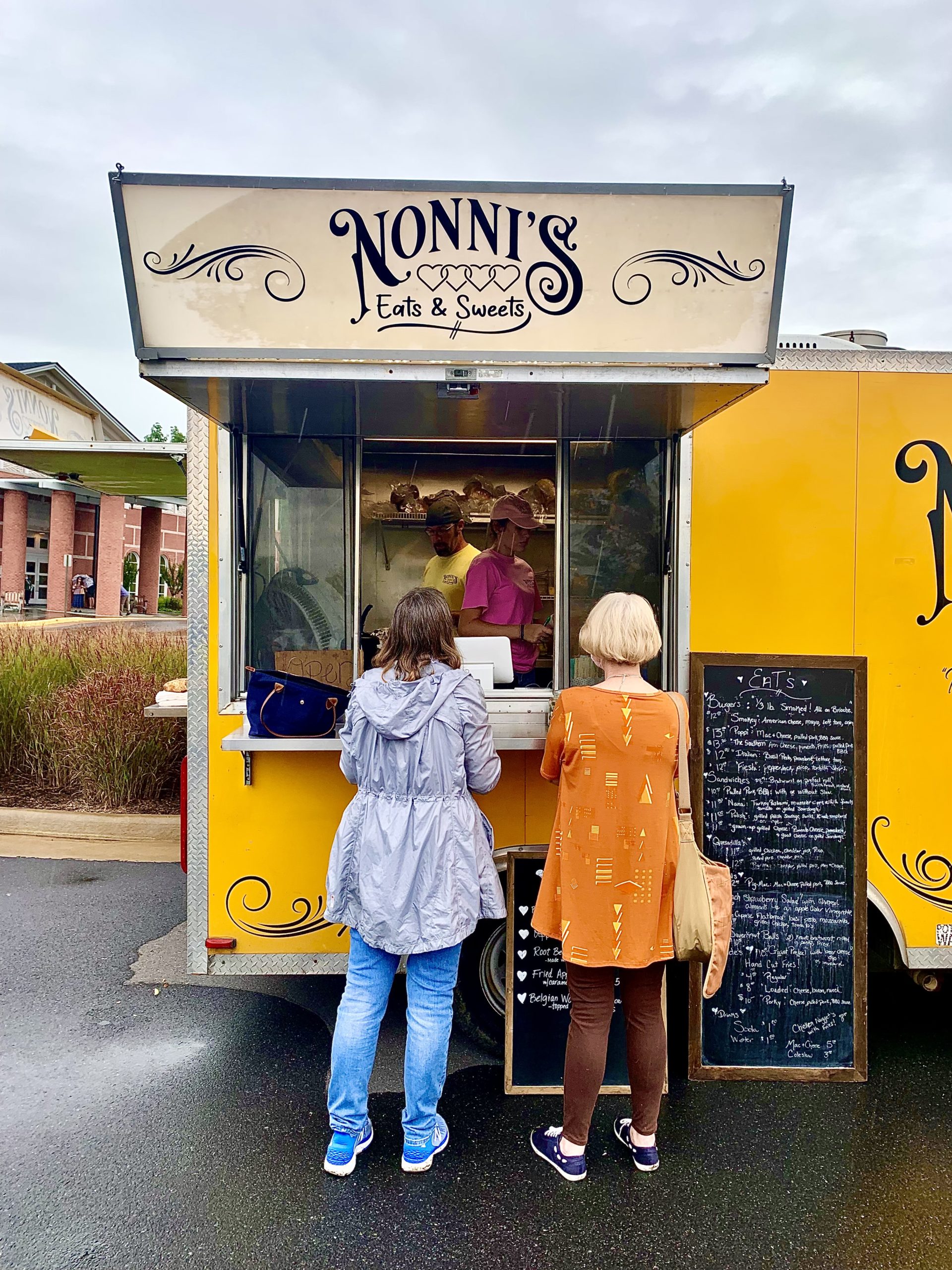 The food truck fare was phenomenal. Nonni's Eats and Sweets' sweet and savory menu was as extensive as a full-kitchen cafe. A standout hands-down outstanding offering was the beignets. After a wood-fired ricotta cheese pizza with balsamic vinegar drizzled over heirloom tomatoes and arugula, citified enough for this Italian-American of Neapolitan descent to be in locavore love, these beignets proved so irresistible that more were a must. They sold out by 4 pm!
Let's talk wine. Z~ Oenology has long argued that a Virginia vineyard visit is as much about the exemplary hospitality and ambiance as the winemaking itself. That theory holds water to wine even when the experience is a movable tasting. Southern hospitality is never more real than legend or hype than at a wine festival. Standouts were Barren Ridge, Briendé, Cave Ridge, and CrossKeys. These winemakers presented their wines not merely with passion and panache but a graciousness that sometimes is lost even in the wine hospitality arena.
CrossKeys operates the Bistro at their winery, giving them an extra leg up on service with a smile. Nice goes only so far in the actual tasting of the wine, but it makes a qualitative difference in the experience. Expression is a term used in describing wine. Happy may not be one of them, but perhaps it should be.
CrossKeys planted their first Petit Verdot vines on three acres 20 years ago. They now grow 13 different varietals over 34 acres. After purchasing the land for the vineyard near Harrisonburg in 1999, they promptly opened a bottle of Pinot Noir, not a Virginia varietal then and rarely now, celebrating with a family picnic. Their fun and folksy demeanor belies some serious winemaking.
At the festival last month Cross Keys had available for tasting the classics: Chardonnay, Cabernet Franc, Joy, the red and the white blend, the Fioré Rosé, and the Petit Verdot. All perfectly quaffable. Worth the trek south, however, is what they weren't opening for tasting: The Tavern, a port-style made with 100 percent Touriga Nacional aged two years in French and American oak, yielding a luscious caramel sweetness. The Pinot Noir, racked in reserved French oak, is rarely grown and bottled in Virginia due to the hot and humid climate. The Merlot, which Miles from Sideways would regrettably wholeheartedly eschew. Hops, a wine/beer hybrid using a Viognier base, like a cider on the nose and to taste.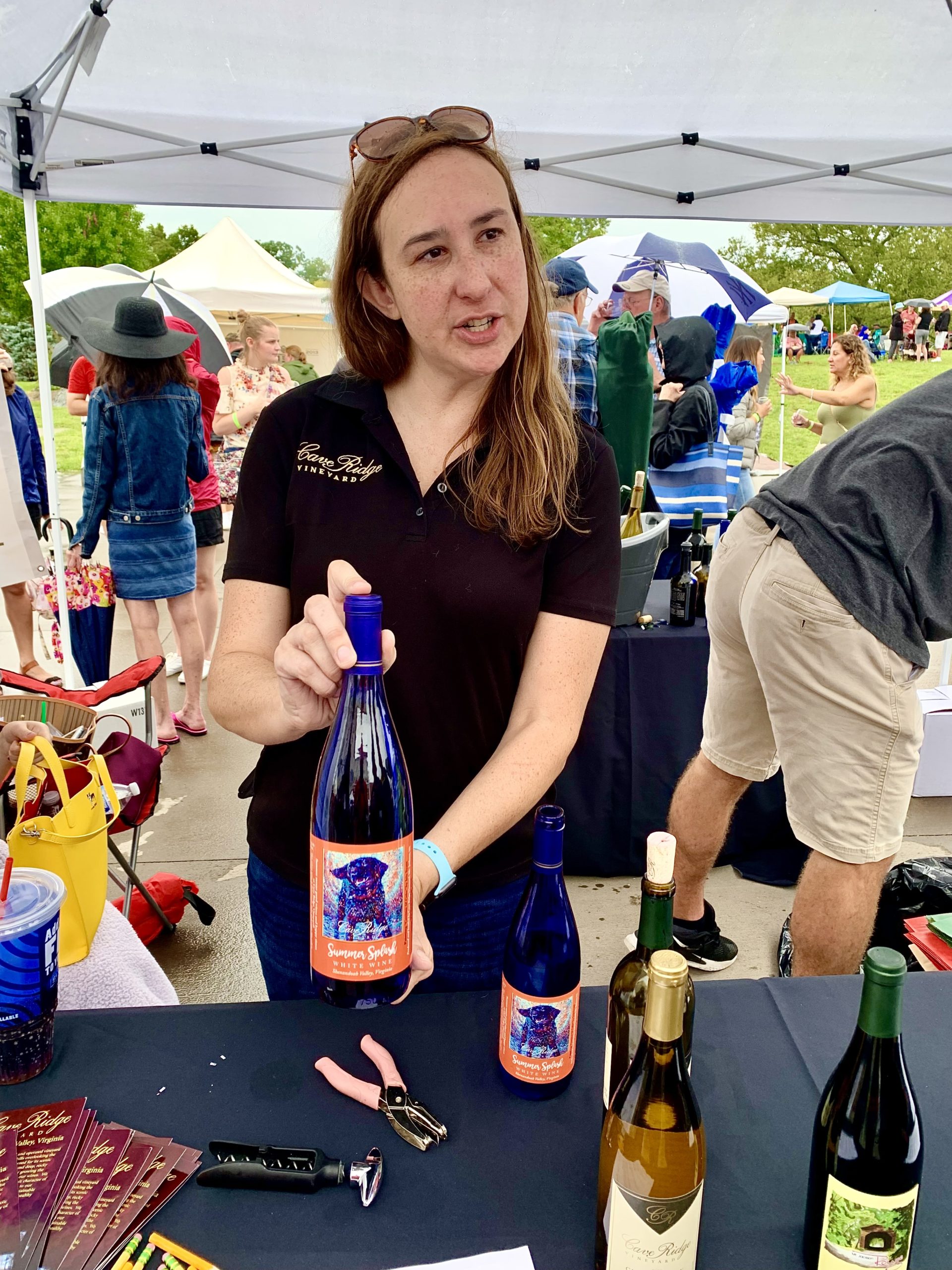 Cave Ridge in Mount Jackson rolled out the crimson carpet to festival guests. The Phillips family was on hand to pour tastings and happily talk up the wine, which nonetheless spoke for itself. Cave Ridge vineyards neighbor is Muse, one of Z~ Oenology's favorite Shenandoah Wine Trail destinations, and the vineyards owned by Diane and Mike Canney that produce fruit for Sunset
Hills and 50 West other Virginia wineries that use their grapes. Cave Ridge also divines the wine for Firefly Cellars, which opened Memorial Day weekend last summer to great fanfare.
With so much wine to taste — each ticket entitled guests to a punch card of 20 tastings — it was a serious challenge to choose wisely. It proved even more difficult to pare down the tastings at the Cave Ridge tent, making the punch card last longer since the wine was so good. People didn't readily leave the Cave Ridge tent, and most came back again and again for more! Cave Ridge was one of the few wineries tasting their port. The Fandango, 17 percent alcohol, danced on the tongue and finish. It was pouring popular all day!
Summer Splash with the Black Lab shaking off rain on the label was a best-taster and seller, ironically. Maybe it was the sultry September rainy day. Maybe it was the expansive blue dog "Canines and Color" painting by Iris Scott art label. It hit the spot with the pizza and beignets and would have been a perfect pairing with the "world's biggest shrimp sandwich" at the fish food truck.
Z ~Oenology is easily seduced by a diverting wine label. Cave Ridge creates some of the very best. The Pettit Verdot, the Chambourcin, and White Wine of Cabernet Franc, similar to a white Châteauneuf-du-Pape or white Burgundy, are wonderful, but the classic labels don't razzle dazzle. Fandango, the Red Silk blend, a Gold Medal winner at the Virginia Governor's Cup, and Le Bon Minou "Wild" Sparkling White Wine are reminiscent of Erté French art posters.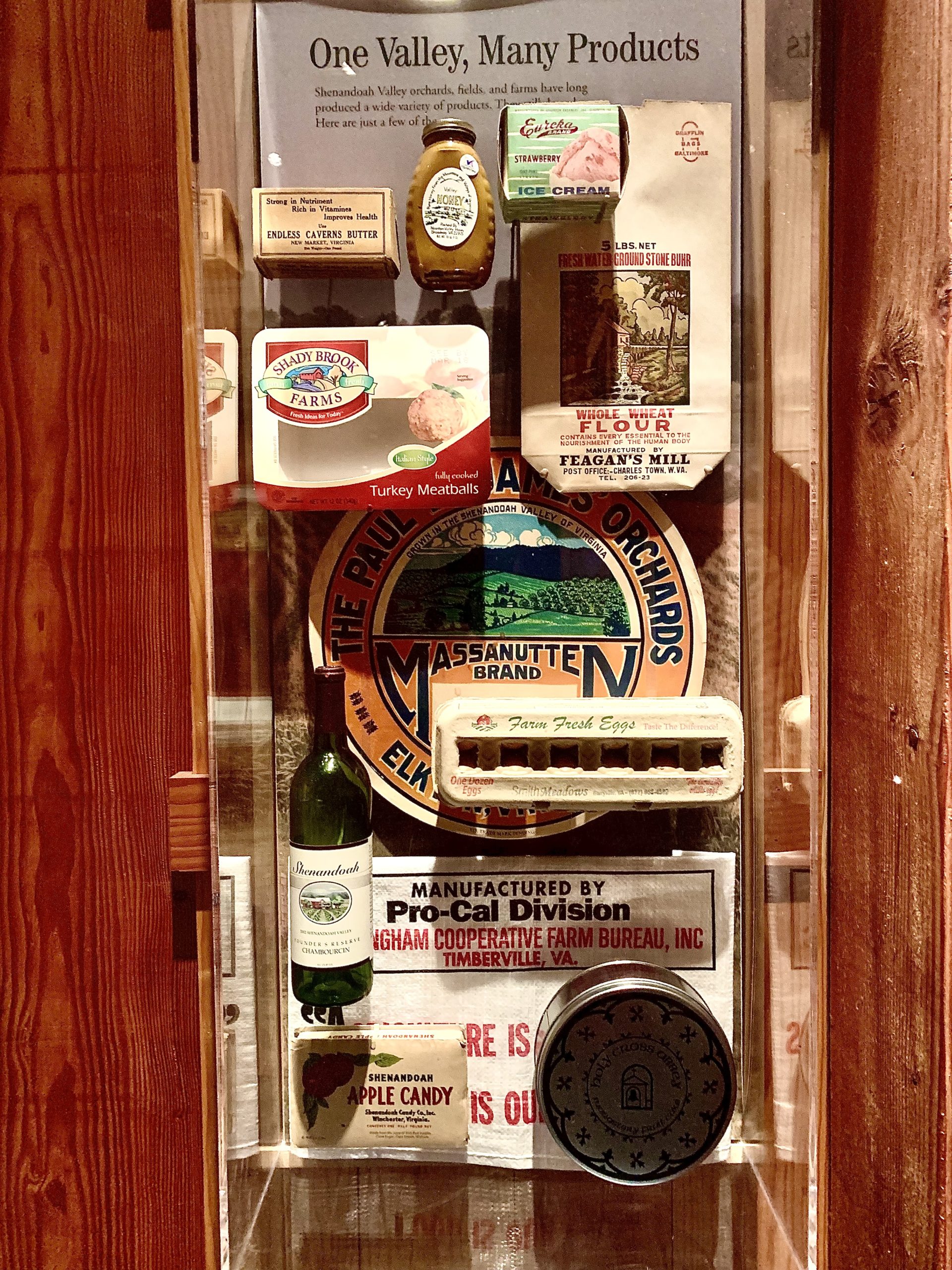 Maybe you can't judge a book by its cover. A wine label? Château Mouton Rothschild boasted original art by Picasso, Braque, Miro, and Chagall. A winemaker who invests blood, sweat, tears, plus heart and soul on top of a not-too-small fortune and art into the bottles ensures no wine will be served before it's fine!
Don't miss the next Shenandoah Wine and Music Festival — rain or shine. Until then, be sure to visit the grounds and galleries of the Museum of the Shenandoah Valley. And if you are lucky, there are still tickets available for Mount Vernon.
ICYMI: Diversions and Delights Along WINEding Roads Less Travelled in the Free State