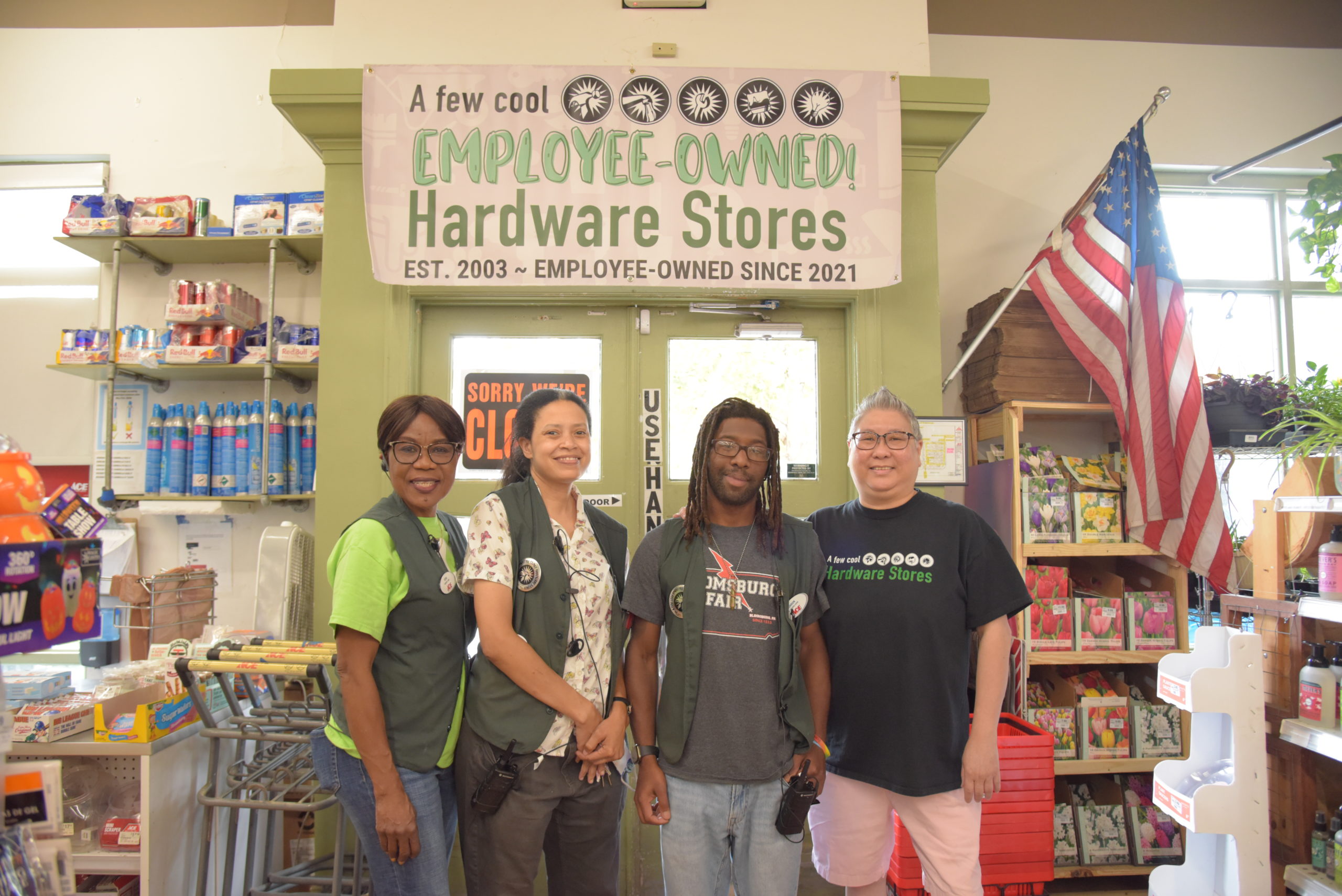 Alexandria, VA – Old Town Ace Hardware is now employee owned! A member of the largest group of privately owned hardware stores in the Nation's Capital, A Few Cool Hardware Stores (AFCHS), Old Town Ace is just one of 13 stores amongst AFCHS now being transferred to employee ownership. As of August 1, 2021, AFCHS owners Marc Friedman and Gina Schaefer are selling their business through an Employee Stock Ownership Program (ESOP).
An ESOP works similarly to a 401(k) retirement plan, with a trust named The Cool Hardware Company lumping yearly income from all 13 stores and evenly distributing that income to all eligible employees across the 13 Cool Hardware stores.
As this process is complex, the transition to 100% employee ownership will not happen all at once. Thirty percent of the ownership will be transferred upfront, while the other seventy percent will transfer gradually over the next several years.
"The primary reason that Gina and Mark did this was to maintain the company culture that they built after their retirement," explains Courtney Belew, Senior Manager, Marketing & Community Engagement for A Few Cool Hardware Stores.
She continues, "To them, it was so much more than selling a business; it was selling who they were and what they built. So this [ESOP] made so much sense to them. It allowed us to continue the work that we do and to live by the core values we instill in our staff, all while giving the benefit to our employees."
It is simple for employees to become eligible to participate in the ESOP. Each employee must work a minimum of 1,000 hours a year, roughly less than 30 hours a week; each employee must have worked with their company for at least one calendar year; each employee must be eighteen years of age or older. There is no maximum number of employees eligible for the ESOP.
Vera Onianwah, Senior Lead Customer Service at Old Town Ace, says, "We are happy about it. It will change things because since I now know I am a co-owner, it belongs to me, we will focus on customer service and increase our standard. As an owner, I want my business to grow."
Old Town Ace Manager Ailing Miller agrees, adding her admiration for the owners and their new plan. "I could not imagine more caring bosses and owners. Within our co-op, we have 13 stores, and each store is within its own neighborhood. Each one has unique merchandise and its own little quirks, so each neighborhood is well served. Each store definitely has its own personality, and my personality exudes with all my staff. Now I get to show that as an employee owner."
There are 14 million employee owners across 7,000 stores nationwide. Now Old Town Ace is a part of that metric. "Everyone has a voice and we want all of our staff to feel like when they work for us, they are working for themselves," states Belew. "It is a great model, and I am excited to see what happens and to grow with our neighbors."
ICYMI: Art on the Avenue Seeks Over 200 Volunteers for 2021 Return