Community News
78-Year-Old Alexandrian Tries for 38th Marine Corps Marathon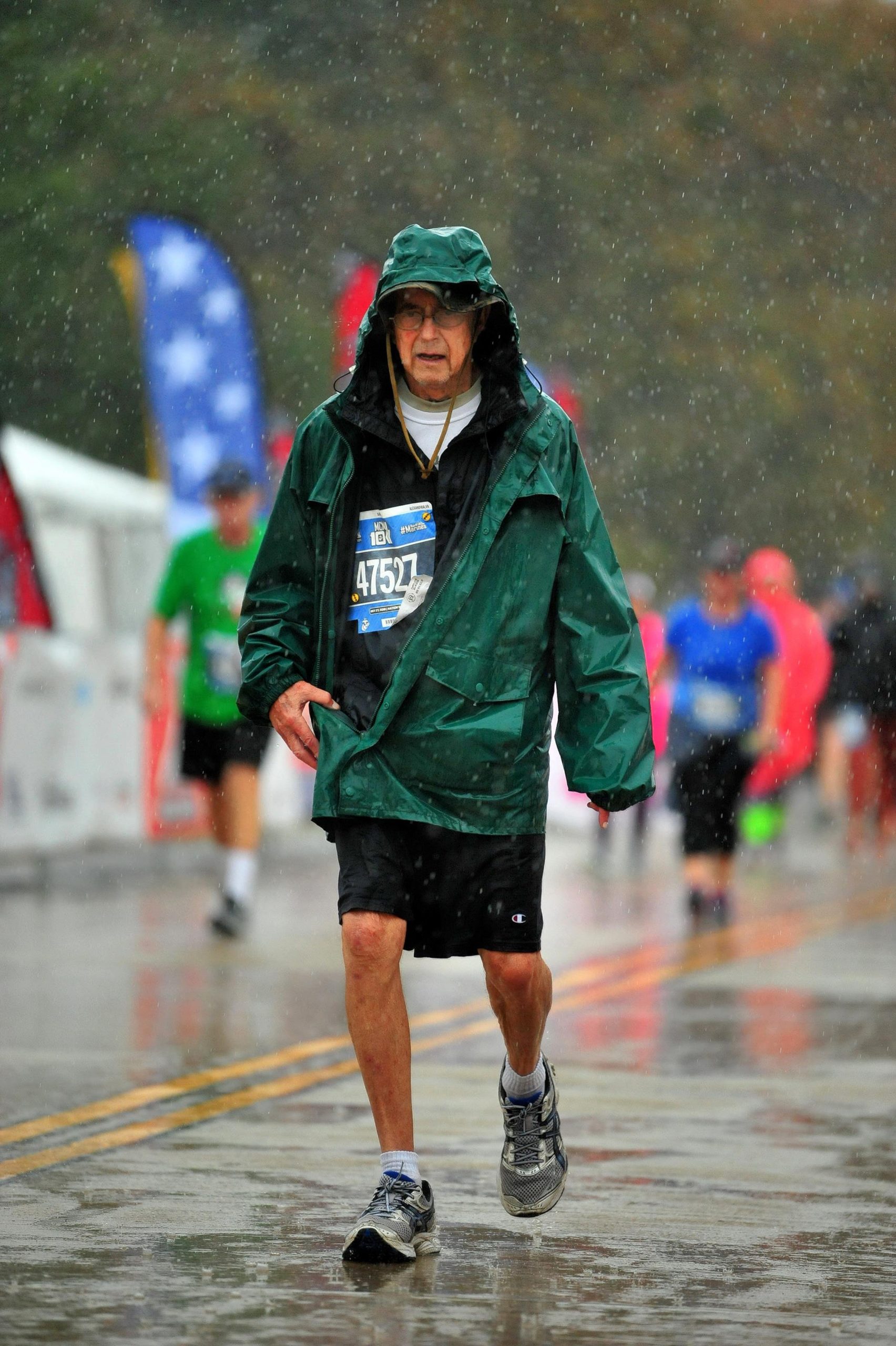 Alexandria, VA – (Editor's note: David Holland did not participate in the official Marine Corps Marathon 2021; but he did complete 26.1 miles last week over the course of several days. He states, "The real story is Rhonda's quilting.")
You might have seen 78-year-old David Holland running through Beverley Hills. "Everybody just knows this old man, shuffling through the neighborhood," says his wife Rhonda. But what you (and they) may not know is that this avid Alexandria runner has a remarkable racing record.
David has completed multiple ultramarathons, including several 100 milers, 25 JFK 50 milers, and 37 Marine Corps Marathons. This year, he will try for No. 38.
David's passion for running began with his military career. He served for 30 years, much of it in a reserve capacity, and retired as a Colonel. His service included two-and-a-half years on active duty in Vietnam, from 1966-1969, after which he returned to the States to attend the University of Virginia Law School. That is when he began running as a way to maintain his physical fitness post-military life.
David and Rhonda met at UVA. They spent their first married years living and working on the Pacific island of Saipan and traveling the globe. "He continued almost daily running in the countries we visited, Russia, Singapore, Thailand, Japan, and in Africa. We both climbed Mt. Fuji and Mt. Kilimanjaro," says Rhonda.
In 1976, the Hollands returned to Virginia, where David pursued an MBA at the College of William & Mary. In the U.S., David's running habits sped up. He completed his first marathon at Virginia Beach in 1977 and caught the marathon bug. That year, he ran his first Marine Corps Marathon and has run it nearly every year since.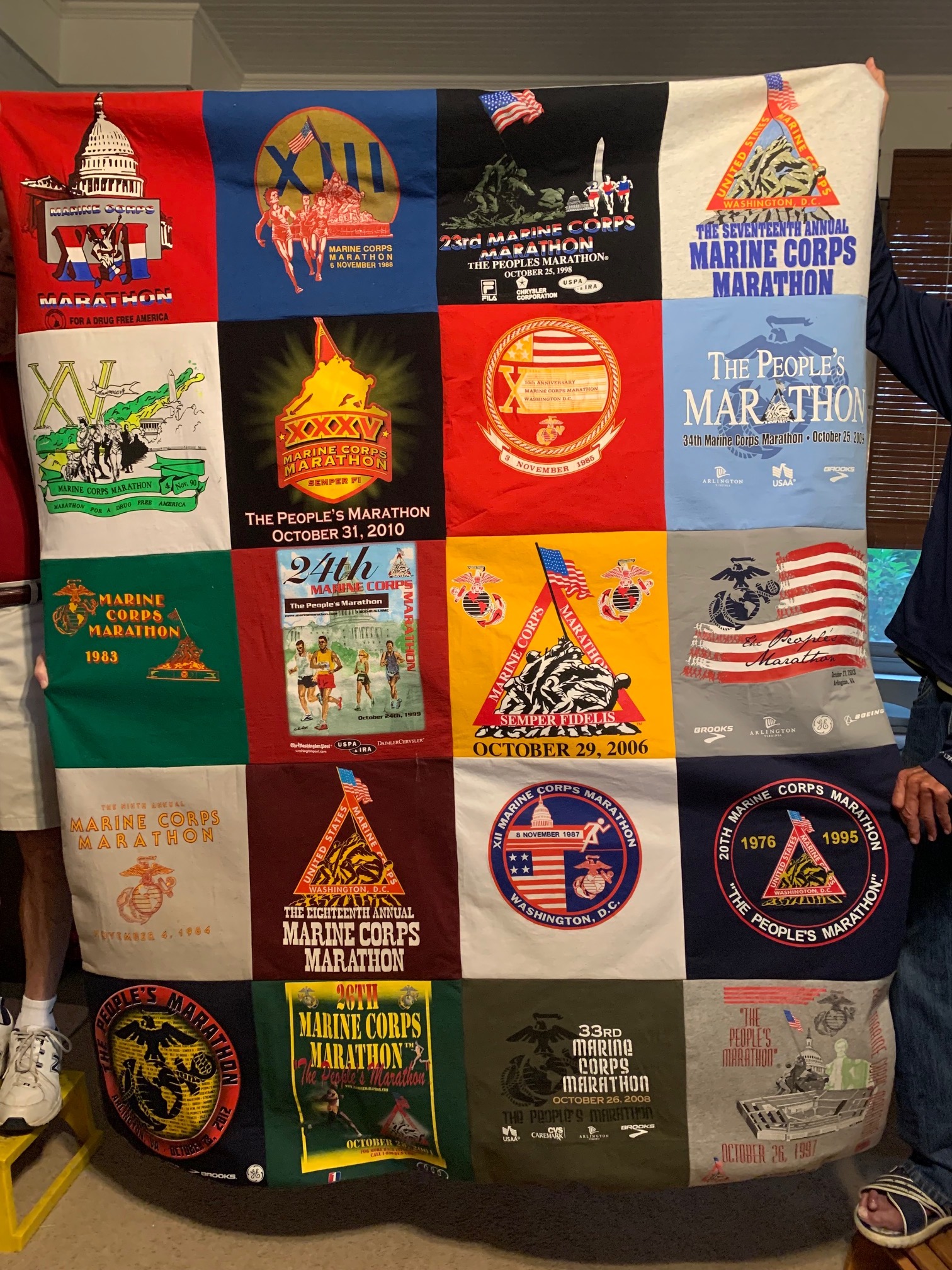 "He always received a t-shirt for the particular year he was running," says Rhonda. The t-shirts piled up. "As we got older, we decided to clean out some things, so he said, 'Why don't you make a quilt of my Marine Corps Marathon t-shirts?'"
David had so many MCM shirts that Rhonda could not make just one quilt. Twenty t-shirts went into the first MCM quilt. Rhonda is now working on the second.
As David got older and slowed down, he declined to participate in the last few in-person Marine Corps Marathons due to its six-hour time limit. But when the MCM went virtual in 2020, it presented an opportunity to rekindle his marathoning flame. "There is a 24-hour time limit on the virtual race, so when it went virtual, he thought, 'Oh, great!'" Rhonda says.
Although the 2021 Marine Corps Marathon was first planned as a live event, security concerns mandated that this year's race during the last weekend in October would also be virtual.
His entire life, David has had great determination. He maintains stamina by running from an hour-and-a-half to two hours each day. Over the course of his remarkable running record, he has recovered from a torn quad tendon, a broken jaw, and two open-heart surgeries.
"He was in the hospital for five days after his second heart surgery in 2007," says Rhonda. "On the way home, he told me to stop about a half-mile from the house and let him walk home. I trailed behind him, but that shows how determined he is to keep up his running."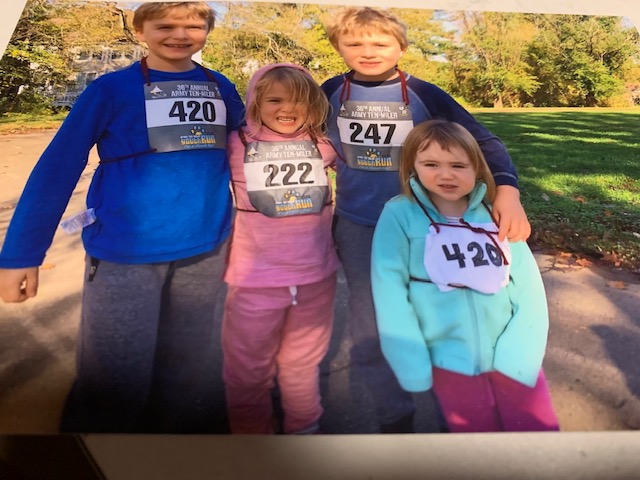 David is an inspiration to his two daughters and four grandchildren, who have each taken up running careers. The grandchildren completed a virtual one mile for the Cherry Blossom Race; oldest daughter Ada has run the MCM with David; and youngest daughter Kedron has run two MCMs with David, completed the Gobi Desert Marathon in Mongolia, and the Big 5 Race in South Africa while serving as a PA with the Medical Section of the State Department.
Come rain or shine, it is certain that David will be running the streets of Beverley Hills, so who can say if he will or won't complete this year's Marine Corps Marathon? If you see him, give him a wave and cheer him on. Let's see how far he can go.
ICYMI: RunningBrooke President and CEO Brooke Sydnor Curran Runs 150th Marathon