Eatz
Dishes of India will Curry your Flavor!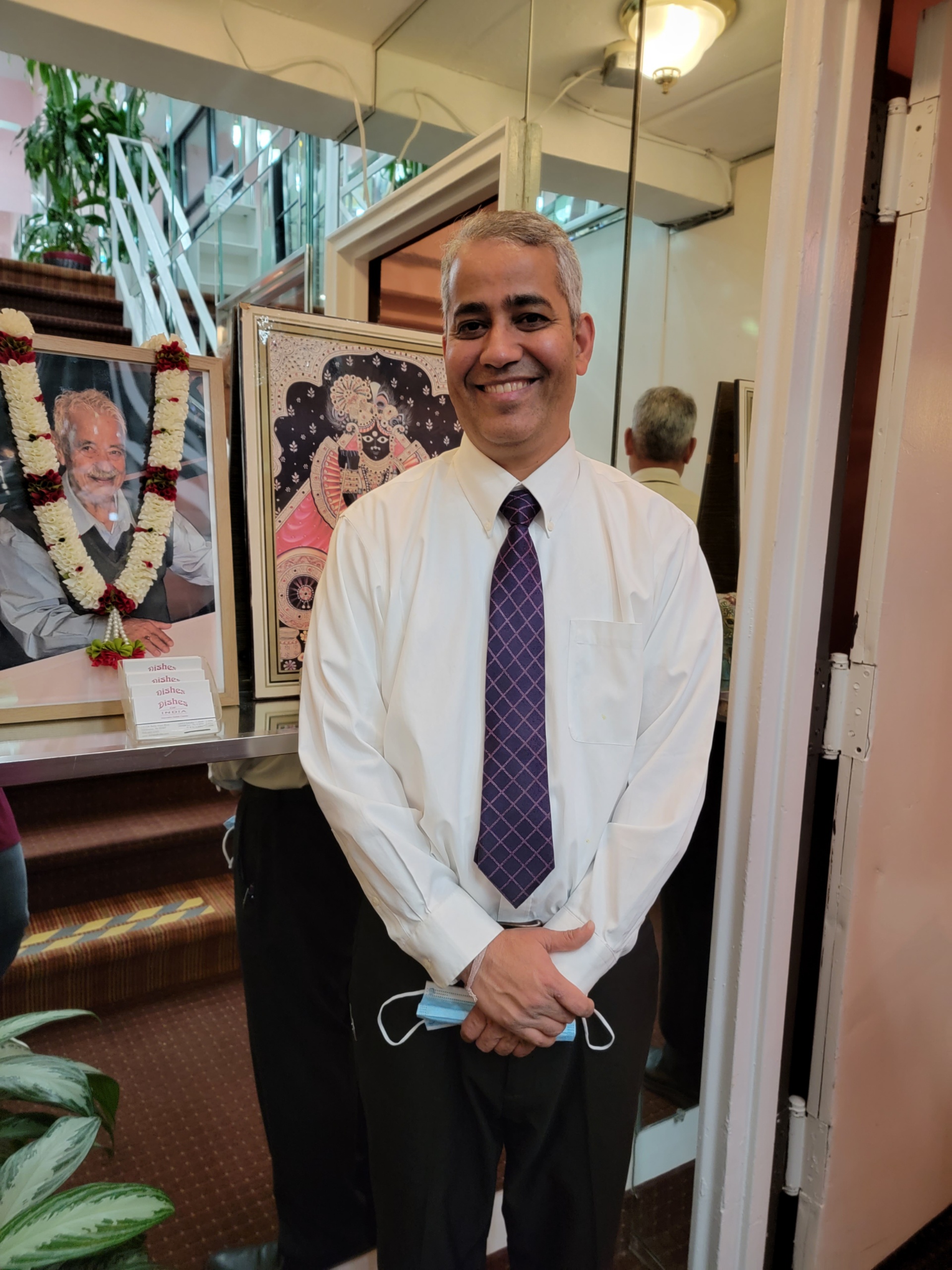 Alexandria, VA – Many think that Indian food is mostly hot curry dishes. However, that's really not the case. Indians refer to all of their meats and vegetables as curry but not all of them contain curry powder. Our dinner at Dishes of India, 1510-A Belleview Blvd., had lots of curry with lots of savory spices. Indian food also varies by region, much like American food. Dishes of India features northern Indian food with a smattering of other regions.  Keep in mind that spices and heat are two distinct flavorings of India food and Dishes of India excel in both.
Don't be put off by the walk downstairs to get to the dining room. It is worth the trip.  You are first greeted on the lower landing by a picture of the Bhatt brothers' father, Chef Ramanand Bhatt, the founder and inspiration for the restaurant who devoted over 60 years to the art of cooking! You will taste this dedication in every bite at Dishes of India. Chef Bhatt was loved by all and his memory lives on in the dishes served.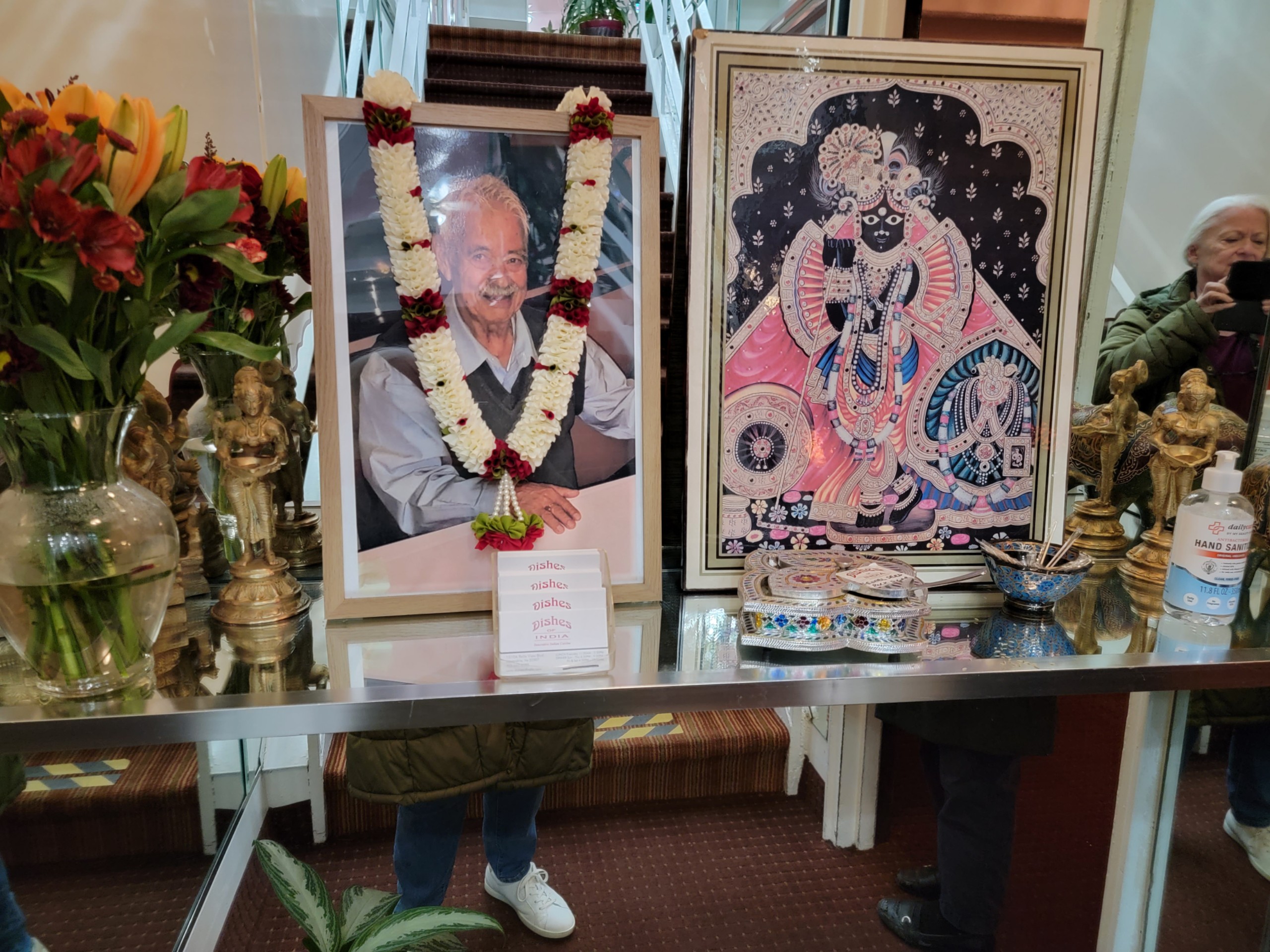 We found the wine and beer list to be quite sufficient – if you like beer, do try the Kingfisher. It's an excellent representation of the blend of British and Indian cultures, brewed in Bangalore. There is a nice selection of red, white, and rose wines too. Another wonderful beverage is the Mango Lassi made from sweet churned yogurt blended with mango pulp, served cold.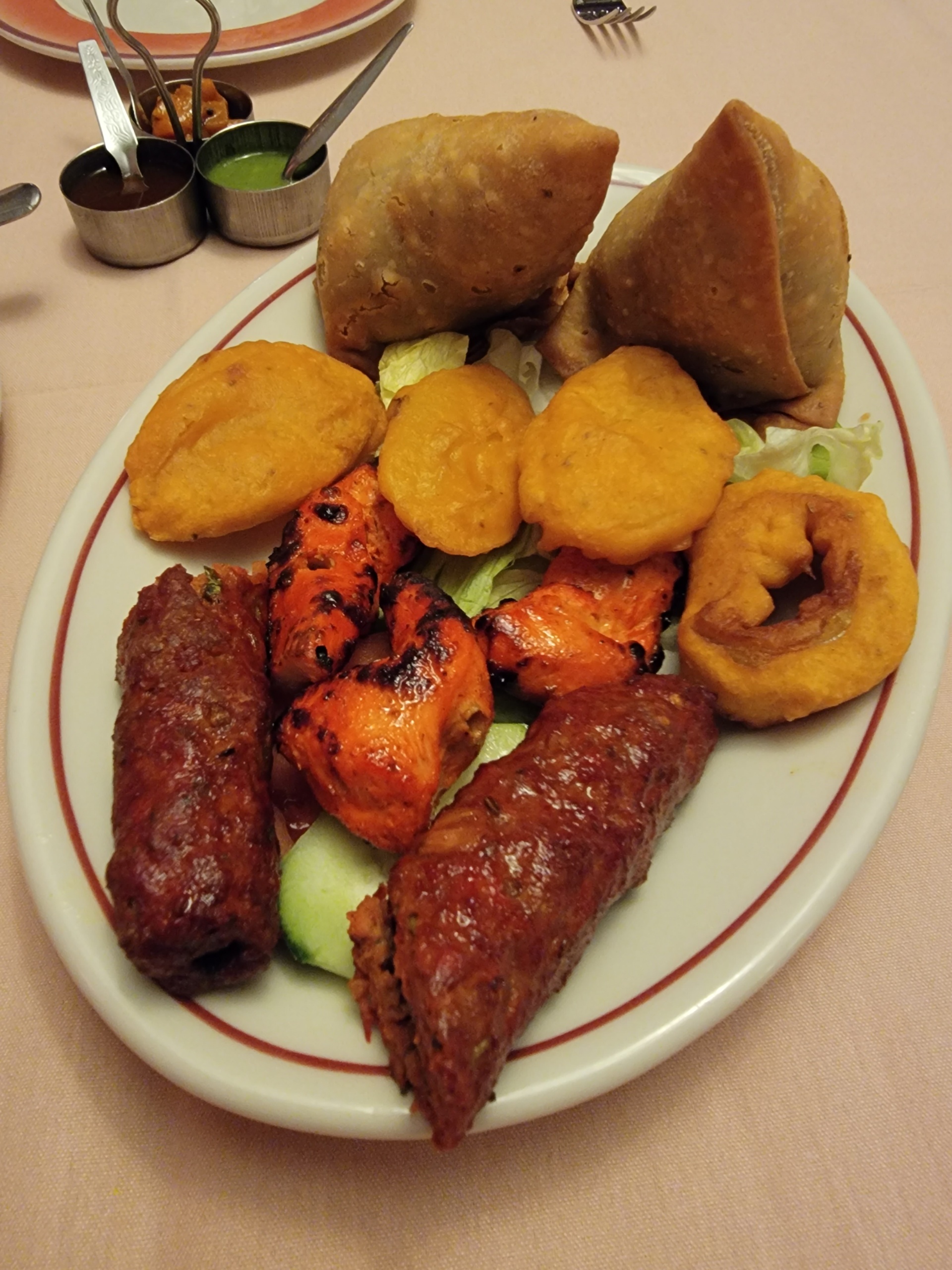 We started our meal with a selection of appetizers, all delectable. We shared the assorted appetizer plate that included pakoras – onion, cauliflower, and steamed potatoes, dipped in chickpea batter and fried; samosas – deep fried triangular shaped pastry, stuffed with spiced potatoes and green peas; chicken tikka – boneless strips of chickenF breast marinated in yogurt, herbs, and spices, roasted in special clay oven, tandoor; and seekh kebabs – minced lamb, mixed with ginger, garlic, and flavorful spices roasted in special clay oven, tandoor. We also had the stunning Palak Chaat, a plate of fresh, crunchy, fried baby spinach pieces, bits of fresh tomato and onions all covered with the flavorful mixture of yogurt and tamarind sauce. Each bite was better than the next – a wonderful array. The samosas were big enough for a meal on their own, with a delicious blend of spices in the potato and peas mixture. Drizzled with a bit of tamarind sauce or mango chutney, it was a perfect bite. The pakoras were also enhanced with the condiments. We truly enjoyed the chicken tikka and the seekh kababs – so flavorful with a wonderful char from the tandoor oven. The most amazing dish was the Palak Chaat, a dish made famous at Rasika. The crunch of the spinach, the freshness of the tomatoes and onions, and the refreshing tingle of the yogurt and tamarind sauce was irresistible. We finished the whole plateful!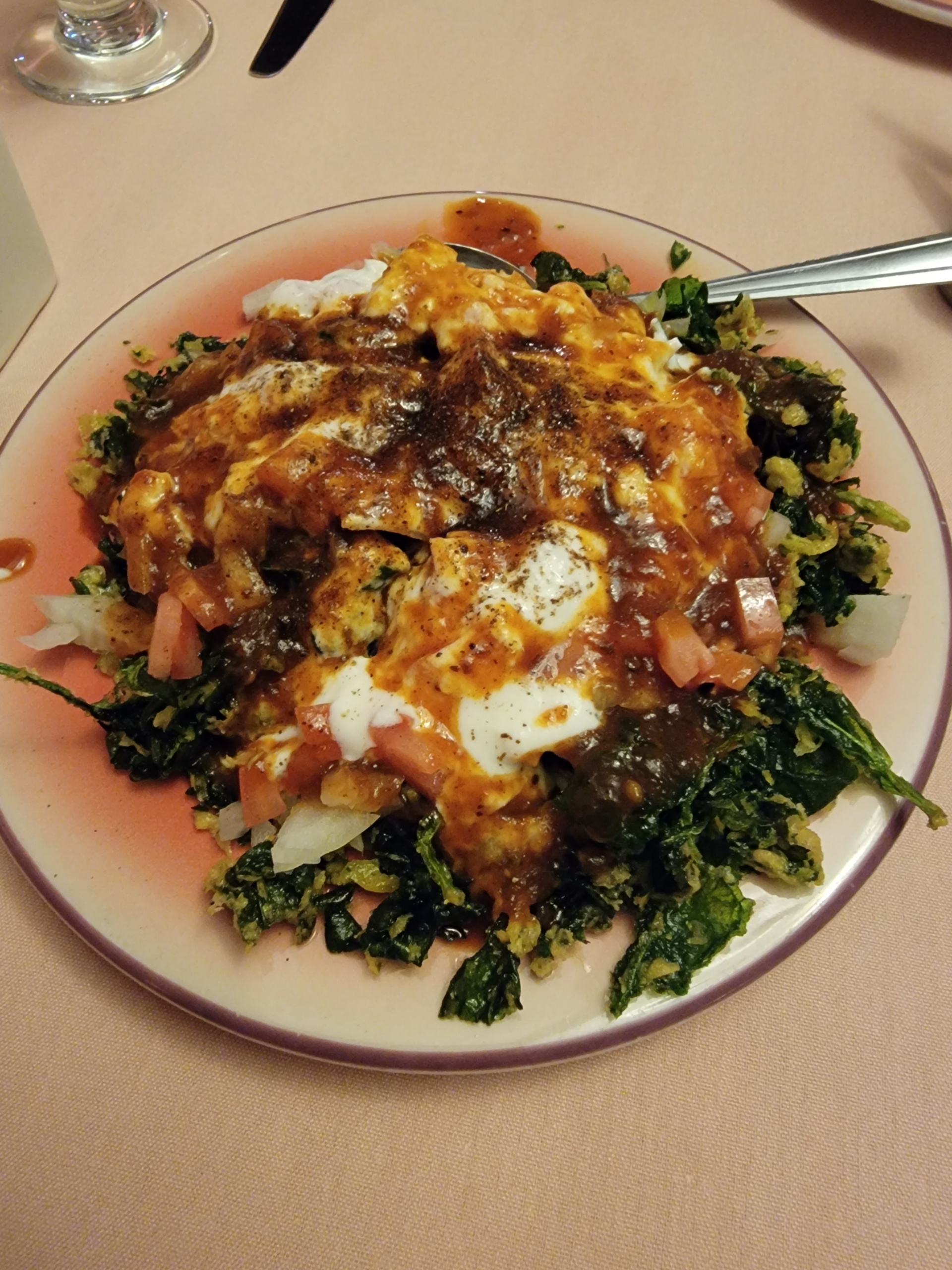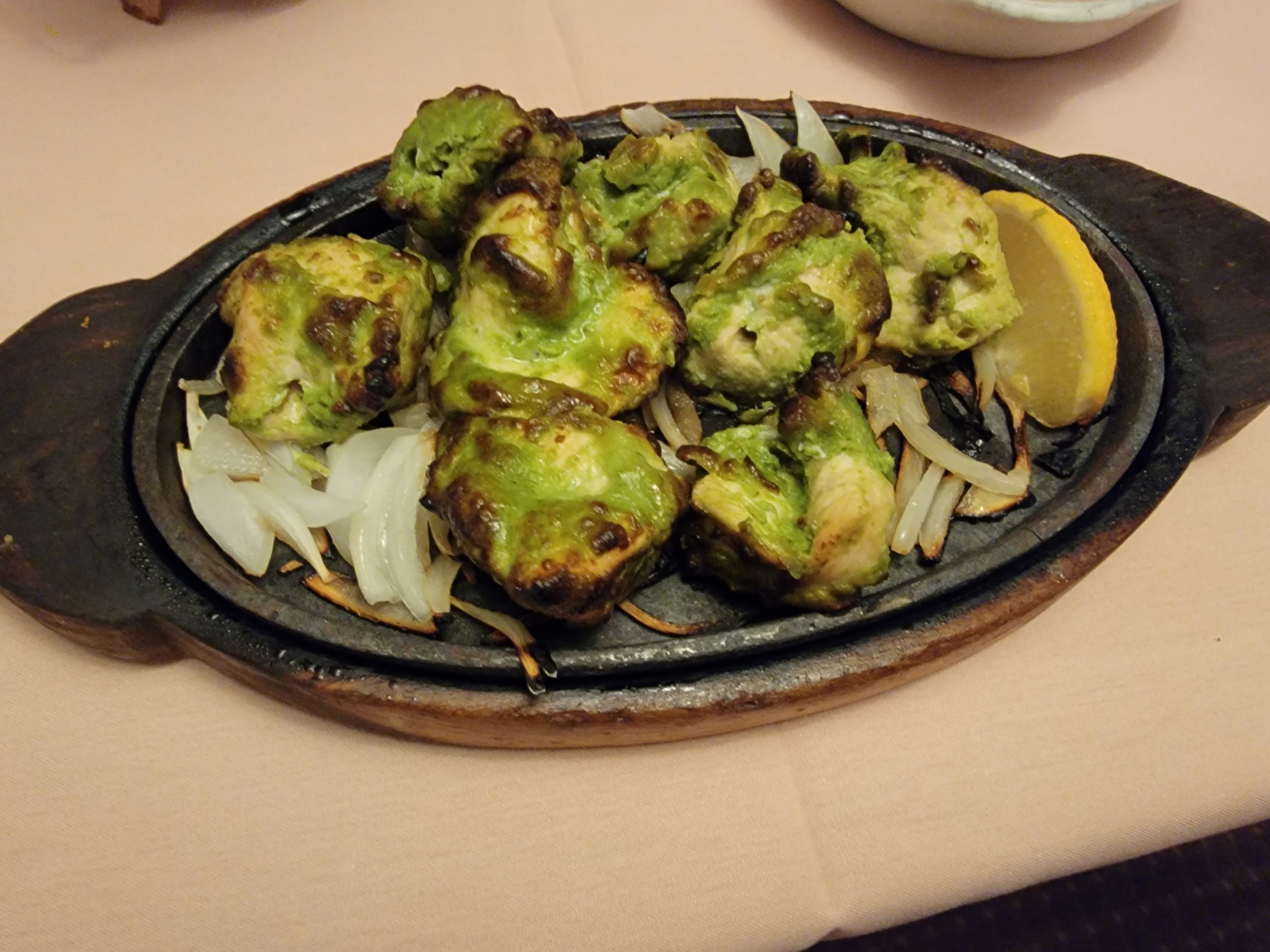 We would have been perfectly content but on came the entrees. Hariyali Tikka Tandoori looked like roasted broccoli but was actually boneless pieces of chicken breasts marinated in fresh cilantro and baby spinach sauce, roasted in the clay oven tandoor. I had never had chicken prepared this way and found it absolutely fantastic. Eaten with a bit of garlic naan, it was a delightful bite. Another new dish for us was the Lamb Karahi, a traditional northwestern dish of lamb cooked over very low heat with fresh tomatoes, onions, and green peppers in flavorful thick curry sauce. I spooned the rich, luscious sauce over some basmati rice so that I could sop up every bite. It was a lush and plush well spiced dish with a bit of heat. You can also order it with shrimp or chicken. The Murg Makhani, Butter Chicken, is a real winner, just ask anyone at the Carpenter's Shelter cookout where it has won numerous prizes. Tandoori pieces of boneless chicken breast are cooked in a fresh, tomato-based creamy sauce. If you are going to introduce someone to Indian food, this is the dish to order. I think of it as India's comfort food – the warming, creamy sauce and chicken are a perfect match. Be sure to spoon the sauce over rice to enjoy all the flavors.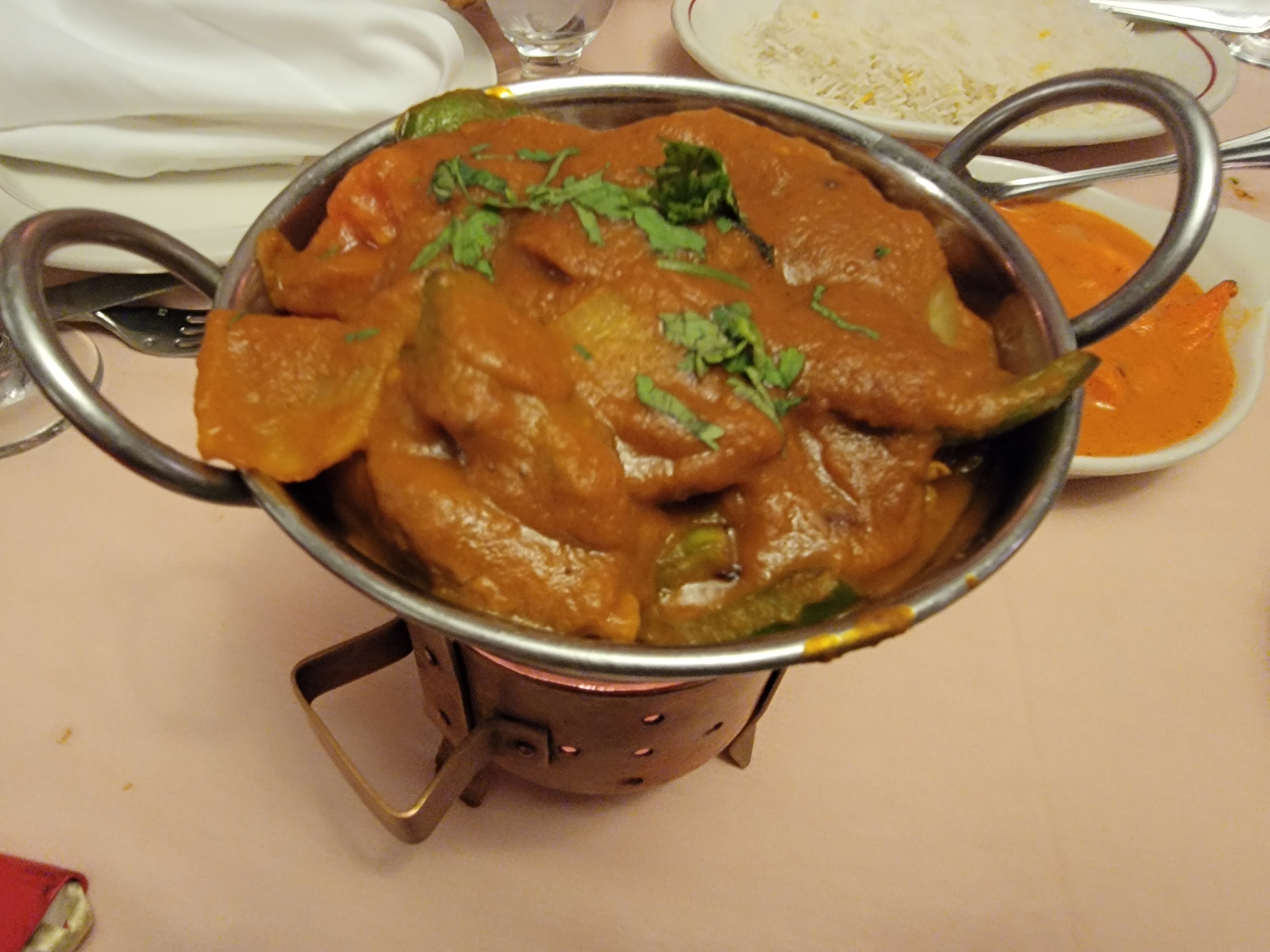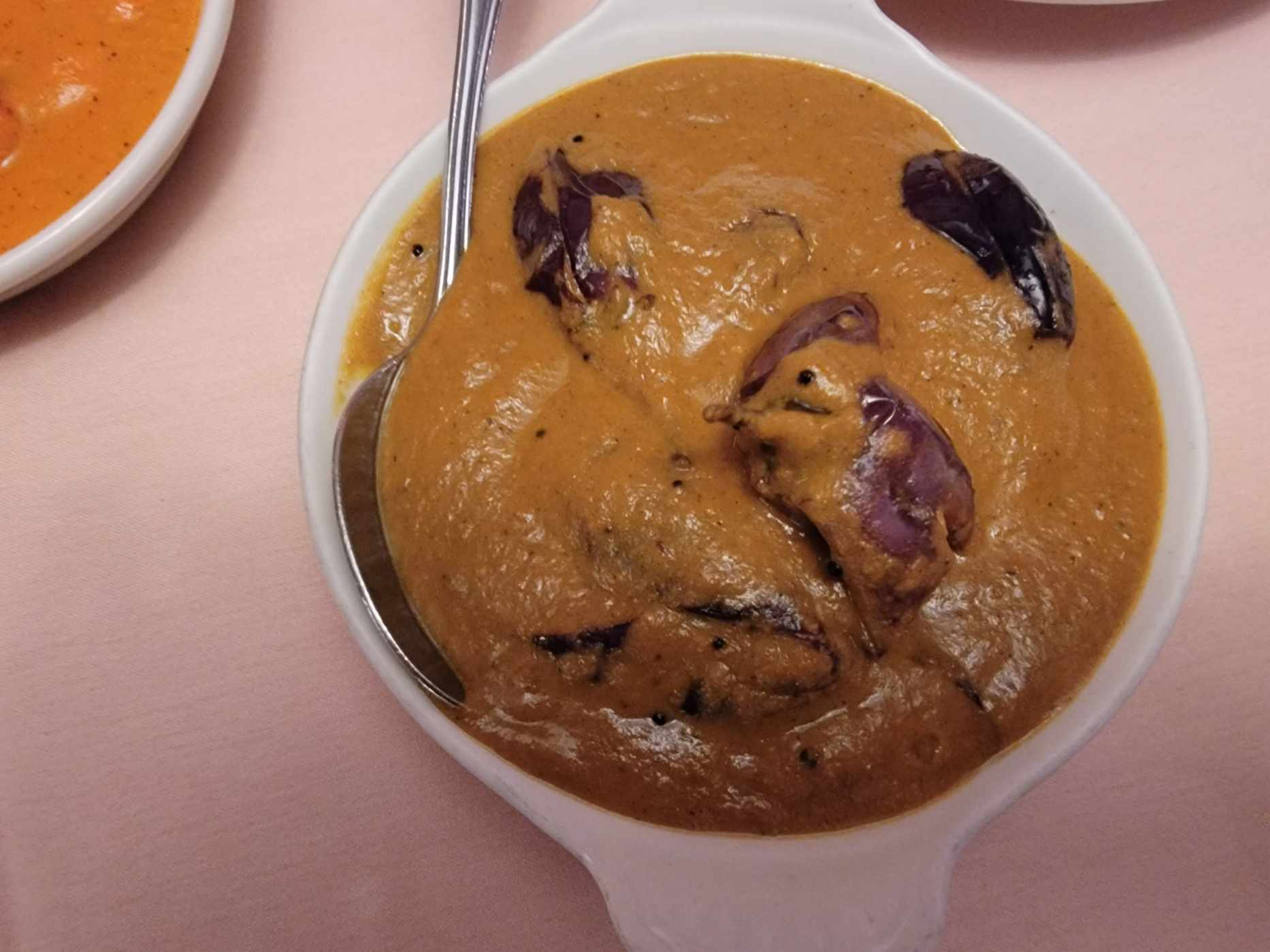 Indian food, vegetarians, and vegans are best friends. We were treated to a new menu item, Began Malvani Indian whole baby eggplant cooked in Malavani sauce, made with fresh coconut, tamarind, curry leaves, and Garam Masala. It was a lovely combination of spices and a touch of heat. And, as always, spooned over some basmati rice, it was excellent. Other vegan offerings include Aloo Methi Jeera, potato stir fry with roasted cumin and fenugreek seed; and Sabzee Malvani, composed of fresh cauliflower, carrots, green beans, and potato cooked Malvani sauce, made with fresh coconut, tamarind, curry leaves, and Garam Masala. Garam Masala is a combination of several ground spices with varying degrees of heat. It has a great affinity to vegetables. Vegetable Bhajhee is a delightful combination of fresh mixed vegetables cooked over a slow fire in ginger, garlic, tomato, and fresh herb sauce. Another vegetable dish to try is the Palak Paneer made with fresh home-made cheese cubes with mild creamy spinach.
Heat seekers have many menu choices including the lamb, seekh (ground lamb) kebab, shrimp, or chicken (murg) vindaloo – a vinegary special hot spicy curry sauce. Also try the South Indian delicacy, Goan-Fish Curry with a salmon fillet cooked in the chef's medium hot coconut milk-based sauce. Another Southern Indian favorite is the Murg Madras, a traditional chicken curry cooked in a medium hot coconut milk-based sauce.
There are so many other dishes I have yet to try including the biryanis. All start with Basmati Rice and are flavored with fresh green vegetables, chicken, lamb, or shrimp richly flavored with saffron and cooked with fine herbs on a low heat. There are a variety of breads available too. Roti is tandoori cooked wheat bread while naan, a flat leavened white flour bread baked on the wall lining of tandoori oven is available plain or with garlic and herbs.  There are wonderous kulcha and other stuffed breads.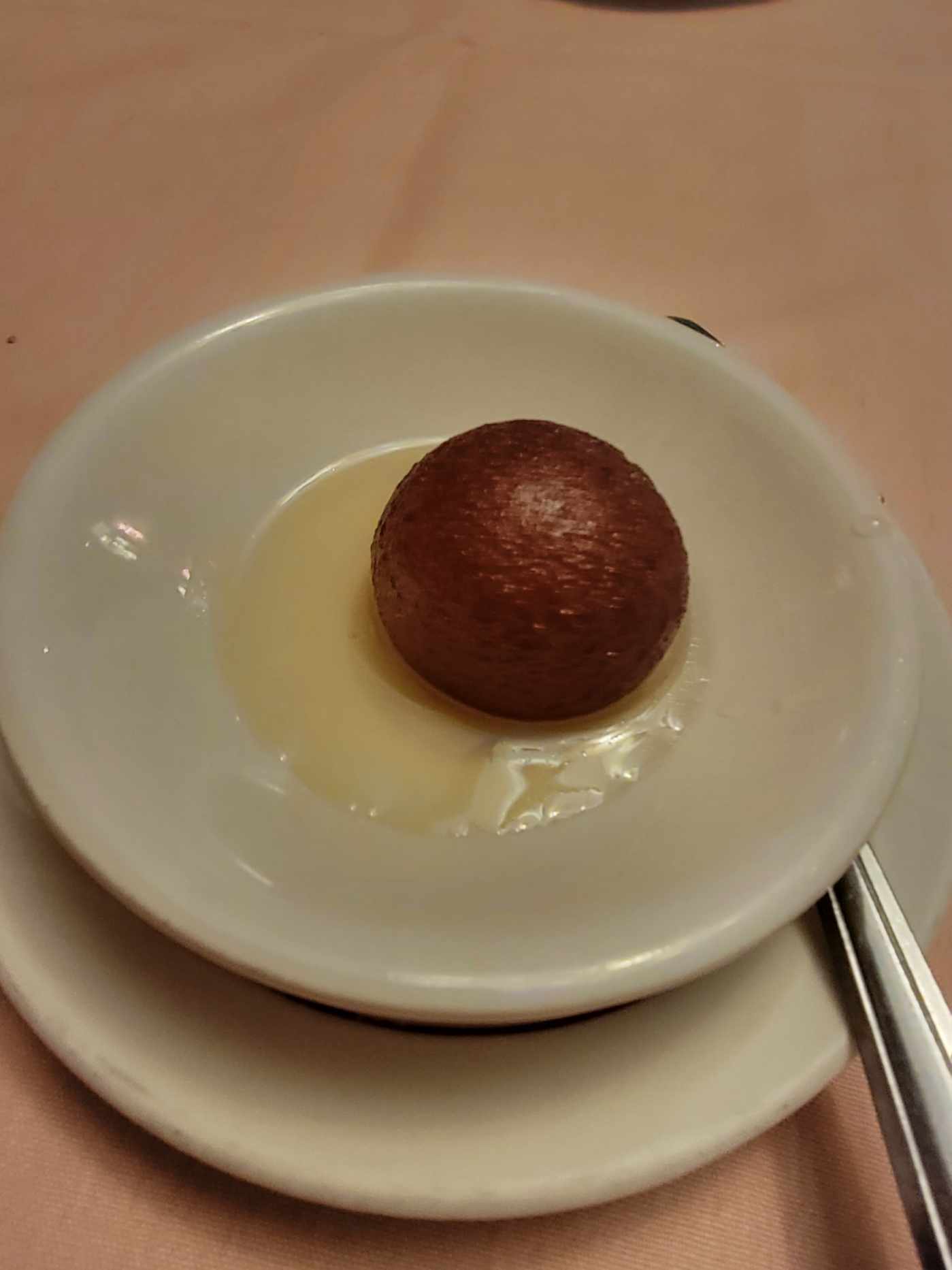 Finish your meal with a cup of Indian spiced tea and one of several desserts. Indian sweets vary from Kheer Pista, Indian rice pudding, garnished with nuts; Gulab Jamun – a golden fried milk ball, soaked in sweet syrup; Mango Ras Malai – Flat round disks of Indian cottage cheese, poached in mango flavor milk, garnished with pistachio, or Pista Kulfi – Traditional Indian homemade ice-cream, pistachio flavor. If you are there with four or more friends, order all of them and share.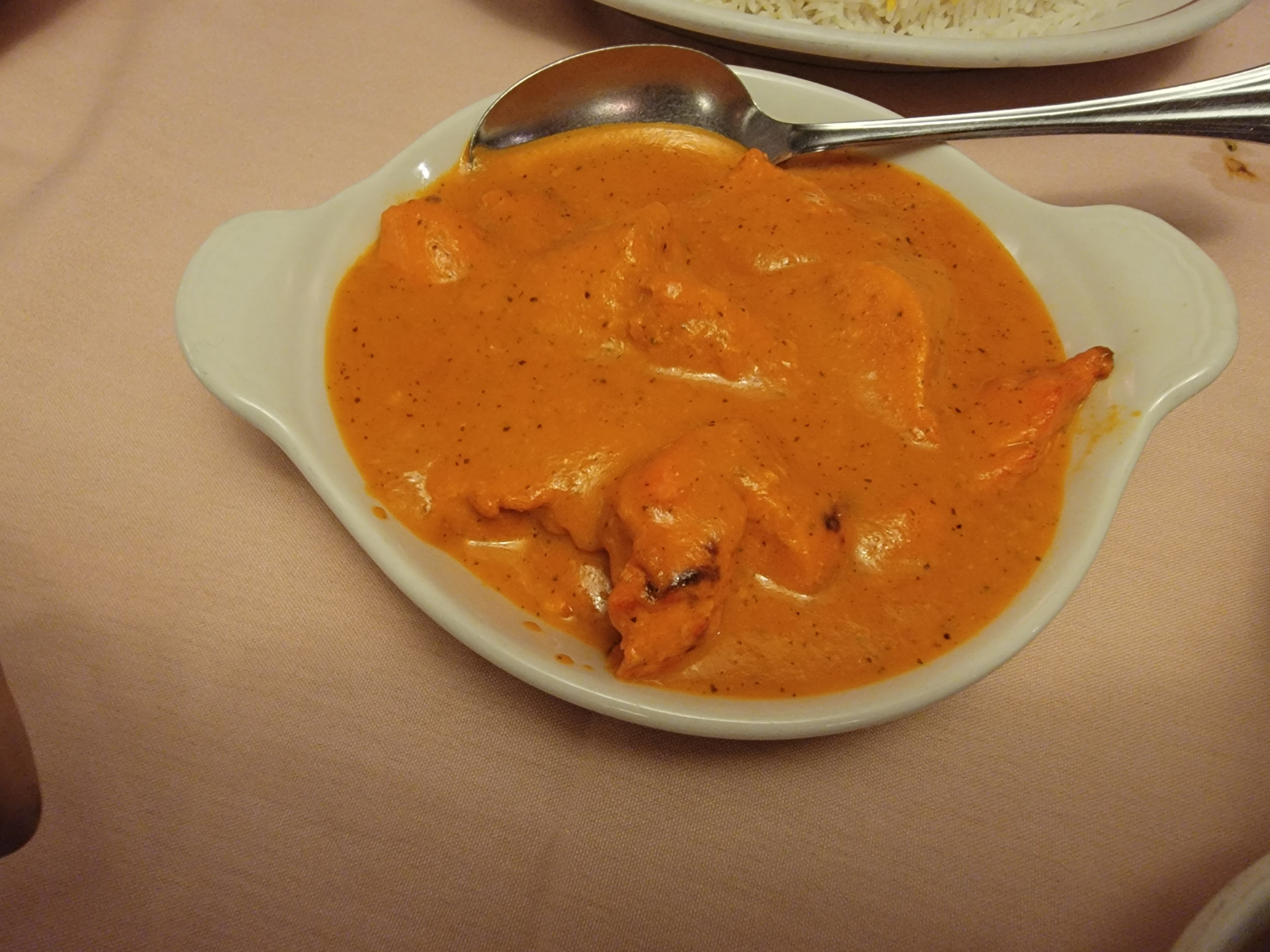 Children are welcome. Dishes of India offer a variety of dishes especially created for children. In addition to the yummy butter chicken, your children will be delighted with the Grilled Chicken Strips that are boneless strips of chicken marinated in yogurt, herbs, and spices then grilled. The Chef's Special Lamb is boneless pieces of lamb cooked in a flavorful, rich, and creamy sauce. Yellow Shrimp features basmati rice and shrimp cooked with mild curry sauce.
Open seven days a week for lunch and dinner, Dishes of India is one of the best Indian restaurants I have had the luck to try. You should go, whether to eat in or carryout, the food will leave you wanting more!
Do you have a restaurant you would like reviewed? Contact [email protected]
ICYMI: Baby, It's Cold Outside!