On Exhibit
Yayoi Kusama and the Infinite Power of Reflection
One With Eternity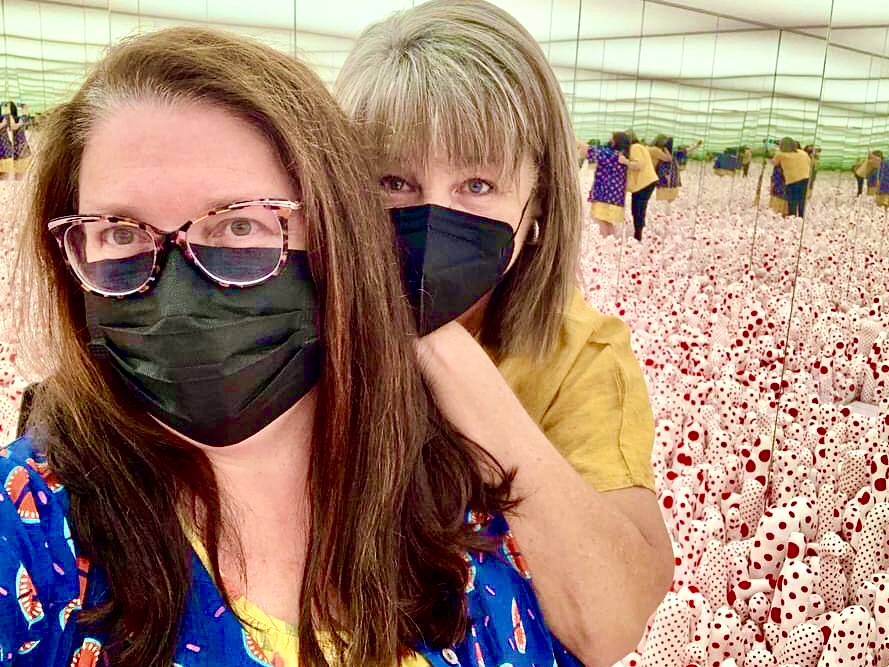 Alexandria, VA – Yet another casualty of pandemic policy and protocols was the postponement of what would have been the return of Yayoi Kusama's Infinity Mirrors to the Hirshhorn Museum and Sculpture Garden. The exhibit One With Eternity: Yayoi Kusama in the Hirshhorn Collection was scheduled to open on April 4, 2020. The five new additions to the Hirshhorn Collection have remained as they were installed two years ago in the lower level of the iconic circular building that is undergoing exterior renovations and enveloped in the blanketing art installation Draw the Curtain by Nicholas Party.
The Hirshhorn, part of the Smithsonian, has been acquiring Kusama's work for 25 years. The 2017 retrospective traveled to five North American museums with never-ending lines for tickets. The much-anticipated One With Eternity's ten months in limbo may soon be seeing the light at the end of the long dark tunnel. With booster shots and child vaccinations available in addition to relaxed mask rules indoors, the logistics of safely managing crowd control may be less daunting.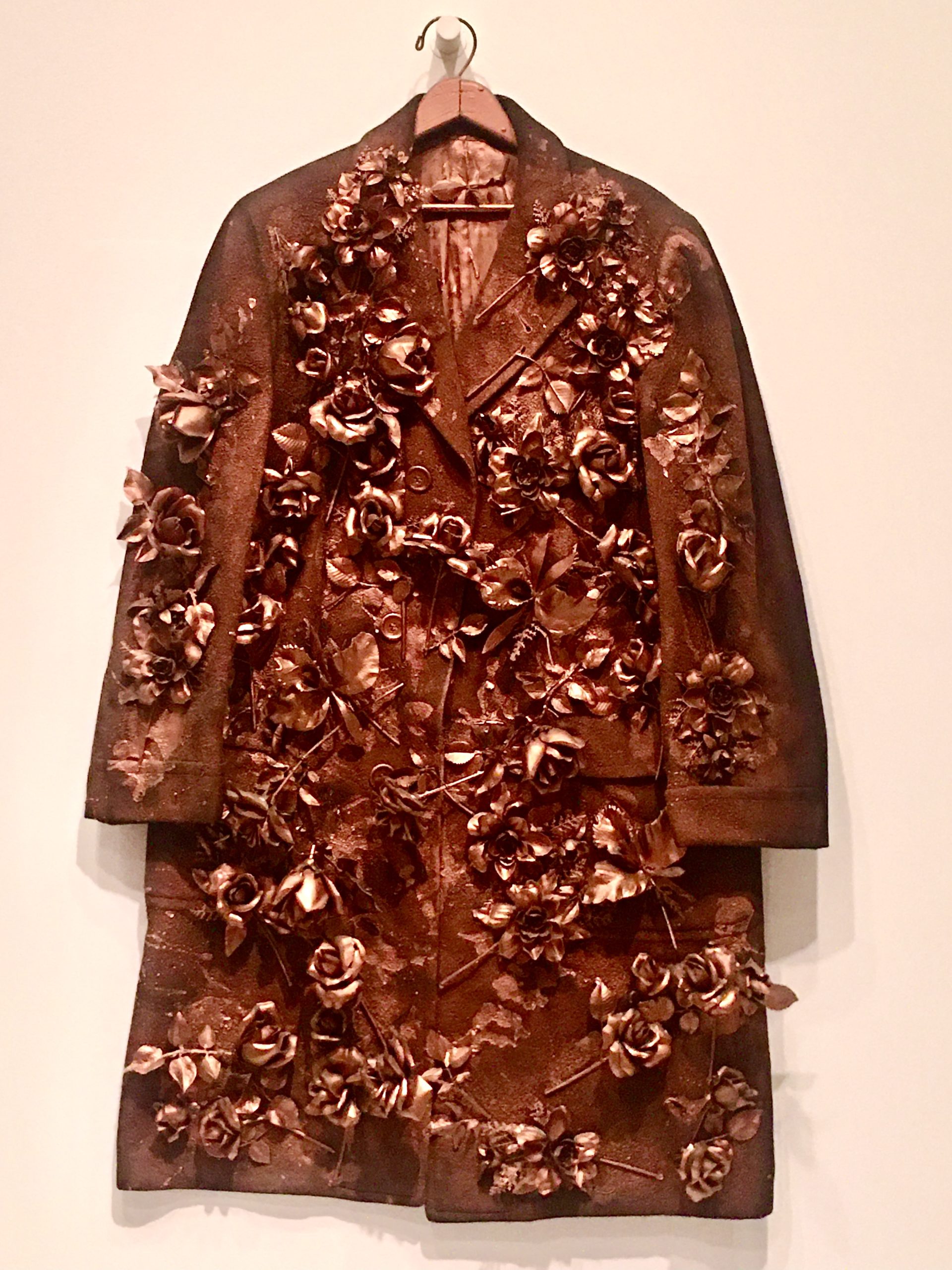 The Zebra Press was fortunate to take a private tour of the exhibit last month as a guest of Hirshhorn donor Kristin Cabral and D.C. native and McLean art patron Leslie Mason. Escorted by personal docents, the unguarded, uncrowded experience felt like we were in the children's classic book From the Mixed-Up Files of Mrs. Basil E. Frankweiler. Instead of being locked inside the Metropolitan Museum of Art in New York, we had the Infinity Rooms entirely to ourselves for as long as we wanted. As a bonus, we were able to take photos and selfies to our heart's content.
I was fortunate to have toured the premier Hirshhorn 2017 exhibit spotlighting a vast collection showcasing the prolific work of the 92-year-old Japanese-born contemporary conceptual/performance/fiber artist, sculptor, painter, poet, filmmaker, fashion designer, and author. I have also viewed Kusama's work at the David Zwirner Gallery in New York and recently toured Cosmic Nature at the New York Botanical Garden during the height of fall splendor and pumpkin season.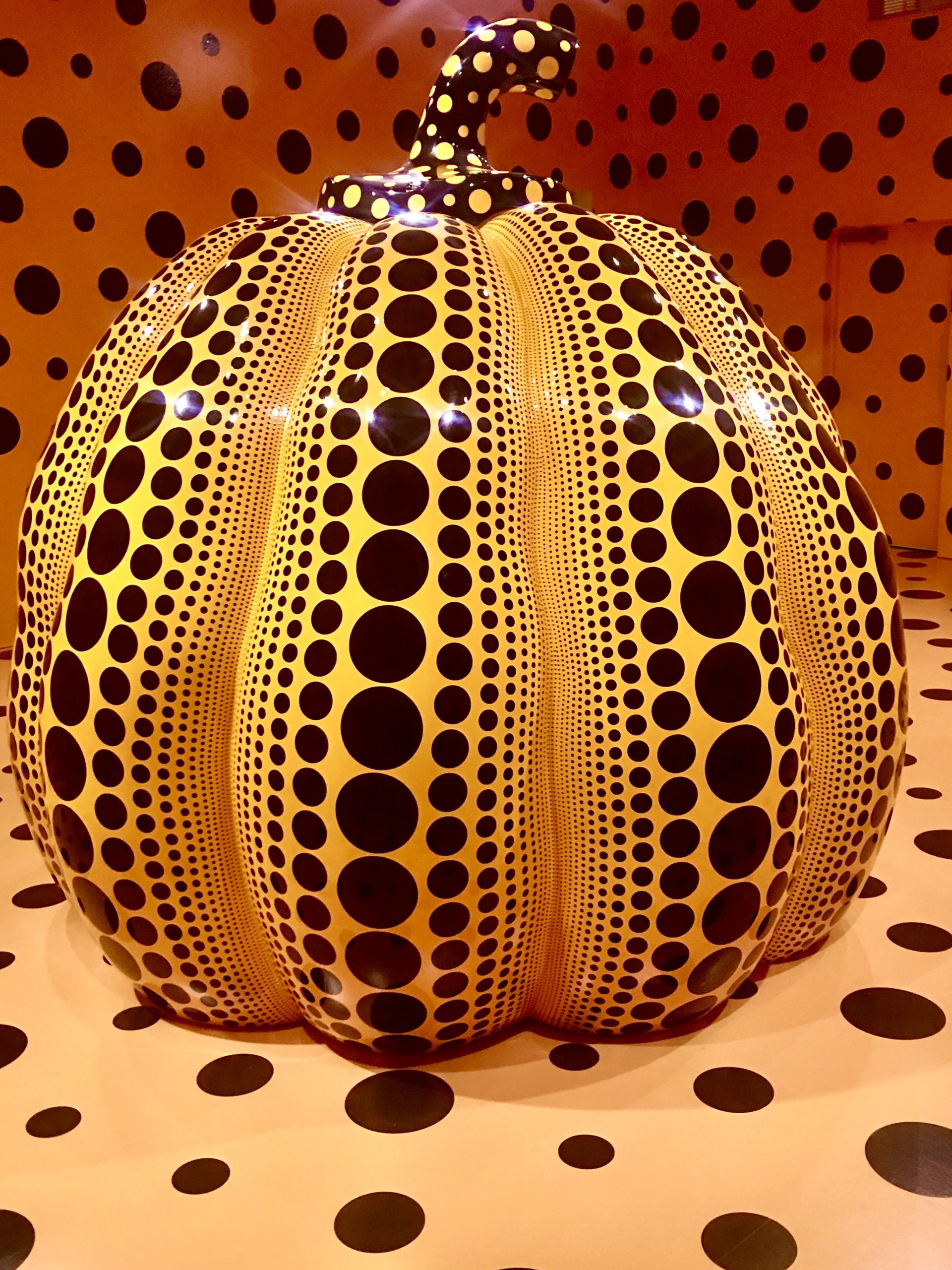 Pumpkins and dots, and pumpkins adorned with dots, are a recurrent theme in Kusama's art. She suffered hallucinations as a child growing up in Japan. While the memories and dotted images haunt her, the pumpkin brings her comfort and joy.
"Pumpkins are lovable. Their wonderfully wild and humorous atmosphere never ceases to capture the hearts of people. I adore pumpkins. As my spiritual home since childhood, and with their infinite spirituality, they contribute to the peace of mankind across the world. They make me feel at peace. Pumpkins bring about the poetic peace in my mind." ~ Yayoi Kusama, On Pumpkins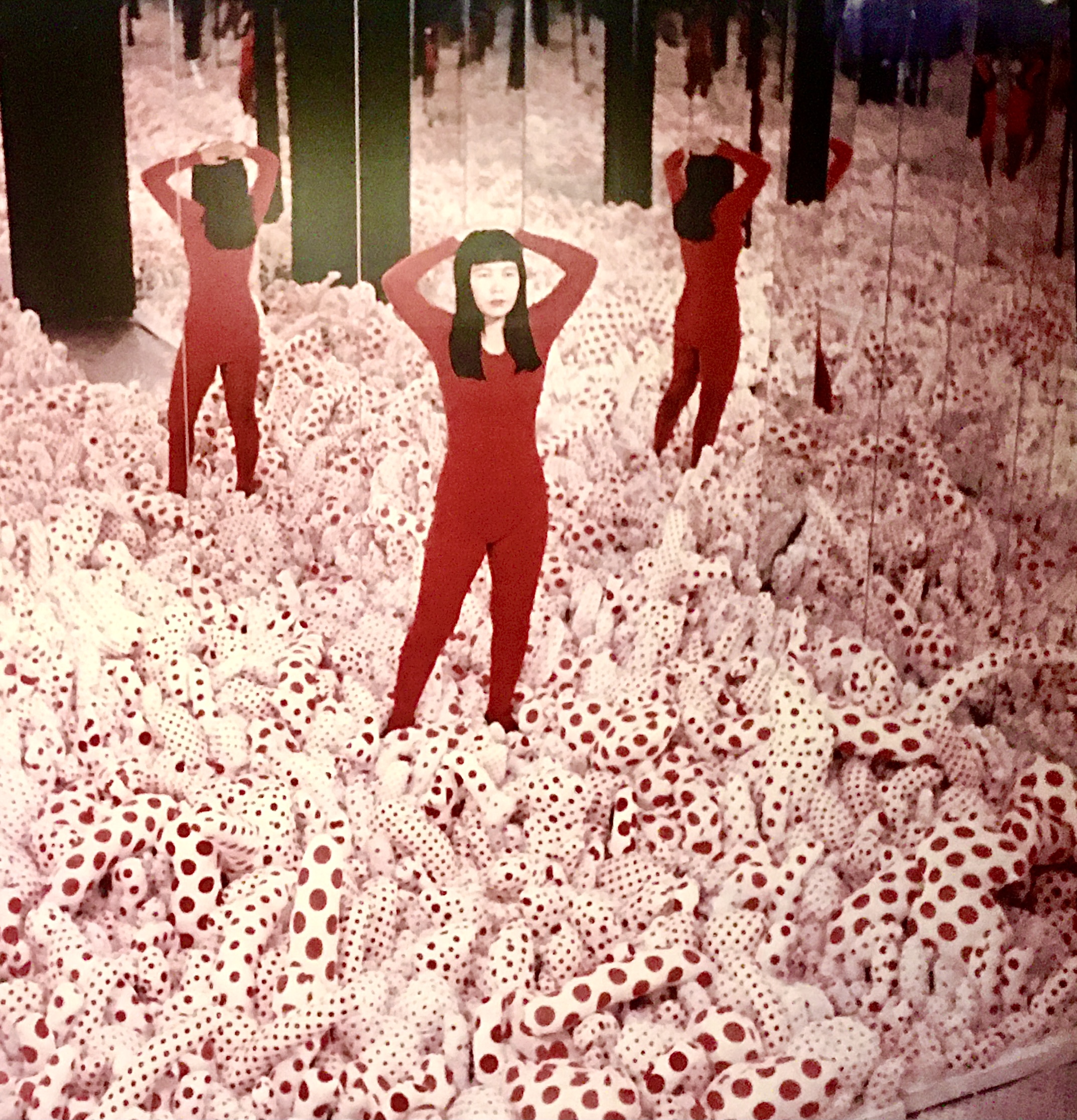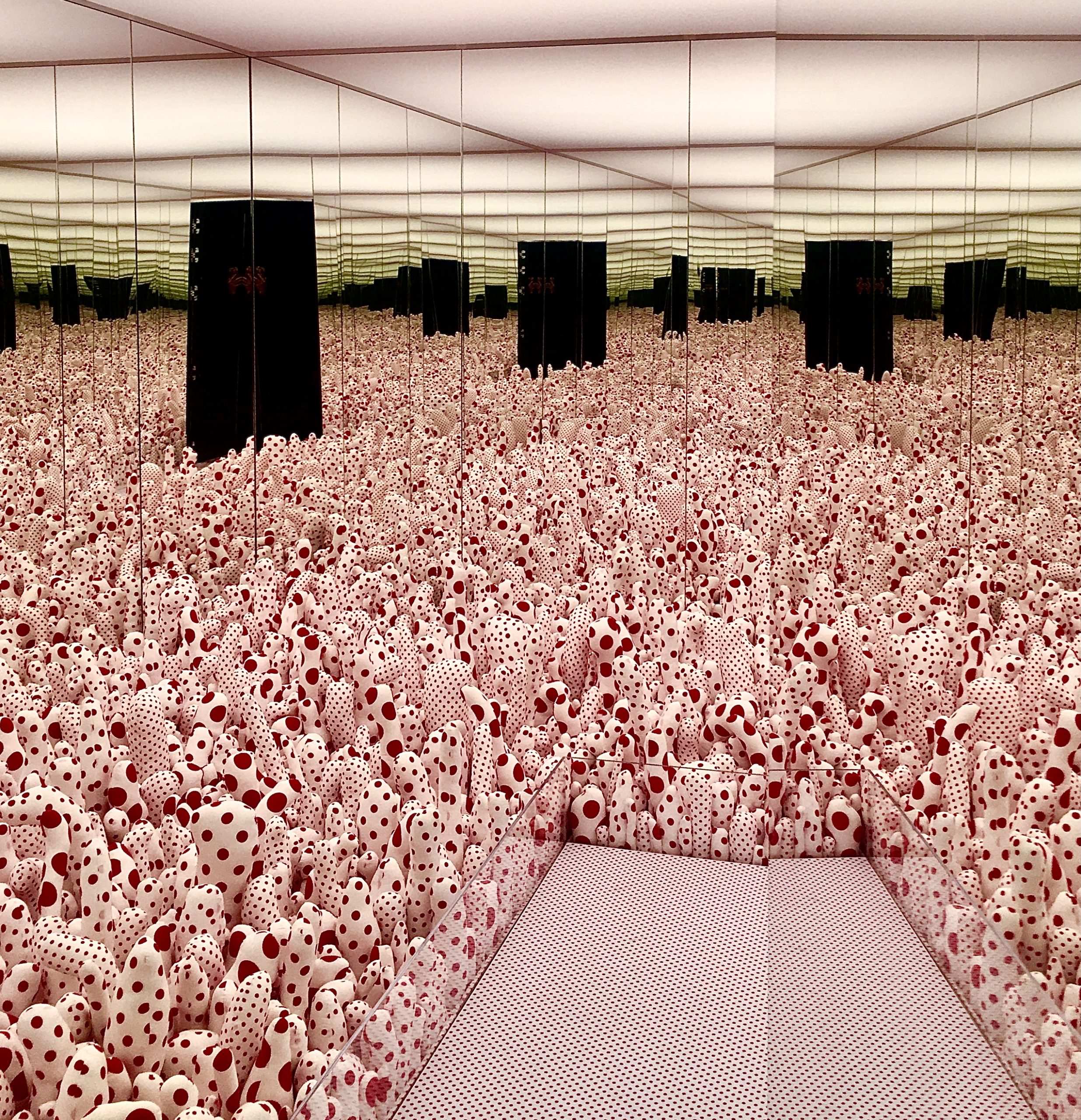 Kusama is a gifted painter, and one of her earlier works is the first piece in the new exhibit at the Hirshhorn. Missing are her massive mosaic canvases depicting organic abstractions, kinetic shapes mesmerizing in movement, culminating in colossal combustion of color. Kusama's expansive work taps into abstract expressionism, minimalism, pop art, surrealism, avant-garde, Art Sauvage, and Art Brut, a counter-cultural movement founded by Jean Dubuffet eschewing academic traditions in art. Think the more contemporary equivalent, such as the graffiti-inspired renderings of Basquiat.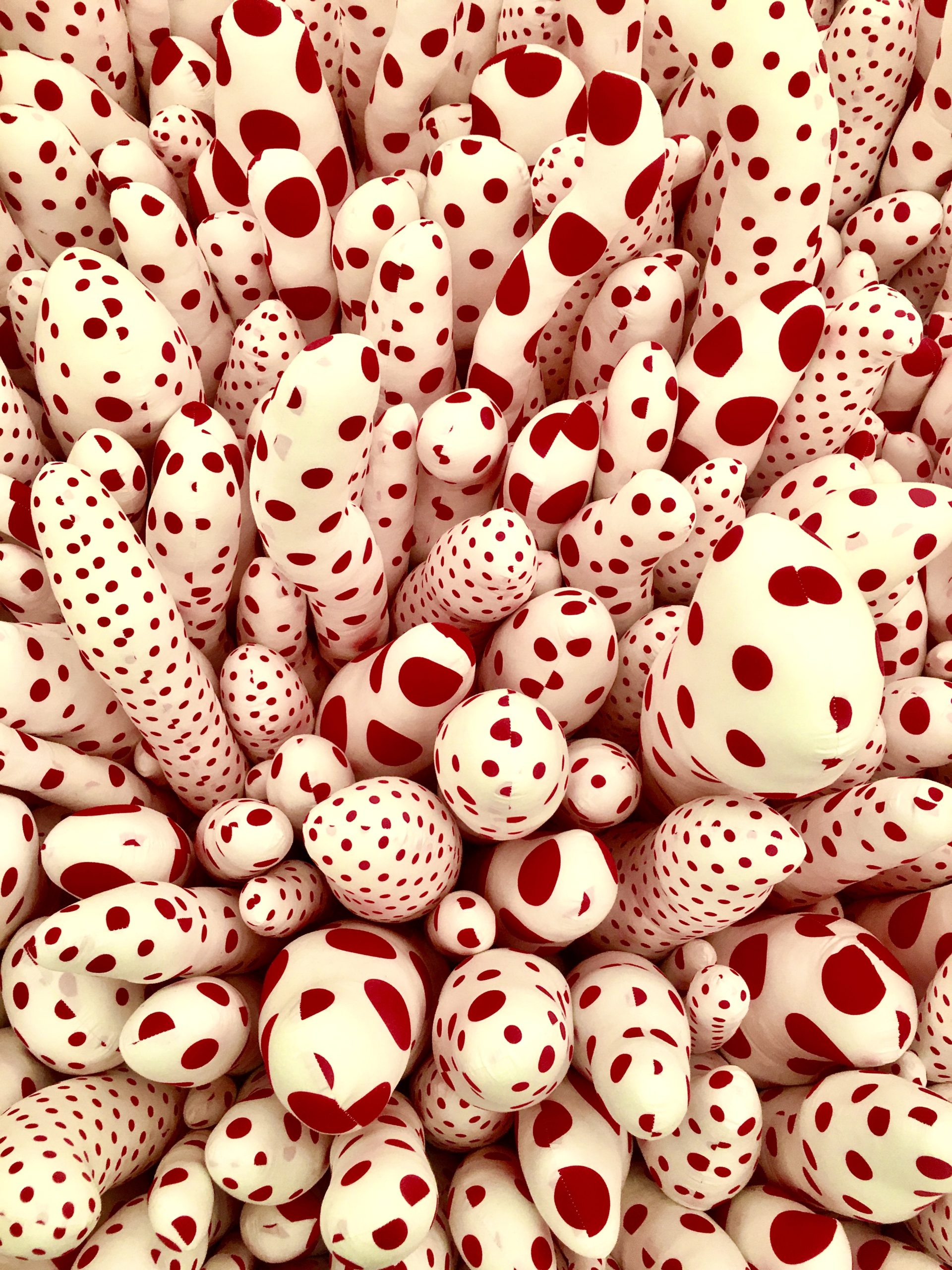 Kusama's feminist themes, prevalent in so much of her artwork, arise from a history of sexual and physical abuse. Coming of age during World War II evoked a sense of diminishment and vulnerability in a vastly cruel and intolerant world dominated by violence, death, and destruction.
Underlying it all remains a profound message of hope – an indomitable spirit that screams SURVIVE! PREVAIL!! ENDURE!!! In a world turned upside down, it's a message we can all embrace. Serenity and peace are projected in countless directions via the infinite reflection of the eternal soul.
One With Eternity's opening date for the general public is yet to be determined. Hirshhorn insiders and donors will be permitted early access and ticketing priority. In the meantime, the museum has activities to engage Kusama art aficionados of all ages. Visit the website at hirshhorn.si.edu. Kusama-themed gifts are also available in the gift shop and online.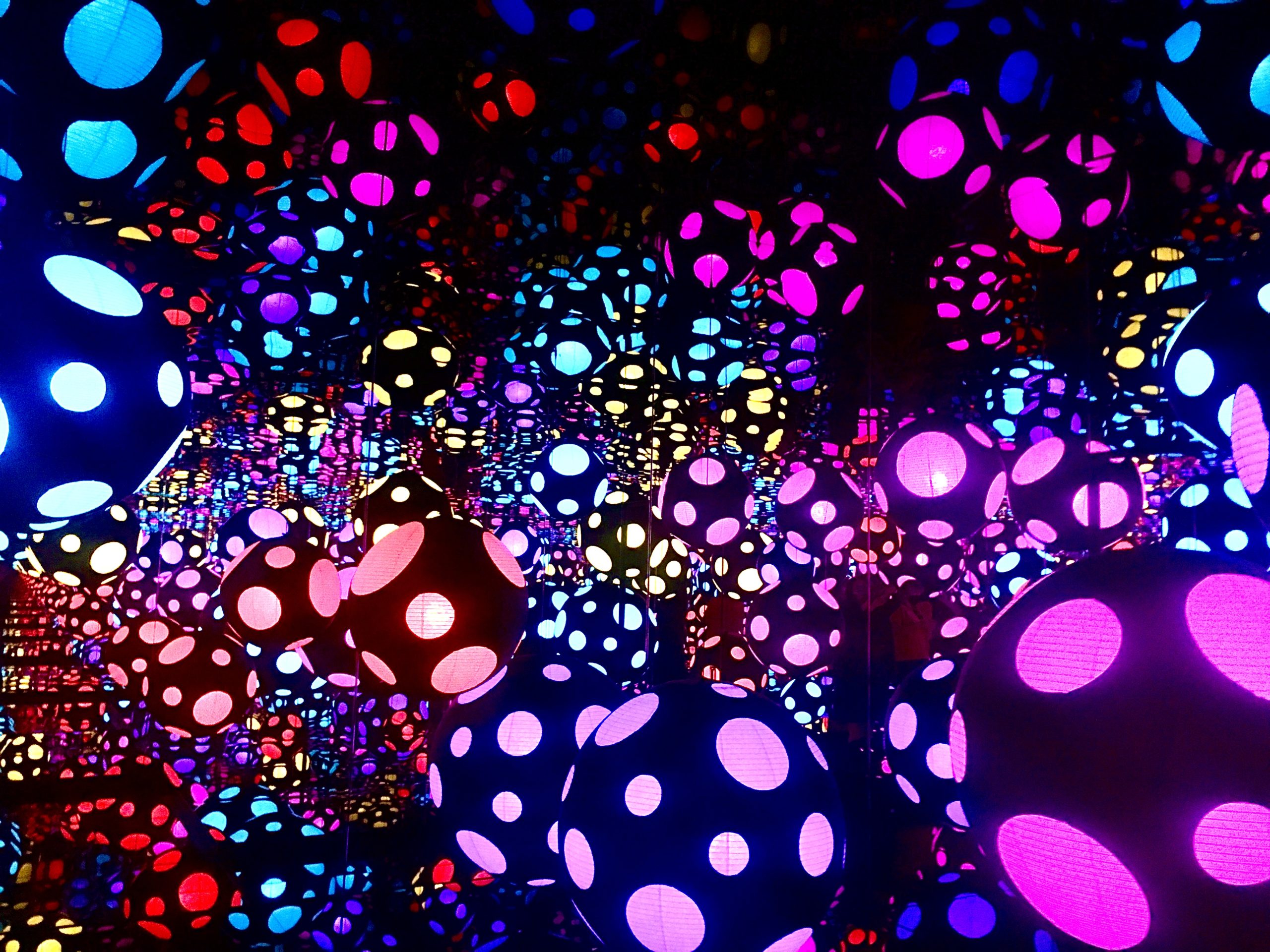 Ongoing upstairs at the Hirshhorn are two phenomenal exhibitions that On Exhibit highly recommends as a perfect field trip across the moat with family and holiday guests: Laurie Anderson: The Weather (through July 31, 2022) and Marcel Duchamp: The Barbara and Aaron Levine Collection (through May 8, 2022).
For the holidays, On Exhibit wishes to share with you Yayoi's very personal message in this season of peace. Happy Holidays to all!