Foodie Newz
Heated Outdoor Dining Options Available in Alexandria This Winter
Also, dining out on Christmas and New Year's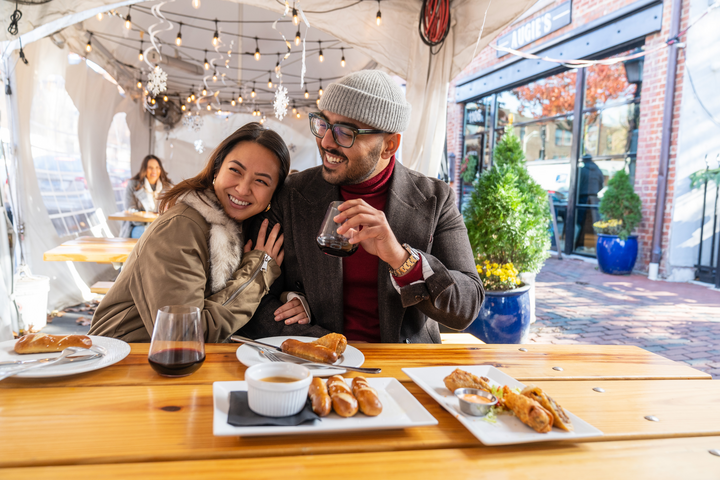 ALEXANDRIA, VA – Alexandria is known for its restaurants and delicious food. Though it's getting colder, you can still go out and enjoy your favorite items on the menu. Many restaurants are offering heated outdoor dining this winter. Visit Alexandria has written a blog post with every option available to you. Below are a select few they highlighted in a recent email, sorted by location. Bon appetit!
Old Town:
Del Ray and Arlandria:
West End:
Carlyle/Eisenhower Valley:
Also, take a look at the restaurants offering dining experiences during Christmas and New Year's.
Christmas Eve
–        Myron Mixon's Pitmaster BBQ: Myron Mixon's Pitmaster BBQ in Old Town will be open for dining and takeout from 11:30 a.m. to 3:30 p.m. with their new holiday feast featuring the infamous smoked beef brisket.
–        Daniel O'Connell's Irish Restaurant & Pub: Head to Old Town for a cozy lunch and Irish coffee on O'Connell's heated patio or heated rooftop from 11 a.m. to 2:30 p.m.
 –   Lena's Wood-Fired Pizza & Tap: Lena's is decked out for the holidays and offers delicious Christmas specials on Christmas Eve and Christmas Day including Roasted Garlic Pork Loin and Slow-Roasted Prime Rib. They Christmas Family Meal To-Go – that has received rave reviews in the past – is just $69 for 4 and can be picked up Christmas Eve or Christmas Day ready to serve. They're Holiday Wine list is also 50% off, so don't forget to add a few bottles to your order.
Christmas
–        Café 44: Enjoy a festive Christmas Day brunch menu with waterfront views at Café 44 in Old Town from 10 a.m. to 5 p.m.
–        Ada's on the River: Dine riverside at Ada's on the River in Old Town with a $69 prix fixe Christmas menu featuring seared scallops, wood-fired prime rib and a cranberry tart. Special Christmas hours are 11:30 a.m. to 11 p.m.
New Year's Eve
–        Evening Star Café: Head to Del Ray and dig into a special multi-course dinner offering from brand-new Evening Star Executive Chef Derek Colglazier from 4 to 10 p.m. in the dining room, then head upstairs to newly reopened No. 9 Lounge for a ball drop party from 8 p.m. to 2 a.m.
–        Kaizen Tavern: In Del Ray, enjoy NYE specials curated by Chef Melvin as you dine on Kaizen Tavern's heated outdoor patio from 11:30 a.m. to 2 a.m. Specials include Hamachi tartare leche de Tigre, foie gras burgundy and black truffle nigiri and more.
–   Lena's Wood-Fired Pizza & Tap: Lena's is offering something for everyone on New Year's Eve. Ring in the New Year in style at The Loft at Lena's – Velvet & Rye's Roaring New Year's Eve Bash (9:00pm – 12:30am) or if you want to celebrate 2022 a little earlier, they're offering a New Year's Eve Prix Fixe Menu for Two that includes a complimentary bottle of Champagne to-go.
New Year's Day
–        Oak Steakhouse: Celebrate the new year at Oak Steakhouse in Old Town North with the finest cuts of Certified Angus beef, farm-to-table sides and unique cocktails. Cozy up on their heated outdoor patio from 5 to 10 p.m. You can also enjoy holiday roasts and individual cuts from home with nationwide delivery (prices range from $150 to $300).
–        Chadwicks: Check out Chadwicks' newly opened patio and balcony for your first 2022 brunch in Old Town from 10 a.m. to 3:30 p.m.
For more offerings, visit the Dining on Major Holidays page.
This story has been updated.
This Year's Winners for the Alexandria Holiday Boat Parade of Lights Are…