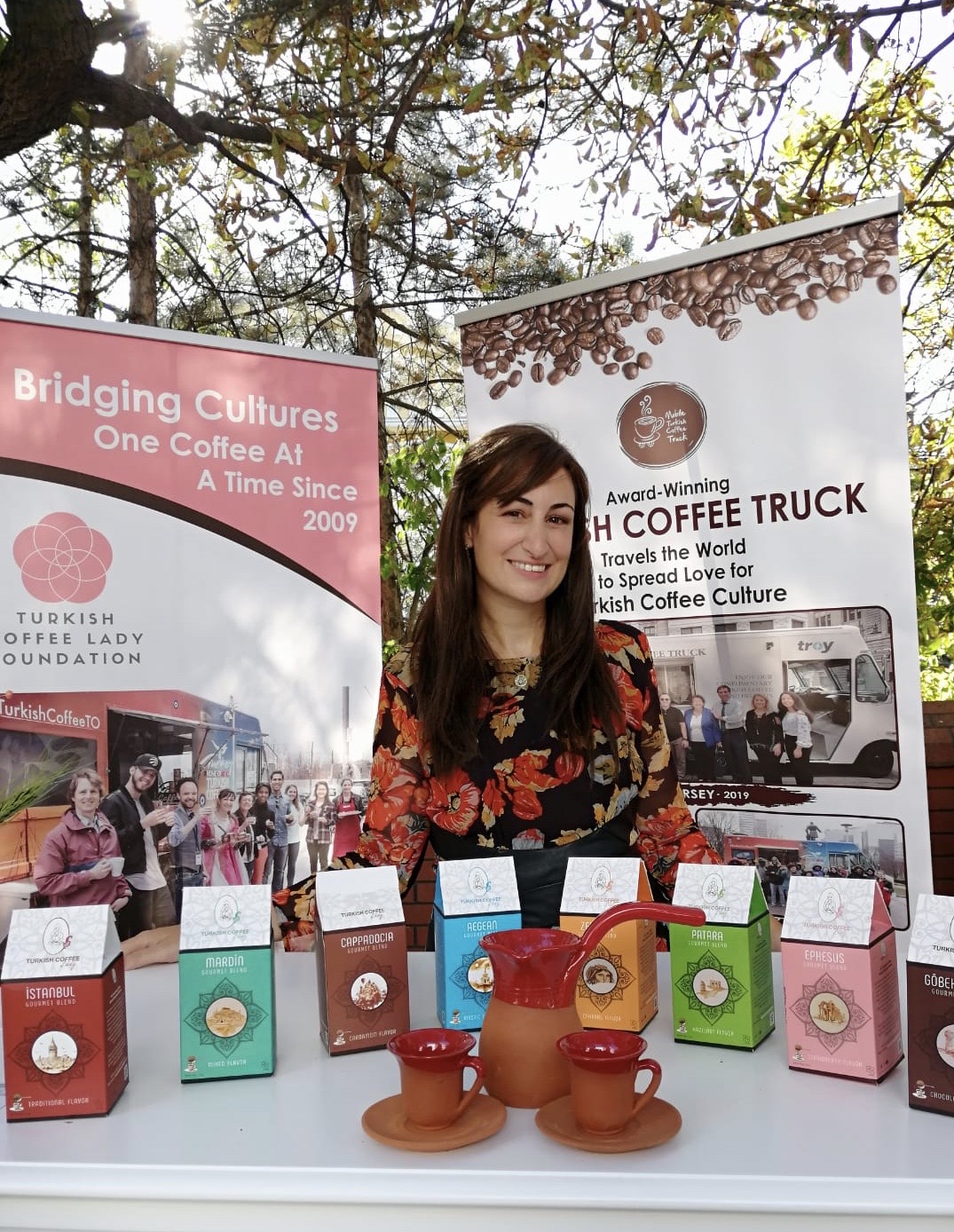 ALEXANDRIA, VA –  A woman-owned start-up business, Turkish Coffee Lady, is opening its coffee & culture house at 1001 King Street on Saturday, January 22nd, in conjunction with Alexandria Restaurant Week. Alexandria Mayor Justin Wilson will join for the ribbon-cutting ceremony at 4 p.m.
The specialty coffee business' founder, Gizem White, a Turkish-American entrepreneur who traveled the world with a coffee truck, is proud to launch her first-brick-and-mortar store in the heart of King Street. White is also joining forces with a world-renowned micro art master Hasan Kale who will be showcasing his masterpieces and coffee art shows.
Creating an authentic gathering space for coffee lovers, Turkish Coffee Lady provides traditional Turkish coffee styles, unique cultural tastes, Turkish delights and baklava selections, a mini bazaar, and vintage goods from Istanbul Turkey, where coffee house culture has flourished since 1554.
"Turkish coffee is the world's first coffee brewing method invented by Turks in the 16th century, and is the genesis of nearly all coffee types around the world. Our coffee  & culture house is a new take on the specialty coffee experience combined with a timeless journey to Istanbul where East meets West" said White, aka the Turkish Coffee Lady.
How it Began
A Virginia resident since 2008, she started the award- winning Turkish Coffee Truck project in 2012 to share her passion for her heritage and build friendships between societies. Through her gastro cultural diplomacy initiative, White and a group of dedicated volunteers traveled across America, Turkey, Netherlands, Belgium, France, and Canada over the past 10 years. Her work has been featured on The Washington Post, Instagram for Business, and honored by the U.S. Congress.
"Turkish coffee culture is recognized by UNESCO's World Heritage list as a cultural inheritance that should be protected. That's why I am so excited to share this five-centuries old ritual and cultural delights with my adopted country. I am thrilled to share Turkey's culinary traditions and our coffee blends featuring Turkey's national treasures," said White.
The new store's menu is not limited to Turkish coffee products. Guests can enjoy Colombian filtered coffee, traditional Turkish tea, herbal teas, gourmet baklava varieties, mouth-watering salty and sweet treats, chocolate assortments, and ice-cream products. In addition, sophisticated coffee and tea sets by premium brands from Istanbul will also be available for purchase.
Want to Know the Future?
As part of the entertainment, the culture house will also offer coffee fortune reading sessions, a tradition of Turkish coffee drinking, where visitors can learn what future holds for them after enjoying a cup of coffee. Fortune telling is an ancient tradition and Turkish coffee is the only coffee kind where fortune readers can predict one's future by reading the grounds in the bottom of the cup. The fun service is complimentary for customers ordering the combo called "Cup of Delight" featuring Turkish Coffee Lady's own four blends where 5% of the sales will be donated to women mentorship programs at the Turkish Coffee Lady Foundation.
For more information, visit www.turkishcoffeelady.com, www.facebook.com/turkishcoffeelady, Instagram @turkishcoffeelady and Twitter @TRcoffeelady
TRENDING: Find Out the "To Go" and Inside Options for Akexandria's Restaurant Week