On Exhibit
Swirling Clouds in Violet Haze, Selfies Done in Virtual Daze
Van Gogh, the Immersive Experience Dazzles the DMV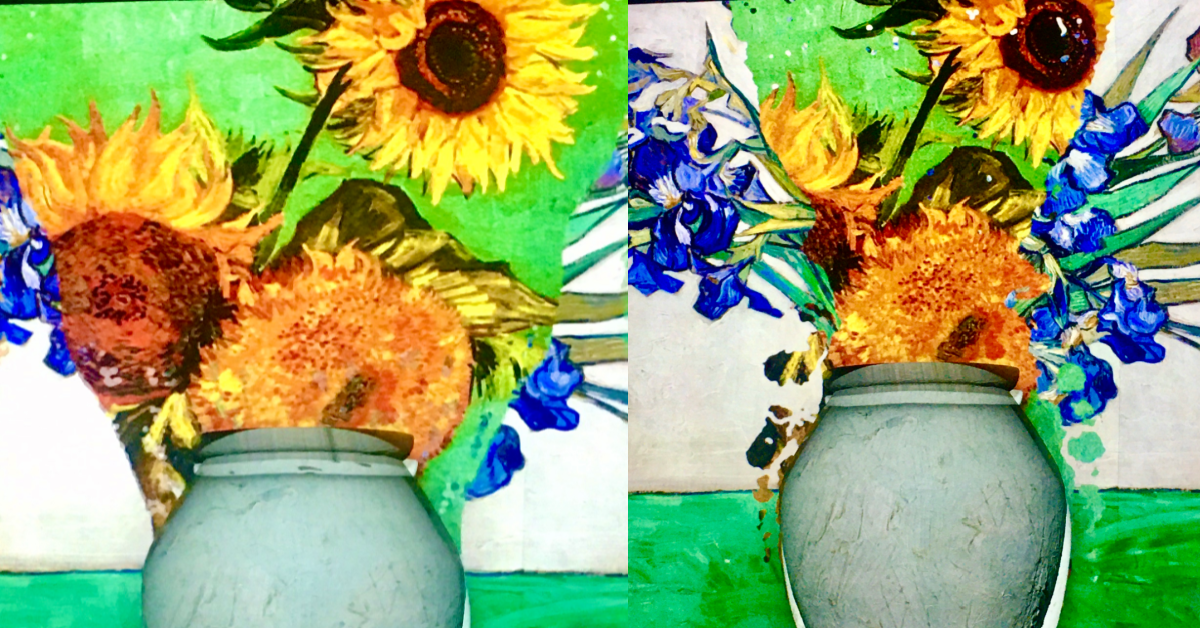 Alexandria, VA – Paintings have a life of their own that derives from the painter's soul ~ Vincent Van Gough
Just as vaccines became more readily available to all and mask ordinances were lifted, the starry, starry world of flowers blazing brightly, the painted palette of blue and gray with violet, azure swirly skies, or the golden floral sunshine and amber waves of grain that is Vincent came to enchant the DMV this past summer—right when we needed him most.
The Van Gogh Immersive Experience, tucked away in the erstwhile empty halls where his famous portraits now hang in a vacated big-box space on Rhode Island Avenue NE, has been extended through March 2022.
Like modern cultural monikers Cher, Madonna, Tupac, or Kanye, Vincent needs no explanation. No last name required. Songs have been written about Van Gogh, most notably Don McLean's 1971 song Vincent from the American Pie album inspired by Van Gogh's 1889 painting The Starry Night.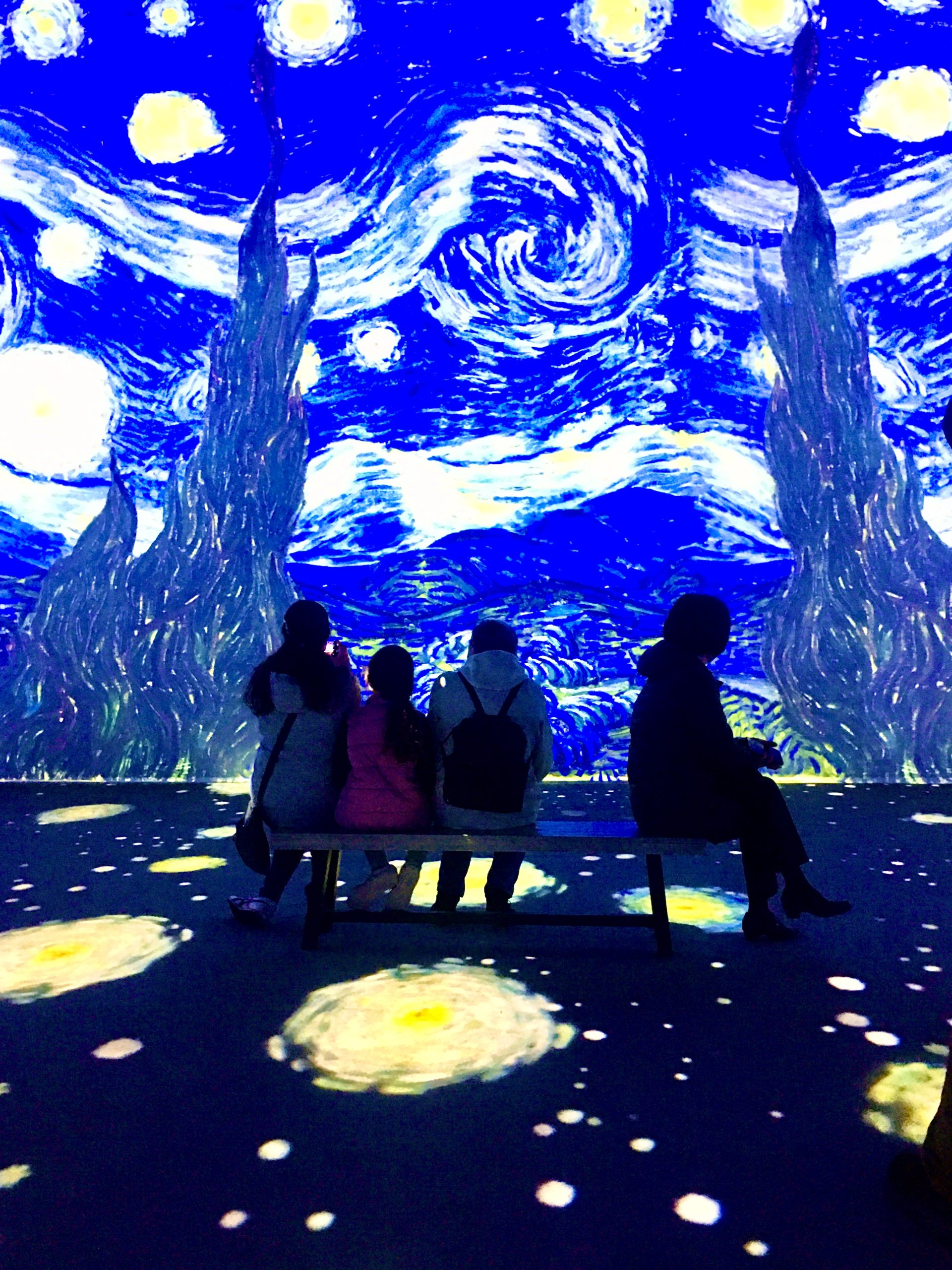 "Starry, starry night, Paint your palette blue and gray…." Released in 1972, right after McLean's iconic American anthem, Vincent rose to the top of the charts. Fifty years later, the song remains as compelling and poetic as the painting. Even the late rapper Tupac Shakur told the LA Times that he found the Vincent lyrics extremely moving, saying, "That's how I want to make my songs feel!"
Films about the storied, tormented artist number well into two digits. At Eternity's Gate, starring Wilem Dafoe and written, directed, and produced by the artist Julian Schnabel, is among the best. It earned Dafoe an Academy Award nomination. Scores of actors have portrayed Vincent in film and on stage: Kirk Douglas, Benedict Cumberbatch, John Hurt, Tim Roth, Andy Serkis, even director Martin Scorsese took a turn portraying Vincent in Akita Kurosawa's Dreams.
Vincent Van Gough is the artist for a decade scared by the ongoing pandemic, political and social unrest, climate extremes, and corporate domination. Vincent's paintings often depict conflict, alienation, solitude, social isolation, torment, anxiety, and depression.
Yet no painter engenders more pervasive admiration for his body of work, an eternal narrative of triumph over despair via the transitive power of nature, spotlighting beauty in both macrocosm and panorama, exploring and exploiting the relentless pursuit of introspection expressed through self-portraiture. Vincent's over 35 known self-portraits are selfies from a pre-Kodachrome/pre-digital world, not as prolific as Rembrandt's 100, but a profound and telling self-examination from an anguished soul.
Vincent's guests arrive at the Experience welcomed by the check-in receptionist in a large, well-ventilated area. Enlarged wall-papered images of Vincent's sunflower bouquets and starry skies adorn the walls for those first of many selfie photo ops. Masks are required and temperatures are checked before entry into the kaleidoscopic world of Vincent Van Gogh.
Tech is on-point throughout the experience. Different visual exchanges between Vincent's factual biopic 411 and the virtual manipulation of his image as well as illusory fusions of his best-known works weave a backstory for the viewer to prepare them for the grand, immersive explosion to come, all while the distinctive voice of Oscar-winning actor Jeremy Irons guides you along the painter's emotionally tortured lifeline.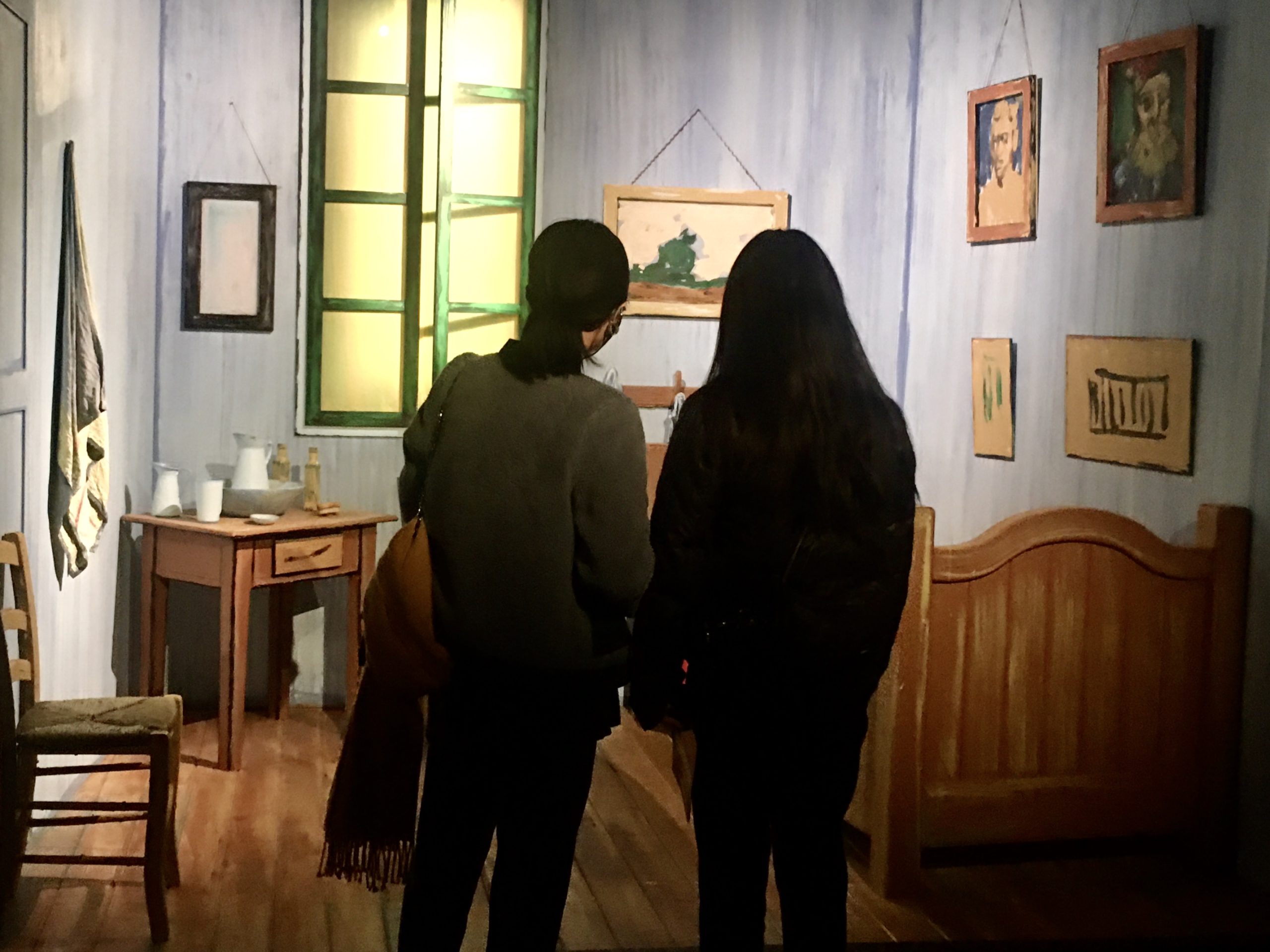 "Mind-blowing" doesn't begin to do justice to the transition to the interactive virtual imagery. A simple dark-blue fabric curtain secretes what's to come just a few steps away from Vincent's chronological descent into madness. Entering the immersive experience hall is most likely like nothing else you have witnessed.
I imagine it's much like the awe of being in space looking back at the Earth—otherworldly, an explosive illumination enveloping a void. A black hole unfurling like a flower, revealing a lavish perceptual feast for the eyes and the mind. Elements of Van Gogh's pictures come to life—the crows, the boat, the stars! One painting seems to unfurl and then blow away, revealing another beneath it. You have to see it.
Exiting the grand illumination hall, hardly empty and plastered with portraits, Vincent aficionados arrive in a room papered floor to ceiling with coloring pages. Guests may create their own homage to Vincent or finish one of his masterpieces. A digital copier takes the image to project on the wall with other recent faux Van Goughs.
A VR experience room follows, where for an extra $5 guests can experience the world of Vincent in Paris, Arles, and Saint-Rémy-de-Provence, as well as his other locales. A gallery of supersized Van Goghs constitutes the finale of the experience – a big selfie spot – before you enter the requisite gift shop.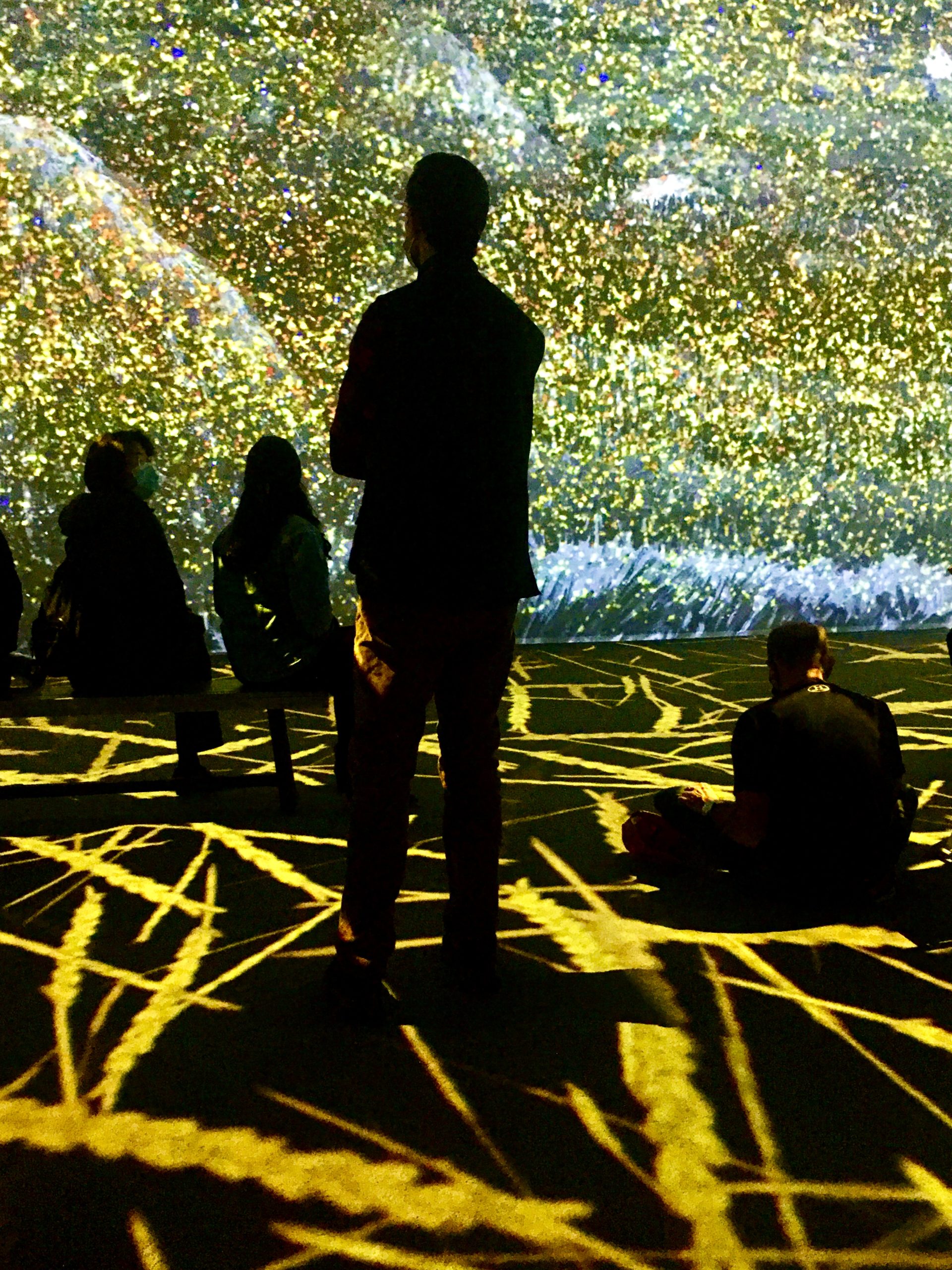 You'll linger – not because you want a Starry Night umbrella (okay, so maybe you do) but because you don't want the Van Gogh immersive experience to end. Leaving the hall proves to be disorienting and disquieting. Every instinct is to turn back and re-enter the grand illumination experience. Almost everything thereafter is anticlimactic.
But, as with all things exceptional that wildly exceed your expectations by a mile, you are reconciled simply with revisiting the memory of Vincent's virtual reveries, scrolling countless Insta posts, and the ever-hopeful promise of a return. Bet y'all can't wait to Gogh!
"The only way to know life is to love many things" ~ Vincent Van Gogh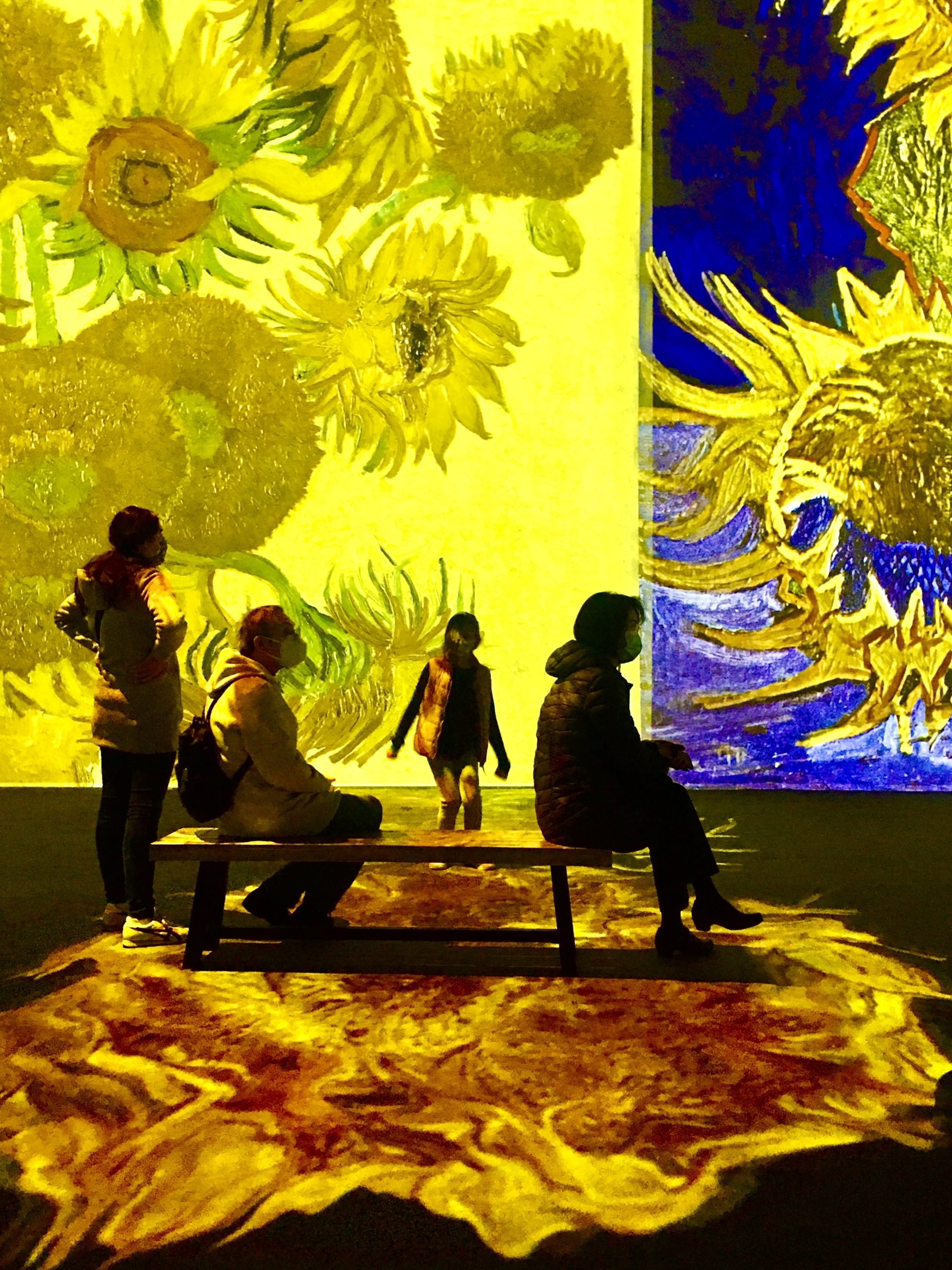 Van Gogh: The Immersive Experience DC continues into the new year within the 20,000 square foot space at the Rhode Island Center in northeast DC (turn left at the McDonalds). Timed tickets from 9 am to 9 pm are sold in advance each day, including holidays. Prices run from $19.90 for children or a family pass for four (two adult and two child admissions for only $23 ($16.20 for each additional child). Adult admission is $36, with VIP tickets available at $54.60 adult and $34.90 child.