Obituaries
OBIT: Nina Greene, 54; Nelson E. Greene Jr., 79, Pillars of Alexandria Community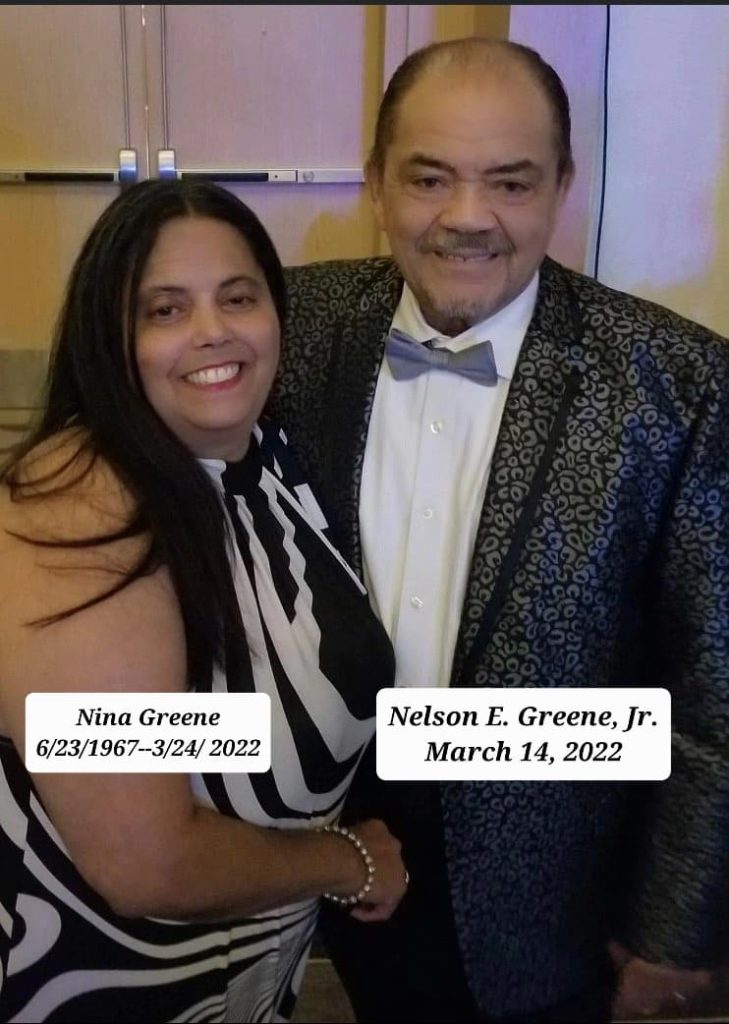 This article has been updated to include details about the funeral service. It has also been corrected to reflect that Nelson and Donita did not have children together.
ALEXANDRIA, VA – Nina Greene passed away unexpectedly on March 24, 2022 at 54. The daughter of Nelson E. Greene Jr., she graduated T.C. Williams High School in 1985. Before becoming involved in the family business of funeral service, she studied healthcare, getting certified as an EMT and CPR instructor.
Upon changing careers, she worked at Greene Funeral Home, Inc. for more than 25 years in different jobs. Her most recent position as a funeral service assistant found her helping families with memorials and much more.
Nina was a dedicated member of the family church, Meade Episcopal. She participated in the Gospel Truth Choir and worked with the Youth Group.
She served one term on the board of Senior Services of Alexandria.
Her bio on the Greene Funeral Home website says that she learned of the importance of helping others in the community at a young age by spending time with her grandfather, Nelson E. Greene, Sr., who lived to be 100.
"I am in utter disbelief of Nina's passing today. Nina was the true embodiment of authenticity and living your truth. Nina loved this community, and was a confidante to many," said Vice Mayor Amy Jackson. "Ever proud of her family, their service in this community, and their legacy in Alexandria, her passing, and on the heels of her father's, is heartbreaking, especially as it seemed she was so full of life. My sincerest condolences to her family and friends as they grieve this tremendous loss."
Nelson E. Greene Jr. passed away at 79 on March 14, 2022, just 10 days before his daughter. After serving three years in the U.S. Military, Nelson studied Mortuary Science at John Tyler Community College, and then earned a B.S. in Biology from Virginia State University.
He began working at Greene Funeral Home when his father chose to incorporate the business in the 1970s. At the time of his death, Nelson was the maority owner, president, and manager.
In addition to his work, he served for three terms on the Alexandria School Board. Nelson was also a valued member of Meade Episcopal and occasionally spoke as a preacher.
He also taught at the University of the District of Columbia in the school's Mortuary Science program.
"The loss of Nelson Greene Jr. and his daughter Nina leave large gaps in our community. To lose them a few days apart is unthinkable and a tragedy for the Greene family," said Mayor Justin Wilson. Both Nelson and Nina found ways to give back and support our City through distinguished lifetimes of service to Alexandria. They will be both be missed dearly."
Survivors include: Donita Greene, Nelson III "Chip," Derrick Greene, and James (Brooklyn) Washington.
According to Nelson's Washington Post obituary, he "will lie in honor at Greene Funeral Home, 814 Franklin Street, Alexandria, Virginia on Tuesday, March 29, 2022 from 9 a.m. until 9 p.m. Additionally, the family will receive friends at the Calloway Chapel of Episcopal High School, 1130 Thomsen Lane, Alexandria, VA 22302 on Wednesday, March 30, 2022 from 10:30 a.m. until time of Mass of Christian Burial at 12:30 p.m."
The date for interment at Arlington National Cemetery has not been announced as of this writing.
According to the Living Legends of Alexandria Board, Nelson and Nina's funerals will be combined.  The service will be streamed live at this link starting at 10:30 a.m.