Community News
THEATRE
Trending
"Catch Me If You Can" Musical at Arena Stage Soars Telling True Tale of High-Flying Infamous Conman
Highly recommended! Catch it, now!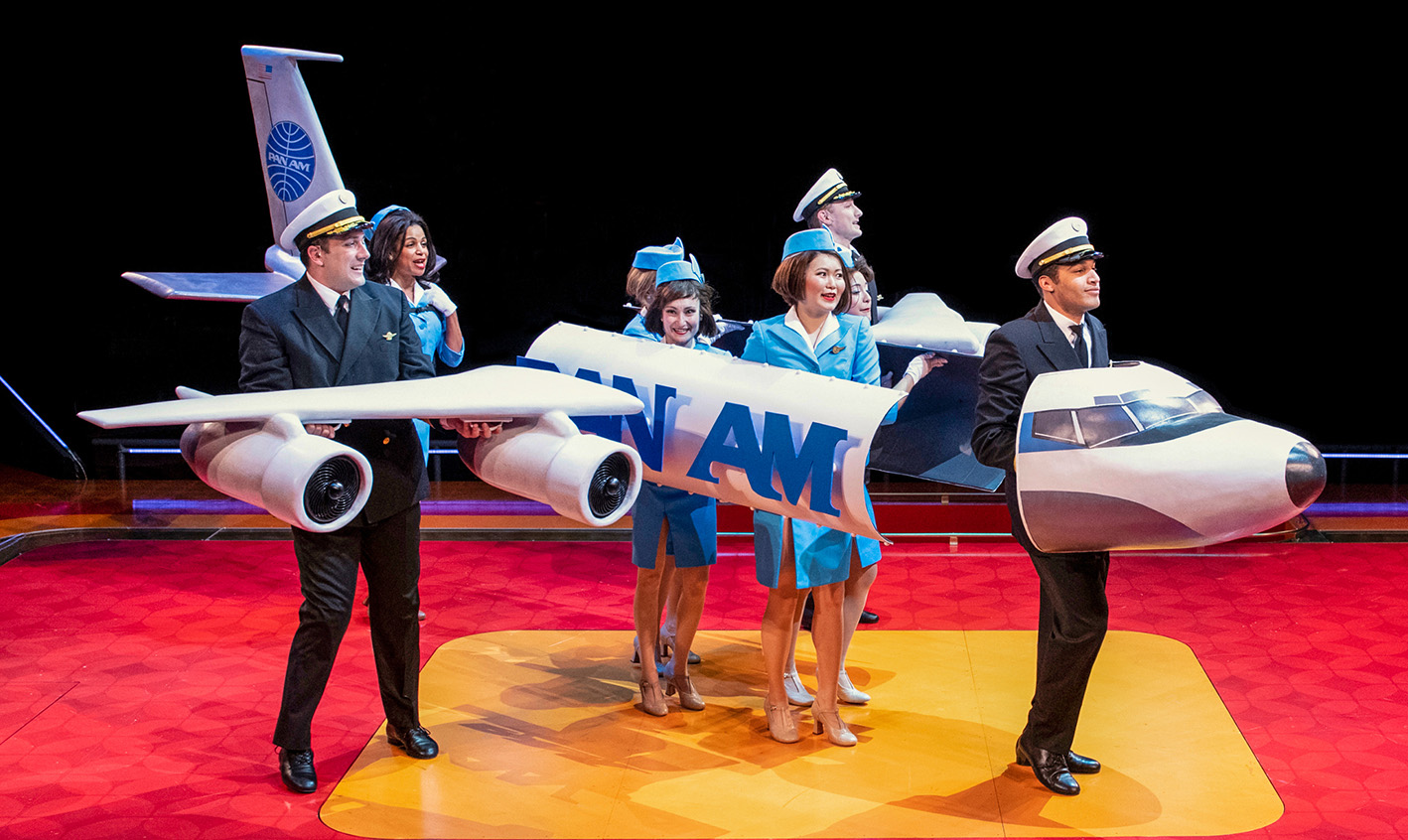 WASHINGTON D.C. – As it turns out, the real-life story of precocious chameleon and 17-year-old conman, Frank Abagnale, Jr., makes for one helluva musical directed by Molly Smith with book by Terrence McNally especially with this stunner cast. From the very first number you're in for the supersonic ride of your life.
The swinging 60's when Pan Am was at the forefront of the commercial airline industry sets the tone for one of Frank's big cons – that of an airline pilot. In that pre-politically correct luxury era of flying, flight attendants were called "stewardesses" and was considered the most glamorous job for women – dating the airline's Clipper pilots was part of the allure. Naturally, Frank plays up his boyish charm to the hilt and the women unwittingly abet him in his quest to pose as one of the pilots.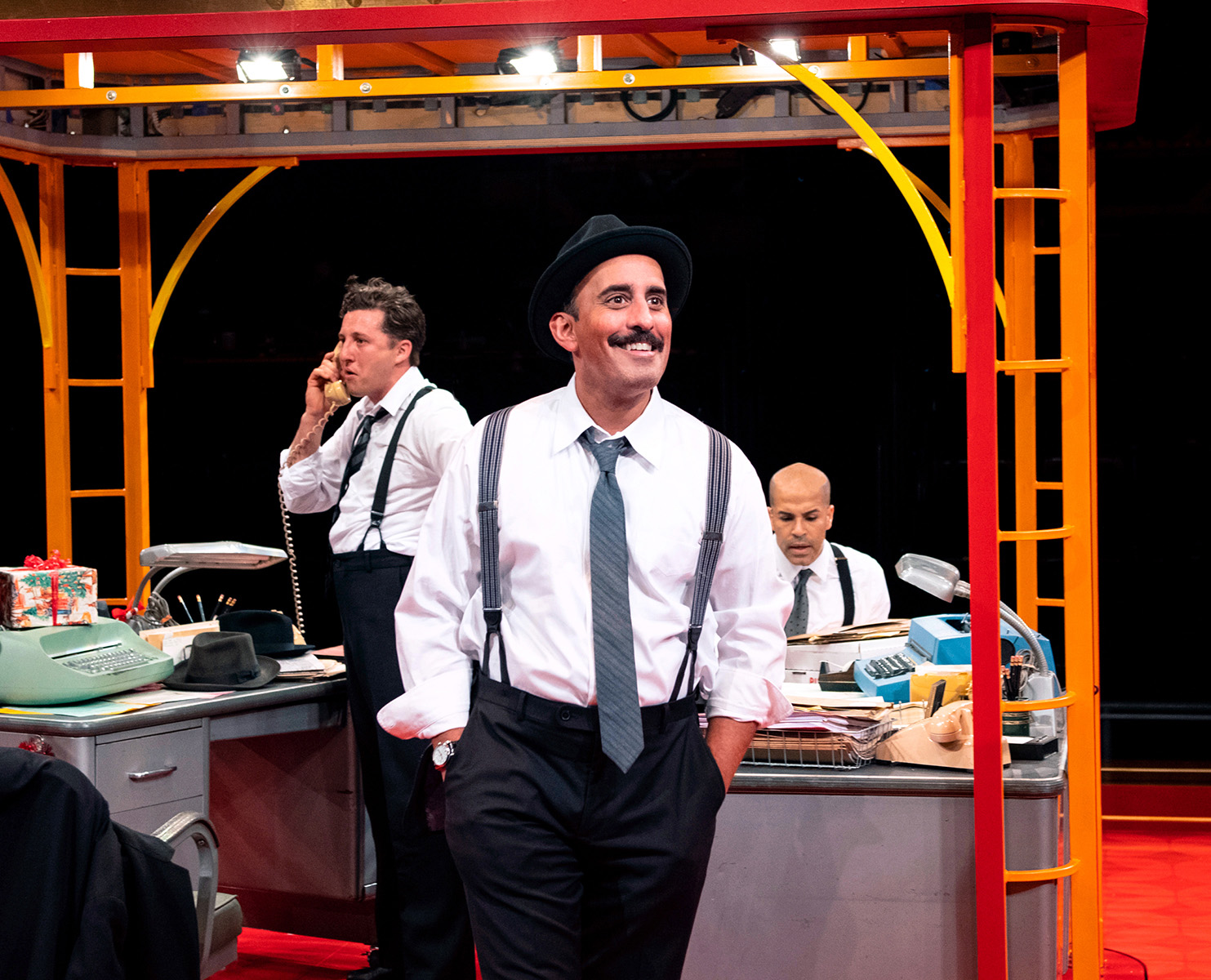 Using an assortment of aliases, Frank, Jr. aka Frank Taylor and later the charismatic Doctor Frank Connors, manages to weasel his way past a team of FBI agents led by Carl Hanratty whose mission is to nail the imposter for $2M in forged checks. Along the way Carl "Here I Am to Save the Day" and Frank form a telephone friendship as Carl becomes the type of father figure Frank never had as Frank Sr. was a swaggering conman and merciless alcoholic with a cheating wife and the law on his tail who schooled his son well in conning the IRS while lying, cheating and stealing with great aplomb.
Choreographer Parker Esse increases the excitement with some of the greatest ever dance sequences on Arena's Fichandler stage. Costume Designer Alejo Vietti picks up on the period outfitting the dancers in Mondrian mini dresses with Sassoon haircuts and white go-go boots, the men in their crisply-fitted flight uniforms all frenetically doing "The Frug" to the opening number, "Live in Living Color".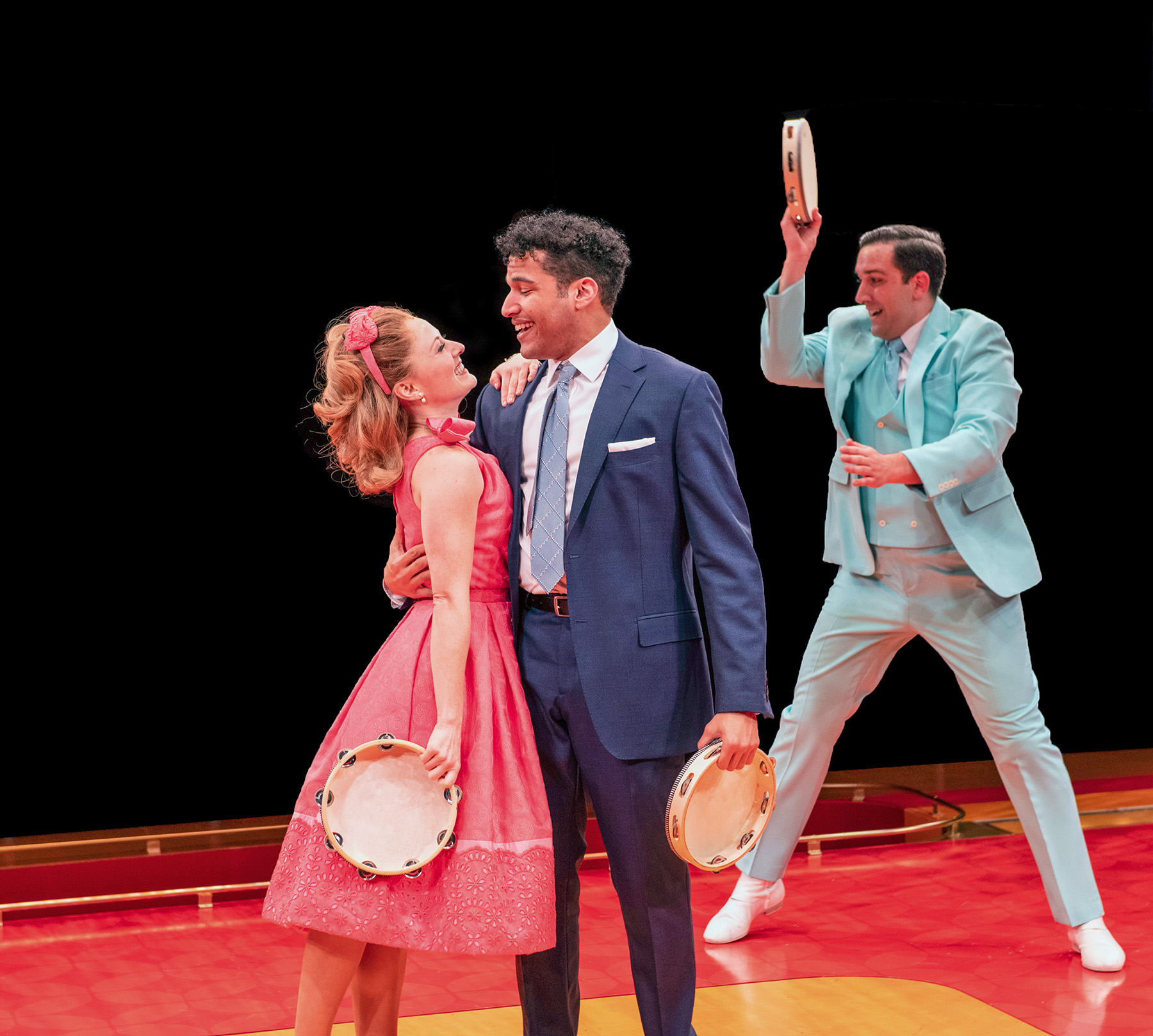 Impressive performances by Christian Thompson (Frank Abagnale, Jr.) who recently starred as Smokey Robinson/Damon Harris in Broadway's Ain't Too Proud and supported by the incomparably suave Jeff McCarthy as Frank Abagnale, Sr.; Nehal Joshi as Carl Hanratty; Stephanie Pope Lofgren (with a sensuous Eartha Kitt-like voice) as wife Paula Abagnale; and Hayley Podschun as Frank's love interest, Brenda Strong – all big-time Broadway stars.
The music is spot on with catchy lyrics by Scott Whitman and Composer Marc Shaiman.  You've got to love a line in "Butter Outta Cream" that rhymes with scheme, of which there are many. Sixteen numbers lay out the story, which (spoiler alert) has a real romance though it starts out as a story of a lonely teen enchanted by comic superheroes.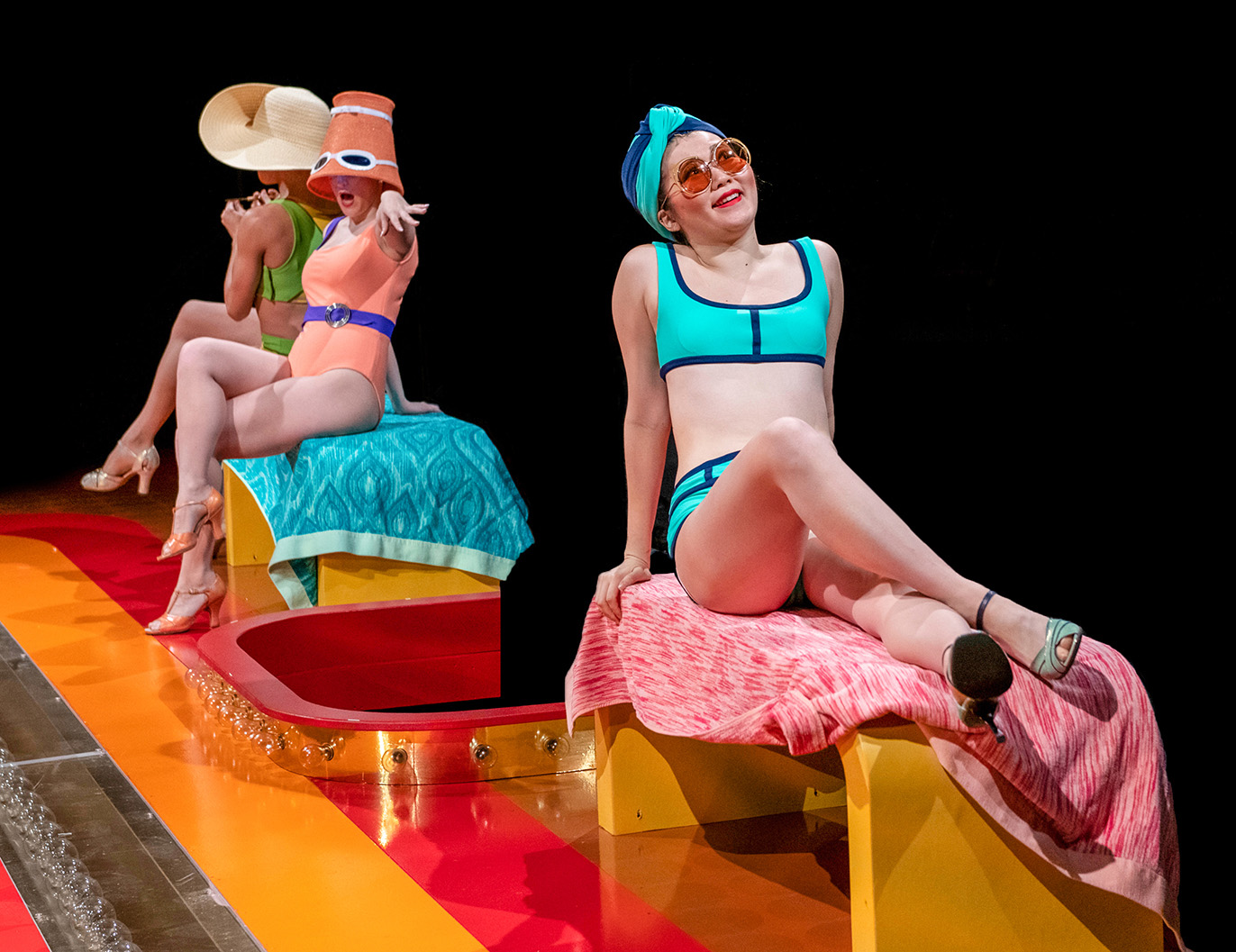 Terrific choreography designed by Parker Esse ratchets up the energy to include tap shoes that light up in "Don't Break the Rules" and a bevy of dancers who seem to populate every square inch of the theater in the round. Props by Alessandra Shines and Grace Trudeau are eye-popping as is Alexander Dodge's clever stage design which is tricked up to both rise from the center with fresh sets and disappear and features two stairways on either side that descend beneath the stage. Actors sometimes break the third wall acknowledging Conductor Laura Bergquist who can be seen by the audience.
Highly recommended! Catch it, now!
The cast includes Alexandra Frohlinger as Carol Strong; Brett-Marco Glauser as Agent Cod; Rhett Guter as Roger Strong/Agent Branton/Jack Barnes; Jody Reynard as Agent Dollar. Lighting Design by Nicole Pearce and Sound Design by Daniel Erdberg.
Through April 17th at Arena Stage, 1101 Sixth Street, SW, Washington, DC 20024. For tickets and information call 202 488-3300 or visit www.ArenaStage.org.
For more local theatre reviews, visit the Zebra's Theatre page.