Community News
Incredible Women CEO's Dazzled At The Alexandria Wedding Showcase
Female entrepreneurship has skyrocketed in recent years.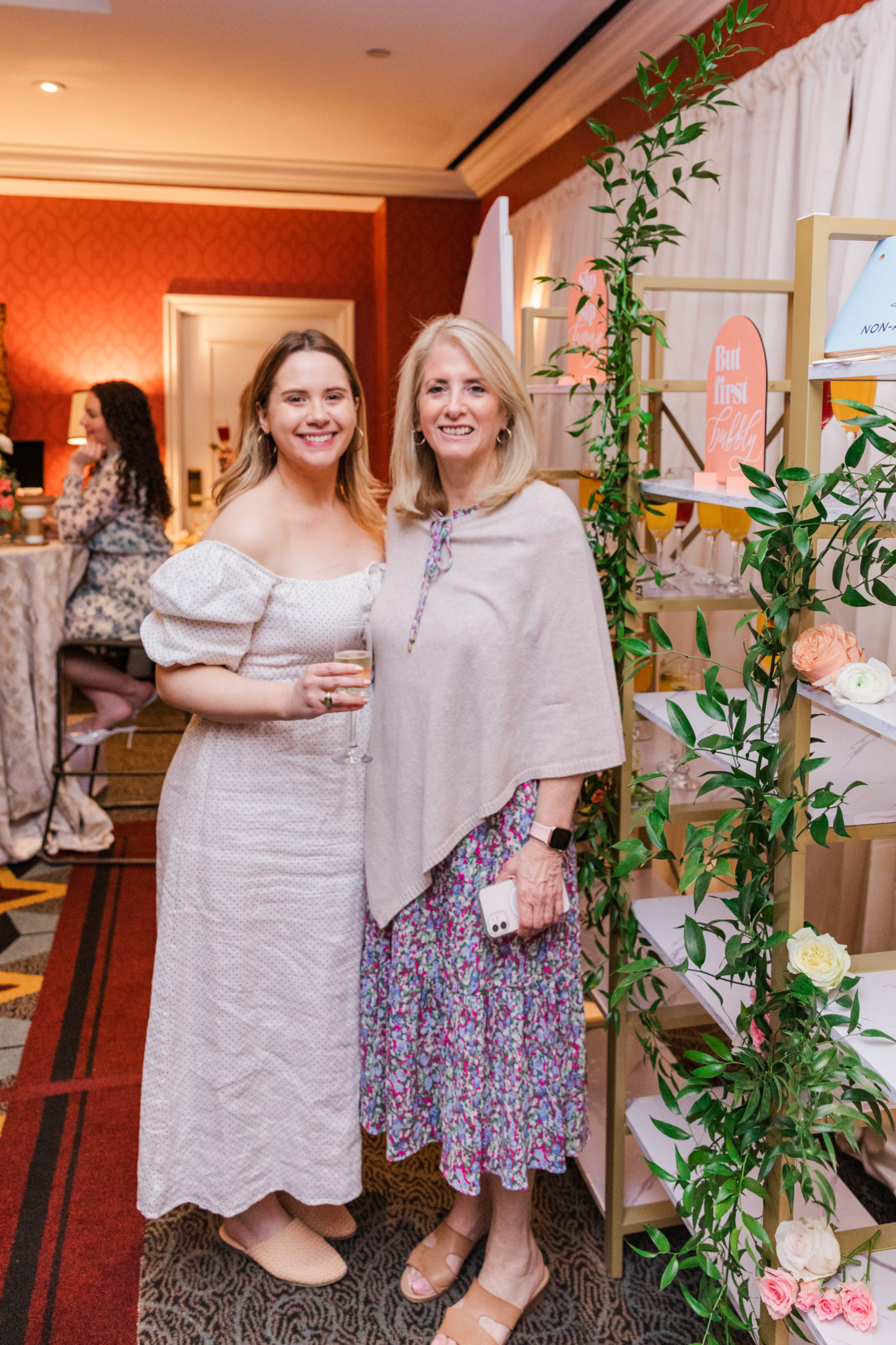 ALEXANDRIA, VA-The 2022 Alexandria Wedding Showcase, presented by Alexandria Living Magazine, was held on April 10 at the ever-elegant Alexandrian Hotel, to the delight of Alexandria's soon-to-be-wed couples. The debonair Monty Durham held court with an exclusive VIP champagne brunch before the event. With 28 vendors spread across the intimate Rosemont Room, Old Town Ballroom, and the Del Ray Room the showcase provided a welcoming setting for conversations between vendors and hopeful couples looking to find the best vendor for their special day.
Nestled within the heart of Old Town, The Alexandrian offers a complimentary two-night stay if couples choose to celebrate their nuptials on-site, while the in-house team at the hotel readily assists the wedding parties with rehearsal dinners, cocktail receptions, and bespoke get-ready-with-me packages, all while enjoying the ambiance of historic Old Town's distinctive charm, and picturesque homes, are all within walking distance of the waterfront and its sweeping views of the Potomac River.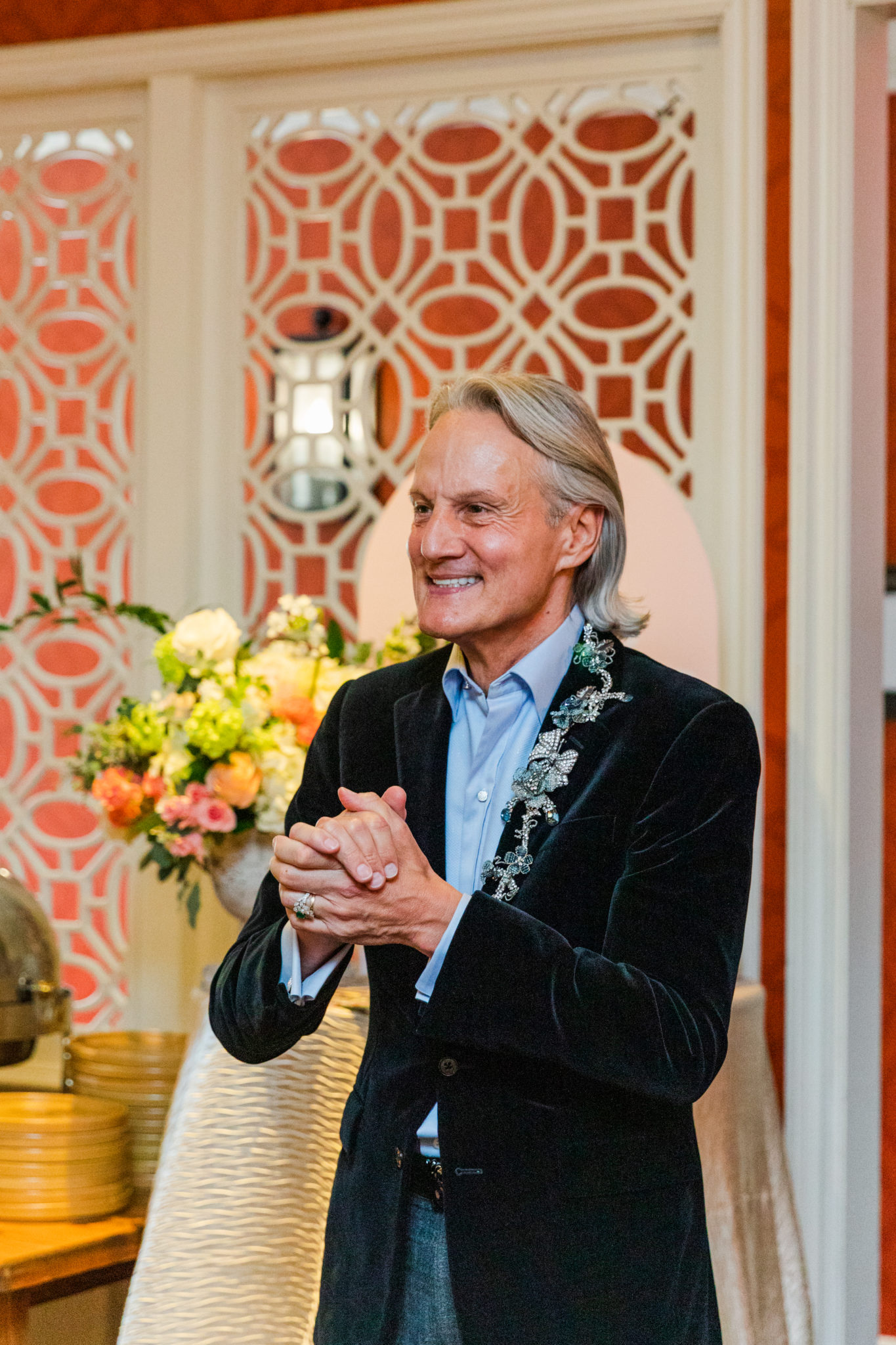 The brightest stars of the event were the women-led businesses that dominated the day. The story that reverberated throughout so many companies was the desire to step beyond fear and take the leap to make their dreams a reality. According to the National Association of Women Business Owners, more than 11 million business owners in the United States are women and Census Bureau statistics show that women are starting businesses at five times the national rate. These businesses included Blissful Design and Decor, Completely Coordinated, Emily Nicole Photography, Greenheart Juice Shop, Honeywood Event Rentals, House of Jeanne Flowers, Penny Post, Snap Spaces, and Sweet Surprise Balloons who were all in attendance at the showcase.
The hosts of the wedding showcase Mary Ann Barton and Beth Lawton are also a testament to the unique power of women-led businesses with Alexandria Living Magazine being a premier lifestyle publication in Alexandria. Because of the power of women business owners, we are delighted to highlight a few more of the female-led brands that are sure to make your upcoming wedding day an unforgettable experience.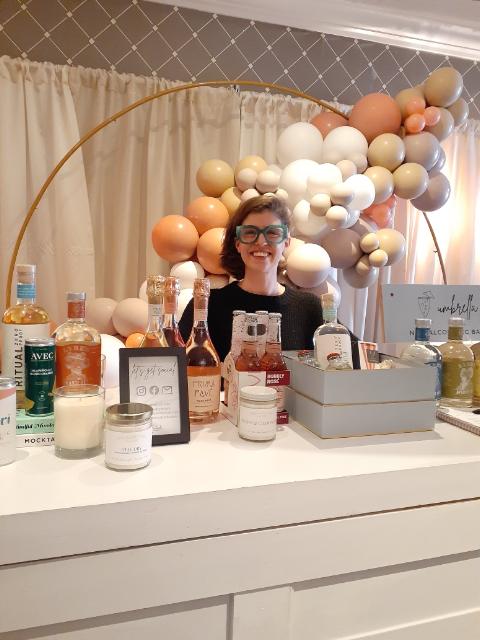 Upon entering the Old Town Ballroom, Sam Kasten, Founder and CEO of Umbrella Dry Drinks, delighted guests with her savoir-faire by wearing statement-making green glasses and inviting guests to her dry drinks bar with her infectious smile. The brand with its sophisticated non-alcoholic drinks are for those who wish to stay dry.
"People are focusing on their overall wellness and many are re-evaluating their relationship with alcohol," states Kasten. Kasten has been sober for over four years and is in the community of entrepreneurs that are shifting the focus away from alcohol to non-alcoholic beverages that are more elevated than juice or water. The non-alcoholic bar and bottle shop is currently operating in pop-up mode with selections featuring premium alcohol-free sparkling wine Prima Pave, California-based Sovi, along with locally owned Lali, among others.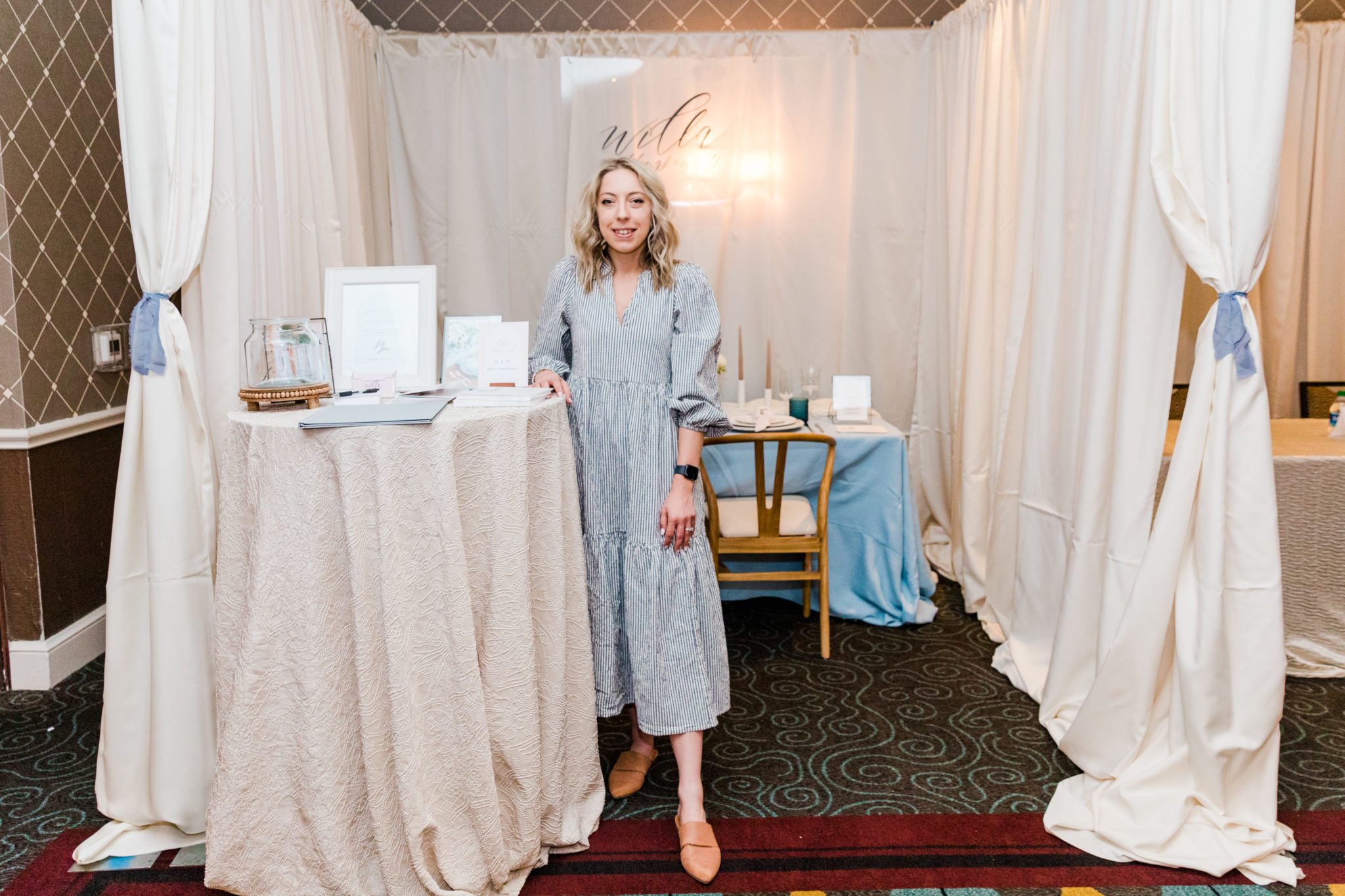 "Wedding planning is my love language" Samantha Simko's guiding ethos is not only to serve her clients but also to make sure that supporting players on her team are recognized for their talents and contributions in whatever she does. She gave credit to her talented team for the featured tablescape, and she always took care to mention the vast prospect of possibilities when asked about budget limitations that a couple may experience during the wedding planning process.
Her entrepreneurial light bulb moment came while planning her own wedding. Simko's love of color mixing and playing off of the venue was seen with her subtle but elevated use of soft blue and white to complement the coloring of the ballroom in her own tablescape design. Couples working with Samantha will definitely witness her self-described melding of creativity with project management as evidenced by her love of color-coded spreadsheets and background in graphic design. Samantha's design services include full wedding coordination, full-service planning, and wedding management which guides couples as they manage their wedding to-do list.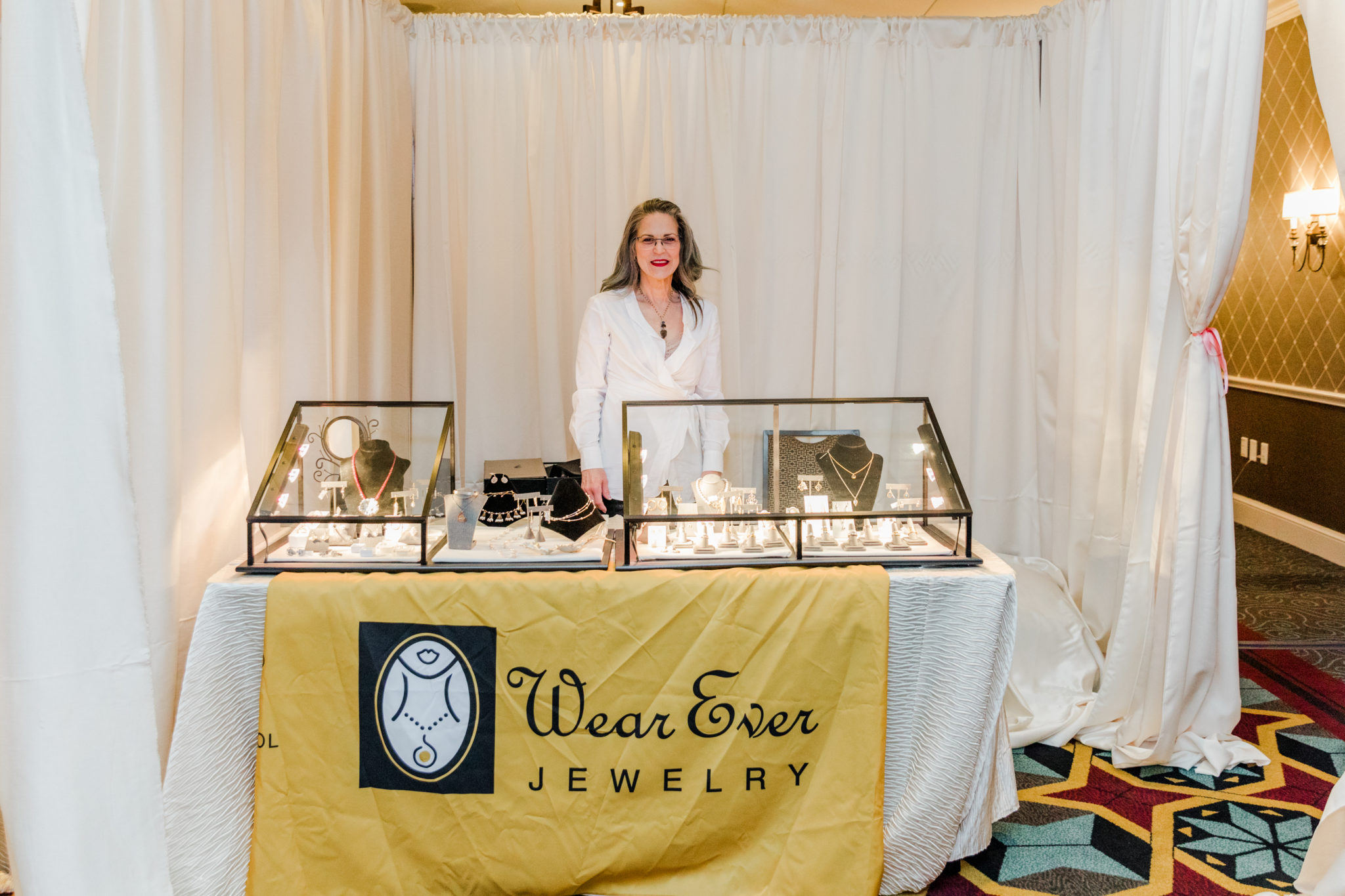 Wear Ever Jewelry owner and curator Jennifer Jordan Park returned to school to get her Master of Arts degree because of her growing desire for a more creative outlet. Previously working in graphic design she wanted to work with her hands and to interact with her growing clientele. Park has a selection of artists featured in the gallery with many designs made in the United States. The jewelry gallery features wedding party workshops and ring-making classes every Saturday. Wear Ever Jewelry also features a bespoke service where clients can redesign and transform current pieces of jewelry within their personal collection.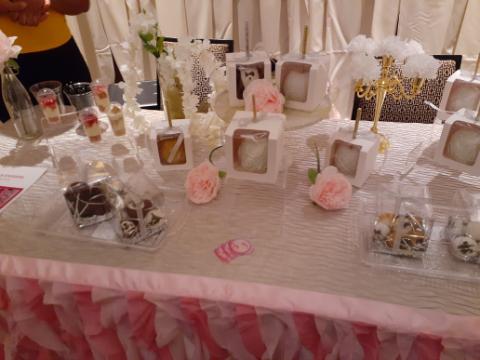 "If God gave me the gift, how dare I give up if it gets hard." Tasheeka Stewart
With a table that looked like it was transported out of Sophia Coppola's film Marie Antoinette, Tasheeka Stewart's company Sheeka's Sweets which "started as a gift and expanded into a dream," was a head-turning example of the many show-stopping creative businesses on display at the wedding showcase. The owner, who manages a vet hospital, like many others started a second career during the pandemic and has since grown into a popular local proprietor of decadent desserts in the DMV. Services include made-to-order sweets for 50 to 200 guests. Rich desserts like her golden oreo cheesecake cup, chocolate-infused covered strawberries, and truffle pops are definitely crave-worthy sweets all made by this local confectionary queen.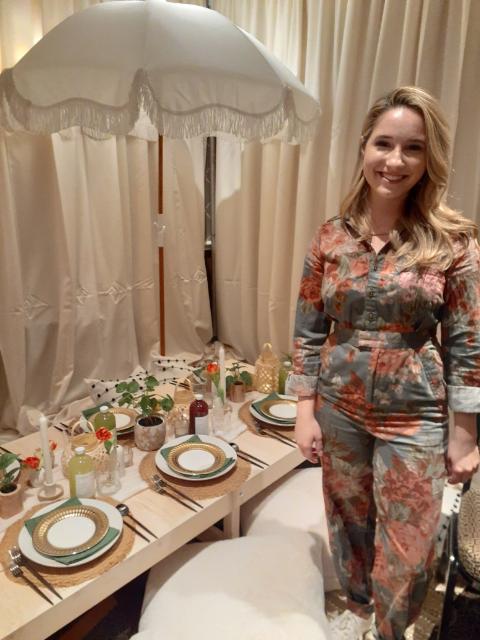 When asked to give a few words of wisdom to women who may be afraid to launch their own dream careers, an affirming Michelle Ison stated, "Just do it. If I can do this I know you can."
The self described picnicer-in-chief's prior career as a tv producer and host got caught in the perfect storm of the pandemic when she decided to  launch her luxury picnic company Picnic and Peonies. As Michelle pointed out about the pandemic, "People needed a way to celebrate moments in an unsure time." As one of the very first picnic companies on the East Coast, she soon gathered a following and has been featured on the Real Housewives of Potomac and New Jersey.
Featuring pretty design-forward elements and all the tablescaping options that will make your outdoor celebration a forever moment. Picnic and Peonies even recently styled Coppertone USA's media launch party. According to Ison, what sets her brand apart is her vision and her customer service. Options for clients on the site are baby's breath floral crowns, gift cards for future picnics and a curated date night basket for couple's who still desire the luxury picnic all while cozying up together indoors.
Check out how Alexandria's women are leading in business by clicking here, and to read about one of Alexandria's newly engaged couples be sure to click the link below!
ENGAGEMENT ANNOUNCEMENT: Mary Renee Reuter and David Lang Make Plans for a 2022 Wedding – The Zebra