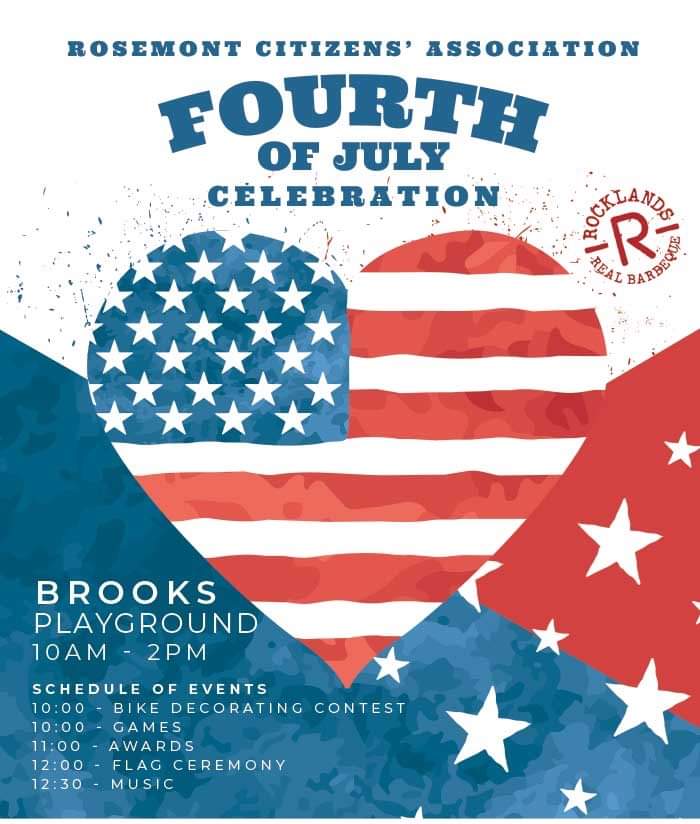 ALEXANDRIA, VA – Fourth of July is filled with colorful fireworks, hotdogs, and fun. The summer holiday also signifies the arrival of the Rosemont 4th of July Celebration!
The event will feature the Alexandria Police, Fire, and Sheriff Departments. You'll also be able to games, face painting and more! There will also be food, of course, which will be provided by the incredible Rocklands Barbeque and Grilling Company by food truck.
Started over fifty years ago, the Rosemont 4th of July event will also feature a moon bounce, dunk tank, face painting, live music, and numerous games and contests, including a patriotic dog parade and patriotic bike decorating contest.
John Porter, former Principal of Alexandria City High School remembers that, "Rosemont was a wonderful neighborhood in which to grow up. . I  remember fondly our kids decorating their Big Wheels for The Rosemont July 4th at  Brooks (formerly Maury Elementary) where two generations attended."
The schedule of events is as follows:
· · ─────── ·𖥸· ─────── · ·
Schedule of Events:
10:00 – Patriotic Dog Parade (KAY K.
)
10:00 – Bike Decorating Contest
11:00 – Awards
12:00 – Flag Ceremony
12:30 – Music
John Leary, (who received the 1970 Big Eyed Baby Award from Baby Judge, Judge O'Flaherty, ) was responsible resurrecting the Rosemont 4th of July Celebration in 2018 after a couple of years it was canceled due to playground construction. When commenting on the upcoming event, Leary stated that, "We're looking forward to hosting the Rosemont 4th of July celebration again this year after a hiatus due to the pandemic. The event has been taking place in Rosemont for more than 50 years and is a great place to experience the amazing community that is Rosemont."
The Rosemont celebration needs YOUR help this year: They need volunteers! The success of the Rosemont 4th of July Celebration has always depended on the kindness of others to step up and help things run smoothly. Feel free to sign up for a volunteer time slot (or two!) to ensure that this year's program is a success. You can do that HERE! For more information about the Rosemont Fourth of July Celebration, you can go to thier website to find more content regarding the event.
FOR MORE: The Alexandria Chamber of Commerce Hosts 2022 Disability Awards In-Person for First Time in Three Years