THEATRE
"The Hot Wing King" Sizzles at Studio Theatre Through July 31
WASHINGTON, DC  – At the top of her game, Pulitzer prize-winner and Tony nominee, Katori Hall, has written a staged sit-com about five roommates entering the Hot Wing Festival contest in Memphis. All five men are African American gays living in the same house. And although their personalities are very different, their aim to win the $5,000 top prize with Cordell's tried and tested Blueberry- and Bourbon-infused Cajun Alfredo Wings with Blue Cheese and Crumbled Bacon Wings keeps the men in collective disharmony.
The group, calling themselves "The New Wing Order", gather in the kitchen the night before to prepare for the contest. Isom (Michael Kevin Darnall) is the reigning queen of the quintet alternately flinging barbs and hugging his roomies. As a New Orleans self-proclaimed Cajun expert, he is a bit of a lost soul who covers it up with his flagrant flightiness. To his erstwhile lover, a local barber they call Big Charles (Bjorn DuPaty), he sadly admits, "People only want me for one night."
In the process of making 387 wings for the next day's big contest, the drama ensues. Will Cordell (Brian Marable) defeat his inner demons? Will his faithful lover, the fashion-conscious Dwayne (Blake Morris) keep their relationship alive? Will TJ (JaBen Early), the streetwise dope dealer, lead his innocent son EJ (Derrick Sanders III) into a life of crime? EJ is Dwayne's nephew and he's got a stake in the decision to keep EJ out of trouble.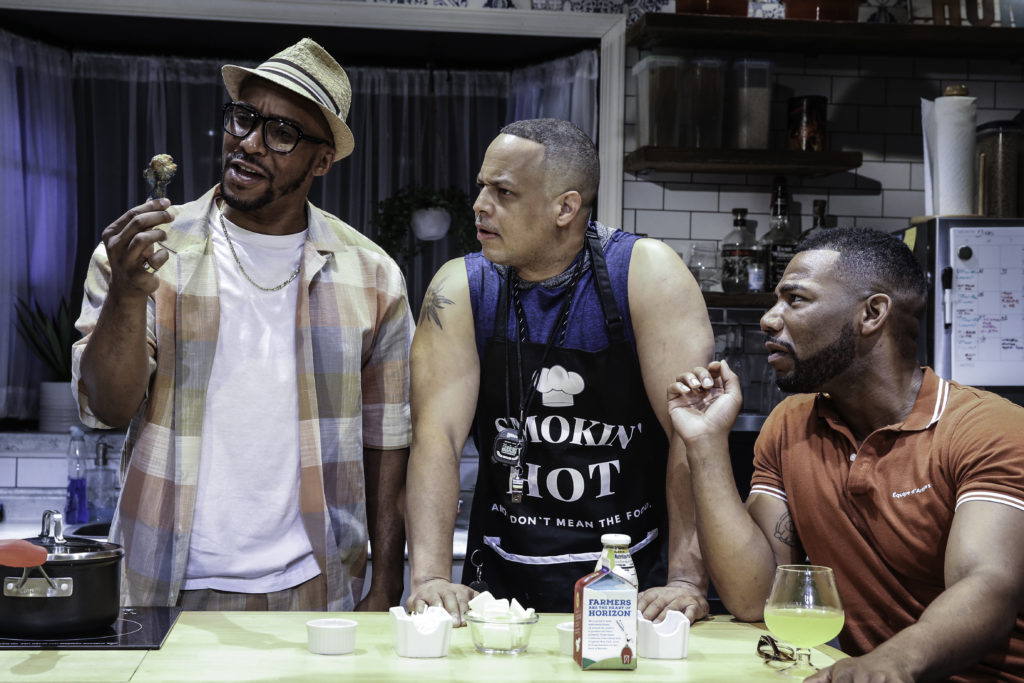 Within this serio-silly comedy peppered with verbal jousting, there is an emotional backstory as the men alternately cast blame on one another for their failings, then manage to work together to resolve their differences.
Sprung out of a conversation Hall had with director Steve H. Broadnax III about her brother and his partner, living in Memphis, Broadnax told her, "That's your next play!" For Hall it's a love letter to the complexities of a gay, stitched-together family living in the heart of the American South.
Dramaturg Adrien-Alice Hansel; Costumes designed by Ivania Stack; Lighting designed by Alan C. Edwards; Props by Amy Kellett; Dialect Coach Caroline Stefanie Clay; and Intimacy Choreographer Raja Benz.
Through July 31st in the new Victor Shargai Theatre stage at Studio Theatre, 1501 14th Street, NW, Washington, DC 20005. For tickets and information visit www.StudioTheatre.org or call the box office at 202 332-3300. Parking is tricky in this busy neighborhood. If you are coming after 5pm, park at the Washington Plaza Hotel a few blocks away and be sure to pay for your $13 discount voucher at the Box Office before leaving the theatre.