THEATRE
See the Timeless Musical 'The Band's Visit' Now at The Kennedy Center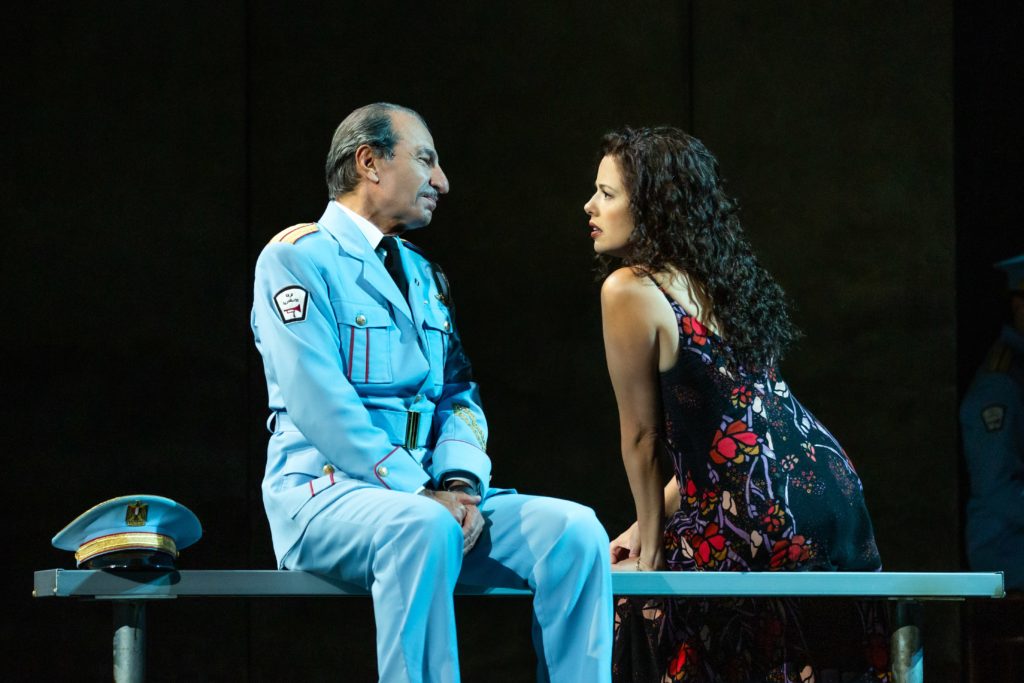 WASHINGTON, DC – The Band's Visit is a timeless musical, a romantic intrigue and a wryly funny tale based loosely on a true story. You may have seen the movie, but the musical allows the story to be fully fleshed out bringing to life the story of a 7-piece Egyptian classical music band known as the Alexandria Ceremonial Police Orchestra, and its conductor, Colonel Tewfiq, and their mistaken journey to a tiny, desert town in Israel where no one is expecting them. Winner of ten Tony Awards including "Best Musical" and "Best Original Score", the sultry number "Omar Sharif" was performed on the night of the 2018 awards. Countless other prestigious theater awards have showered down upon this tenderhearted tale with original screenplay written by Eran Kolirin, book by Itamar Moses, composer/lyricist David Yazbek, and soulfully directed by David Cromer. It stars Sasson Gabay, who played Tewfiq in the 2007 film version and Janet Dacal as his love interest, Dina.
Tel Aviv 1996: Egyptian music and movies are now banned even though generations of Israelis have thrilled to the haunting voice of the internationally famous singer Umm Kulthum and films starring the suave Egyptian box-office idol, Omar Sharif who starred in Lawrence of Arabia and Dr. Zhivago. It is a fraught time, not so different from today, when cultures separated by politics or war and borders, real or imagined, are redrawn or redefined. It is where Tewfiq and the beautiful and exotic Dina find their mutual connection to music.
When the flirtatious Haled (Ali Louis Bourzgui), distracted by a pretty ticket seller, miscommunicates the wrong name for their destination, it sends the musicians on a bus to Bet Hatikva, translation "House of Hope", a tiny town where nothing ever happens and where the hilarious song "Waiting" describes the residents' unrelenting boredom. At the café the Arabs meet the lovely and fiery Dina, owner of the town's sole eatery. Dina finds the men homes to stay for a single night till the next day's bus can take them to their correct destination in time for them to give a concert dedicated to Arab Israeli cultural exchanges.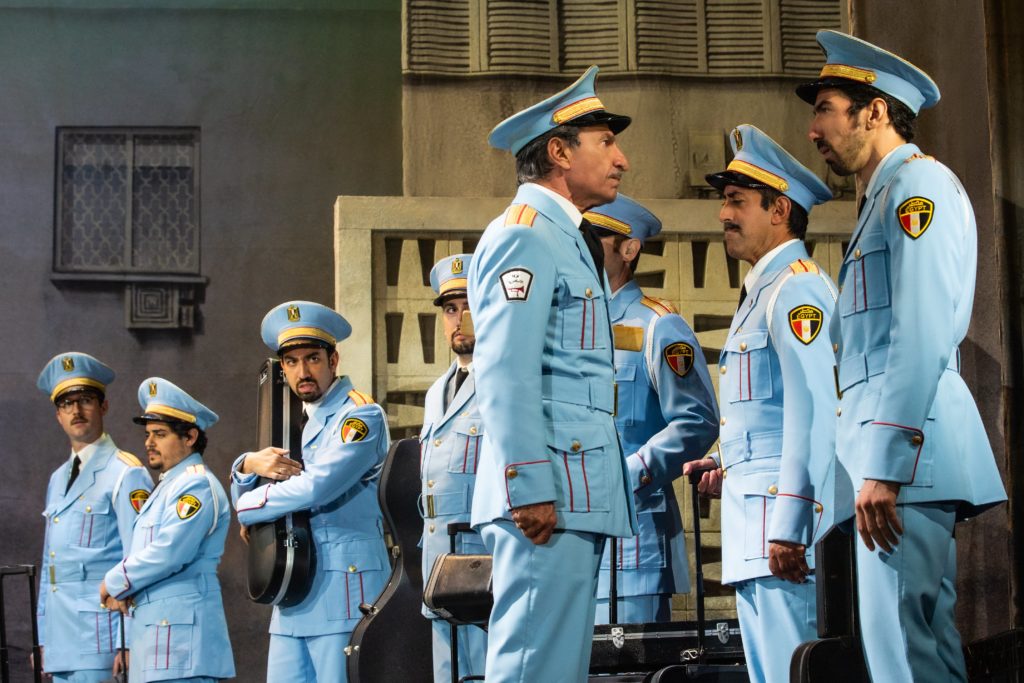 The musicians who play traditional Arab instruments perform all the numbers onstage in a sort of musical ballet upon a rotating stage. The beautifully expressed musical accompaniment weaves together the characters' personal stories and enhances their shared communion with their temporary hosts. This deeply emotional, sweetly comic story centers around the initial awkwardness of the two cultures attempting to understand each other's cultural differences, ultimately discovering that they are more similar than not, and that love, family and the universality of music are at the heart of the human connection.
With Clay Singer as Itzik; Coby Getzug as Papi; Yoni Avi Battat as Camal; David Studwell as Avrum; James Rana as Simon (from the original Broadway cast); Billy Cohen as Zelger; Ali Louis Bourzgui as Haled; Joshua Grosso as Telephone Guy; Kendal Hartse as Iris; Layan Elwazani as Julia  (from the Broadway cast); Marc Ginsburg as Sammy; and Ariel Reich as Anna.
The Band: Conductor/Keyboard – Adrian Ries; Associate Conductor/Keyboard – Jeff Cox; Violin – Yoni Avi Battat; Cello – Wick Simmons; Clarinet/Saxophone/Flute – Brian Krock; Darbouka/Riq – Roger Kashou; Oud/Guitar – Kane Mathis; Electric & Acoustic Bass – Mark Ziegler; Drums/Arabic Percussion – Shai Wetzer.
Choreography by Patrick McCollum; Scenic Design by Scott Pask; Costume Design by Sarah Laux; Lighting Design by Tyler Micoleau; Israeli Dramaturg and Dialect Coach Zohar Tirosh-Polk; Orchestrations by Jamshied Sharafi.
Through July 17th in the Eisenhower Theater at The John F. Kennedy Center for the Performing Arts, 2700 F Street, NW, Washington, DC 20566. For tickets and information visit www.Kennedy-center.org or call the box office at 202 467-4600.
Creative 'A Midsummer Night's Dream' Now Playing at Synetic Theater