Pets
Potomac Yard Pet Mural Raises Funds for People with Disabilities
Almost complete and as big, bold, and bright as its Del Ray counterpart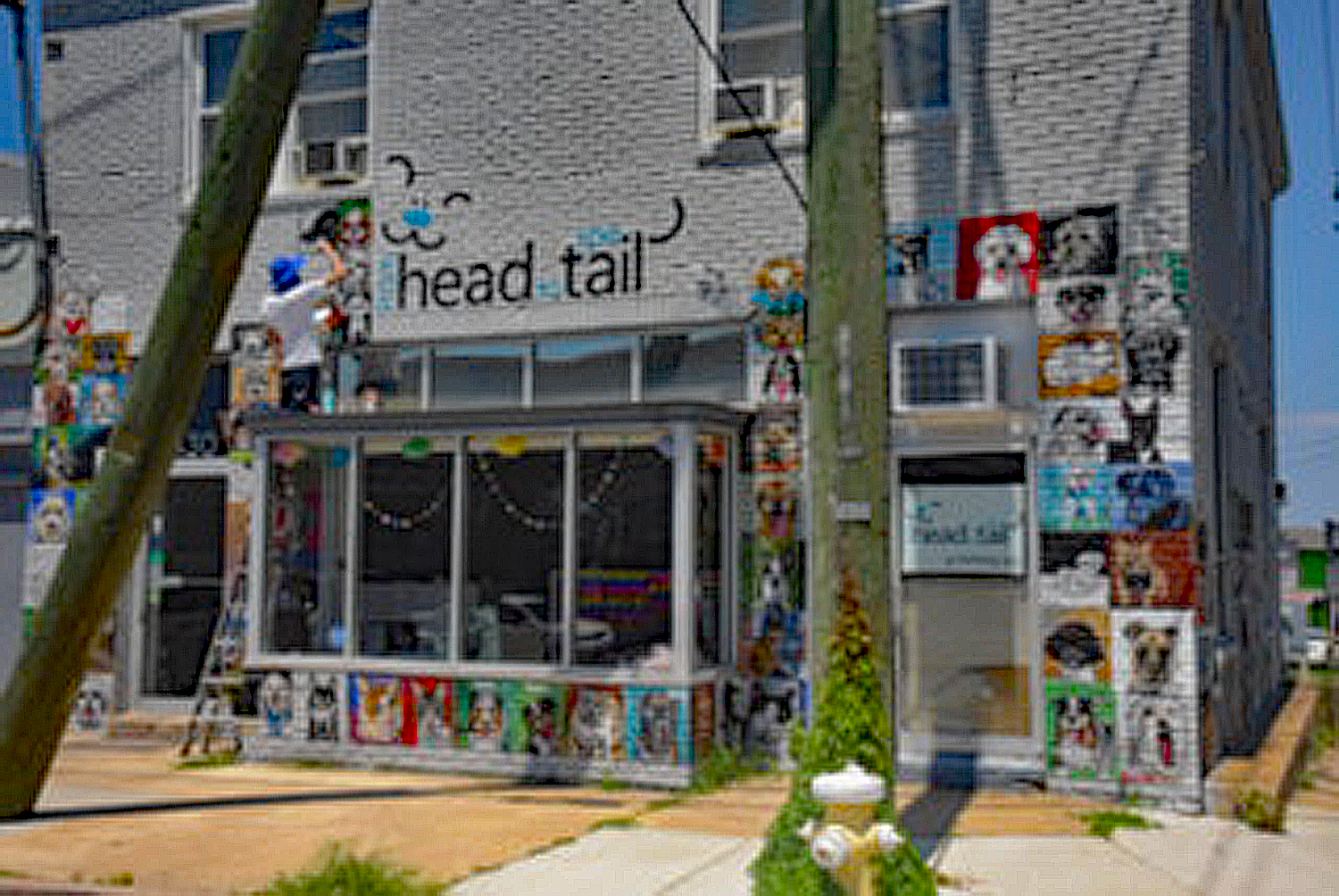 Alexandria, VA – The new Pets of Potomac Yard mural on From Head to Tail Grooming Spa is nearing completion. Artist Patrick Kirwin has painted over 100 portraits of local pets already, and the mural will likely have 200 when done.
With the purchase of each pet portrait, people are donating funds to Pawfectly Delicious Dog Treats, an Alexandria company that "provides young adults with disabilities the opportunity to engage in meaningful work," as stated in their mission.
The Pets of Potomac Yard mural follows the original Dogs of Del Ray design on the side of Stomping Ground, which artist Kirwin also painted. After the Dogs of Del Ray reveal, From Head to Tail owner Jodi Goldberg wanted a mural on her own business. She met with Karen Johnson, Pat Miller, and Patrick Kirwin on design ideas.
Jodi knew many people in Del Ray did not make the original mural due to size constraints. She wanted to allow portraits of all pets, and she wanted alliteration in the title. Thus Pets of Potomac Yard was born. All pets are welcome—dogs, cats, guinea pigs, rabbits, birds, whatever. Only dogs and cats have made the wall thus far, but Jodi says she would "love to see a bearded dragon" or something else unique.
In addition to welcoming all pets, Jodi wanted this mural to give back to the community. "I wouldn't have done it if I could not raise money," she says. "I was looking for a pet-related organization in Alexandria and found Pawfectly Delicious Dog Treats. It helps people with developmental disabilities in our area, and it's tied to pets. It is a feel-good organization and they do good."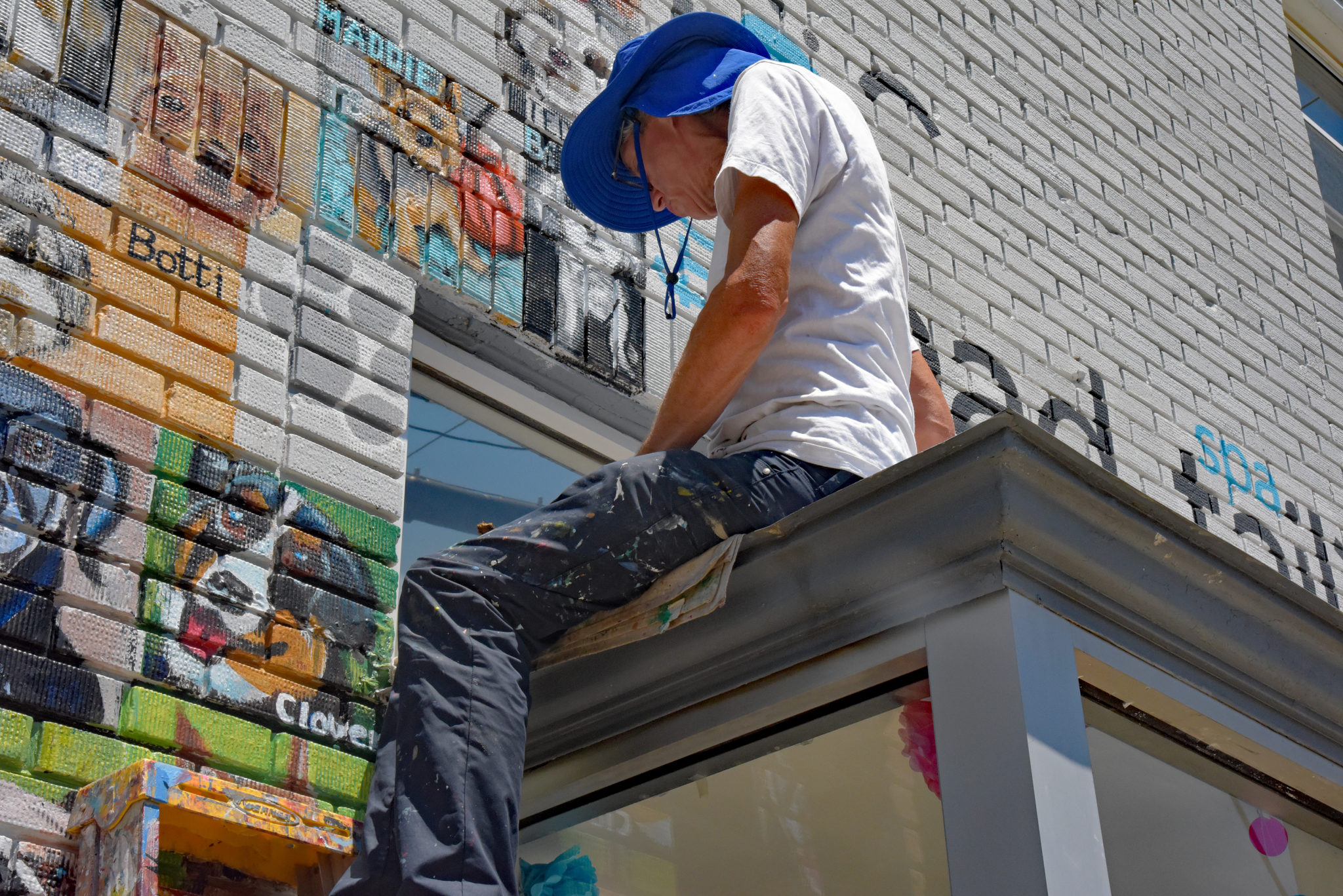 So far, the mural has raised [numbers to come during proofing] dollars. The final fundraising tally will be revealed when Kirwin has completed the mural. The art will stretch across the entire front wall of the store, reach up to the second-floor windows, and wrap around the side of the building.
Patrick's portraits have come together quickly with his quick and whimsical style. He is already using a ladder to paint the second-floor portraits. Neighbors occasionally stroll by and ask him about his work or search for their pets on the walls.
Since From Head to Tail is a different structure than Stomping Ground—brick versus wood paneling—it is a bit of a design challenge. Kirwin explains, "I am trying to use the texture of the brick, which leaves linear pieces where there is a visual mixture. There is a bit of dry brush over the top on some of these, like two colors going on at once. Some of that activity is more challenging, but it is a wild project."
Kirwin is known for his wild artistic style; that is what Goldberg wanted to add pizzazz to her building. "I like it. I think it adds personality to the place," she says. "It's fun, and it's generating buzz."
To add your pet to the portrait wall or donate to Pawfectly Delicious Dog Treats, visit headtotailspa.com/petmural.
ICYMI: Did You Know Dogs and Cats Must Be Licensed in Alexandria?