Pets
Holidays Should Never Be a CAT-astrophe
Here are four tips to keep Tabby safe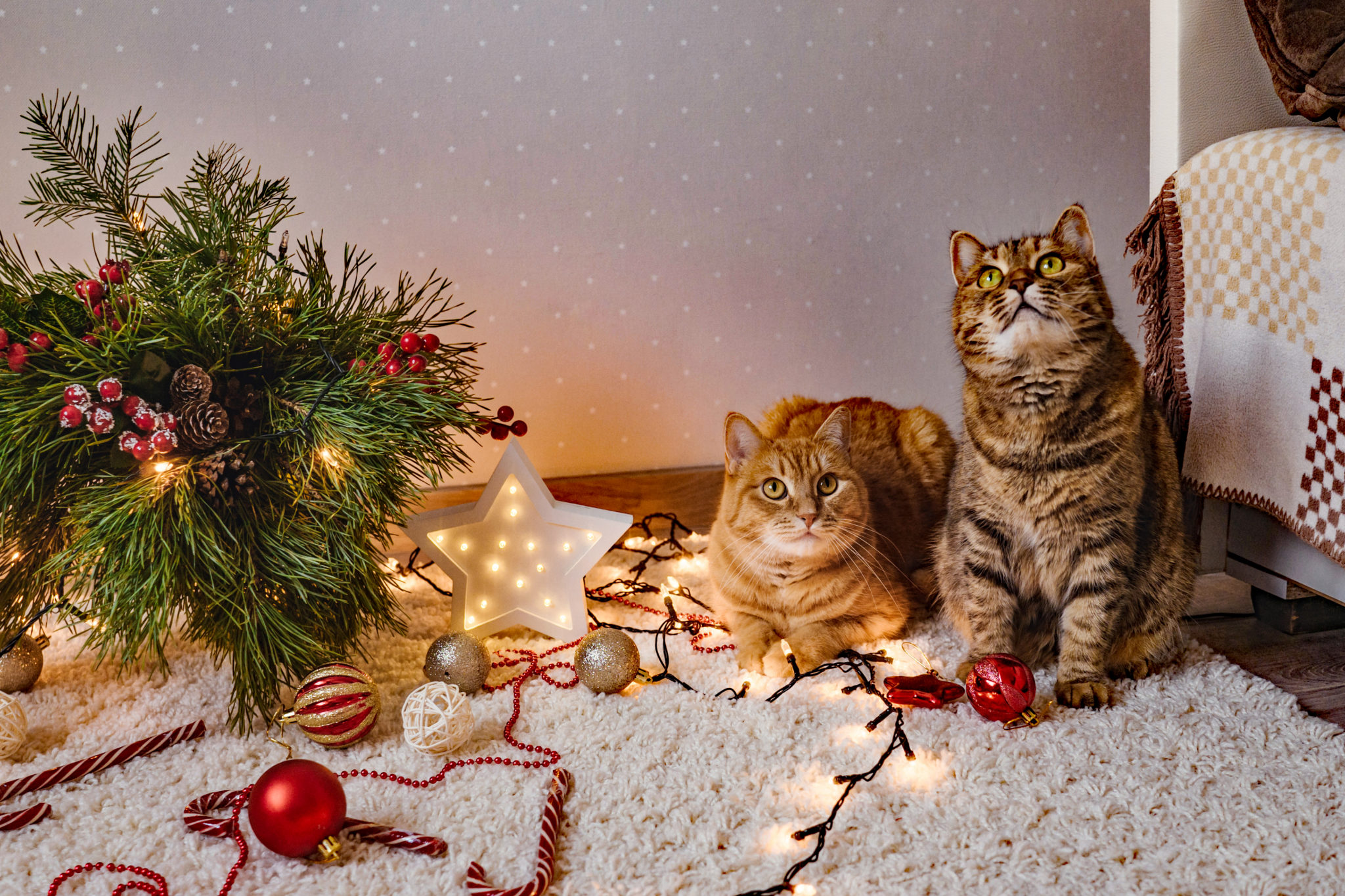 By Terri Grow
Alexandria, VA – Every holiday season, my husband and I have the same debate—an artificial or fresh tree. The dilemma is whether I enjoy a childhood tradition or please our cats. This year, to preempt the debate, I've decided to approach holiday decorating from a feline environmental enrichment perspective. In other words, decorate with feline safety and cat activities as priorities, so we can all enjoy our holiday traditions.
Cats like routine. Changes in schedules or household arrangements can be disorienting to them. And what do the holidays bring? All of the above plus stress—which cats are very attuned to absorbing, potentially causing digestive and urinary disorders.
Awareness of this going into the season allows you to prepare creatively and be proactive. It's not about decorating the litter box or hanging catnip-filled ornaments. The goal is to offer mental and physical activities with quiet bolt-holes that are more interesting than your holiday embellishments.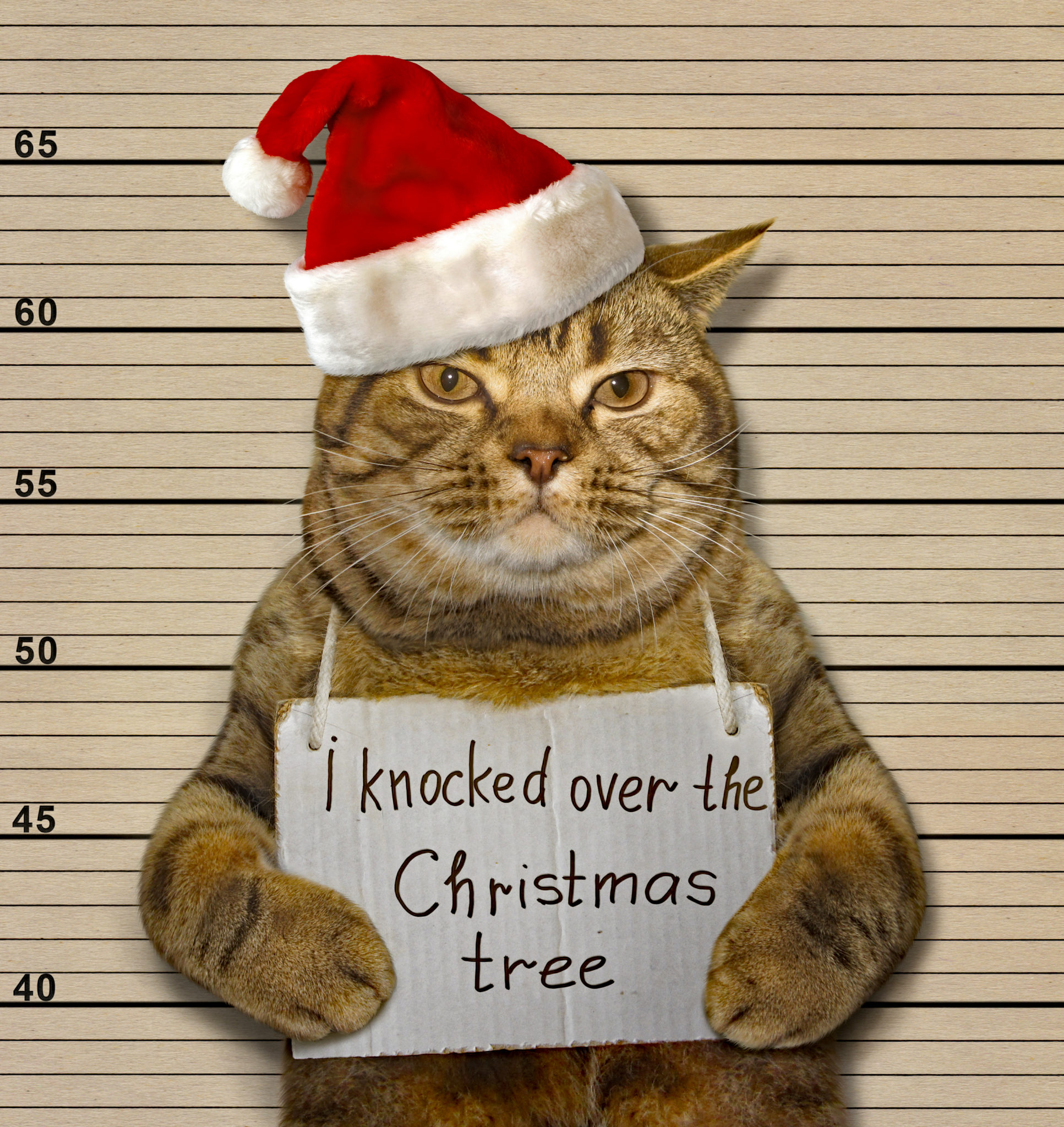 Feline Advent Calendar
Friend and feline behavior consultant Jennifer Van de Kieft introduced me to this fun and affordable option to commercial versions. Making your own allows you to individualize to your cat's preferences. Take small paper lunch bags and label them to count the days for your holidays. Fill each day with a selection of odor enrichments, such as catnip or silver vine, and a variety of new toys and treats. Choose from pom poms to wand toys with freeze-dried or smoothie squeeze treats. Then let your cat(s) enjoy each day's reveal as they discover the goodies. They are rewarded with bonus time with you or a family member and creative mental and physical activities.
A Cozy Box
Cats love boxes. A recent study demonstrated boxes are more than a cozy bed or entertainment. A simple box can help cats deal with change by giving them the escape zone they need to adapt to environmental challenges quicker. A comforting twist uses an old t-shirt to cover the cardboard exterior placing the neck as a peek-a-boo opening.
A Safer Christmas Tree
An artificial tree offers several safety benefits, but the one thing cats love about these trees is that they function as a spiral staircase allowing them to climb easily to the top. So, you can either block off the core to prevent climbing or let them have free reign. Just make sure the base is secured and weighted down to prevent toppling.
Use larger, non-breakable ornaments and wide ribbons to prevent ingesting. Better yet, invest in a tall cat tree! Height is important to cats. With a tall cat tree, they get physical exercise, lounging and scratching territories, and a refuge above the chaos. But don't hide the tree in the basement. It needs to be where you and your family spend most of your time. Think about making this the place where you introduce your Advent Calendar treats.
Plus, a Diet Tip
Holidays are not the best time to make diet changes, but sometimes there isn't a choice. If so, look for simple, species-appropriate formulations, take extra time introducing them, and consider adding probiotics and digestive enzymes to help bring your cat's digestive system up to the demands of a new diet. Try to keep mealtimes as close to the regular schedule as possible. This can be particularly important when working with pet sitters. Calming remedies can also be helpful, minimizing stress-related digestive and urinary events.
For more information on precautions to prevent problems, even emergencies, check out my blog post, "Holiday Season Comforts." I hope with these suggestions you and yours have a safe and enjoyable holiday season.
Terri Grow writes and speaks on holistic pet health and welfare, working with veterinarians, trainers, shelters, and manufacturers to empower canine and feline health through diets, herbal therapies, supplements, and environmental adjustments. The content of this article is not intended to be a substitute for professional veterinary medical advice, diagnosis, or treatment.
ICYMI: Alexandria World Pup Day – Soccer-Themed Event for Furry Friends on November 20th