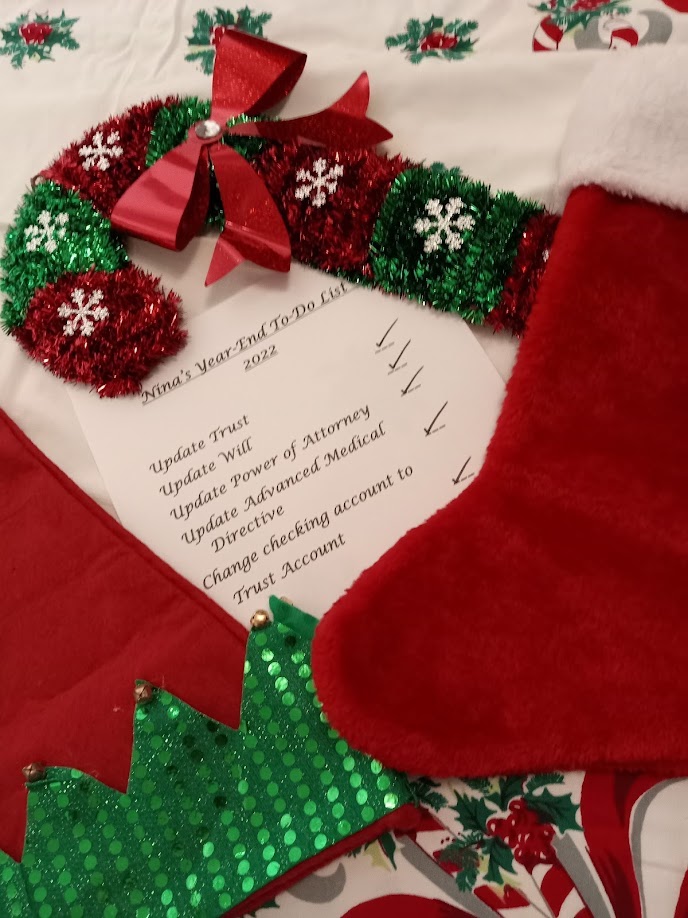 Alexandria, VA – December is often thought of as a time for gift-giving and celebrations. I'm celebrating checking a big one off my ever-changing, never-ending "To-Do" list. This year, as I approached my 84th birthday, I decided it was time to update my end-of-life plans. Intellectually, I know I am not in control. Still, completing this task gives me the illusion of some control.
In the spring I attended Senior Law Day, a half-day program offered by Senior Services of Alexandria.  There was lots of good information, so much information I decided I needed professional help to sort it out. After three tries, I selected an estate lawyer (thanks to an ad in The Zebra) to update my will, trust, power of attorney and advance medical directive. The originals were done in 1995.
The first lawyer I called thought they didn't need to be updated, the second would have charged considerably more than I was prepared to pay. The third did the job and now the documents are neatly organized in a binder. They are in a file on my computer and have been copied to a flash drive stored outside of my home office. My checking account has been changed to a trust account and the deed to the house has been transferred to my trust.
One of the hardest parts of updating the documents was deciding which of my three surviving children to ask to be responsible for the hard tasks to come—my second born, David, died in 2007. The youngest, Lynn, "won" the lion's share of responsibilities. My eldest, Julie, will assist Lynn and middle-child Steven.
There are written plans for the disposition of my remains. I drafted my obituary and suggested what I'd like for a memorial gathering including a song – "Imagine," words by John Lennon:
Imagine there's no countries
It isn't hard to do
Nothing to kill or die for
And no religion, too
Imagine all the people
Living life in peace

You may say that I'm a dreamer
But I'm not the only one
I hope someday you'll join us
And the world will be as one
I made a list of my "stuff" and enlisted my artist-photographer son Steven Halperson to document everything. Besides my own art and Steven's, I have a collection of paintings, photographs and sculptures by other artists. My thinking is that this will give my kids the chance to say what they would like to have.
One of my favorite art pieces is a large abstract painting by then-Torpedo Factory artist Ruth Buhrman (1923-2022). I had commissioned Buhrman to create a painting for a particular wall in my dining room but when it was done, I didn't love it. She graciously invited me to her studio to select a different piece. The one I chose cost twice as much and I paid it off $75 a month for a year. I still love that painting.
Another piece I love is a mosaicked altar by Del Ray Artisan Lin Hall Hiley. The beauty of that piece may have inspired my current mosaic work.
The sculpture by Ruth Tansill (1925-1985) that I call "Girl With Bird" has already been spoken for by my daughter Julie. I first met Tansill when I was a photography student. My assignment was to photograph an artist at work. I never thought to ask Tansill the story behind the sculpture. The one I imagined was that the girl rescued the injured bird, healed it, and was setting it free.
Several pieces are by my brother, artist/illustrator/educator Murray Tinkelman (1933-2016). When he returned from the Army, my brother rescued and had framed one of my very early paintings that he found rolled up at the bottom of a closet. His meaningful gesture encouraged my art.
A recent addition is a color pencil drawing on a wood panel by artist-architect Anila Angjeli who designed the lighting system for Serenity Place Gallery, my in-home gallery. Last fall when my art was away from the home gallery for an exhibit at Green Spring Park, I invited Angjeli to exhibit her art on my walls. When her exhibit was over, I didn't want to say goodbye to that piece. I'm glad I didn't.
I have a collection of geckos. Son Steven and I had taken my mother to a department store when visiting her in Florida. A gecko pin in a jewelry showcase called to me and Steven bought it for me. Years later when I started making mosaics and couldn't figure out how to sign them I had the idea of inserting a small silver gecko in each piece. It's now my signature.
Geckos in many traditions represent transformation and rebirth—a fitting symbol as I moved from photography to the new-for-me art form of mosaics.
And then there are awards. I've been pleased to have received a few over the years. Most are plaques but one of the most creative and appropriate, I think, was a 2007 award for "Excellence in the Arts" from the Alexandria Arts Forum—a piece of original art by Susan Makara. What better award for an artist than the work of another artist. Reward an artist – support an artist. A win-win.
Where the awards will live when I'm no longer here gives me pause to ponder.
Now having checked estate planning off my to-do list, I am settling into winter by making plans to gather friends and family to my heart and hearth.
May your days be filled with peace and love and art.
Mosaic artist-photographer Nina Tisara is the founder of  Living Legends of Alexandria