SPORTS
Commanders' Dotson Visits Alexandria Health Clinic To Encourage Cancer Screening
This season, the 22-year-old rookie has worn pink cleats to raise awareness about the American Cancer Society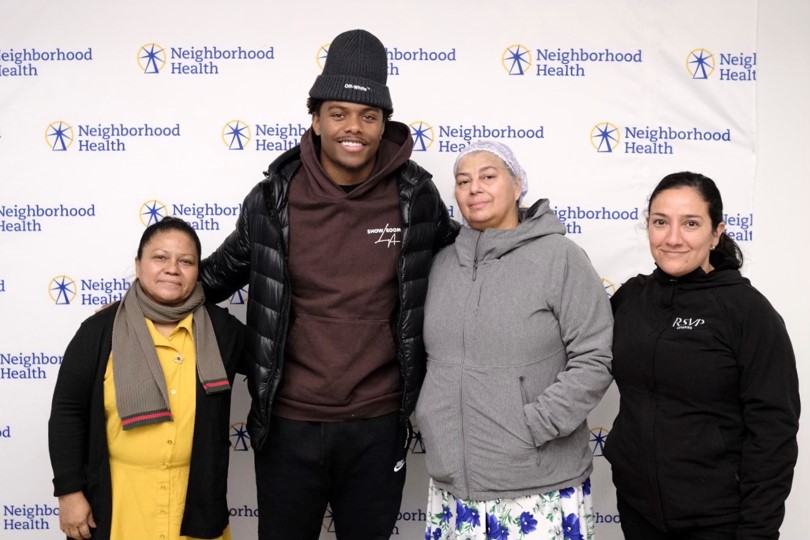 ALEXANDRIA, VA – Taking time away from the football field, Washington Commanders wide receiver Jahan Dotson paid a recent visit to a Neighborhood Health Clinic in Alexandria. As an ambassador for the Crucial Catch program, a collaboration between the NFL and the American Cancer Society (ACS) that promotes cancer screening, Dotson spoke about his personal connection to cancer.
Last year, his mother was diagnosed with multiple myeloma, a blood-related cancer.
This season, the 22-year-old rookie drafted out of Penn St., has worn pink cleats to raise awareness about ACS. The NFL allows players to wear cleats of their choosing as part of the "My Cause, My Cleats" initiative.
Wearing his custom cleats, Dotson has played in nine games so far this season. He has a total of 25 touches (rushing and receiving), 331 yards, and six touchdowns, according to Pro Football Reference.com.
The patients who met Dotson either had their cancer detected early or were able to prevent it with screening at the clinic, thanks to grants from Crucial Catch.
One 40-year-old woman present, a breast cancer survivor, said: "You saved my life. It was detected on time. Now, I'm here and can take care of my children. Thank you to Neighborhood Health. Otherwise, they wouldn't have a mom."
During Dotson's visit, he was joined by Neighborhood Health's executive director Dr. Basim Kahn. Kahn expressed his gratitude to the NFL and ACS for Crucial Catch, saying it has propelled the clinic's mission to improve the services provided to people in this city and neighboring counties, regardless of whether or not patients can pay.
"The population that we serve – low-income, uninsured, and underinsured – face many barriers to cancer screening and follow-up care," Kahn said. "Programs and partnerships such as Crucial Catch help in our efforts to raise awareness and overcome these barriers."
Retrospective: INOVA Alexandria Hospital Celebrates 150 Years