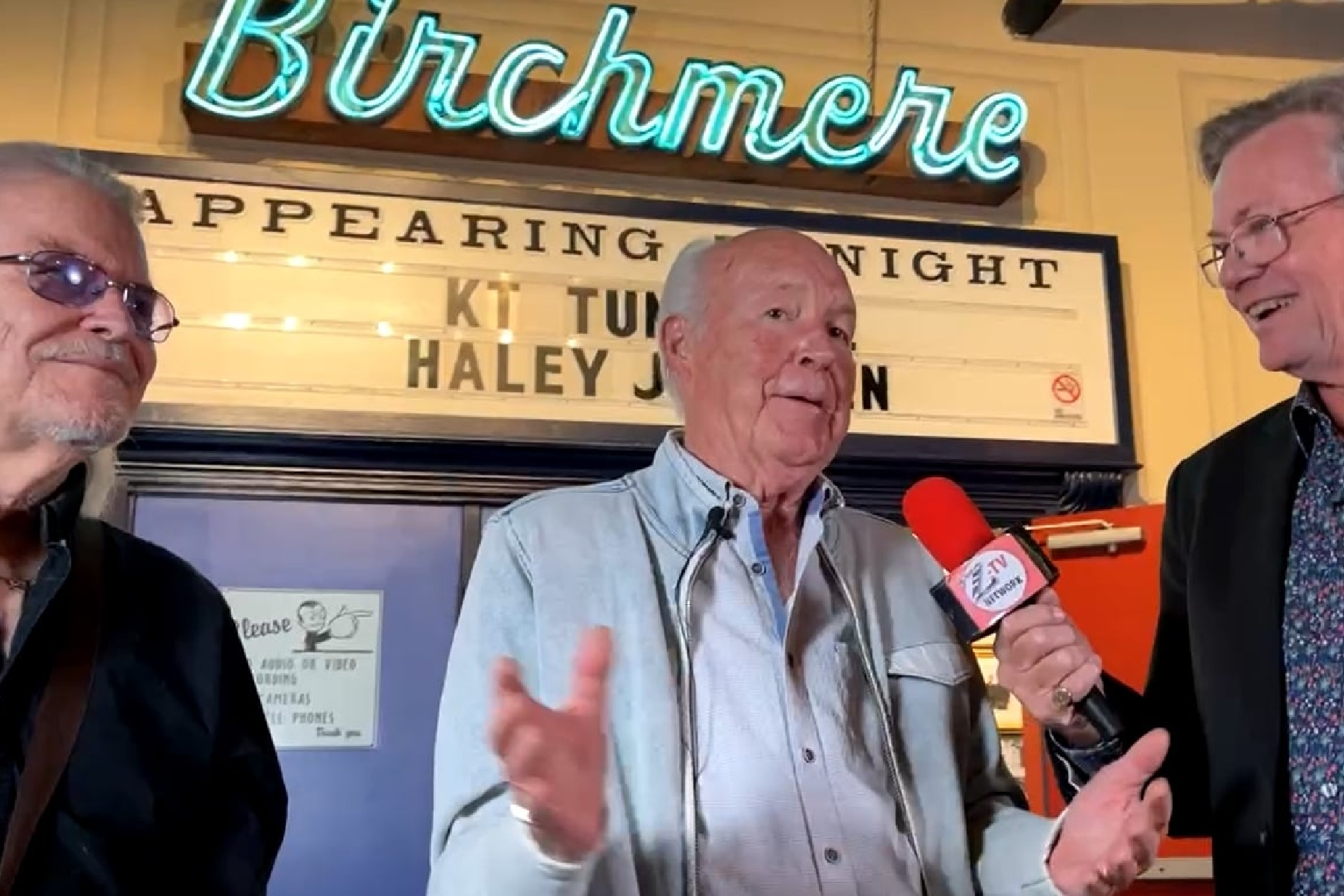 ALEXANDRIA, VA – Gary Oelze, legendary owner and hands-on operator of Alexandria's most famous music venue, The Birchmere, has died.  He was 80.
Originally from Kentucky, Oelze arrived in the DMV when he was newly discharged from the military in 1963. While he was working at a People's Drug Store, a fellow employee who was impressed with his management skills offered him a job that included stock in a restaurant in Shirlington.
The restaurant re-opened in a strip mall as The Birchmere in 1966, and with little competition back then in the Shirlington neighborhood, it sustained a successful lunch business. The original owner named it The Birchmere after a boys camp he had attended when he was a kid. To boost the nighttime part of the business, then manager Oelze decided to add a music vibe. Oelze himself actually played in the restaurant's first band.
"Bluegrass was very popular here [in the beginning]," Gary Oelze told Living On Music's Steve Houk in a 2020 interview. "I had a lotta trouble getting into the bluegrass business, bluegrass people in those days thought the pie was only so big, and it was like, what was I doing sticking my nose in it? There were about 6 or 8 clubs playing bluegrass in the area and I would go see them at these clubs, and even though there was lot of other stuff going on at these places…TV at the bar, a bowling machine…I knew people wanted to hear this music."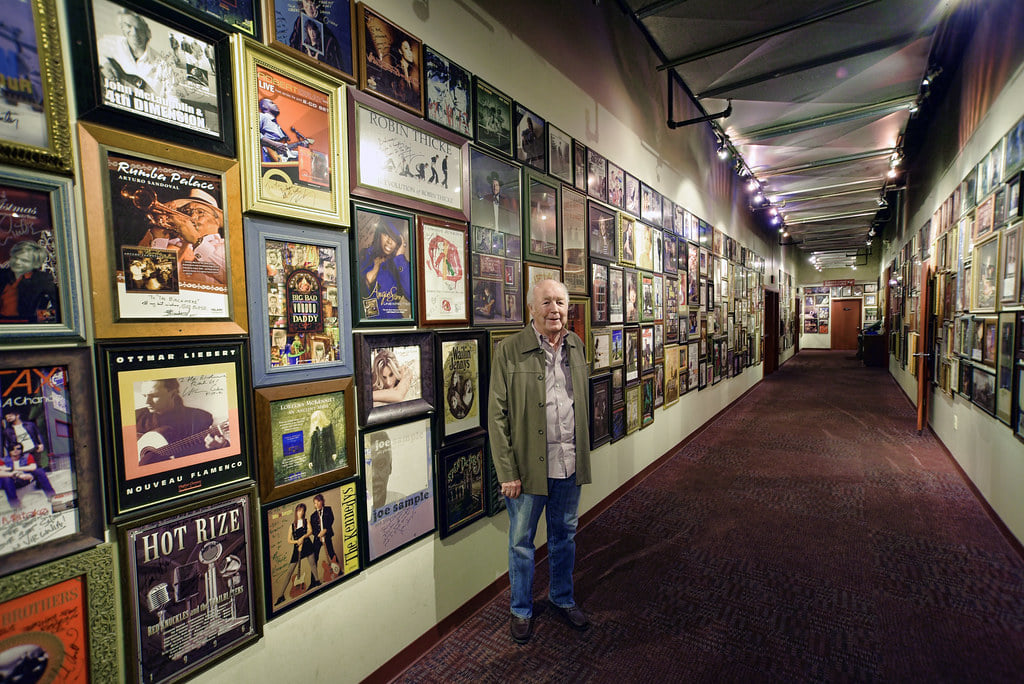 Over the years every imaginable act from bluegrass and country to rock and roll and comedy came through town and played on its legendary stages, of which there were three (2723 S. Wakefield St. in the Shirlington area of Arlington, Virginia in a strip mall that was later razed; 3901 Mt. Vernon Avenue in a space that held at least 300 persons; and the current location which holds 500 at 3701 Mount Vernon Avenue in 1997).
Oelze would put a "quiet" sign on each table, the same one that rests on every table today. Oelze admits he "stole" the idea from legendary Cellar Door, a Washington D.C. club. He called The Birchmere "a listener's club" where being able to hear the musicians is the top priority.
Oelze was serious about those quiet signs, and being respectful of the performers and the music being played. "One night we had a snowstorm and there were about 30 people there that thought, oh boy we'll have a party, and me and the door person asked about half of them to leave," Gary laughed. "We've stuck to it religiously."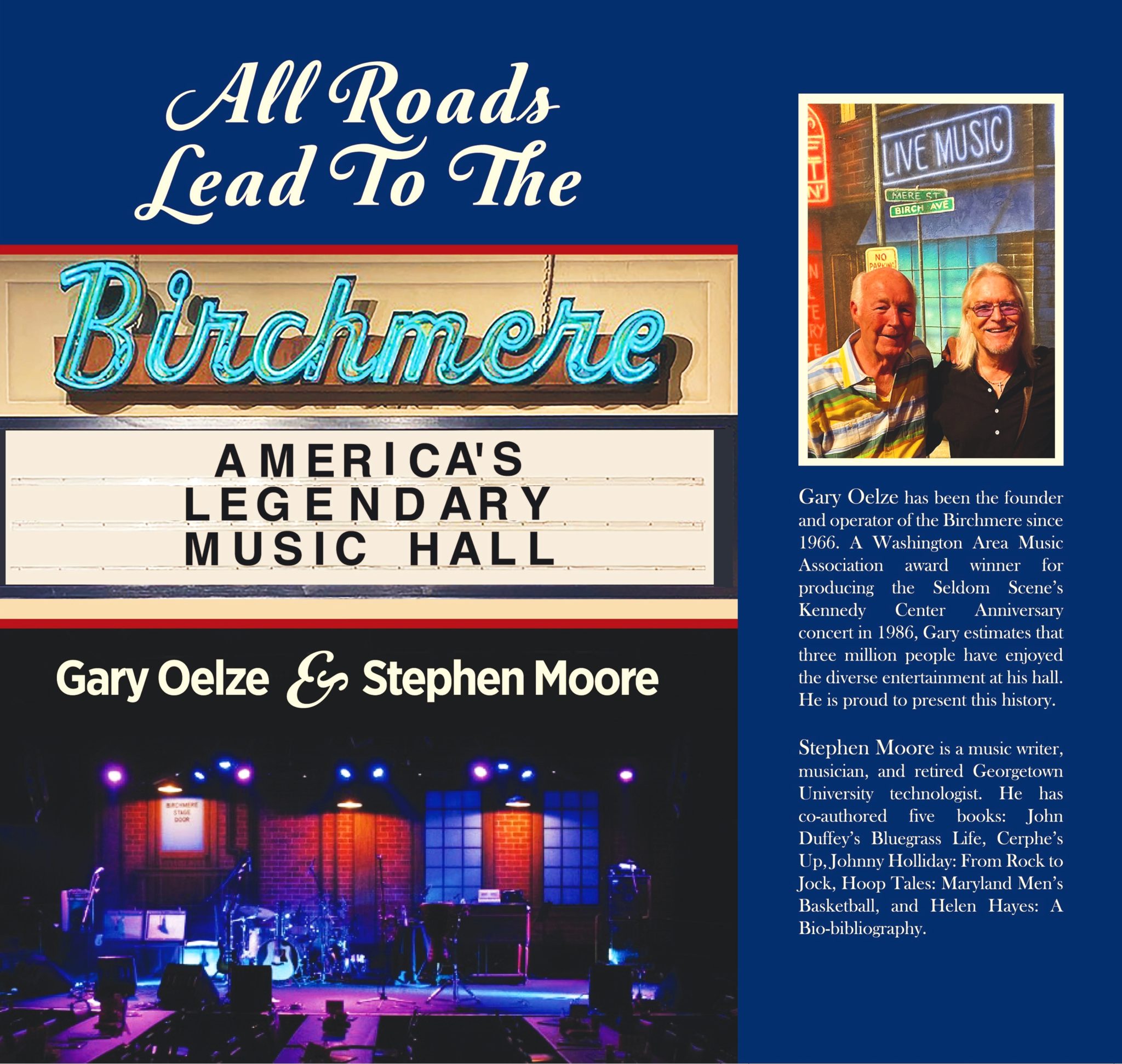 In November 2021, Gary Oelze and music writer Stephen Moore released their best-selling book, "All Roads Lead to The Birchmere" a 502-page tell-all which shares the rousing history of the lively music venue that has become one of the most famous music halls in the country. The book has over 250 previously unpublished photos.
The book is filled with personal anecdotes of hundreds of performers, including Ray Charles, Lyle Lovett, Buddy Guy, Mary Chapin Carpenter, Rosanne Cash, Arlo Guthrie, Tom Paxton, Vince Gill, Pete Seeger, Janis Ian, Townes Van Zandt, Steve Earle, Shawn Colvin, Daryl Davis, Joe Sample, Rodney Crowell and Johnny Cash.
Moore told The Zebra today, "I met Gary in 1986, and we became dear friends when we worked together for three years on the book. The thing about Gary is, he's first humble. And then it is amazing how brilliant he is. And then he always leaves you feeling that he cares about you. I will really miss him."
Asked today if the heartbreaking news was true that Gary had indeed passed away, The Birchmere's booking genius and main promoter for the last 40 years, Michael Jaworek said, "Yes, it is. Our leader and friend is gone."
In March of 2022, The Birchmere was recognized by the Virginia Senate when it proclaimed the music venue had contributed significantly to cultural life in Northern Virginia.
Vince Gill, holds the Birchmere as one of his most treasured venues ever, once said, "When you're a gypsy like me, you look forward to being around people who are like-minded. I smile when I see (a Birchmere) booking on my tour calendar. I love their open mind and willingness to present all genres of great music."
A funeral service for Gary Oelze will be held Monday, February 6, 2023 from 11:00 AM to 12:00 PM at Christ Church, 118 N Washington St, Alexandria, VA 22314. Following the funeral service there will be a celebration of life from 5:00 PM to 8:00 PM at The Birchmere, 3701 Mt Vernon Ave, Alexandria, VA 22305. In lieu of flowers, donations can be made to the Animal Welfare League of Alexandria,
alexandriaanimals.org
[Writer's Note: I was lucky to know Gary, just a little. He knew everybody, and had done it all, but he presented himself as a humble man who cared deeply about the people around him. I talked to him during the pandemic, and asked how he was doing. He never laid off anyone he said, and he was having to sell off personal assets to keep afloat, but he told me "The Birchmere is bigger than just me. It's about the employees–we are a family–and the fans–and the artists themselves. Birchmere is a home for many. It has to keep going. –Mary Wadland"
ALSO IN THE NEWS: Sister Act Wows 'Em at The Little Theatre in Alexandria