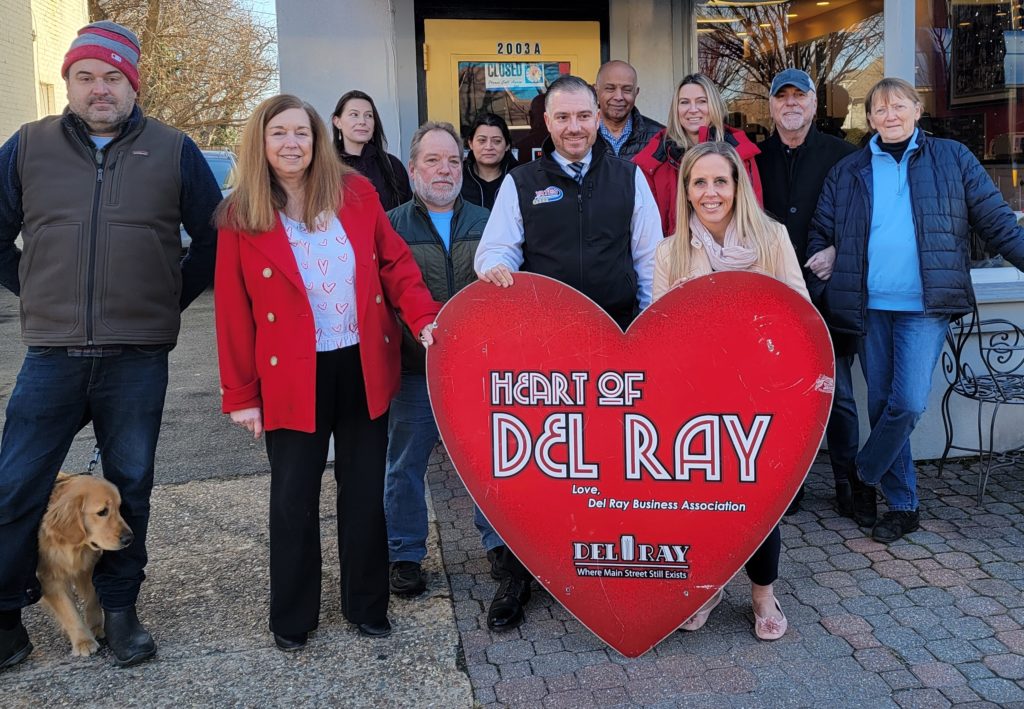 ALEXANDRIA, VA – Voting is now open for the 2023 Heart of Del Ray award, sponsored by the Del Ray Business Association. Every February, the Del Ray Business Association presents the Heart of Del Ray Award to the business that represents the heart and soul of Del Ray, as determined by a vote of neighbors and customers. Selection is based on which business best demonstrates their warm and welcoming attitude to the community and customers; their commitment and generosity to the community; and their overall contribution to the Del Ray community.
Here are the six finalists:
Del Ray Artisans
For 30 years, the Del Ray Artisans has built community for the arts in Del Ray and beyond, providing a space for artists of all ages and abilities. "The all-volunteer organization has been promoting arts in the community for 30 years and has welcomed many new artisans starting out on their creative journey," wrote one nomination. "They add to the culture of Del Ray. The gallery is a comfortable and welcoming space that encourages people to be a part of something special and fun through their events and workshops, and monthly exhibits."
Del Ray Farmers' Market
A Saturday morning tradition, the volunteer-run Del Ray Farmers' Market features over 20 regional farmers and local vendors. "It's where neighbors gather, non-profits meet the community, and vendors become friends," wrote one nomination. "They literally are the heart of Del Ray — it brings the community together (year round!) and give citizens a place to gather (heart), collect community produced items (nutrition), and send back out into Del Ray (like the arteries from a heart)," wrote another.
Del Ray Psych & Wellness
Their bright blue building is a hub of community activity — from donation drives for local non-profits to free outdoor yoga, pop-up markets, and more. "Del Ray Psych has established themselves as a business who tirelessly provides the best care to their patients and programs/events for the community," wrote one nomination. "Community is at the core of everything they do," wrote another.
The Dog Store/Your Dog's Best Friends
The Dog Store fosters community among both two- and four legged friends in Del Ray by participating in community events, vibrantly decorating their store window for all the holidays, and doting on the pups in the neighborhood. "The employees are the absolute best — kind and helpful," read one nomination.  "They have the heart of every dog in Del Ray!" wrote one another.
Rosemont Landscaping & Lawncare
This family-run Del Ray business is dedicated to their hometown. "This is a home-grown business that is always ready to donate a helping hand to the local community through school donations, playground installations, Rebuilding Together and more," wrote one nomination. "You will find courteous, professional and kind staff from the office all the way to the field.  They are compassionate and passionate about building the best community, yard by yard, playground by playground," wrote another.
St. Elmo's Coffee Pub
Known as "Del Ray's living room," St. Elmo's Coffee Pub has been a community gathering place for over 25 years, where neighbors of all ages gather to work, study, socialize, enjoy live music, and more.  "They're literally in the heart of Del Ray, everyone meets there and loves them — the Cheers of coffee places! The owners have contributed so much to the community," wrote one nomination.  "This neighborhood has been built around St. Elmo's. It's time to recognize the place that started it all!" wrote another.
Vote by visiting
.
Voting closes Thursday, Feb.9 at noon. The next day, the winner will be presented with the large heart-shaped award, like the one pictured above, that can be displayed inside their business.
Kerry Donley Honored Posthumously As a Champion for Children Last Weekend