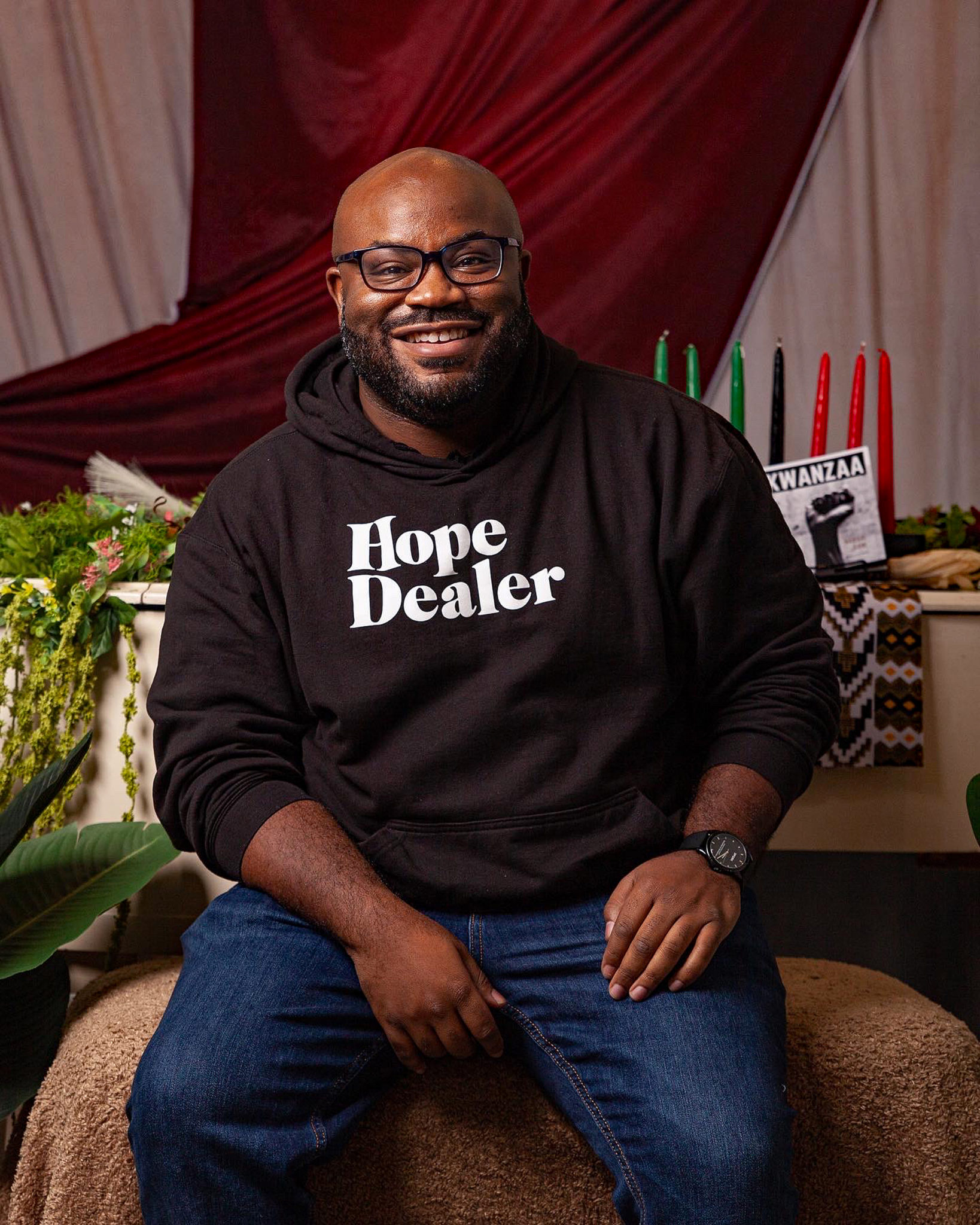 Alexandria, VA – May is the unofficial start of summer, and there is no better way to celebrate than to partake in a beverage that speaks to the season. This month I interviewed Mr. Charles Everett, an Alexandrian digital creator highlighting Black-owned liquor brands and small businesses.
Mr. Everett's journey began with him learning how to make TikTok videos. One year later, his social media handle, UR Friend Charles, obtained a milestone achievement of over 70,000 followers (Instagram & TikTok) who tune in to see what his next recommendation video will be. In his spare time, he is also a budding coloring book author. He has utilized an all-Black supply chain to design, print, pack, and ship his coloring books, Color Culture and My Mama Said. Our conversation was an eye-opening blueprint on how to advocate for Black excellence in our area and beyond. Let's dive in to learn more about UR Friend Charles.
Zebra: What's the meaning behind your social media handle UR Friend Charles?
Mr. Everett:  The origin story starts with my friend, Shakoya Murphy from Koya Kollections, who helped me to come up with the name. It encompasses everything that I am in a simple and relatable phrase.
I am not a business guru, I am not a consultant, and I'm not trying to sell you anything. I just want to be that friend you can rely on who provides an honest opinion.
Zebra:  What inspired you to post about Black-owned liquor businesses on social media?
Mr. Everett:  I was looking for an outlet to share my interest in Black-owned liquor businesses. I chose to use TikTok because it was a platform with a wide reach and a user-friendly tool kit to express my creativity. I believe that if people know about a product, people will support it.
In addition, it shows people that you don't have to be a celebrity to be Black excellence. You can create a brand, own the brand, and promote a great, attainable, sustainable product.
I am still in awe that I have created a community that is interested in supporting Black-owned liquor businesses that I vibe with just by letting people know that these companies are a blessing.
Zebra:  What is your research process when looking for brands to feature?
Mr. Everett:  When I first started, I found an online advertisement for Brough Brothers bourbon. I went down the rabbit hole to learn everything I could about this Black-owned micro-distillery in Kentucky. I quickly realized that they weren't available for sale in Virginia. So, I took my research on the road and traveled to Chat's Liquors, a Black-owned liquor store in the Capitol Hill neighborhood in DC. Unfortunately, they did not have the bourbon either, but the owner was kind enough to tell me about all these other Black-owned brands that were available.
My interest immediately peaked and I started pulling aside bottles to buy. I wanted to collect them all.
Ultimately, it all just came down to a lot of internet research and finding what's local and available. Also, once I started posting videos online, I started to get a lot of direct messages from brands who wanted to share their products with me because they loved the work that I was doing. Today, I would classify my process as 50% online research and 50% recommendations.
Zebra:  Where in Alexandria can people find out Black-owned liquor brands?
Mr. Everett:  Virginia is a controlled state, meaning all liquor stores are operated by the Alcoholic Beverage Control (ABC) Advisory. The good thing about Virginia is that the ABC store website is probably one of the best compared to other states. The website has a search tool that helps you find the liquors that you are looking for. Also, during Black History Month, the ABC store website advertised some Black-owned brands you could purchase online or in their stores.
Zebra:  Another creative endeavor you embarked on is coloring book author. Why did you decide to dive into this arena?
Mr. Everett:  In 2021, I was having a hard time mentally because I was going through a breakup and was in a stagnant job. When I was trying to get through it, I jumped on the trend of puzzle making, and when I was on the verge of completing my first puzzle, my roommate's cat jumped on the table and destroyed the whole thing. At that time, I realized that this activity was not for me. I put down the puzzle pieces and turned to adult coloring books.
This outlet helped me overcome my anxieties and focus on an uncomplicated task. I thought if this worked for me, it would help others to achieve the same calmness, and thus Color Culture was created. The first page of my coloring book was in collaboration with my cousin, Kayla. It highlighted the dress she was wearing that had the quote "Put as much attention into your mental health as you do your direct deposit" inscribed on the front.
From there I hired an artist to assist me in drawing additional pages with images and quotes of Black people that inspired me. I am so pleased to say that these coloring books are an avenue for people to see themselves while decompressing through the art of coloring.
Zebra:  What's next for UR Friend Charles?
Mr. Everett:  I am working on a live event promoting Black-owned spirits, wines, and beers, to bring more attention to these brands and small businesses.
My long-term goal is to develop a system that incentivizes restaurants and other establishments to stock and promote small Black-owned businesses specializing in spirits, wines, and beers. I have a working title and business case developed; however, you must stay tuned to when I reveal the whole concept.
Zebra readers can keep up to date with Mr. Charles Everett by visiting his website (linktr.ee/UrFriendCharles). He is also on Instagram and TikTok.
ICYMI: The "Who's Who in Nonprofit World" Joined Forces for Spring2ACTtion's Kickoff in Alexandria