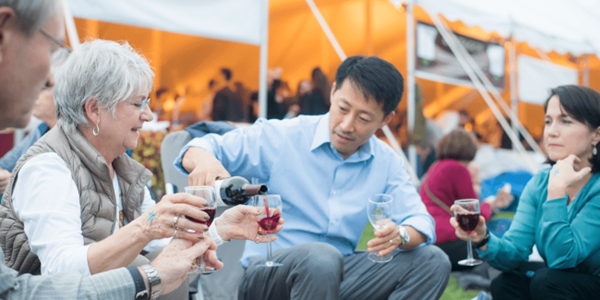 ALEXANDRIA, VA — One of the area's biggest events of the year happens May 19 to 21. Visit George Washington's beloved Mount Vernon Estate and taste unlimited samples of wines from Virginia's finest wineries.
Tour the Mansion and cellar, bring a blanket to relax on the East Lawn  which overlooks  the Potomac River, and listen to live music from Bruce Ewan and the Solid Senders —  all while sampling the best wines the state has to offer.
The Virginia Spring Wine Festival will be held from 6 to 9 p.m. the entire weekend, regardless of the weather.
Participating wineries include:    Barboursville Vineyards, Bluestone Vineyard, Chateau Morrisette Winery, Creek's Edge Winer, DelFosse Vineyards & Winery, Ducard Vineyards, Eastwood Farm & Winery, Effingham Manor Winery, Fox Meadow Winery, Horton Vineyards, Ingleside Vineyards, Jefferson Vineyards,  Jolene Family Winery, Lake Anna Winery, Molon Lave Vineyards and Winery, Narmada Winery, North Mountain Vineyard & Winery, Paradise Springs Winery, Philip Carter Winery, and Williamsburg Winerery.
The Shops at Mount Vernon and Wine Valet Service will remain open until 8:45 p.m.  The first and second floors of the Mansion, as well as the cellar, will be open until 8:30 p.m.  Guests must present identification to be served. No pets allowed.
Food will be available for purchase. Items include beef empanadas, pulled pork and chicken sandwiches, buffalo chicken dip with baguette, and Cesar salad. Desserts are offered courtesy of Alexandria Pastry Shop.
Reserve a VIP table if you wish. It includes  event admission for 12 people; a fruit, cheese, and meat platter; a dessert platter; three bottles of house wine, and VIP table service.
Prices vary as follows for the three days:
Friday — Member $49; Non-Member $59
Saturday — Member $53, Non-Member $63 (Sold Out); VIP Tables (Sold Out)
Sunday — Member $43; Non-Member $53.
Click HERE for the complete food list and pricing.
New Coffee Shop With Outdoor Seating Coming to 1320 Prince Street