Entertainment
Prepare to Party: Portside in Old Town Summer Festival Returns to Alexandria June 16 and 17
Hear live music, taste great beer and wine, play games. It's free fun for the whole family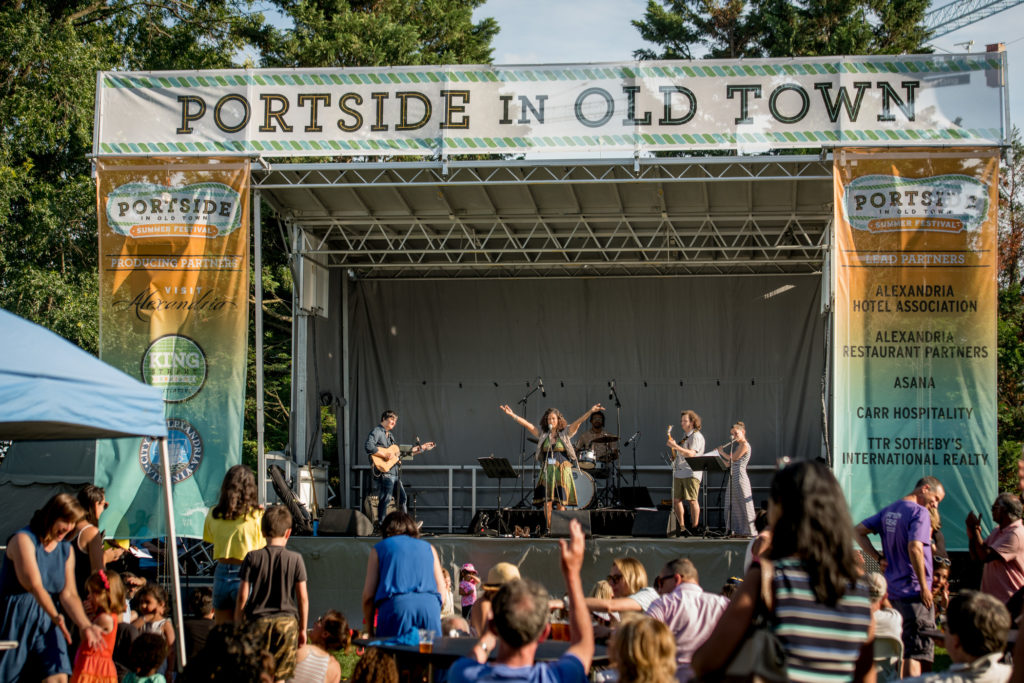 ALEXANDRIA, VA – Prepare to party! The Portside in Old Town Summer Festival is coming back to the Alexandria Waterfront next month. Sponsored by Ting Internet, the festival, scheduled for June 16 and 17, is expected to be incredible.
Admission is free for the whole family. Hear great live music and enjoy craft beer from Port City Brewing Company. The fun is all taking place at Waterfront Park (1A Prince Street).
What's new to this year's festival? Port City is offering more than their beer selections. They will also serve  Lost Boy Cider's Comeback Kid, Virginia wine, and Hopwell, a new sparkling water infused with hops.
Ting offers The Lawn Game Zone. Play cornhole and Connect4.
Experience retail offerings at the foot of King Street. Shop for items from Ten Thousand Villages, White Lily Shoppe, Inti Phaxsi Gems, Sophisticate Supply, and other Old Town retailers.
Discounted hotel rates are being offered to people visiting town for the festival. Special prices are available Friday, June 16 through Monday, June 19. Click HERE for details.
Last but not least, bike valet service will be available. Offered by Two Wheel Bike Valet, drop your bike off at the HB parking lot (300 N. Lee Street) without worry.
The following is a summary of events, provided by Visit Alexandria, the city's tourism bureau.
Friday from 6 to 9 p.m., the Portside Festival once again merges with the 45th Annual ALX Jazz Fest to showcase jazz performances and readings by local poets. Festival-goers will enjoy a dynamic lineup featuring jazz vibraphone from the Joe Baione Quintet, Alexandria born-and-raised bassist and composer Michael Hawkins and his band The Brotherhood, and celebrated vocalist Sharón Clark. Musical sets will be complemented by interludes of poetry from Zeina Azzam, the City of Alexandria's Poet Laureate; Sami Miranda, a published author and artist; and two Alexandria City Public Schools student poet laureates. Friday's festivities will be emceed by award-winning poet C. Alexandria-Bernard Thomas, a queer Black non-binary teaching artist and advocate. ALX Jazz Fest performers were selected through a collaboration with the Office of the Arts and the 2023 Alexandria Jazz Fest Activation Team comprised of John Hasse (Smithsonian), Suraya Mohamed (NPR Music) and Jeremy Castillo (Levine School of Music). Friday's musical lineup will serve as the inspiration for an onsite live mural painted by Aniekan Udofia.
Saturday from 1 to 9 p.m., the Portside Festival continues with wide-ranging musical acts starting with nouveau flamenco group Ouros, featuring Danny Knicely on mandolin; Ethiopian vocalist Kalkidan Meshesha; and indie soul group Oh He Dead. Blues guitar aficionados will enjoy the collaboration of The Linwood Taylor Band with special guest Sol Roots. Close out the evening on your feet with danceable zydeco tunes from Louisiana's Curley Taylor & Zydeco Trouble and salsa from Hermanos Galván y Orquesta. Alexandria-based musicians and founders of the Yellow Door Concert Series, Vaughn and Robyn Ambrose, are guest musical curators and emcees for Saturday's performances.
On Friday evening from 6 to 9 p.m. and Saturday from 1 to 6 p.m., family-friendly offerings include lawn games, hands-on art and history activities and more. Festival sponsor Ting presents a Lawn Game Zone with cornhole and Connect 4. Meet local artists and explore various art projects from the Office of the Arts, while also learning more about how you can get involved. Create art out of repurposed items with Alexandria's UpCycle Creative Reuse Center. Try your hand at making chocolate with the Office of Historic Alexandria, as you discover chocolate's historic origins through the demonstration of tools and techniques originally developed by ancient cultures of Central and South America. On Saturday, Safe Space NOVA will offer activities such as rock painting, bubbles, plantings and more in alignment with its mission to support LGBTQ+ youth. The Tall Ship Providence team will have an informational tent on site in anticipation of the opening of the Senator John Warner Maritime Heritage Center, the ship's new home and visitor experience at Waterfront Park.