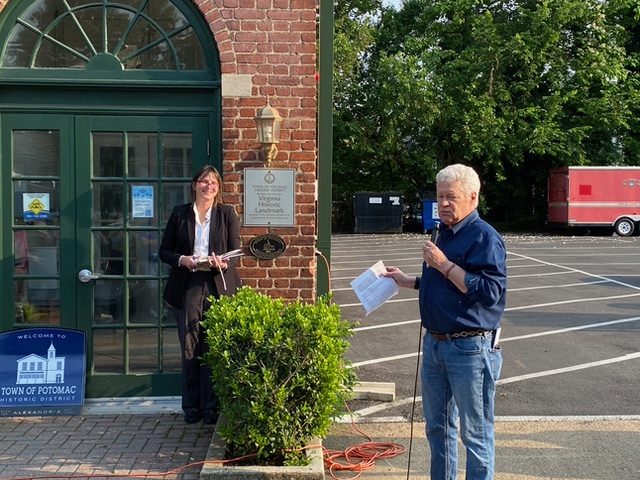 ALEXANDRIA, VA – On Thursday, May 18, leaders from the Del Ray (Town of Potomac) community and a Preservation Virginia representative held a press conference to highlight Del Ray's inclusion on Preservation Virginia's 2023 list of most endangered historic places. The press event was held at the historic Town of Potomac fire station on E. Windsor Avenue. It attracted a crowd of over 50 concerned residents.
During the hour-long presser, leaders stressed the importance of maintaining Del Ray's historical integrity. They emphasized the accelerating pace at which contributing houses are being bulldozed. Background on Del Ray's inclusion on Preservation Virginia's 2023 list of most endangered historic places can be found HERE.
Sonja Ingram from Preservation Virginia provided an overview of the extensive effort to establish the historic district. Funding had to be procured for the research and surveys needed to verify that each contributing building was historic. In Del Ray's case, the number of structures that met the criteria made the neighborhood historically significant.
SEE ALSO: Citizens React to Del Ray Neighborhood Landing on Virginia's Most Endangered Site List
However, Ingram noted that all the work to designate the neighborhood as historic was at risk. "This historic district and all the benefits of that designation are unfortunately being eroded by all of the teardowns," she said. Del Ray's leaders stated that having a historic designation does not preclude developers from tearing down contributing houses.
Presentations by Town of Potomac Historic District founder Rod Kuckro, Nate Hurto from Save Del Ray, and Del Ray Café owner Margaret Ticer Janowsky all focused on Alexandria's, and by extension Del Ray's, historical significance as a draw for current and future residents and its importance for the city's economy. Janowsky emphasized that "these districts are vital, not only to our economic future but to the very identity that makes Alexandria unique to residents and visitors alike."
Hurto noted that if nothing is done to prevent further teardowns, Del Ray will become "a collection of places and buildings with plaques that talk about what was once here."
He highlighted a February 2022 proposal the City of Alexandria provided to the Metropolitan Washington Council of Governments (COG) that made the crowd gasp. That proposal updated the COG on Alexandria's progress in implementing the Regional Housing Initiative (RHI). It stated that the city intends to build 577,000 square feet (sf) of housing along the Del Ray corridor.
Hurto put this into context by explaining that all the buildings in the Potomac Yard shopping center, from Target at the south end to Total Wine at the north end, and all buildings in the parking lot, equated to 514,000 sf. If the proposal is adopted, Hurto said, "It would be the equivalent of dropping Potomac Yard on Mt. Vernon Avenue."
The leaders encouraged residents to reach out to Mayor Justin Wilson and members of the City Council and push them to find alternatives to teardowns. Kuckro said the city needs to implement public hearings for contributing properties so that residents of the area can voice any concerns before they are demolished.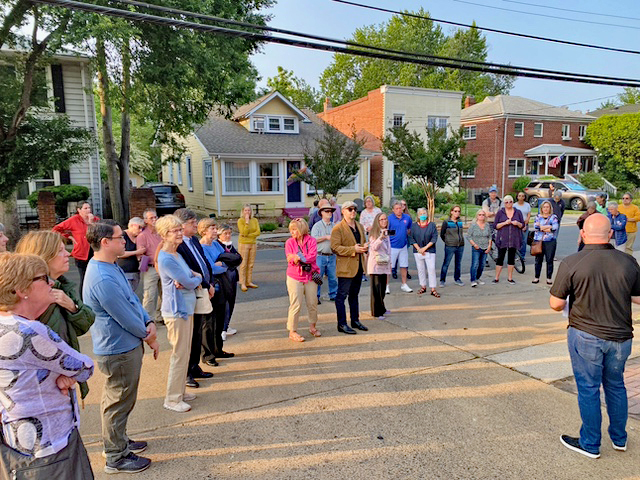 In addition, leaders said incentives should be made to restore, repurpose, and revitalize contributing properties, highlighting the Del Ray Cafe and the Torpedo Factory (in Old Town) as examples of repurposing a structure. Incentives should encourage developers to preserve and make it less profitable to knock down a building.
Ingram and other leaders suggested using a local historic overlay district, a tool meant to manage change. A historic overlay district is a layer of local planning regulation that incorporates the restrictions of the underlying zoning for a given geographic area. Its primary goal is to preserve the historic character of a neighborhood.
During his presentation, Kuckro quoted from the city's website: "Alexandria has a rich historic and cultural legacy which not only creates the city's unique sense of place, but also represents one of its primary economic and cultural assets. The City of Alexandria is committed to honoring its historic legacy through preservation, planning, interpretation, public outreach, and programming."
He then pointed out that the website's commitment clearly "does not extend to Del Ray." Del Ray leaders want the City of Alexandria to provide the same commitment to preserving Del Ray as it does to the Old Town and Parker Gray districts.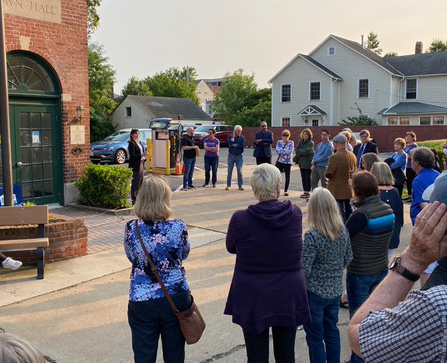 Del Ray's leaders plan to meet with city officials in the near future to discuss ways to preserve the neighborhood. For additional information on the group's efforts and how to get involved, click HERE.
IN OTHER NEWS: New Plan for Old Alexandria Power Plant