Community News
Tickets Available: Rejuvenated Tall Ship Providence Returns to Old Town Under Moonlight June 1
Ship will reopen at its permanent home in front of Old Town Alexandria's Waterfront Park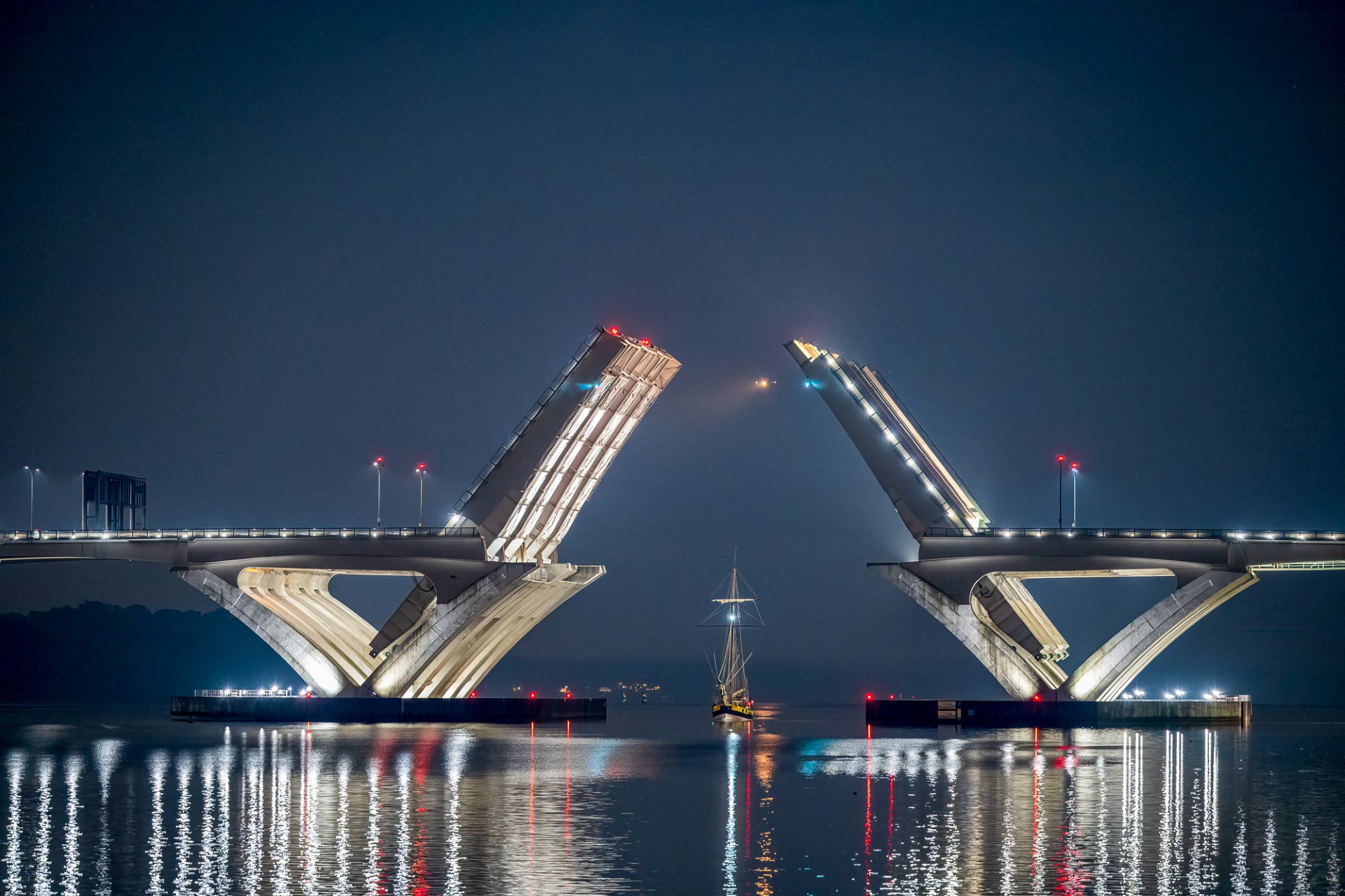 June 1, 2023 (Alexandria, VA) –Tickets are now on sale for Tall Ship Providence's new interactive dockside tour, which will take place at the new Senator John Warner Maritime Heritage Center, Home Port of Tall Ship Providence. 
The ship returned under moonlight on June 1 after sailing in April 2023 to Georgetown, Maryland in northeastern Kent County where it underwent a beauty makeover which included new paint and various maintenance updates.  Hundreds of Alexandrians watched from the shore as the tall 18th century replica floated beneath the Woodrow Wilson Bridge.  It's a spectacular sight to see when the a bascule bridge opens. The Woodrow Wilson Bridge spans the Potomac River between Alexandria, Virginia and Oxon Hill, Maryland in Prince George's County, Maryland. The original bridge was one of only a handful of drawbridges in the Interstate Highway System.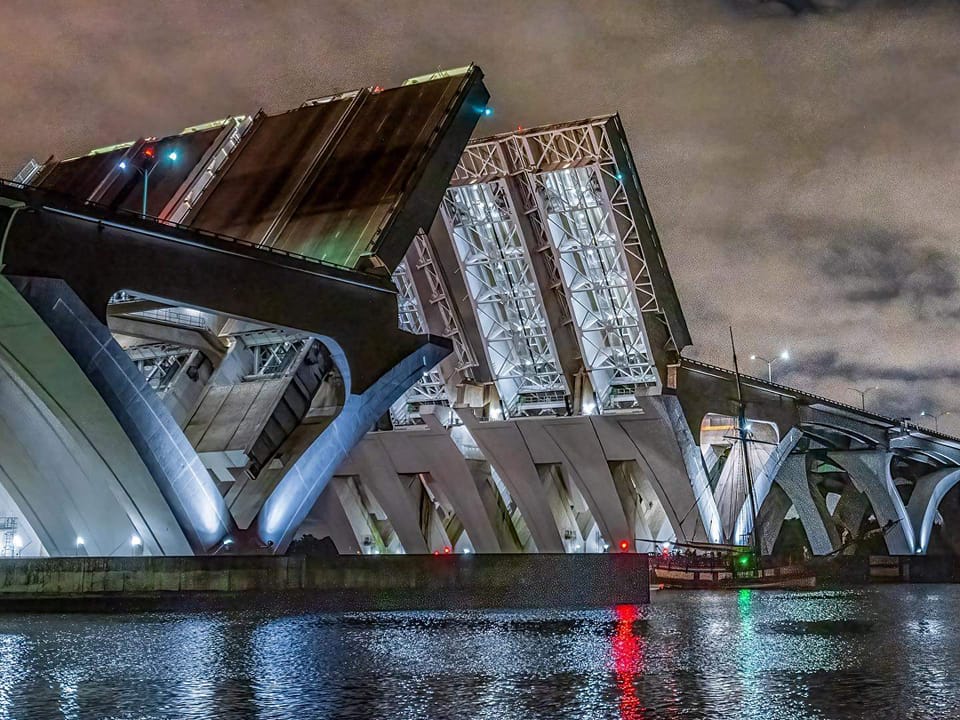 The ship will reopen at its permanent home in front of Old Town Alexandria's Waterfront Park, located just south of King Street. In addition to dockside tours, Tall Ship Providence will offer sunset sails, specialty sails and private charters. The Maritime Heritage Center will also be available as a venue rental. Tall Ship Providence will open for tours on Saturday, June 17 during Alexandria's Portside Festival.
In August of 2017, the Tall Ship Providence Foundation (TSPF) purchased the ship with the mission to create a floating museum to educate visitors on the role Providence and the Continental Navy played in the American Revolution. Providence was the first ship authorized by the Continental Congress for the Continental Navy, the first ship to bring Marines to foreign soil and the first American command of legendary Captain John Paul Jones.
In addition, Providence appeared in two of the Pirates of the Caribbean films. The Maritime Heritage Center will feature an Education Center, a Naval History Theater, an Observation Deck, Ticket Office and Gift Shop.
Tall Ship Providence OfferingsPublic Tours: Visitors can join the Continental Navy when they take Providence's new, immersive dockside tour. The tour will take visitors on a journey back to 1776 where they will "make their mark" in the ship's articles and join the Continental Navy. Learn about Providence's history from a sailor straight out of the 18th century, meet legendary Captain John Paul Jones, and view the short film, Providence: Dawn of the U.S. Navy, created especially for this tour. Dockside tours are available Wednesday – Sunday from 10 a.m. to 5 p.m.Sunset Sails: Hop aboard Providence every Saturday and Sunday at 6 p.m. for a sail on the Potomac. Jump in to help set the sails, learn about Providence's history, and take in the beauty of being on an historic tall ship. Sails are two hours, and a cash bar is available for those sailors who wish to enjoy a sip of grog. LINKSpecialty Sunset Sails: Come aboard every Friday evening for one of Providence's Specialty Sails featuring a local brewery, winery, or distillery. Enjoy a flight of four beers, three wines, or a few spirits served by a representative from the brewery, winery or distillery. In addition to the tastings, guests will also have the opportunity to learn about Providence and help set sails or sit back and relax. LINK
Father's Day Specialty Sail: Bourbon, Beer, & Brats! (June 18): Celebrate that special guy in your life by treating him to a two-hour Sunset Sail where he can enjoy a brat, a beer, and a sampling of bourbon from K.O. Distillery. Explore the decks and help set the sails while sailing on the Potomac! LINK
 Private Tours: Private tours are available and include a behind the scenes tour with a personal tour guide and meet-and-greet with Captain John Paul Jones. Visitors will learn about life aboard Providence and the role she played in the Continental Navy.
For further information on Tall Ship Providence's history, special events, to purchase tickets, visit TallShipProvidence.org.