Cover Story
Alexandria Celebrates the Grand Opening of a Vital Transportation Link
After 20 Years, We Finally Have the Potomac Yard-VT Metro Station! Alexandria, VA – "What a great day to be an Alexandrian! I am now the sixth Alexandria mayor who has stood up here and eagerly awaited the opportunity to say these words: Alexandria, Your Potomac Yard/VT Metro Station is open!!!" – Alexandria Mayor Justin Wilson
It began with a vision. A dream. Decades in the making, that dream finally reached its crescendo on Friday, May 19. At 5:00 am, the Potomac Yard-VT Metro station opened its doors for the first time to admit its first passengers. At 5:08, a Yellow Line train rounded the bend and roared into the brand-new station.
Mayor Justin Wilson arrived at dawn to witness this long-awaited moment. Walking down the train platform, an exhausted but overjoyed mayor took in the historic day. "It was surreal. We've been talking about this for 25 years. We've looked at it on power points and hours and hours of meetings. To see it real is pretty exciting!"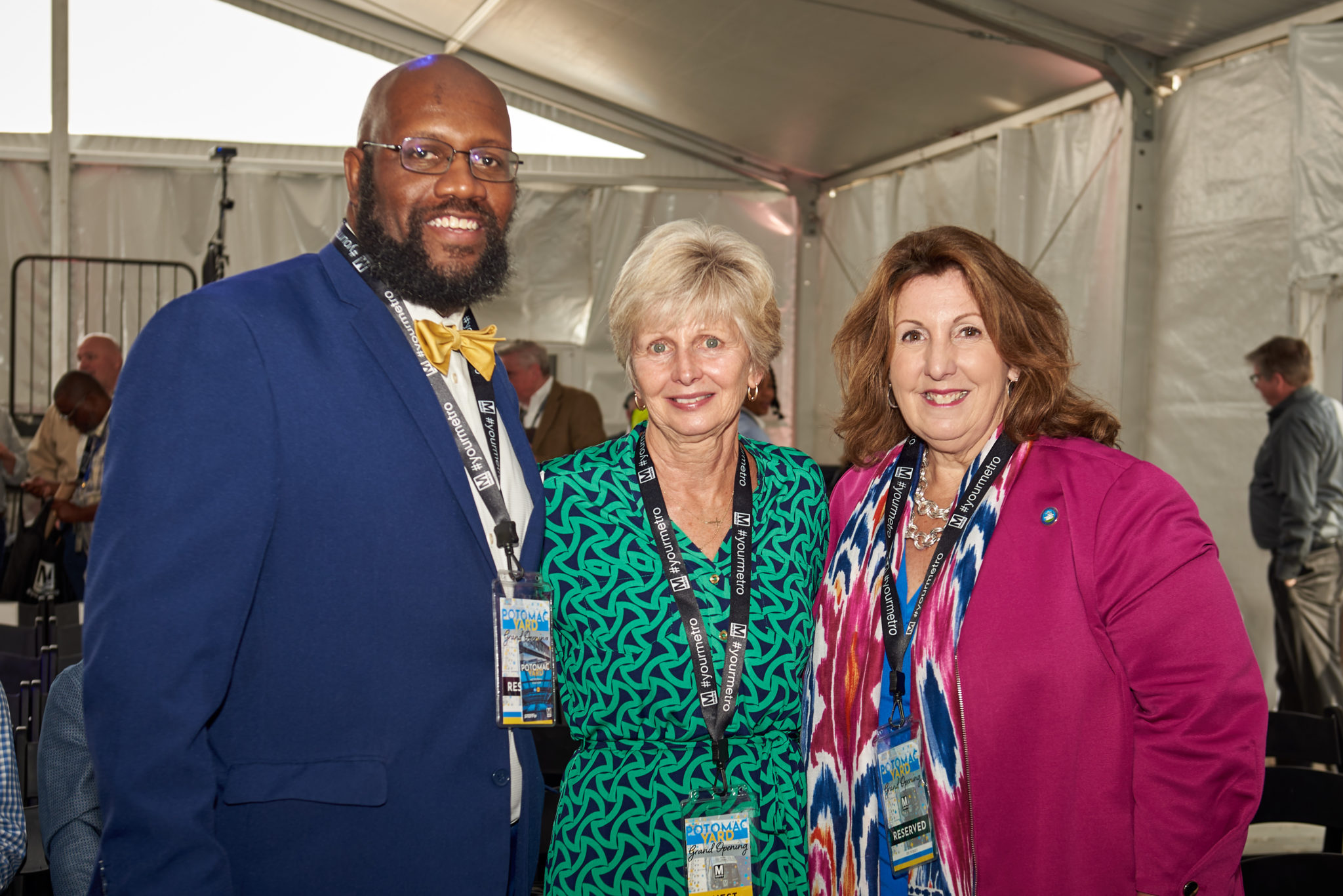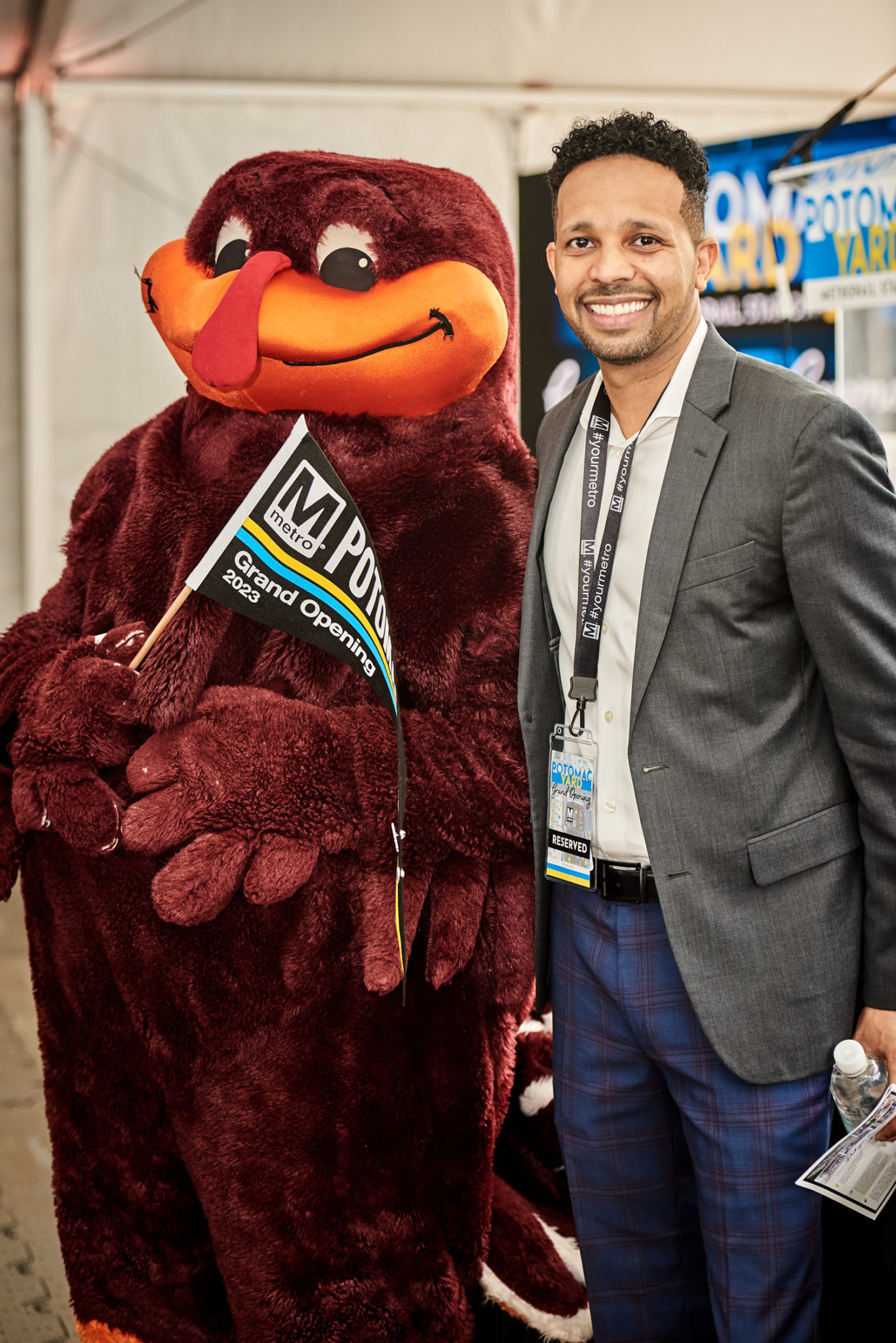 Former city councilman Rob Krupicka joined the mayor in the pre-dawn hour. As city councilmen 15 years ago, they spearheaded the push to bring Metro to Potomac Yard.
What was it like to be on that first train before sunrise? "It's an incredible feeling," Krupicka said. "In public life, it's sometimes hard to see the impact of what you do. Seeing the Metro come to fruition, this beautiful station, people here at 5 am. I see riders using the new Metro how it was meant to be used, and it's gratifying! It took longer than I hoped."
A crowd of Metro enthusiasts lined up at the entrance in the dark, hoping to snap up limited editions of pennants, banners, posters, and Potomac Yard/VT SmarTrip cards. Wilson noted, "There were all these groupies who just wanted to ride the first train. But we also spotted a woman with a suitcase headed for National Airport. She had no idea what all the hoopla was about. She was just boarding a pre-dawn train to catch her flight! We told her, this is the first day at this station! But it reminds you this is a utility." By 10:30 am Friday, more than 1,300 people passed through the turnstiles.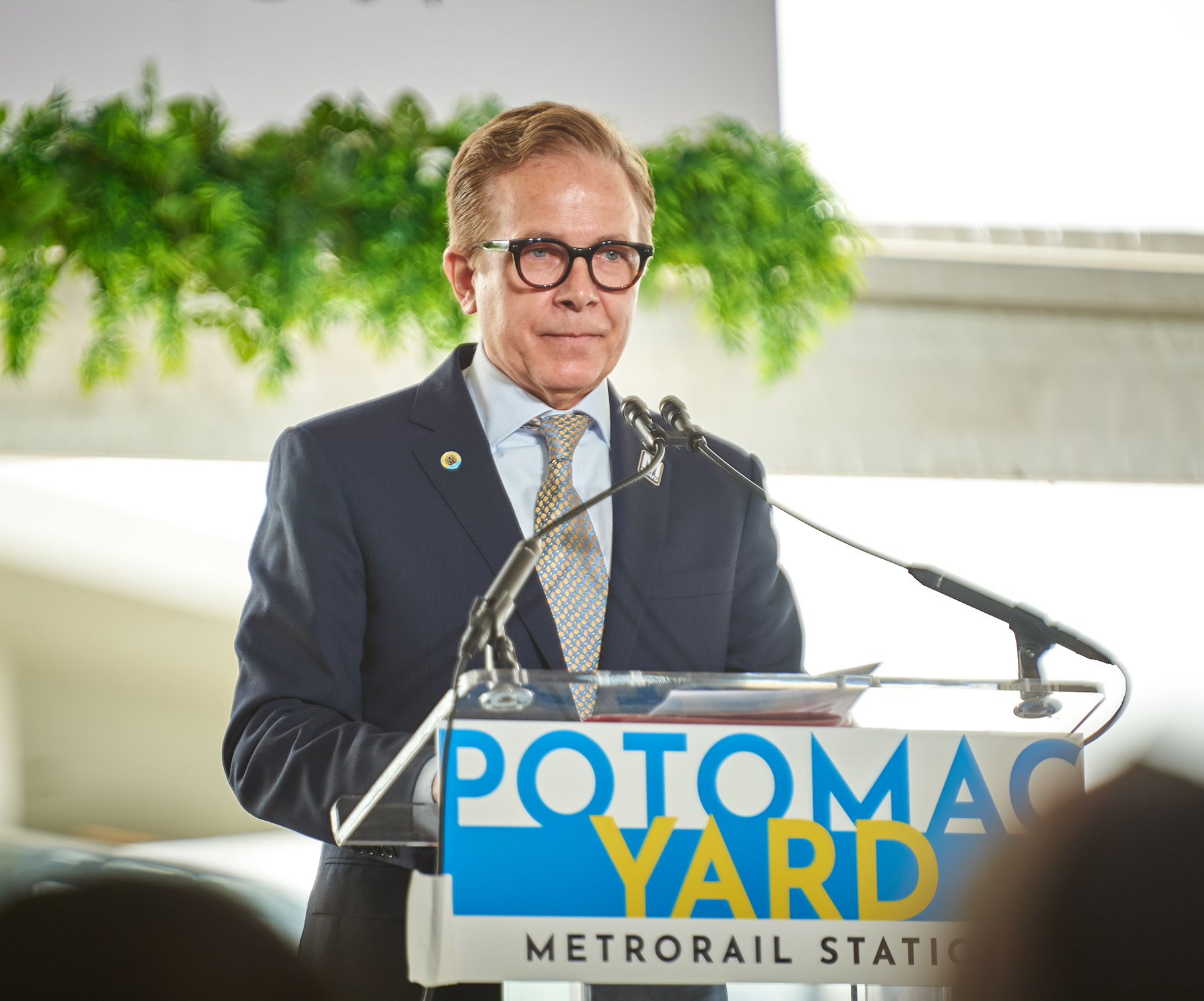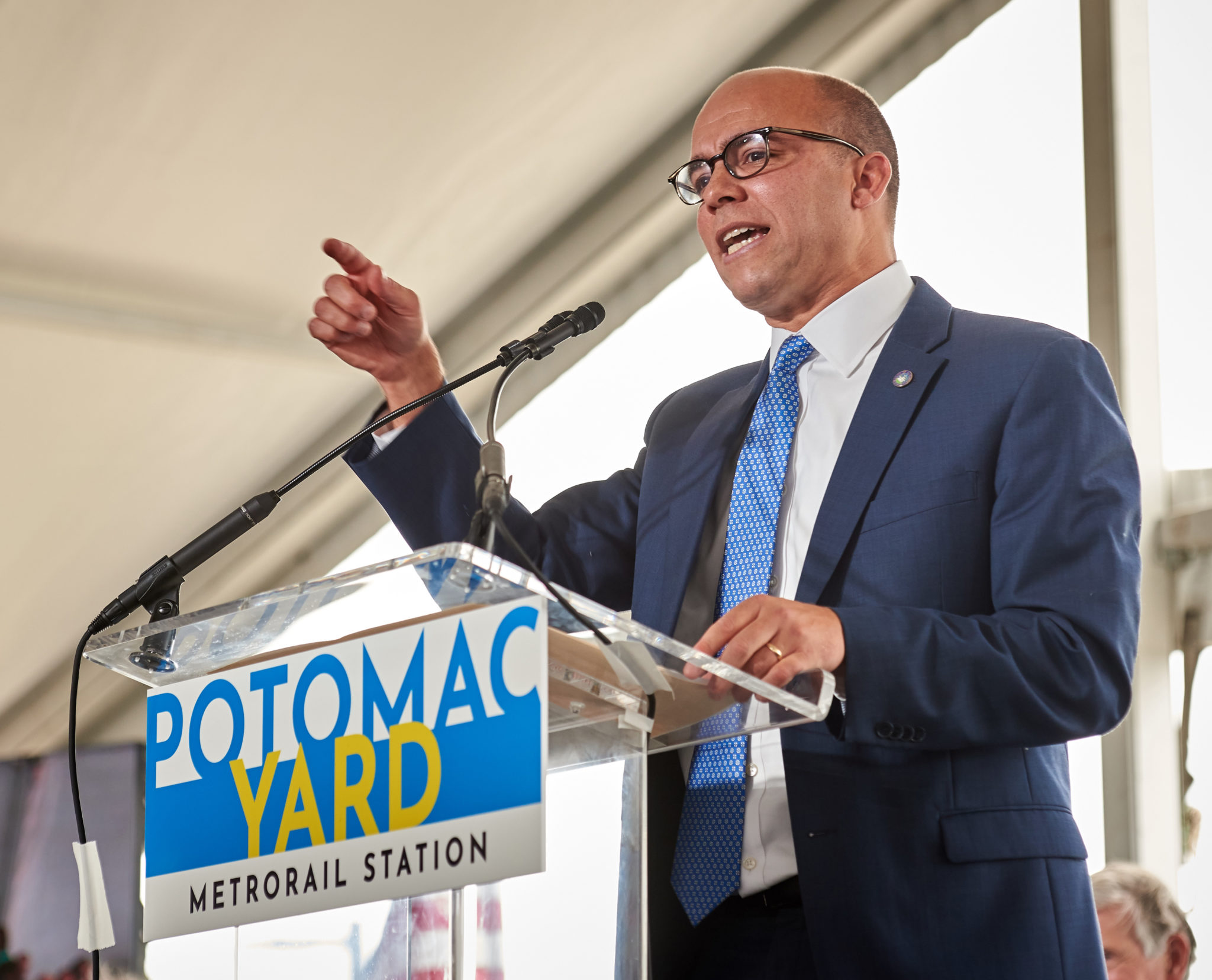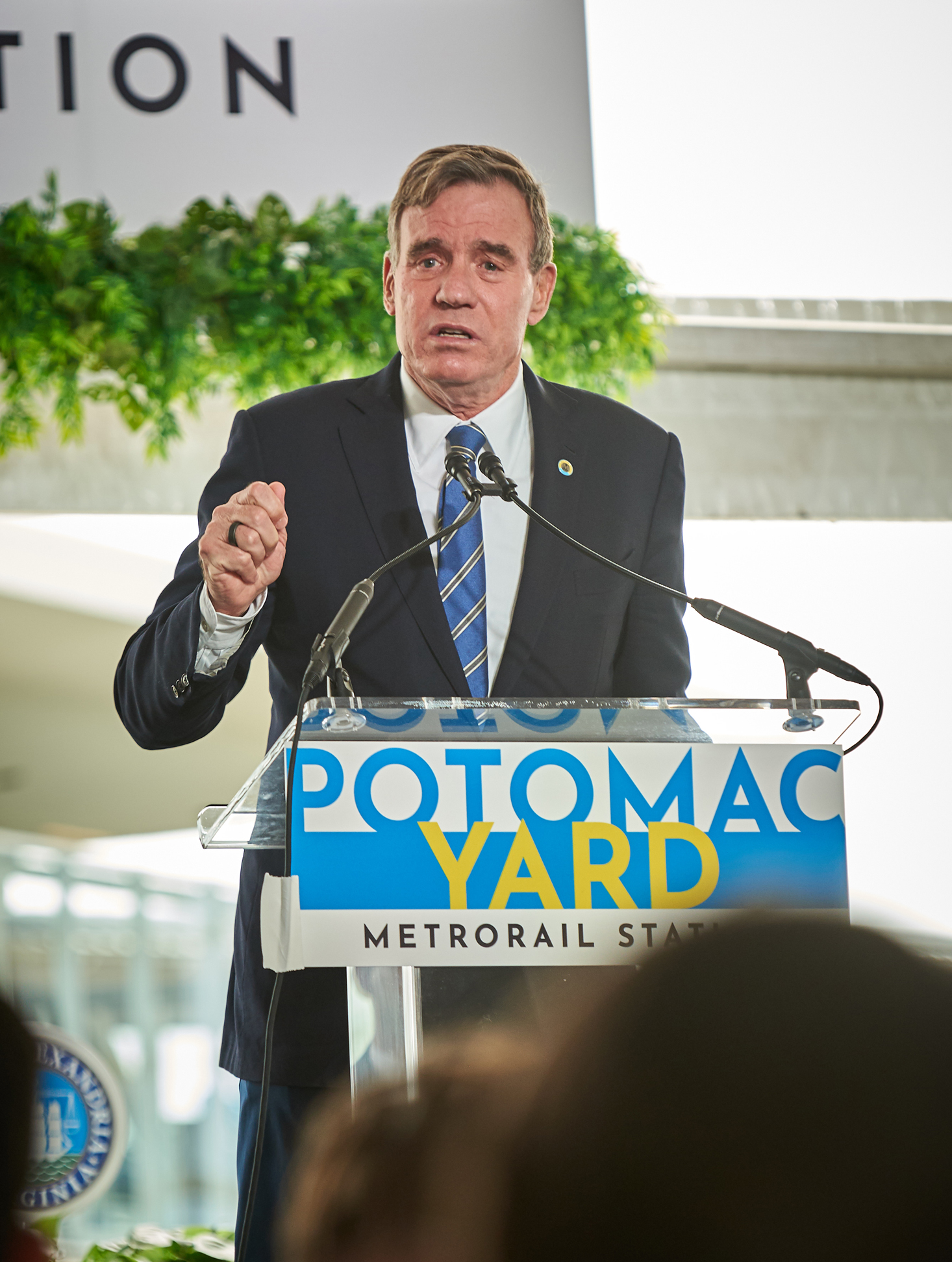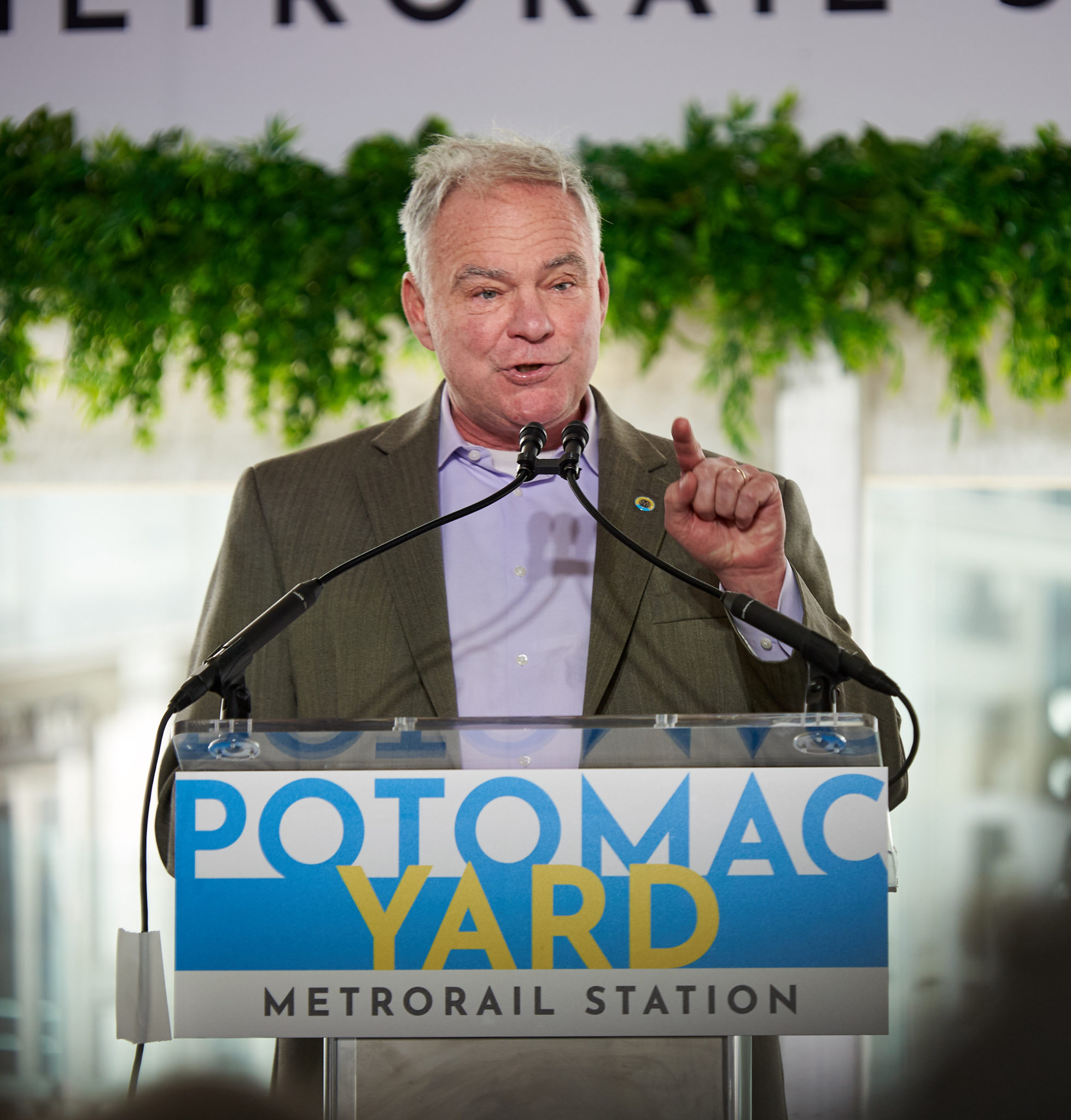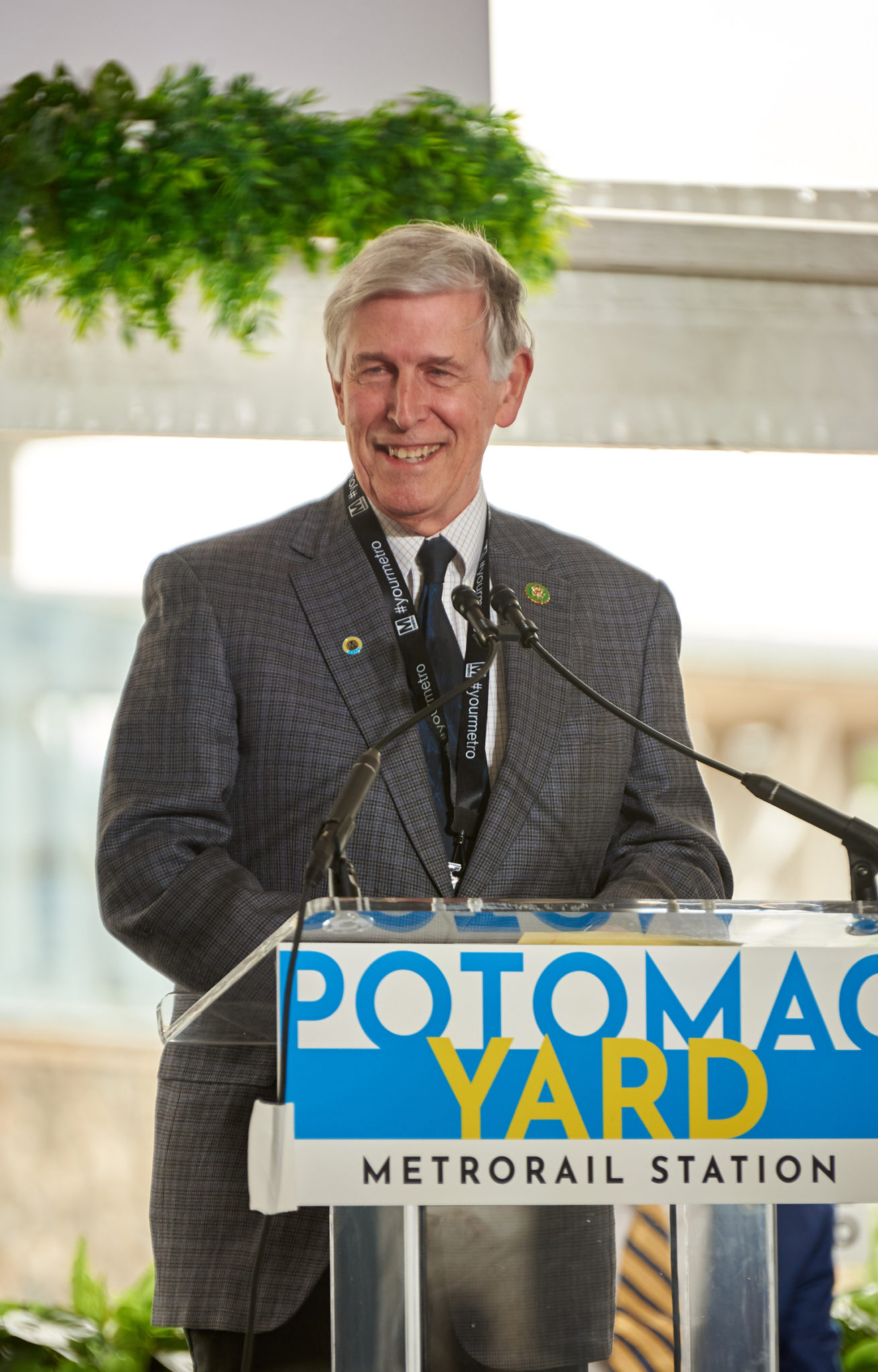 Soon, workers arrived to set up tables, food, and chairs for the festivities later that morning. One thought back to a cold winter's day in December 2019 when officials and dignitaries gathered to break ground for the new Metro station. The grand opening was a much more elaborate affair, with a makeshift auditorium festooned with balloons, flowers, and video screens, the walls papered in a Potomac Yard-VT pattern.
Dignitaries, guests, and the media drifted in an hour and a half before the ceremony. They were welcomed by greeters waving balloons and pom poms and directed to tables with pennants and canvas bags of memorabilia. The attendees mingled in a smaller tent next door, coffee in hand, nibbling on pastries and fresh fruit on a stick.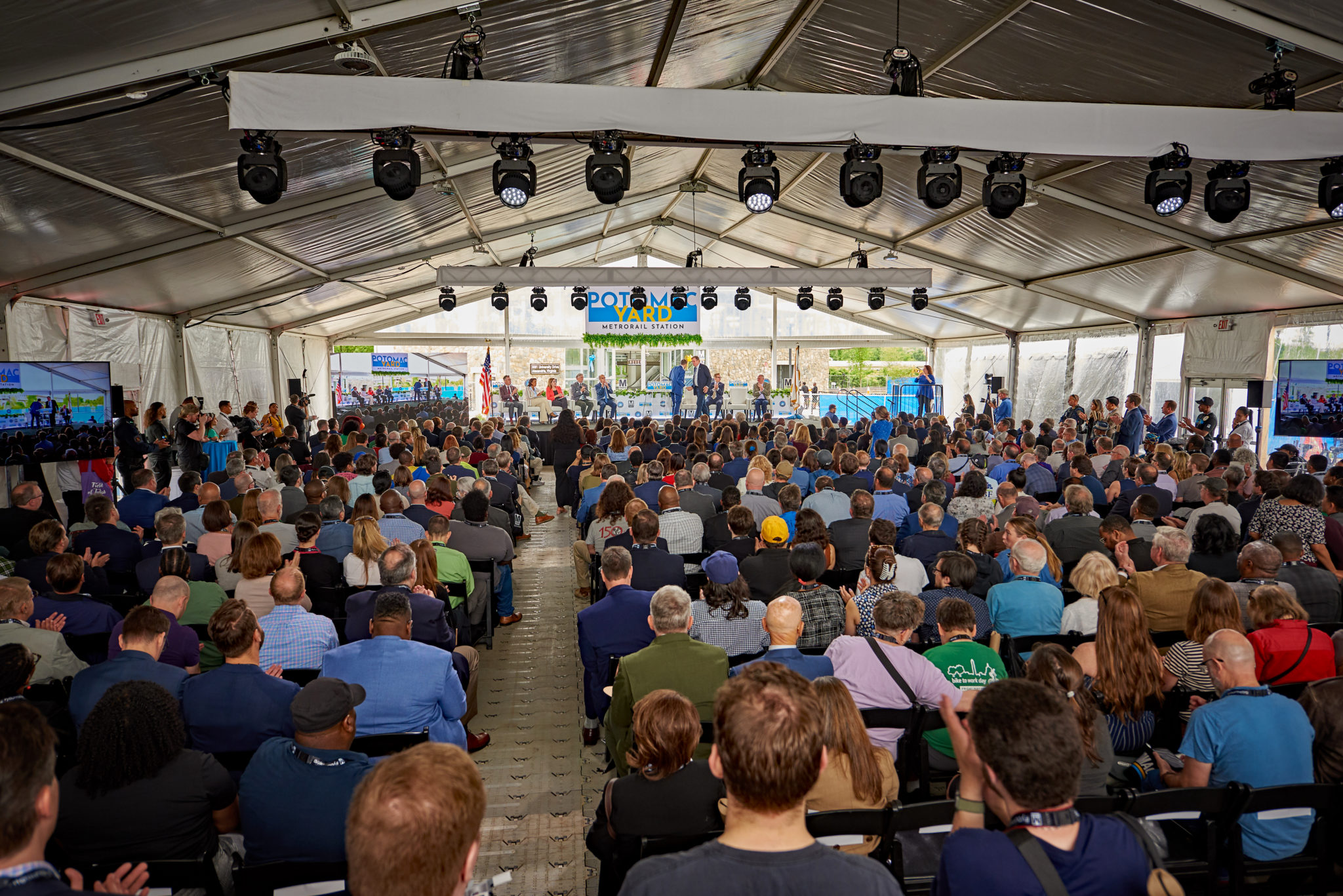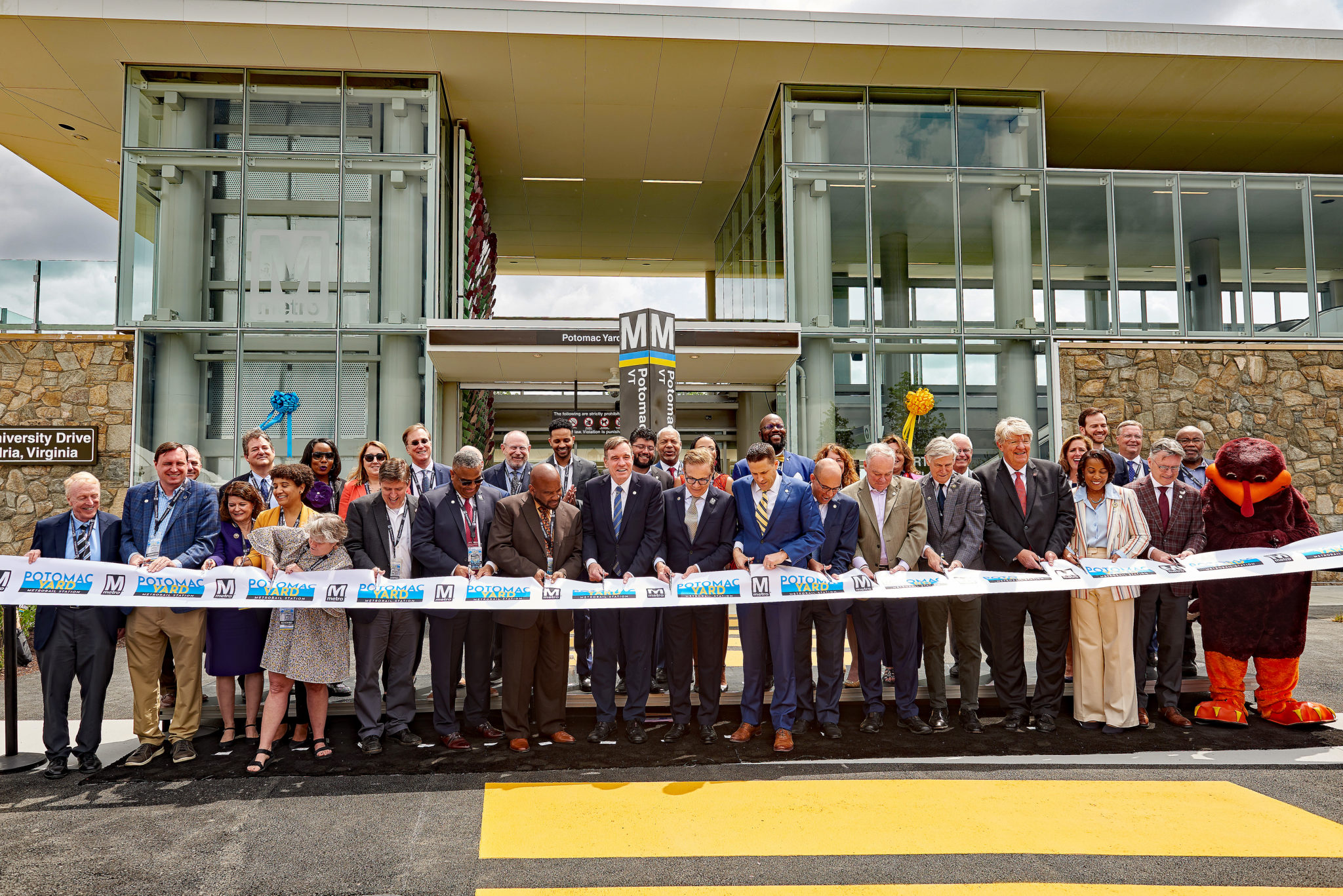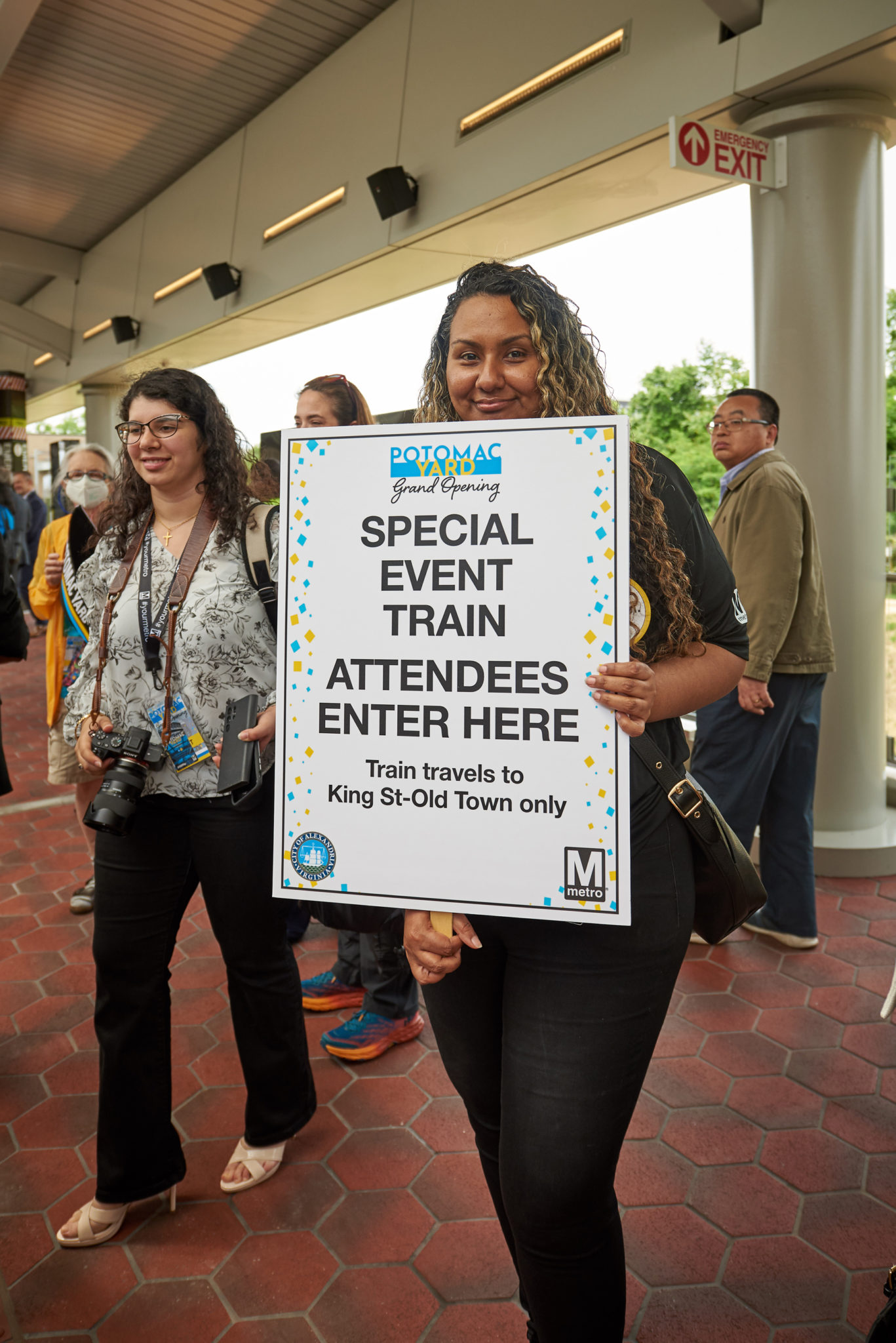 As the sun rose above the clouds and bathed the soaring entry building in a metallic blue and silver sheen, the participants began filing into the cavernous space. Lively music blared from loudspeakers and guests happily greeted each other.
The Alexandria City Council and the current and former city managers showed up for the celebration. Councilmember Sarah Bagley turned into a political triathlete that morning. She began the day by stopping at two Bike to Work Day pit stops to welcome bicyclists who paused for free coffee, a t-shirt, and raffles.
Bagley then cycled home and changed into a blue dress and yellow shoes, in keeping with the Blue and Yellow Line trains stopping at Potomac Yard for the first time. Then she biked to Potomac Yard for the Virginia Railway Express meeting. She's on the VRE board.
"This is like a transit nerd's version of the High Holidays!" Bagley said. "I biked all over town this morning. It's a smart growth day! People are walking here, they're biking here, they're living nearby, working nearby, shopping, we've got grocery stores. It's a great example of what thoughtful, intentional transit-oriented development can do."
And then the moment arrived.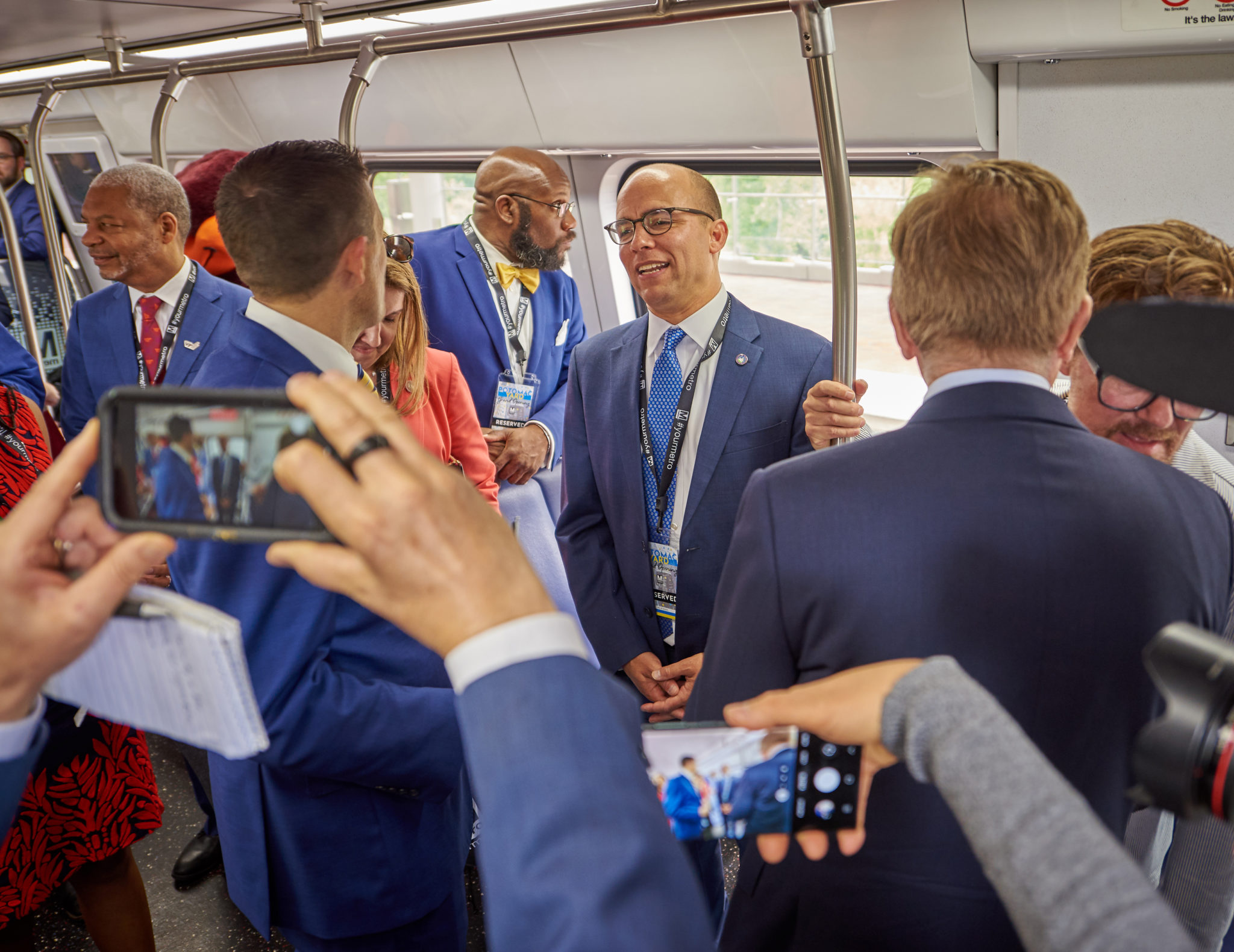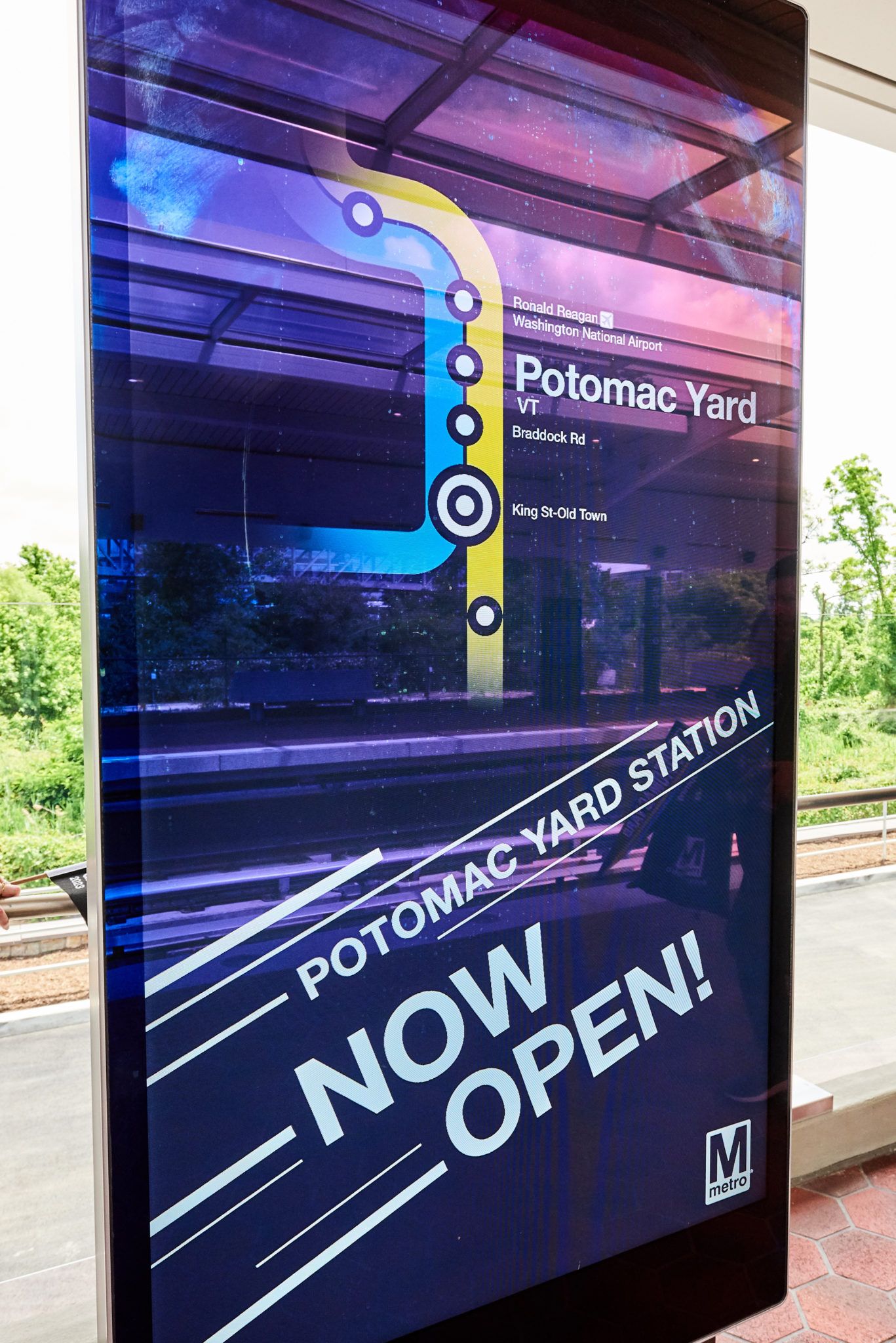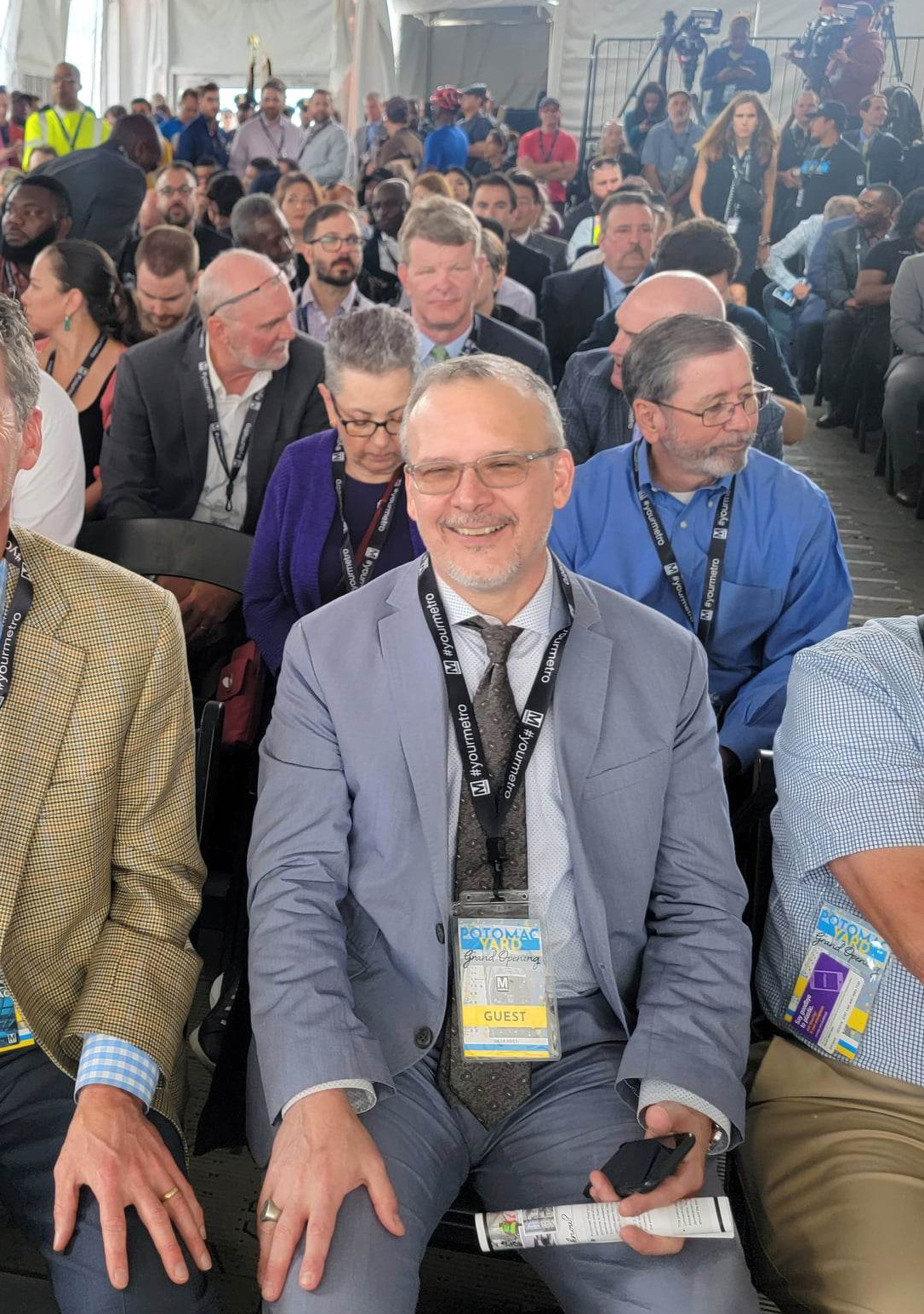 As the attendees settled into seats with an air of great anticipation, Metro General Manager Randy Clarke opened the ceremony, highlighting the day's transportation theme. "It's Friday!" he proclaimed. "The weather is perfect. You look out back, I just saw a freight train, a Metro train, a sailboat, and it's Bike to Work Day!"
Then came the moment everyone was waiting for. Mayor Justin Wilson walked up to the microphone and belted out a welcome to cheers and wild applause.
"We talk a lot about the "L" word in this business. Legacy," Wilson intoned. "For the past three and a half years, this site has been the workplace for hundreds of tradespeople. They have come to work every day under some of the worst conditions: a pandemic, rain, snow, they worked long hours, they put decades of training to the test. But today their legacy begins!"
Wilson congratulated all those involved in the design, procurement, financing, and planning. "Your legacy begins today as well. The countless Alexandrians who believed in this project when almost nobody else did, this is your legacy. This is your station. This station will change lives forever, and we made it happen together!!!!"
Wilson paused to remember former mayors Kerry Donley and Patsy Ticer, who "played such a pivotal role" but did not live to see the new station completed.
"The opening of this station signifies a concerted effort by federal, state, and local partners to connect communities across the DMV to the kind of 21st-century economic opportunities emblematic of Northern Virginia," said Senator Mark Warner, himself an Alexandrian. "I look forward to seeing the continued growth and development spurred by this investment."
The officials spoke about the dream
Additional speakers included Congressman Don Beyer, Virginia Senator Tim Kaine, WMATA Chairman and former City Councilman Paul Smedberg, Director of the Virginia Department of Rail and Public Transportation Jennifer DeBruhl, and Virginia Tech President Timothy Sands.
The speakers teased the university president, asking if he'd made that jacket himself. The Virginia Tech Innovation Campus is in construction next door to the Potomac Yard-VT station, part of fast-growing development surrounding the station. The Amazon HQ2 development is two miles north.
"The Potomac Yard/VT Metro project will create up to 26,000 new jobs, bringing up to $2 billion of new tax revenue to the city over 30 years," Mayor Wilson said. "It removes thousands of vehicles from one of the most crowded corridors in our area. It promotes the kind of walkable community our city has long desired in Potomac Yard.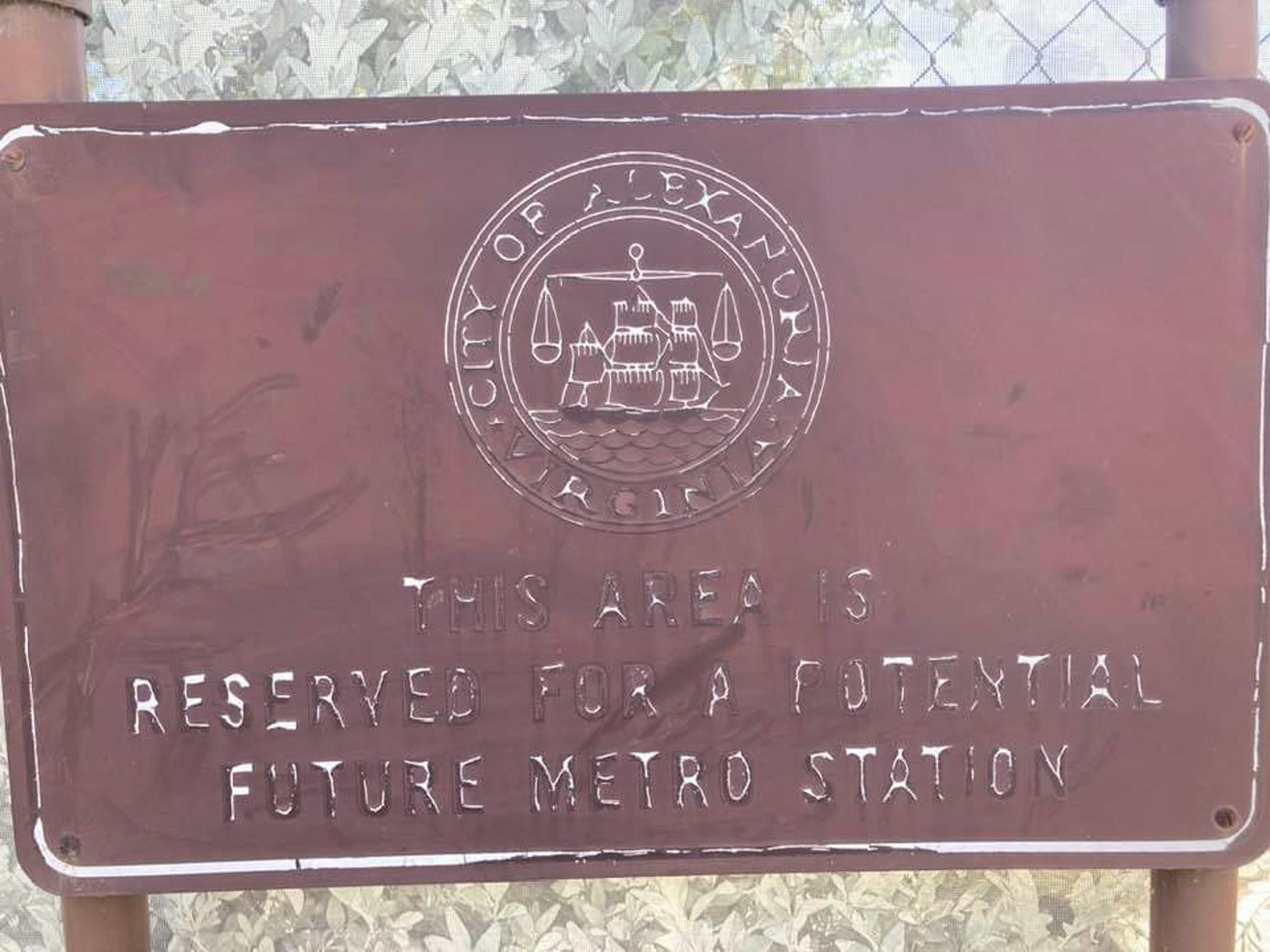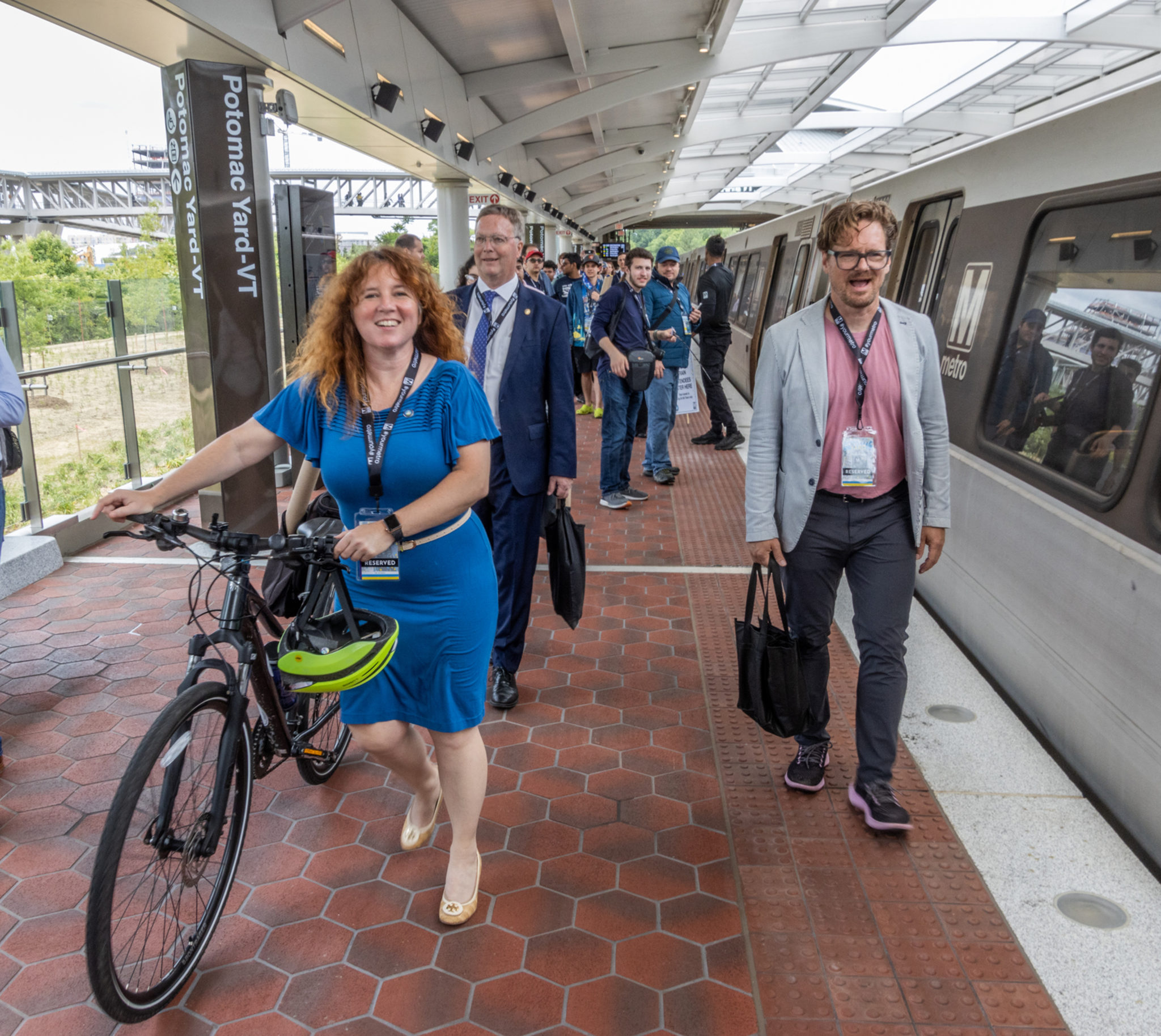 The new Metro station is an economic engine driving growth. Its proximity to National Airport, Amazon, and a 15-minute Metro ride into Washington, DC, make Potomac Yard an attractive site for development. Several industries have already located in the neighborhood, including the Institute for Defense Analysis, National Industries for the Blind, American Physical Therapy Association, and an upscale 55+ residential building. It is a vibrant bustling transit-centered section of town, with a handy fleet of DASH and Metro buses to transport residents and employees.
Potomac Yard-VT is Metro's 98th station. It is an "in fill," creating a new station between two existing ones. This differs from the Silver Line where an entire line was constructed in 2014 to service multiple new stations. The $370 million station was funded by the city using tax revenues and developer funds.
Graham Thomas, an architect with area firm Leuterio Thomas, came to the grand opening to see the fruits of his labor. His firm is one of the entities commissioned to design the new station. "We started designing the build in 2016. It's been a long time, he said. "I am relieved that it's finished. It took a lot of work, hundreds of people."
In an interview two days after the grand event, former city councilmember Rob Krupicka captured that feeling of standing on the Metro platform in the wee hours of Friday, waiting for that first train to appear.
"Justin and I started this quest together. When he and I served together on City Council 25 years ago, we put forward the proposal to build a Metro in Potomac Yard as part of the city's master plan. At the time, there were a lot of questions about whether Metro was feasible financially. We'd been talking about it for decades. Could we finance it? Ultimately that was all figured out because we built the Metro."
Krupicka credits former City Manager Mark Jinks with igniting the spark that Wilson and Krupicka lit. "We were doing the math, trying to figure out if we could finance a new Metro station. Mark looks up and says, yes, we can do this. I give Mark Jinks a lot of credit. Mark was critical to ushering our proposal through the system. Mark believed we could do it. Mark's optimism 20 years ago is what got us here today."
PY/VT is a hit with residents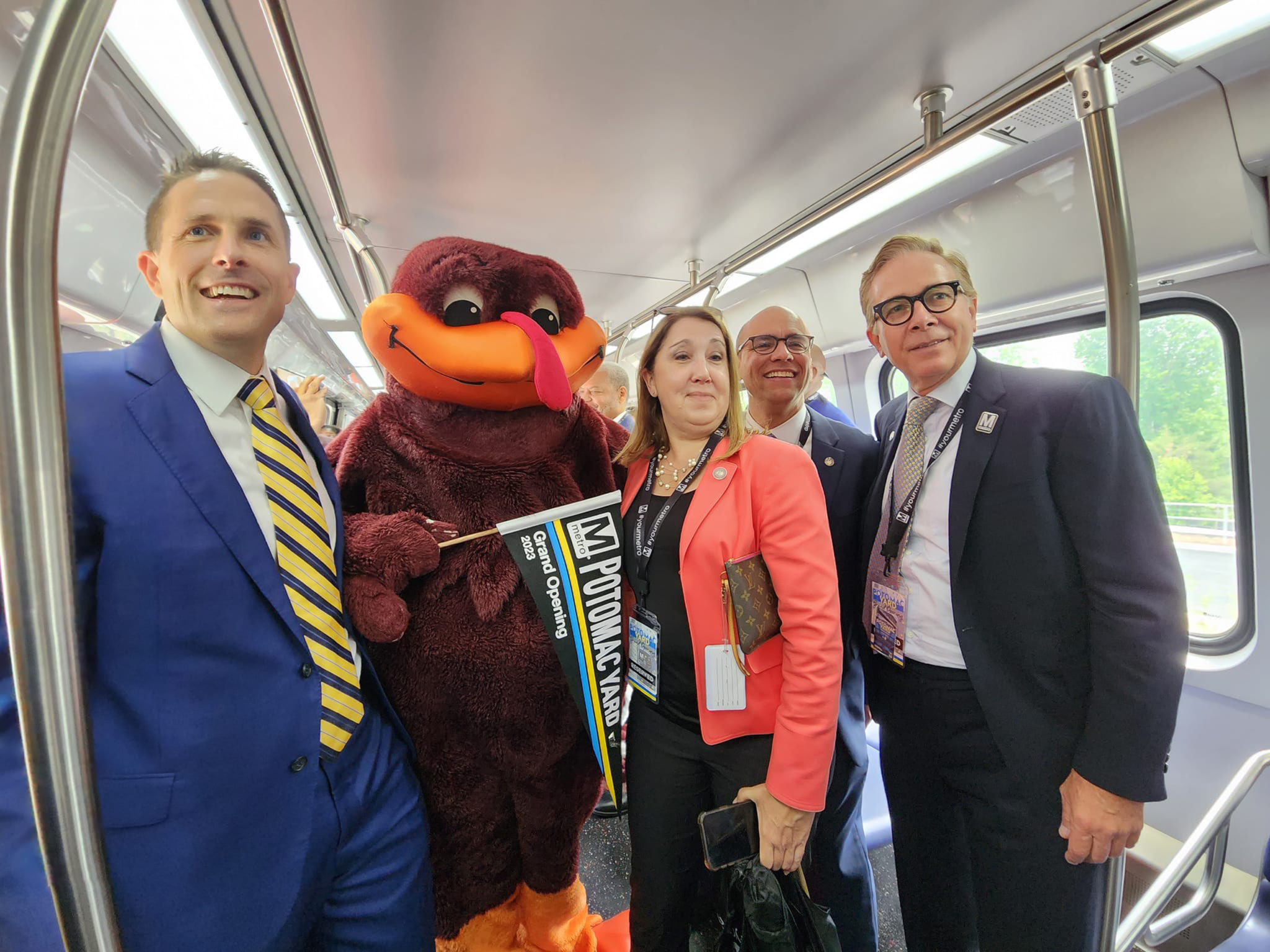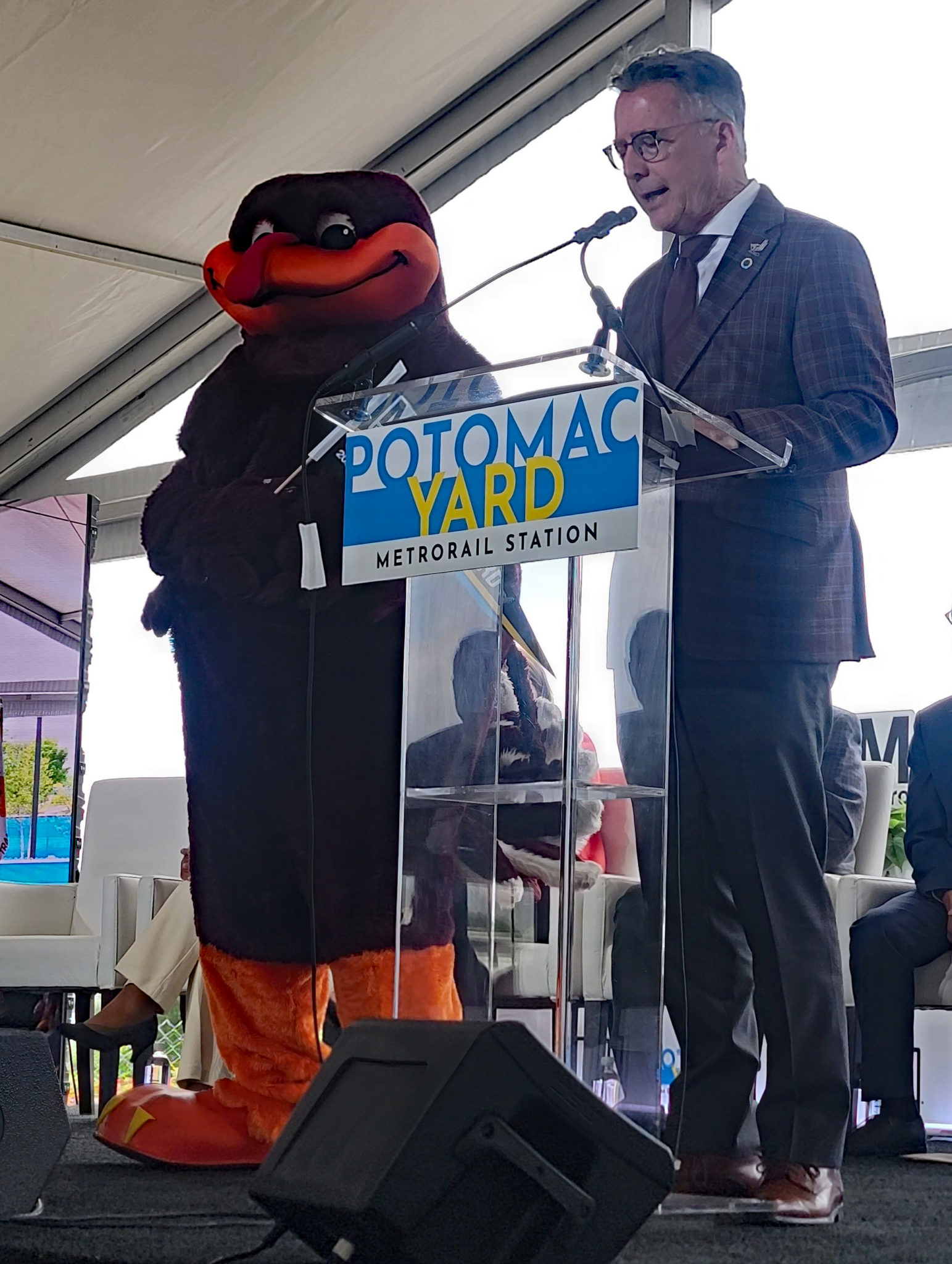 Mary-Jane Roth had been in the same spot for the groundbreaking three and a half years ago. At 5:00 am, she and her husband were on the train platform with Mayor Wilson and other city officials. "It was very exciting! We have been waiting 18 years for this Metro station to open. We were on the first train and I couldn't stop smiling," she said. "Everything was so beautifully done. We were thrilled to be able to ride the first train and see this station finally open. Most of the construction and trucks have gone right through our neighborhood. We're happy that'll be winding down!"
The new train station is just under half a mile from Roth's house. "We're going to the ballgame tonight and normally we drive," she said. "Metro is also close to the theaters we attend often and we'll stop driving there as well. We'll be riding it much more often than in the past."
Jeff Miller, Potomac Greens resident, posted on Facebook: "In November 2017 we went to an open house and saw this aged sign in the park next door. It said something about a possible future metro station. That sign was old! We inquired and found out there might be plans to someday build a station in our neighborhood. Well, we bought our house and in 2019 they actually started to build it. After 3 1/2 years here we are with this amazing station and a new sign less than 1/2 a mile from our front door."
Laura King and her fiancé strolled along the Potomac Yard trail the evening before the big opening, gazing out at the train tracks. The pair just moved from Arizona to Potomac Yard. King is required to show up at the office only four times a month, but says "that's a pandemic perk that will ultimately end." The Metro stop is opening just in time for her.
Then the ribbon was cut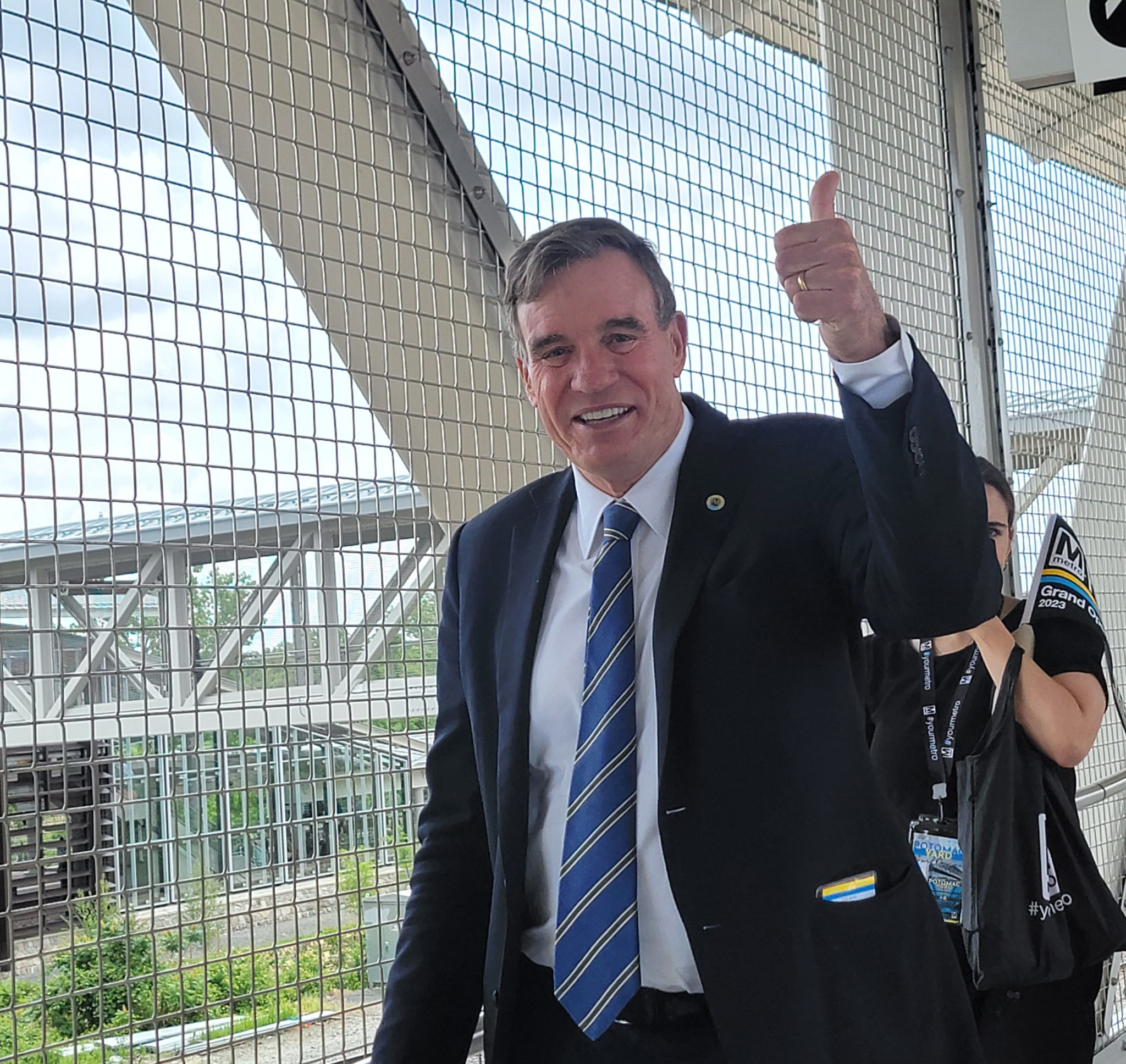 A long line of dignitaries posed with scissors in hand. The festivities ended with a Special Events Ride, an express train to King Street. A throng of guests pushed toward the glass doors of the gleaming new station. For most, this was their first time boarding at Potomac Yard. Clarke, Wilson, Smedberg, and other top officials huddled together as the train lurched. The group grinned broadly and reveled in this day of a dream come true. They'd all waited long enough.
"I biked all over town this morning, first Metro, then Bike to Work Day," Mayor Justin Wilson concluded. "Then I raced home to change into this suit and back to Metro. By 1:00 pm, I just might be in bed!"
WHAT YOU NEED TO KNOW
· Blue and Yellow Line – Potomac Yard/VT station is between Braddock Road and National Airport.
· Operating hours are Monday to Thursday from 5 am to 12 am, Friday from 5 am to 1 am, Saturday from 7 am to 1 am, and Sunday from 7 am to 12 am.
· Station access
· North Pavilion: 3201 University Drive
· South Pavilion: 3001 Potomac Avenue
· Both entrances are connected to the station via a pedestrian walkway. Potomac Greens riders will enter on the east side.
· No Parking
· No Kiss & Ride
· Bike racks are available. There are also 49 secure bike parking spots at the North Pavilion.
· Capital Bike Share: Potomac and Swan Avenues, East Glebe Road, and Main Line Boulevard
· Walkers: Use the Potomac Yard Trail or Potomac Ave. Three-minute walk from the north pavilion and four minutes from the south pavilion.
· Metroway and DASH bus stops are near the North Pavilion entrance.
· Confused how to combine your bus and Metro route? Consult  alexandriava.gov/GOAlex, Alexandria's resource for transportation options, or wmata.com.
Potomac Yard/VT Station is in an area of vigorous mixed-use development, so additional options to access the station may be available in the future.
ICYMI: Potomac Yard-VT Metro Station in Alexandria Open for Business