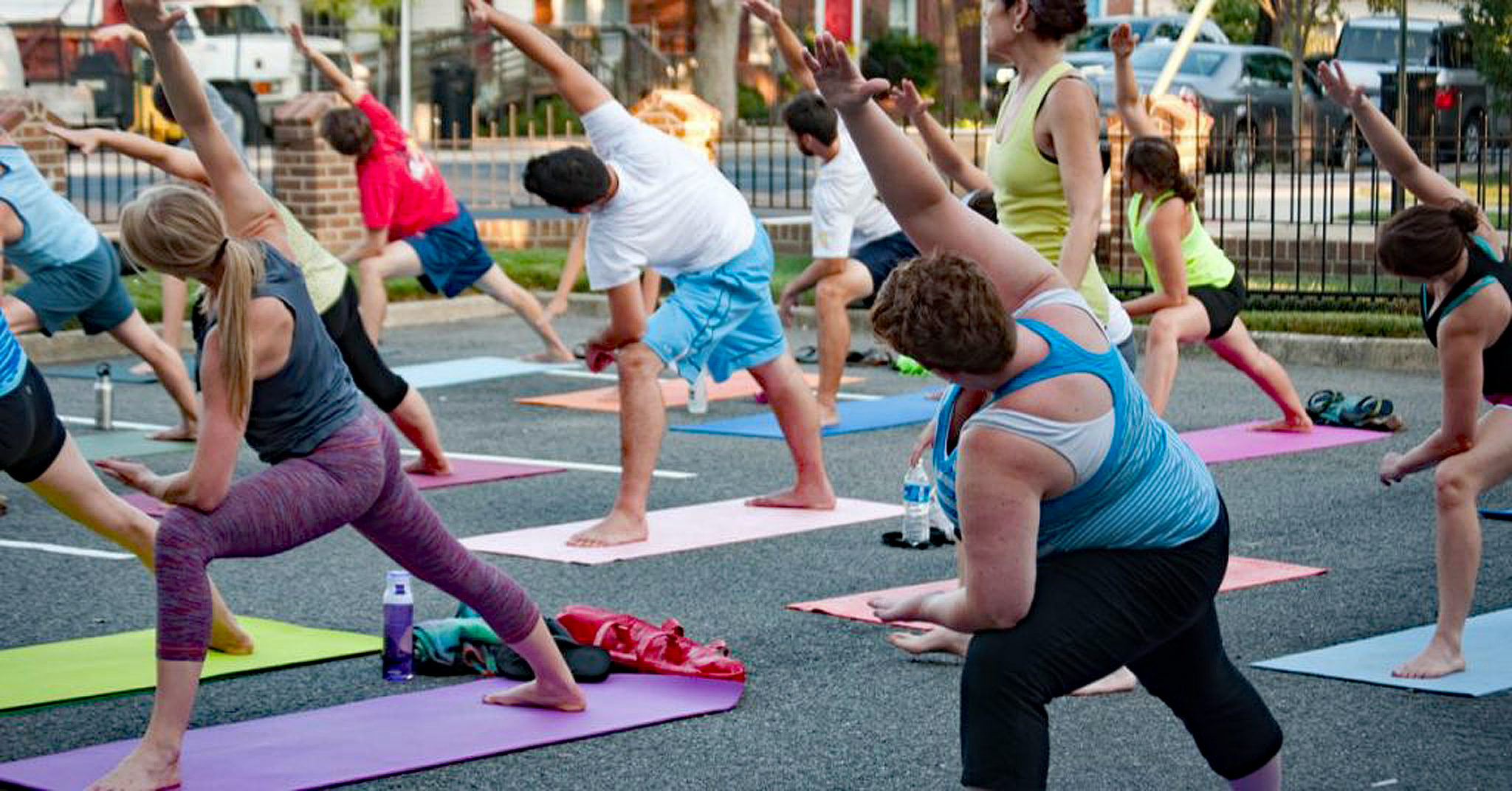 Alexandria, VA – It's unusual to find inspiration in an empty parking lot. But as any good realtor knows, what matters is location, location, location.
"When I moved to Del Ray, it was the middle of winter. One freezing day I walked past this parking lot and thought it would be a great place to have an outdoor yoga class," said Maureen Clyne. Later that summer, Cool Yoga – a free, outdoor yoga class held during the summer months – was born. The popular series celebrates its 10th year this summer.
When Cool Yoga first started, Del Ray was still an up-and-coming neighborhood. That parking lot at the 1900 block of Mount Vernon Avenue was owned by Just ASK Publications and Professional Development. When Wellness Junction owners Dr. Lauren Fisher and Dr. Eleni Boosalis bought the building and the lot in 2018, they enthusiastically embraced Cool Yoga, and the partnership continued.
Clyne, a senior yoga instructor and Realtor® with Coldwell Banker Realty in Old Town, has over 40 years of yoga experience, including 25 years of teaching classes and workshops and training teachers at yoga studios worldwide. "I started yoga in art school – back then, it was really 'woo woo.'" said Clyne. "I began teaching because yoga helped me manage serious health issues, and I wanted to share its physical, mental, and spiritual benefits with others."
"I started the classes just for fun," said Clyne, who named the summer series Cool Yoga as a play on the popular Hot Yoga style. "Right from the start, it was a hit." Each week, anywhere from 20 to 45 residents of all skill levels stroll over to Cool Yoga with their mats.
"I've been going to Maureen's Cool Yoga sessions every summer since she started it ten years ago," said Cathryn Sacra. "I was a rank newbie that first day. I appreciated Maureen's ability to instruct at all levels, keep me from falling flat on my face, and make the classes so much fun. It's a lovely way to spend a summer evening in Del Ray."
In the true spirit of namaste, Cool Yoga frequently highlights local small businesses, including wellness practitioners in Del Ray's Wellness District. "We have such an amazing wellness community here in Del Ray, and I like to introduce Cool Yogis to new businesses and practices," Clyne notes.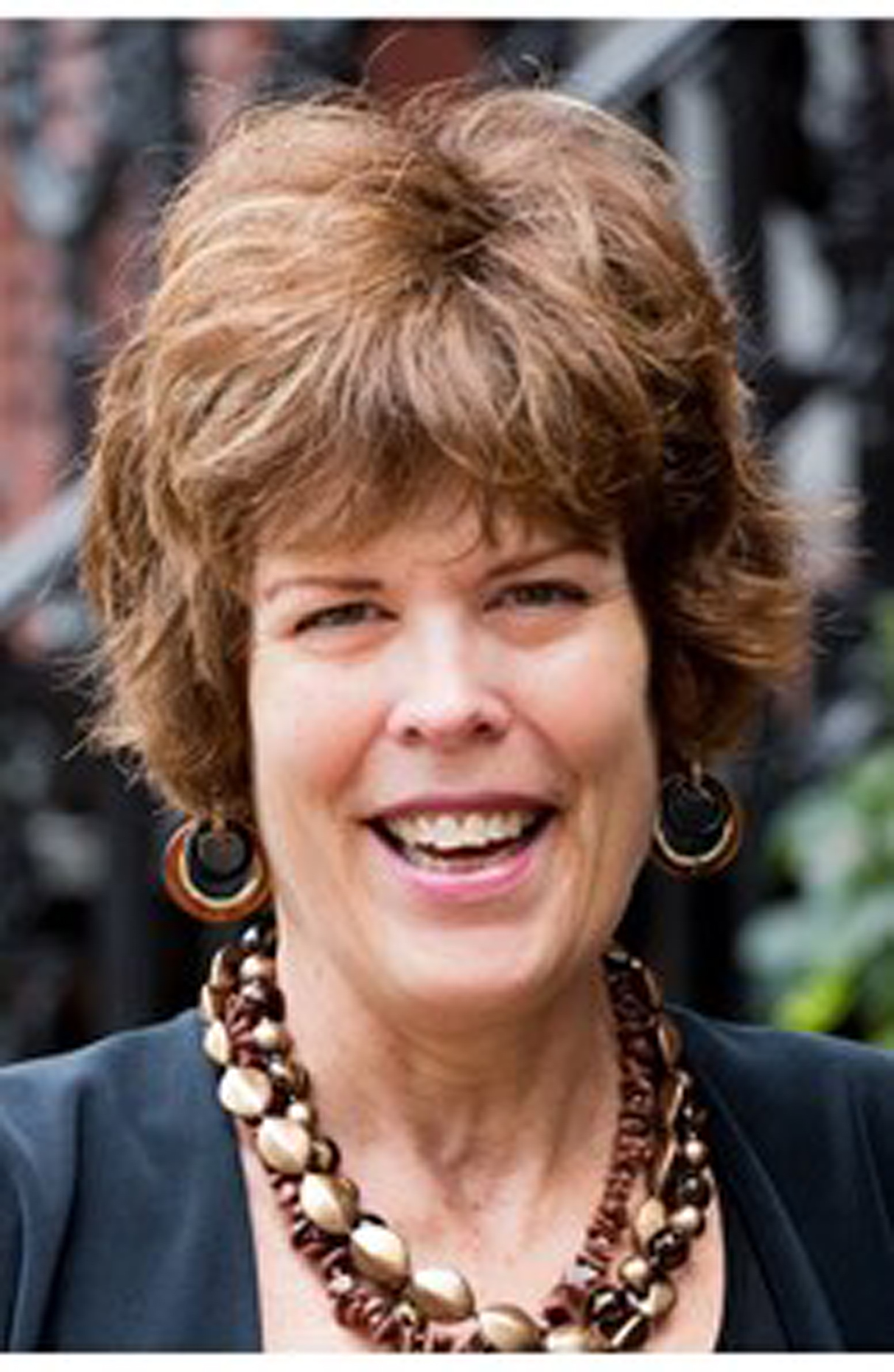 Clyne grew up in the Foreign Service and has had a wide range of life experiences. She is an award-winning artist specializing in painting and drawing, worked in the hospitality industry, has done fundraising and marketing for arts organizations and museums, and is now a Realtor®. Throughout it all, yoga has been a constant.
Clyne serves as president of the Bonn American High School Alumni Association, co-director of the NoVa Brats Club, and recently completed her tenure as president of the DC Chapter of the American University of Paris Alumni Association. Every Christmas, she collects pajamas for Friends of Guest House.
Drawing from her experience as a Foreign Service "brat," Clyne specializes in military and Foreign Service relocation, an often challenging – and international – logistical juggling act. "I remind clients that when things get hectic, we can all take a moment and breathe," said Clyne.
Cool Yoga takes place every Wednesday at 6:30 pm from June 21 to August 23 at The Wellness Junction lot, located at 1900 Mount Vernon Avenue. The class is suitable for all ages and skill levels; please bring your own mat and water. For details, including weather updates, visit facebook.com/coolyoga2014
ICYMI: The Crazy Amazing World of the Dearly Departed Rocks the National Theatre in 'Beetlejuice'