Health & Wellness
House Calls Are Back And This ALX Physician Enjoys Them!
In-home medical visits are a critical part of Belleview Medical Partners' practice.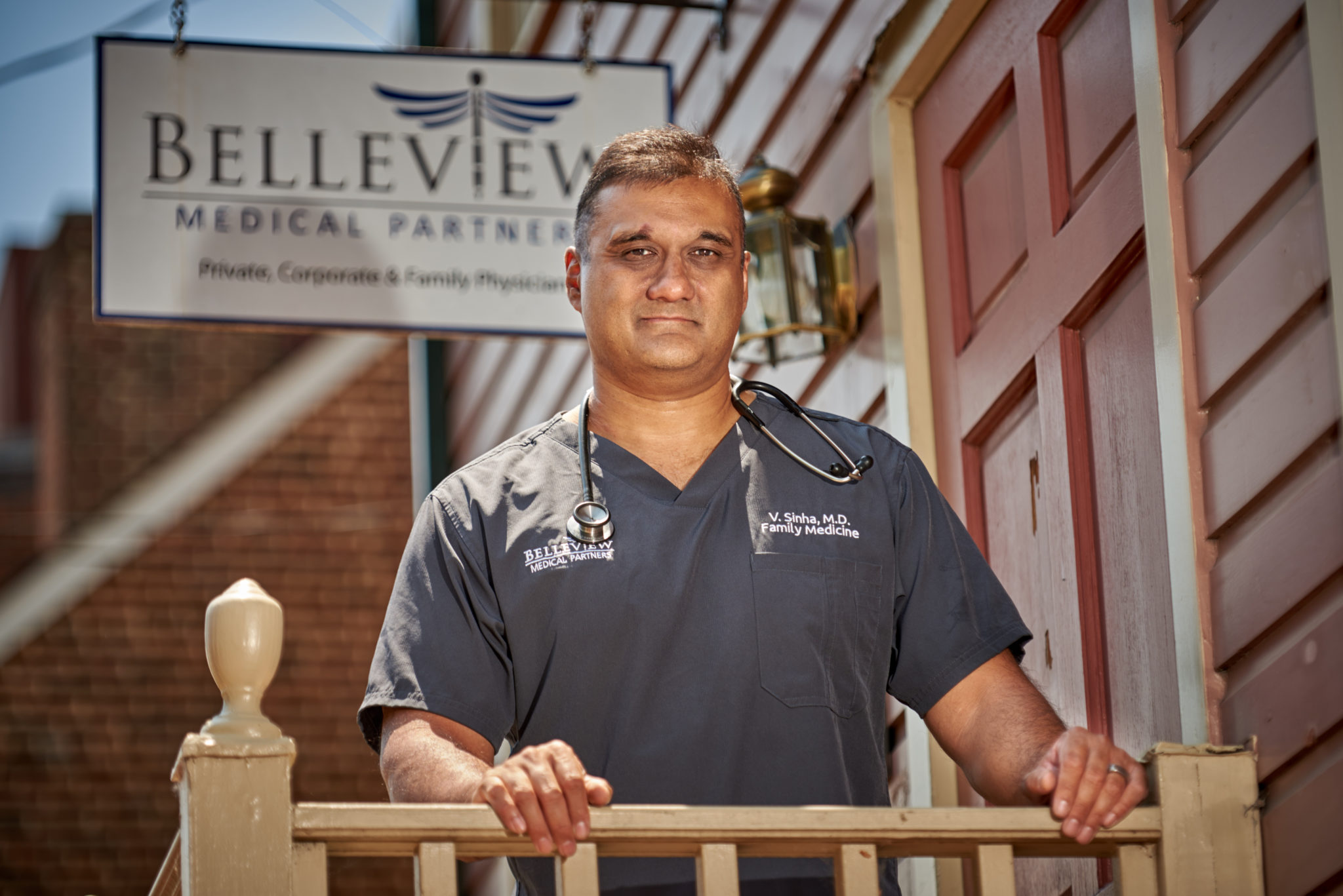 Alexandria, VA – As if living back in the late-1800s, on a sunny day in April 2023, Dr. Vivek Sinha stepped out of his doctor's office to carry out what most would believe was a thing of the past, a routine house call.
With his medical bag, Dr. Sinha quietly made his way through the familiar streets of Old Town to an 18th-century home where he was welcomed by Sarah, his patient John's daughter. In his wheelchair, John greeted Sinha warmly. Like many patients Sinha calls on, John is homebound with a debilitating disease that requires constant attention. Sinha took John's vitals and reviewed his condition to verify John was stable and doing well. John and Sarah view Sinha's home visits as critical to John's care.
"Dr. Sinha's house calls have been a game changer for my father's condition," Sarah said. "As a family member who is not medically trained caring for a patient who has severe ailments, having someone who can provide immediate guidance and in-home care at a moment's notice can save hours if not days in an ER." After about 20 minutes with John and Sarah, Sinha bid them farewell and moved on to his next appointment.
Dr. Sinha is a Board-Certified Family Medicine Physician and founder of Belleview Medical Partners, P.C., located on S. West St. in Old Town. His practice combines traditional office-based primary care and concierge service that includes house calls. He was inspired to incorporate house calls into his practice after working on a U.S. Department of Health and Human Services Disaster Medical Assistance Team (DMAT). This team establishes onsite medical care for victims of natural disasters and terrorist attacks.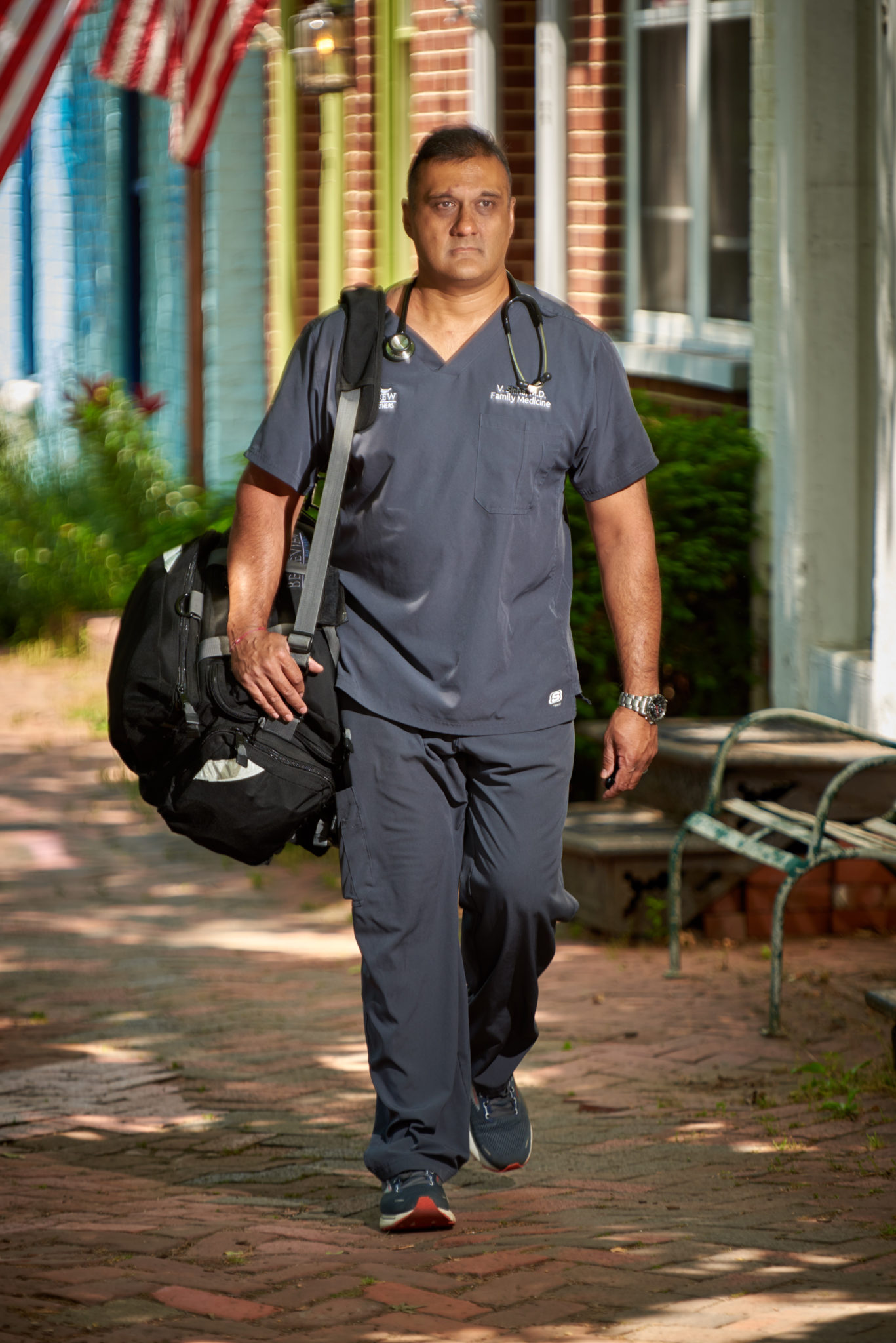 Sinha recognized the value of bringing quality medicine to patients versus having them visit the office. "Visiting my patients in their homes often puts them at ease as they are in a familiar environment. It reduces their stress and allows them to open up more. House calls have come a long way from 100 years ago. I can now order in-home X-rays, EKGs, ultrasounds, and utilize a phlebotomy company to draw blood," he said. In addition, Sinha can replace catheters, take urine samples and COVID/flu swabs, and perform minor procedures. His "medical bag" resembles a portable medical office that is equipped to handle most emergencies.
Dr. Sinha opened his family medicine concierge practice in 2014 after working for seven years with a major healthcare system's outpatient clinic in Southern Maryland. While there, he became frustrated with the insurance-based model of medicine that calls for a high volume of patients and shorter patient visits to remain solvent. Sinha also recognized that the longer appointment times and delays frustrated his patients. He wanted to create a more efficient and relaxed way to see patients that would benefit his patients and himself.
Dr. Sinha established Belleview Medical Partners using the concierge model. The practice does not take insurance and has a lower volume by design. It is divided into office-based and home-based patients who pay a monthly fee. The fee allows unlimited visits and teleconferences with Sinha.
While Sinha says there are plenty of excellent insurance-based medical practices and other concierge practices, he recognized there was a niche for his type of service that includes house calls. With unlimited visits and calls, he often interacts with patients seven or eight times a month.
"Sometimes patients just want to talk about something that is bothering them or may call from a pharmacy to ask what type of vitamin they should purchase." Through the frequent doctor-patient interactions, Sinha proactively detects minor issues smoldering in the background and can treat them early, something that may cost a patient valuable time if they only see a primary care doctor once a year. He notes that while insurance does not cover his visits, prescriptions, lab tests, and referrals are covered like any other physician's practice.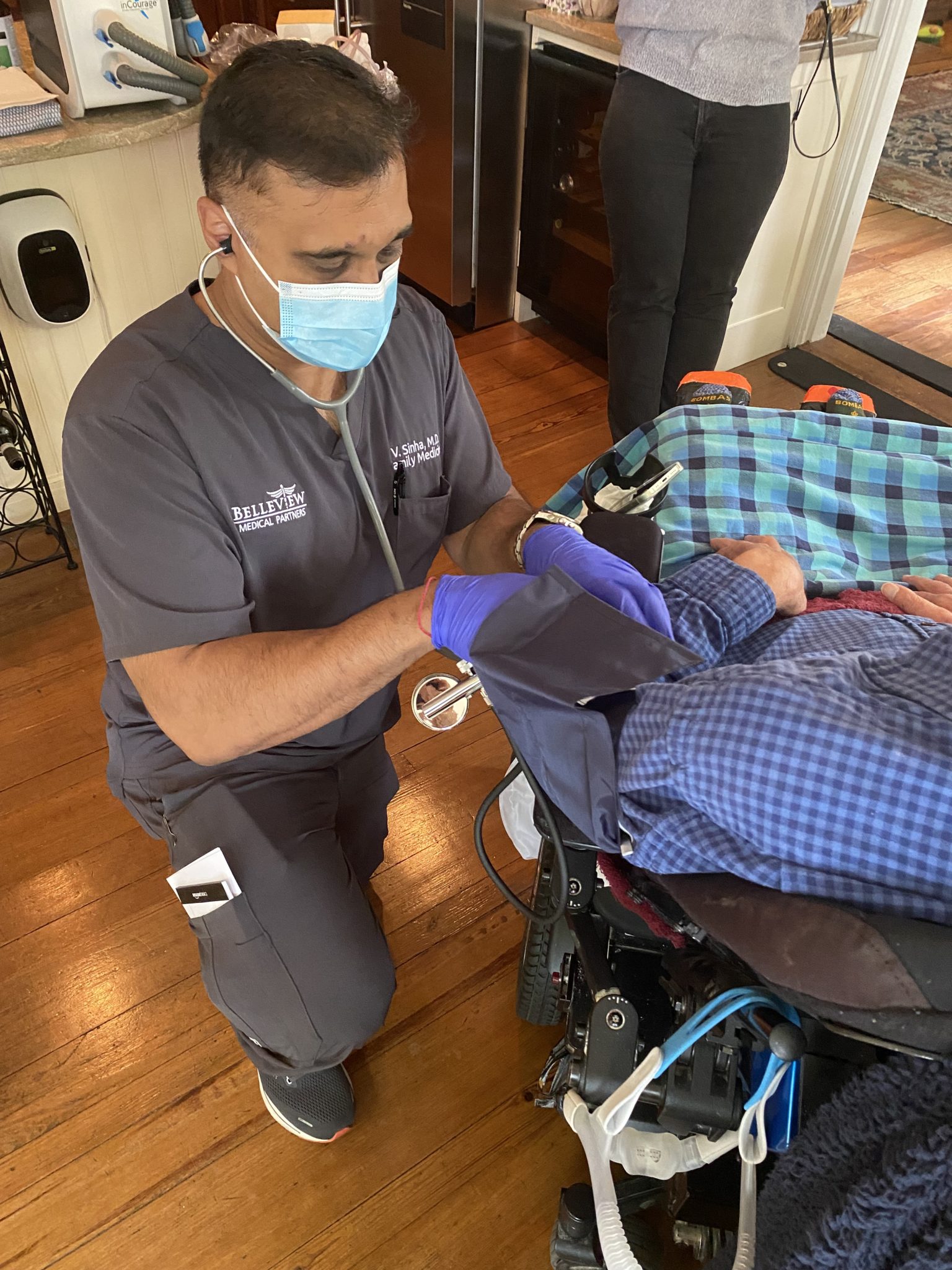 Sinha was born in the United Kingdom and raised on Long Island. He trained at the Northwestern University-affiliated Family Medicine Residency at St. Joseph's Hospital in Chicago. After residency, he stayed on as a faculty member, teaching medical students and resident physicians. Sinha's father was also a doctor and inspired him to go into medicine. He often accompanied his father on house calls. He said his father had a "concierge" service back then, but he just called it practicing medicine.
Sinha and his wife moved to Alexandria in 2007. He is currently the Medical Director for the Alexandria City Public School System and the Fairfax County Public School System. He is also the Medical Director for the Alexandria Silverado Memory Care Community and the Providence Fairfax Senior Living Community. Dr. Sinha supports Alexandria's Adult Protective Services by providing patient screenings and assessments.
Dr. Sinha is accepting new patients. For more information on his practice or becoming a patient, visit Belleview Medical Partner's website at belleviewmedical.com.
ICYMI: Benefits of Historic District Designation 'Are Being Eroded': Del Ray Leaders Encourage Residents to Act