Community News
Alexandria Resident Col. Paris Davis, Medal of Honor Recipient, Honored by Community
President Biden presented the Medal during a March 3 White House ceremony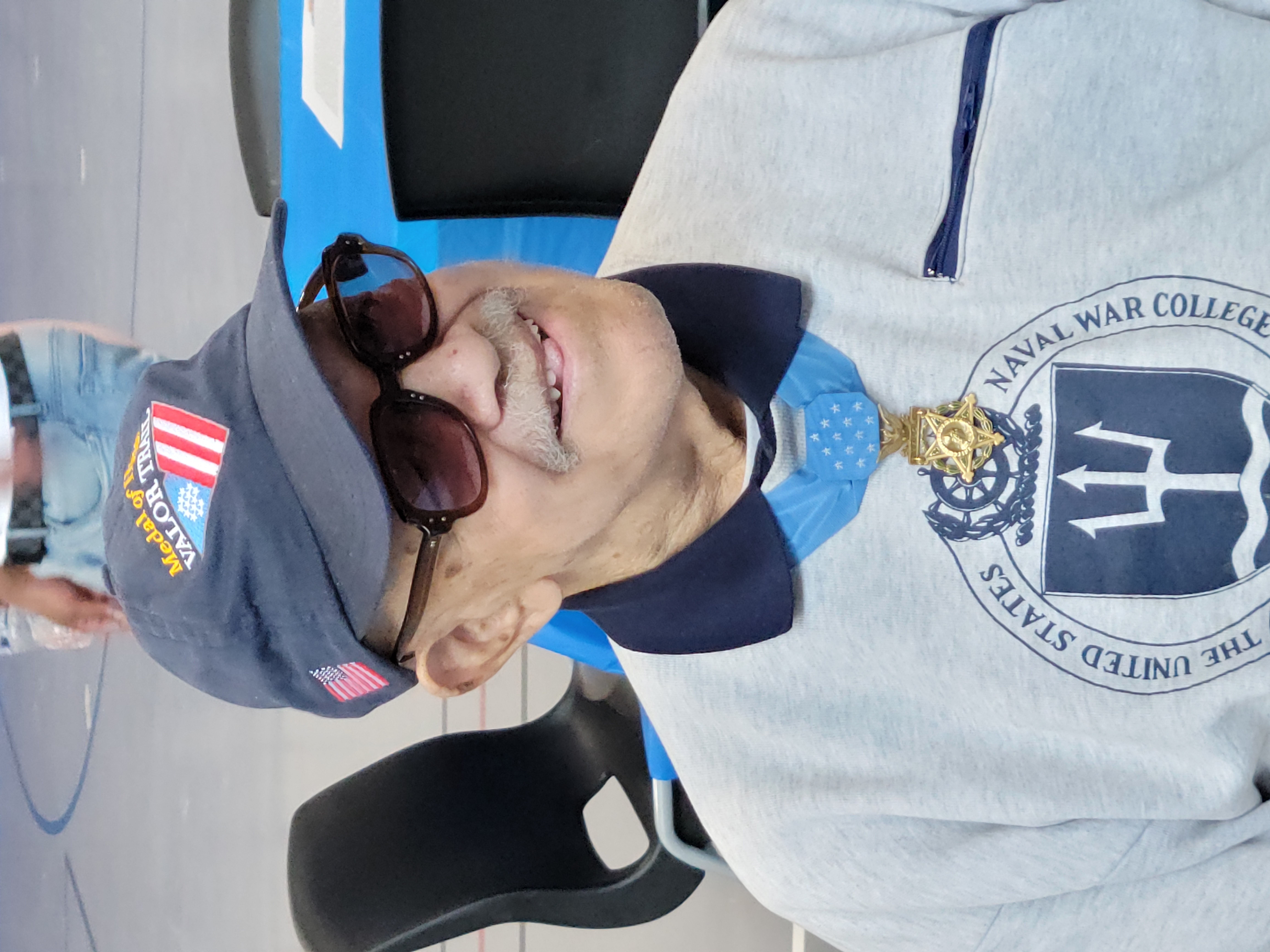 ALEXANDRIA, VA – On Saturday, June 17, 2023, exactly 58 years from the date he saved countless men while enduring heavy enemy artillery fire and multiple injuries, and 10 weeks after President Biden awarded him the Medal of Honor, the nation's highest military award, for conspicuous gallantry and intrepidity at the risk of his own life above and beyond the call of duty, Colonel Paris Davis was honored in Alexandria, his adopted hometown.
"I was extremely honored to receive the call from President Biden," said Davis. "He had read my entire bio and reviewed it with me, stopping several times to ask, 'Did you really do that?'"
Biden's amazement at Davis' bio is understandable given his actions on June 17 and 18, 1965.
During a March 3 ceremony at the White House, Biden told those in attendance that the 26-year-old Green Beret, who was one of the first African American officers in the Special Forces, was returning from a successful raid with a local company when they were ambushed and sustained several casualties.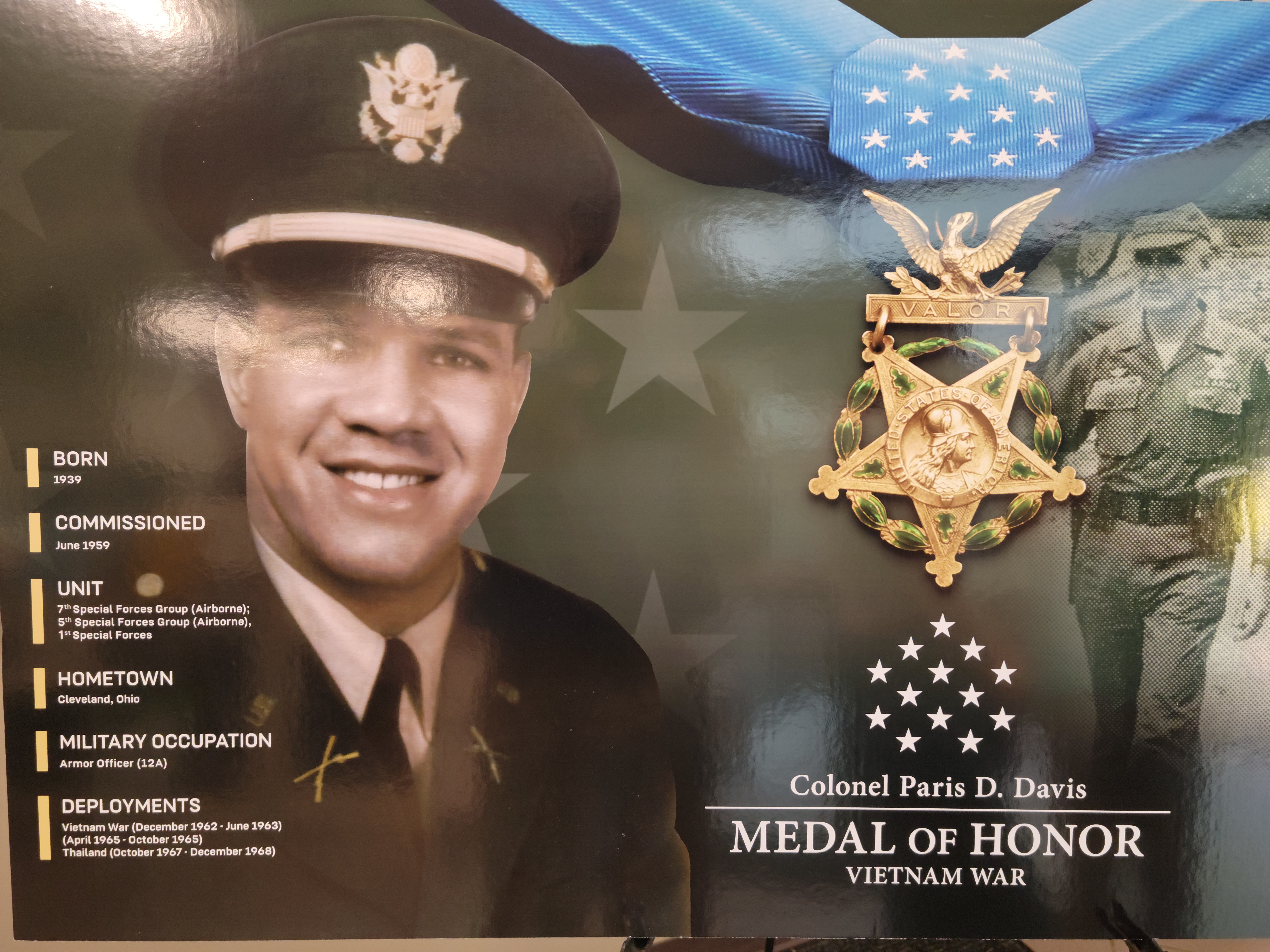 Davis constantly exposed himself to hostile small arms fire to rally the inexperienced and disorganized company. He expertly directed both artillery and small arms fire, enabling other elements of the company to reach his position. Although wounded in the leg, he aided in the evacuation of other wounded men of his unit, but refused medical evaluation himself.
Following the arrival of air support, Davis directed artillery fire within 30 meters of his own position in an attempt to halt the enemy's advance. Then, with complete disregard for his own life, he braved intense enemy fire to cross an open field to rescue his seriously wounded and immobilized team sergeant.
While carrying the sergeant up the hill to a position of relative safety, Davis was again wounded by enemy fire.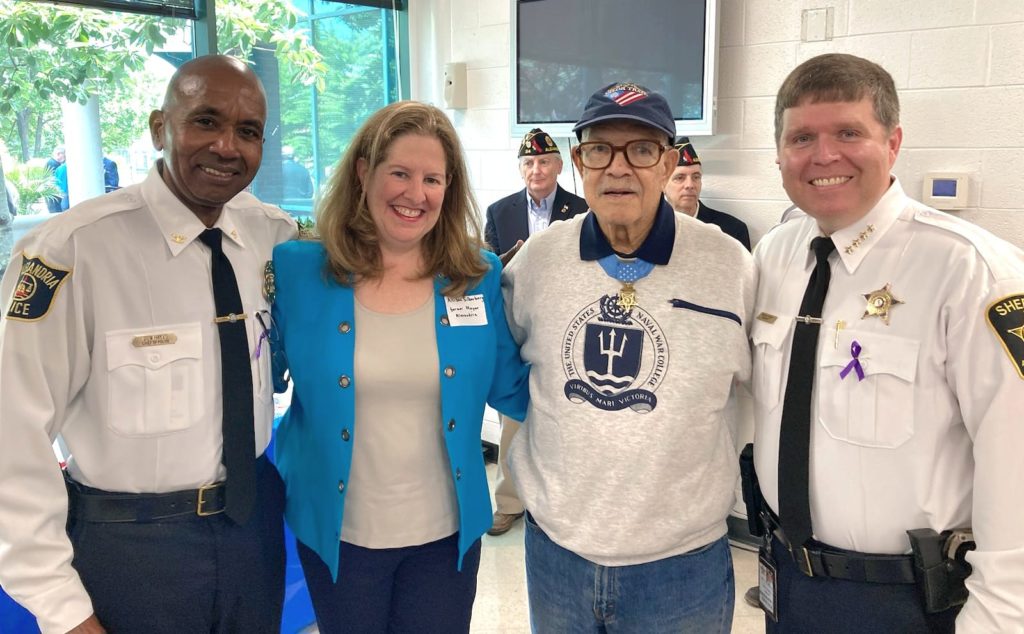 Despite two painful wounds, Davis again refused medical evacuation, remained with the troops, fought bravely, and provided pivotal leadership and inspiration to the regional force company as they repelled several assaults on their position over a period of several hours.
When friendly reinforcements finally arrived, he again refused medical evacuation until he had recovered a U.S. advisor under his command who had been wounded during the initial ambush and presumed dead.
While personally recovering the soldier, he found him severely wounded but still clinging to life. Davis directed the helicopter extraction of his wounded colleague, not leaving the battlefield himself until after all friendly forces were recovered or medically evacuated.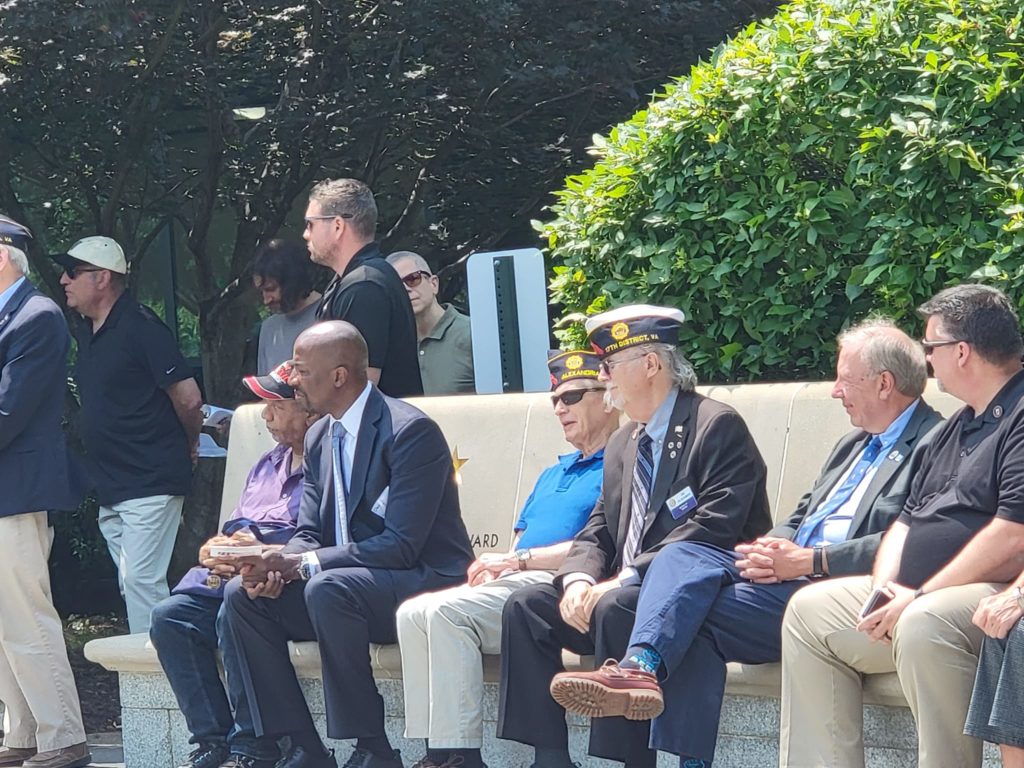 During his distinguished 26-year military career, Davis also received the Silver Star, the Bronze Star, the Air Medal, and the Purple Heart, among many other notable awards and commendations. He was admitted into the Ranger Hall of Fame in 2019 and recognized as a Distinguished Member of the Special Forces Regiment in 2023.
After he retired in 1985, he founded the Metro-Herald, a newspaper that focused on the local Alexandria community, civil rights issues, and the accomplishments of African Americans.
During the White House ceremony, Biden looked directly at Davis, saying,  "You are everything our nation is at our best: brave and big hearted, determined and devoted, selfless and steadfast."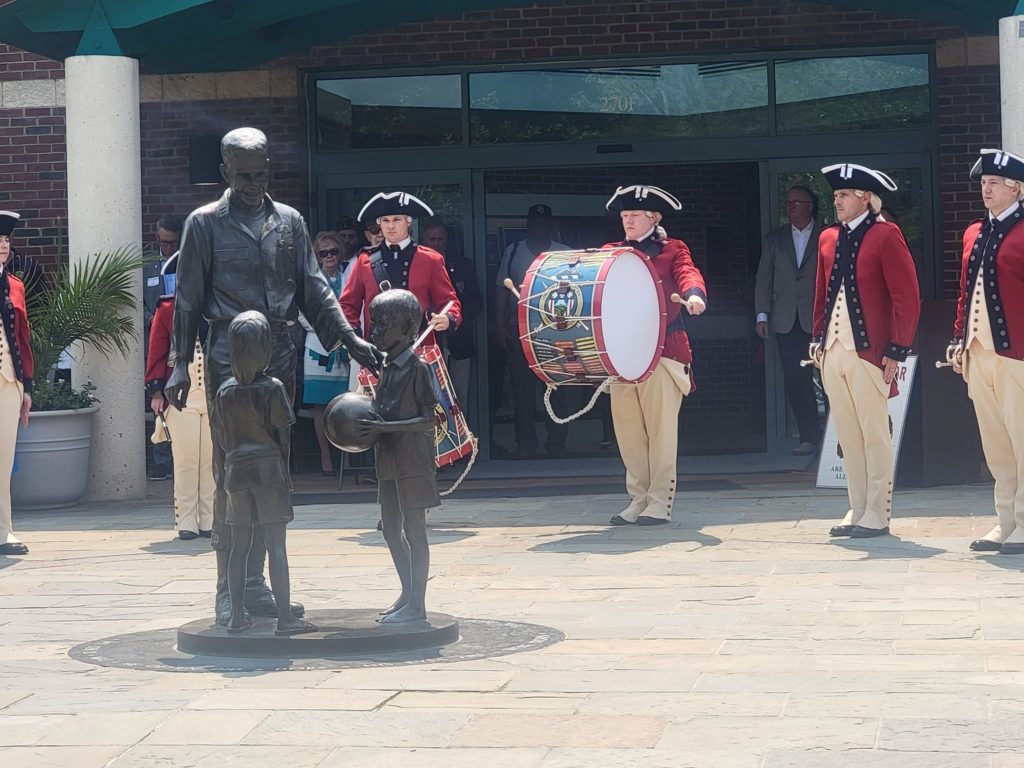 He said the honor of bestowing the Medal of Honor upon Davis "may be the most consequential day" since he's been president, "He's an incredible man."
"Colonel Paris Davis is a hero, a fixture in our community, and a great man who I am proud to know and call a friend," said Congressman Don Beyer at the Alexandria gathering. "I was so proud and thankful to be on hand applauding in the front row [at the White House ceremony] as he finally received this long overdue recognition. What a great moment."
Out of the more than 41 million men and women who have served in America's military, only 3,516 have been awarded the Medal of Honor. Col. Davis is one of 65 living recipients, and one of two Medal of Honor recipients in Alexandria; the other is Lt. General Robert Foley.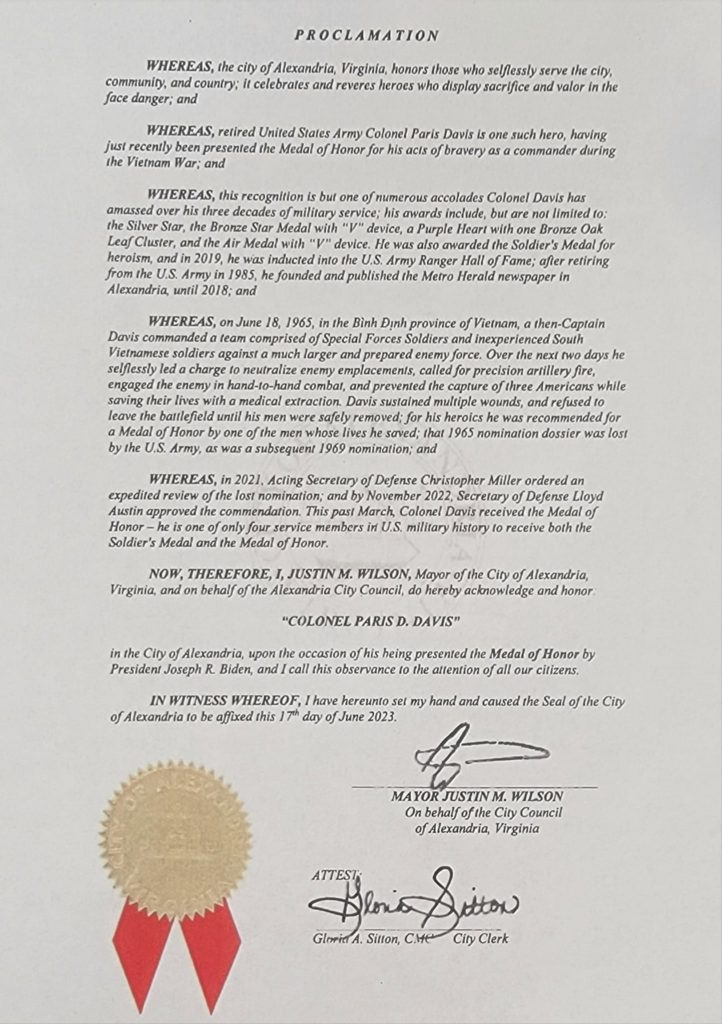 The June 17 ceremony was held at the Captain Rocky Versace Plaza and Vietnam Veterans Memorial on Commonwealth Avenue. Versace received the Medal of Honor posthumously.
In a written proclamation read during the ceremony, Alexandria Mayor Justin Wilson noted that Alexandria "honors those who selflessly serve the city, community, and country; it celebrates and reveres heroes who display sacrifice and valor in the face of danger" and noted that "Colonel Paris Davis is one such hero."
Retired Army veteran Kevin Rue, who organized the ceremony, said it is "important to honor selfless service, sacrifice above and beyond the call of duty."
Alexandria's Goodwin Living Selected As Top Workplace by The Washington Post;