Press Release
Celebrate July 4th at George Washington's Mount Vernon in Alexandria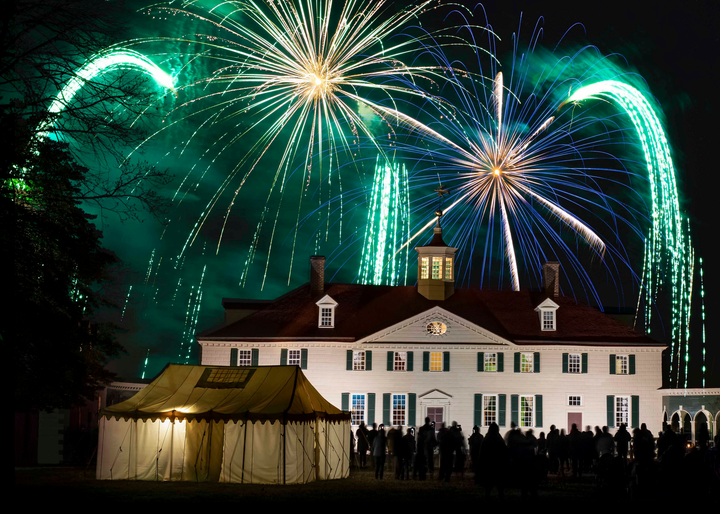 ALEXANDRIA, VA – Perhaps one of the most unique and meaningful places for Americans to celebrate the nation's birthday is at George Washington's Mount Vernon. The home and resting place of America's beloved first president has an array of historical and family-friendly events and activities planned for Independence Day.
On July Fourth, visitors can attend An American Celebration. During this patriotic Independence Day celebration, guests can salute General Washington, watch made-for-daytime fireworks, take in a musical performance by the National Concert Band, and watch 18th-century magic. Guests are invited to observe a moving ceremony where people from around the world become U.S. citizens. And guests can watch the 18th-century baking process with Resident Baker Justin Cherry of Half Crown Bakehouse and sample fresh-baked bread.
"July Fourth is the one moment each year when Americans can come together to reflect on our democracy, our founders, and those who continue to preserve our freedom," said Doug Bradburn, president and chief executive officer of Mount Vernon. "Mount Vernon is honored to provide a venue rich with history and beauty for Americans to celebrate our nation and spend quality time with friends and family."
"A key highlight of our year is engaging with visitors from around the world as they watch General Washington inspect his troops, tour his pristinely preserved home and estate, and participate in a somber wreath laying at his tomb. Another meaningful event on Independence Day here at Mount Vernon is the naturalization of our newest citizens who symbolize America's strength and diversity. This celebration is beloved by families, historians, and anyone who wants American fun on Independence Day," Bradburn said.
Guests also are invited to visit the permanent exhibition, Mount Vernon: The Story of an American Icon unveiled just last year. The exhibition traces the rich and complex history of Mount Vernon—not only the celebrated era of George and Martha Washington, but the lesser-known stories of the enslaved community, earlier and later generations of Washingtons, and the Mount Vernon Ladies' Association, which has preserved the property since 1860.
The July Fourth schedule is available here.
Read the complete listing of Mount Vernon events here. Most Mount Vernon events are free or discounted for members. Information about Mount Vernon membership is available here.
Mount Vernon, the home of George Washington, is owned and maintained by the Mount Vernon Ladies' Association, the oldest national historic preservation organization in the United States. The estate is open to visitors and includes the Mansion, a museum and education center, gardens, tombs, a working farm, a functioning distillery, and a gristmill. It also includes the George Washington Presidential Library at Mount Vernon. [SEE ALSO: DASH to Increase Zero-Emission Bus Fleet]