THEATRE
Tony Award-Winning Best Musical '1776' Celebrates Our Nation's History With a Bang at the Kennedy Center
See it before it closes on July 10!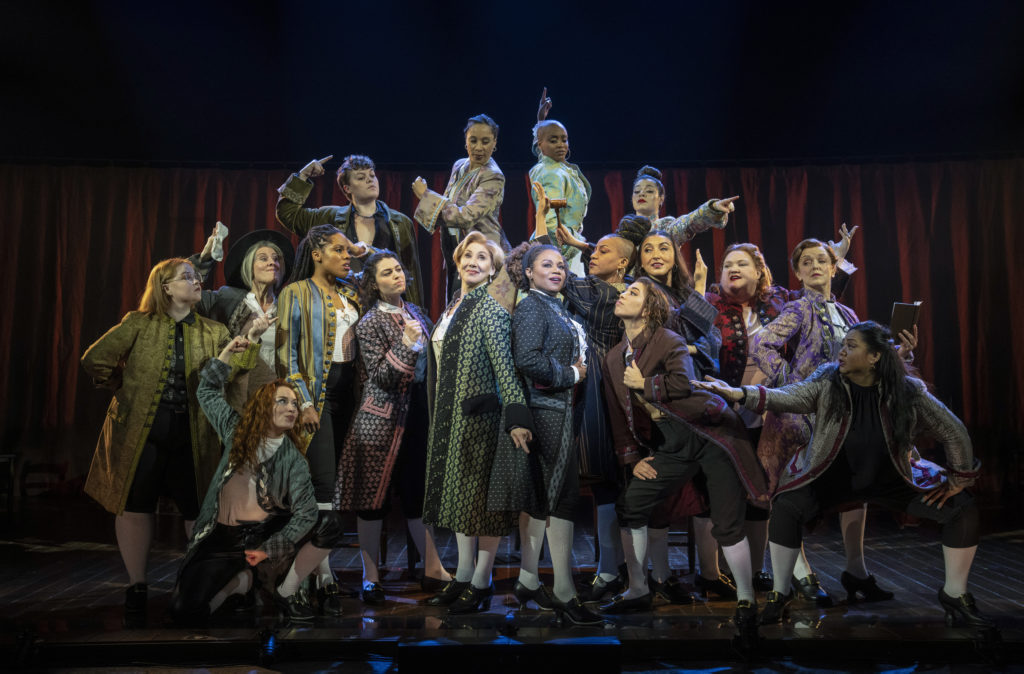 WASHINGTON, DC -John Quincy Adams wrote of celebrating America's Independence Day, "It ought to be solemnized with Pomp and Parade, with Shews, Games, Sports, Guns, Bells, Bonfires and Illuminations from one End of this Continent to the other from this Time forward."
Opening at the Kennedy Center in time for Fourth of July celebrations, "1776," the Tony Award-winning "Best Musical," recalls the struggles our forefathers endured to create a document with the power, meaning, and longevity of the Declaration of Independence. The document separated the hodge-podge of colonies soon to become America from the tyranny of England. This marked the birth of the future of our nation.
From the moment the cast appears onstage changing out of day shoes into brass-buckled pilgrim shoes, rolling up short white socks over leggings to create knee breeches, and topping the ensemble with brocade frock coats, we know we're in the room where it happened. That would be the Second Continental Congress convening in what was then our nation's capital, Philadelphia.
All the superstars are there  – John Adams, Benjamin Franklin, Thomas Jefferson – plus lesser-known representatives from the original 13 colonies. In this august setting we witness the fights (some were physical), the legal arguments raised, and the staunch opposition from the southern states, where plantation-owning aristocrats fought mightily to hold onto slavery.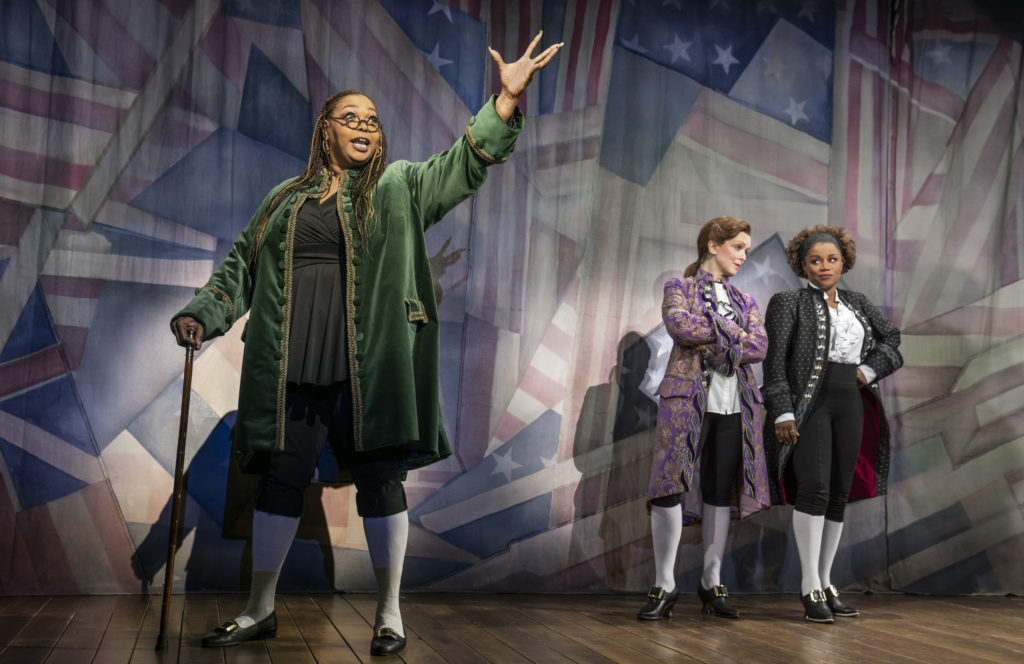 Adams (Gisela Adisa) considered a rabble-rouser, the skirt-chasing Franklin (Liz Mikel), and the politically conflicted Jefferson (Nancy Anderson) are in favor of seceding from British rule and are willing to support General George Washington, who is encamped in New York and suffering heavy losses at the start of the Revolutionary War.
Whether you're a history buff or not, it's as exciting as a cage fight. The main thrust of the musical is Adams' singular ability to challenge the preponderance of naysayers. Oh, the arm-twisting, wrangling, dealmaking and high-minded debates! As Franklin tells Adams, "Don't worry, John. The history books will clean it up." And did they ever!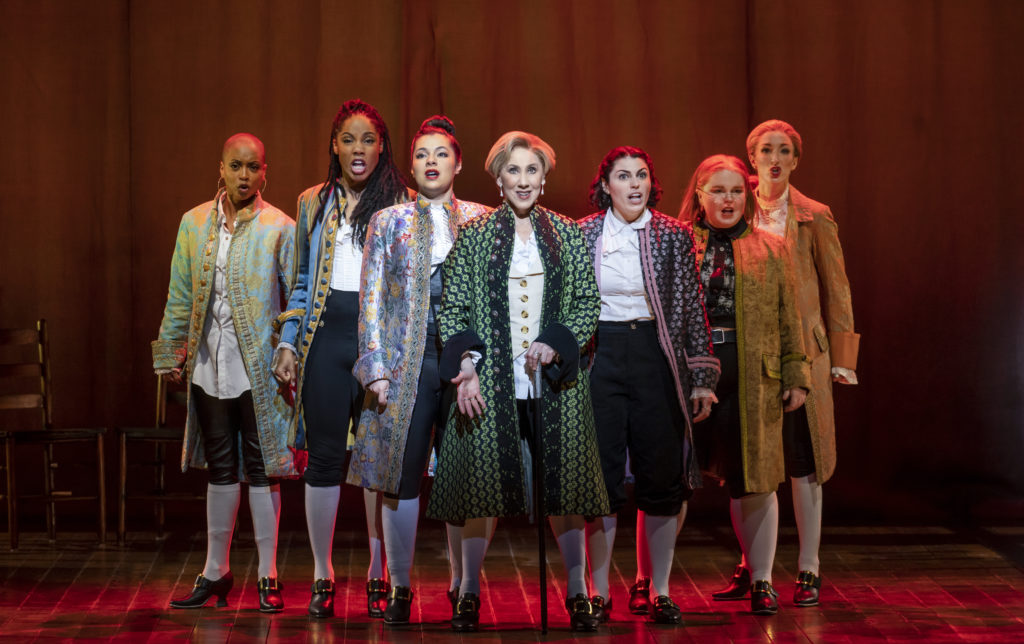 Like the old TV show, "You Are There" hosted by Walter Cronkite, "1776" puts you firmly into the heart of that crisis. This is a very fine cast with a wide array of extraordinary voices. (Just when I thought I had a favorite, another one blew me away.) There is lovely violin playing from Nancy Anderson. Did you know Jefferson played the violin? His wife, Martha (Connor Lyon, who showcases a stunning operatic voice on "He Plays the Violin", thought it was a turn on. You have to wonder if Sally Hemmings felt the same. And you can't help but be moved by the emotional number, "Momma, Look Sharp" referencing death on the battlefield.
Oneika Phillips in the role of John Hancock, President of the Congress and in charge of the proceedings, is brilliant at herding cats. This is the only metaphor I can think of to describe the rag-tag do-nothings whose singular motive is preserving the status quo and their reverence for King George III.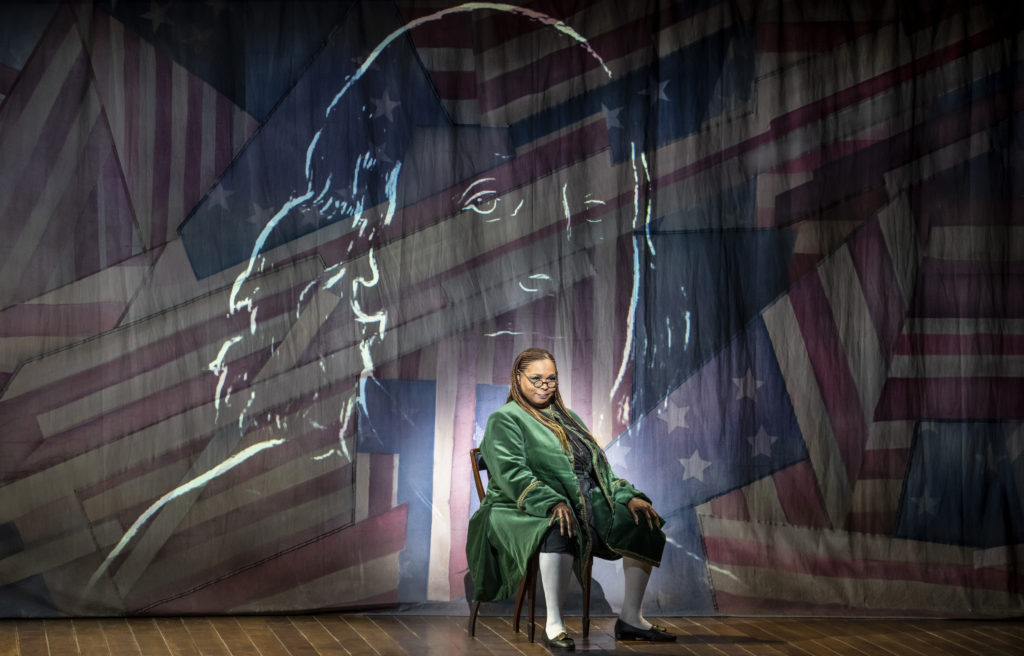 How they ever formed a perfect union is beyond the reckoning of many American History scholars. But seeing this musical and separating out those true patriots, who were determined against all odds to see the nation become whole, will provide some insight and a whole lot of entertainment.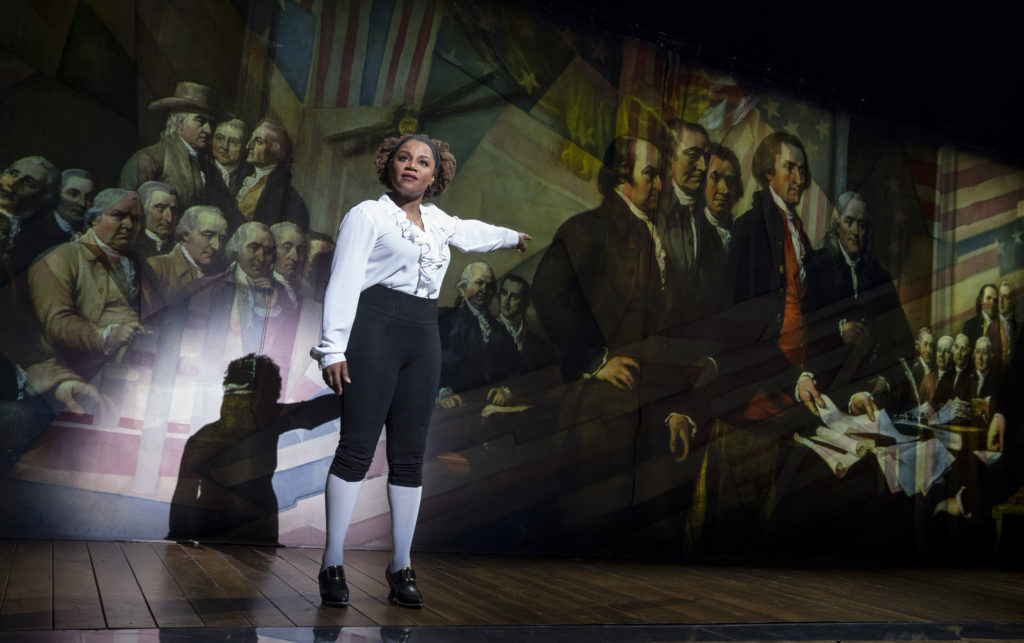 Directed by Jeffrey L. Page and Diane Paulus with a company of artists representing multiple races and diverse gender identities. Additional cast – Karole Foreman as Robert Livingston of New York; Gwynne Wood as George Read of Delaware; Dawn Cantwell as Col. Thomas McKean of Delaware; Jill Marie Vallery as Cesar Rodney of Delaware; Tiffani Barbour as Congressional Custodian, Andrew McNair; Julie Cardia as Stephen Hopkins of Rhode Island; Brooke Simpson as Abigail Adams/Rev. Jonathan Witherspoon of New Jersey; Shelby Acosta as Charles Thompson of New Jersey; Joanna Glushak as John Dickinson of Pennsylvania; Shawna Hamic as Richard Henry Lee of Virginia; Kayla Saunders as Joseph Hewes of North Carolina; Lulu Picart as Samuel Chase of Maryland; Kassandra Haddock as Edward Rutledge of South Carolina; Ariella Serur as Judge James Wilson of Pennsylvania; Anissa Marie Griego as Roger Sherman of Connecticut; Sav Souza as Dr. Josiah Bartlett of New Hampshire; and Candice Marie Woods as Courier.
Music and Lyrics by Sherman Edwards; Book by Peter Stone; Set Design by Scott Pask; Costume Design by Emilio Sosa; Lighting Design by Jen Schriever; and Sound Design by Jonathan Deams.
Happy Fourth of July! It's the perfect musical for the whole family.
Through July 16th in the Eisenhower Theater at the Kennedy Center, 2700 F Street, NW, Washington, DC. For tickets and information call the box office at 202 467-4600 or visit www.kennedy-center.org.
This review has been updated. [SEE ALSO: The Lion King Roars into Town at The Kennedy Center]