School News
ACPS Summer Music Camp Builds Young Musicians Confidence, Skills, and It's a Lot of Fun!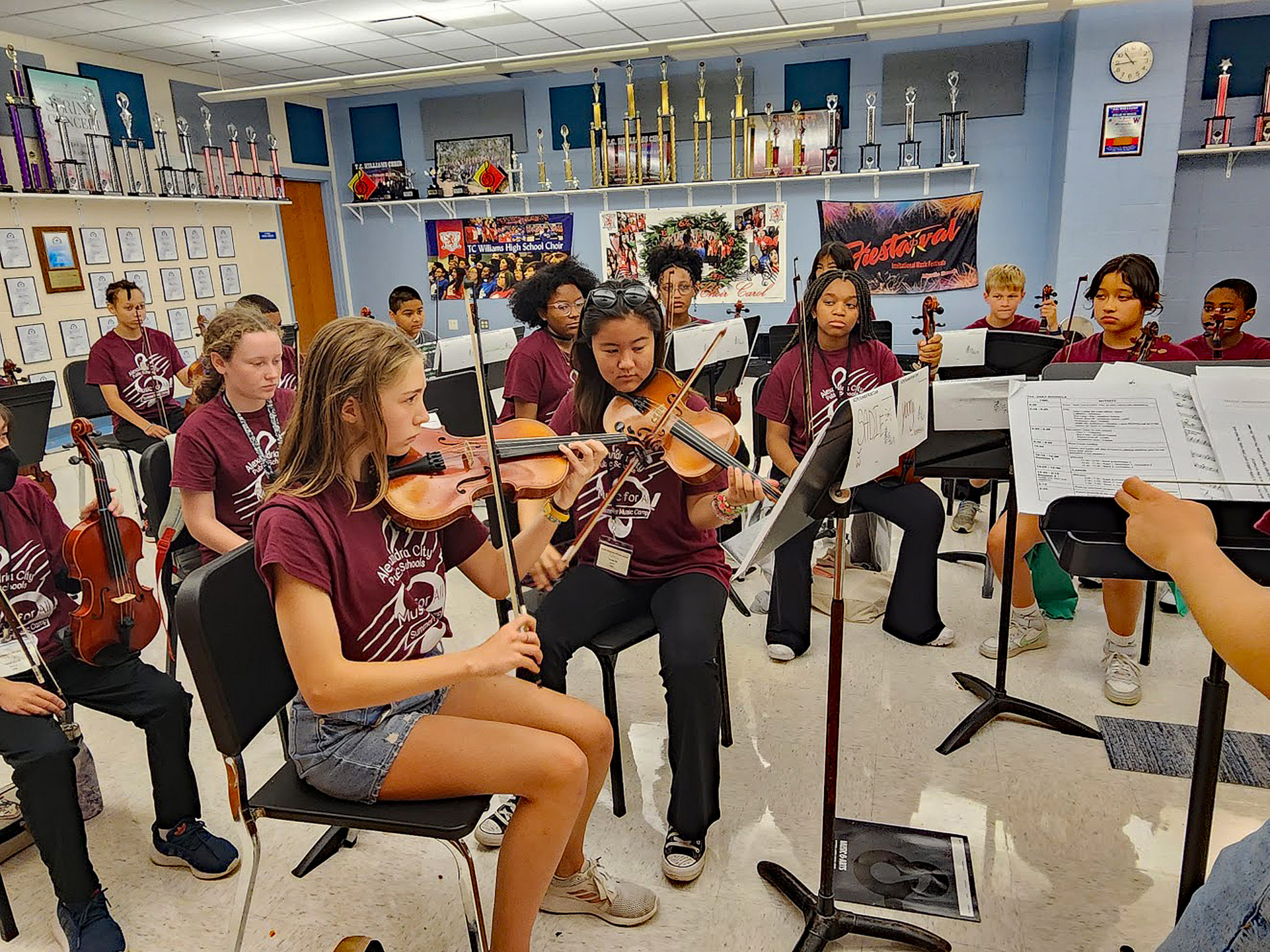 Alexandria, VA – It may be the dead of summer, but Alexandria City High School was humming with activity for two weeks last month. From July 10-20, over a hundred excited and serious youngsters filled the hallways, classrooms, and auditorium. But they were not high schoolers.
These were 137 elementary and middle school students who had never sat in these classrooms before. For most, it will be years before they enter these halls every weekday during the school year. This summer, the children descended on the main high school campus, not to brush up on math and literature but to pick up an instrument and learn to play or polish their skills.
Welcome to Alexandria Music Camp. The two-week immersive program is free and open to any Alexandria City Public School student in grades 4-8 already enrolled in a school band or orchestra class.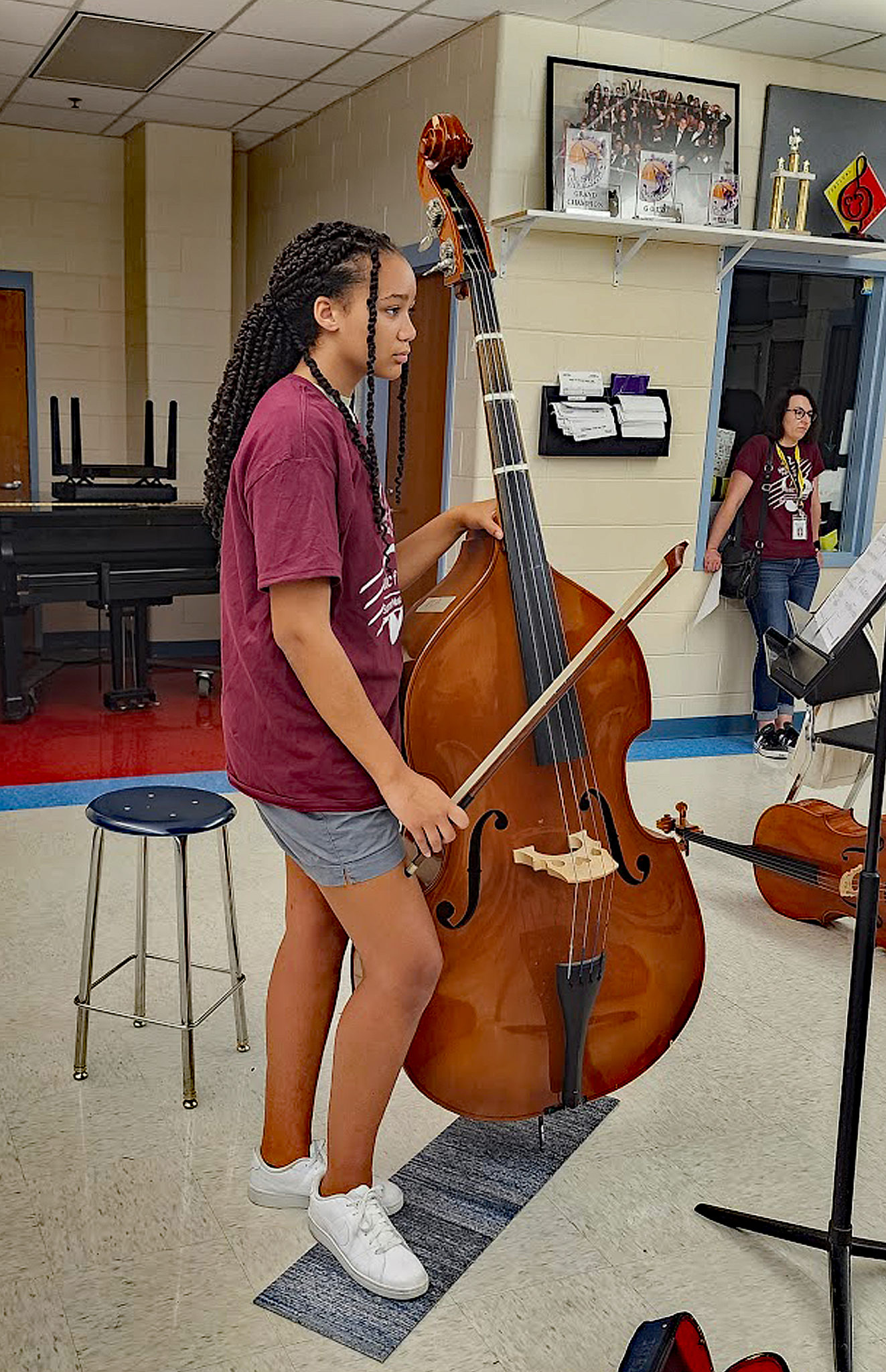 "It is a model for area school districts in that breakfast, lunch, transportation, and instruction are included," said Issmar Ventura, ACPS Media Relations Specialist. The program also provides an instrument to any student who needs one. The children were placed in nine different ensembles based on their abilities.
ACPS Music Camp is "one of a kind," says Veronica Jackson, program coordinator for the summer camp. Jackson has run the camp for ten years. She teaches violin, viola, cello, and bass to Alexandria City High School orchestra students during the school year. Jackson jokingly calls herself a music educator, inspirer, leader, and cheerleader.
Jackson has been teaching for 33 years and conducts workshops nationwide for teachers and students. "I see what's out there. This program is unique. It's for band and orchestra students. We want to expand it to choir."
Jackson looked out at the high school students walking toward the auditorium. "These older students who were part of the program in years past are now coming back to volunteer. They see the connection, the impact. In the fall, our music students come back more prepared, not so scared."  She added, "The impact of this program is far-reaching."
Jackson conceived a summer music program while teaching at Francis Hammond Middle School. "We wanted to give our Hammond students the opportunity to play during the summer, give them instruction to tide them over until the fall. It was only a week long. ACPS picked up on it, provided the funding, made it available to the entire school system, and stretched it to two weeks."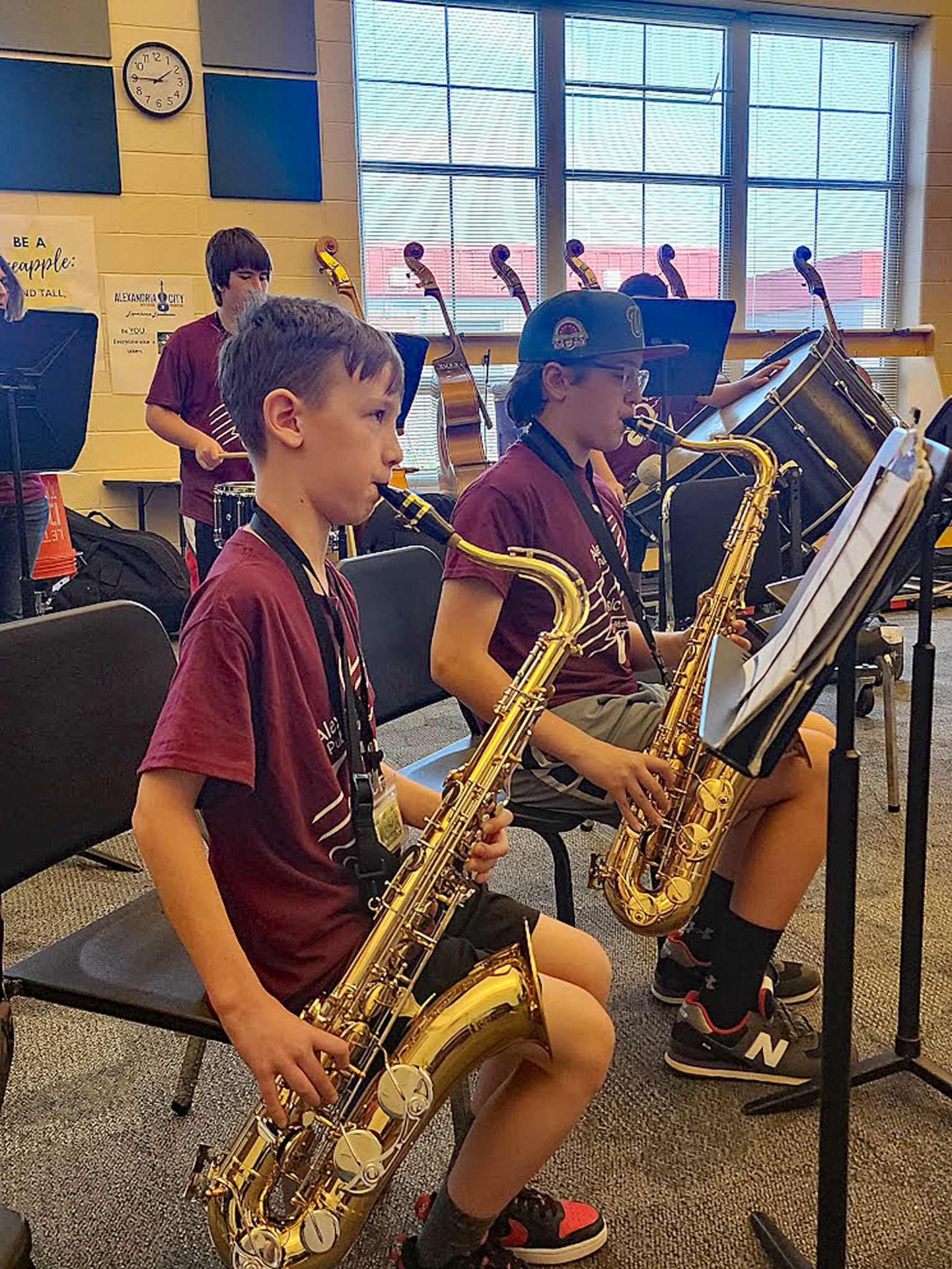 Alexandria City High School band and orchestra students, several in the Tri-M Music Honors Society, served as mentors and helpers to the budding young musicians.
Yasmeen Mukhtar is a rising senior who plays viola. She began studying this instrument in 4th grade at James Polk Elementary School. Yasmeen loves history, and her top college choice is Georgetown University.
"I did this camp when I was in elementary and middle school. I really loved coming here as a kid. I especially like working with the younger kids, teaching them how to play the piece, going over lines, and going over little things to fix it up. It definitely takes patience!"
"Baseball season was coming to a close. My mornings were already free, so why not!" said Robert Salgado, another high school volunteer. Robert is a rising senior and plays violin in the orchestra. Like Yasmeen, Robert picked up the instrument in 4th grade. He was inspired by his grandmother, who'd played the violin as a young girl.
"It's very rewarding when they get it right," Robert smiled. He has always wanted to teach and this summer has cemented that dream. "I've always considered teaching a career path, and this week made me realize that, yes, I'd actually like to do it." Robert is "obsessed with history" and hopes to attend UVA, continuing a family legacy.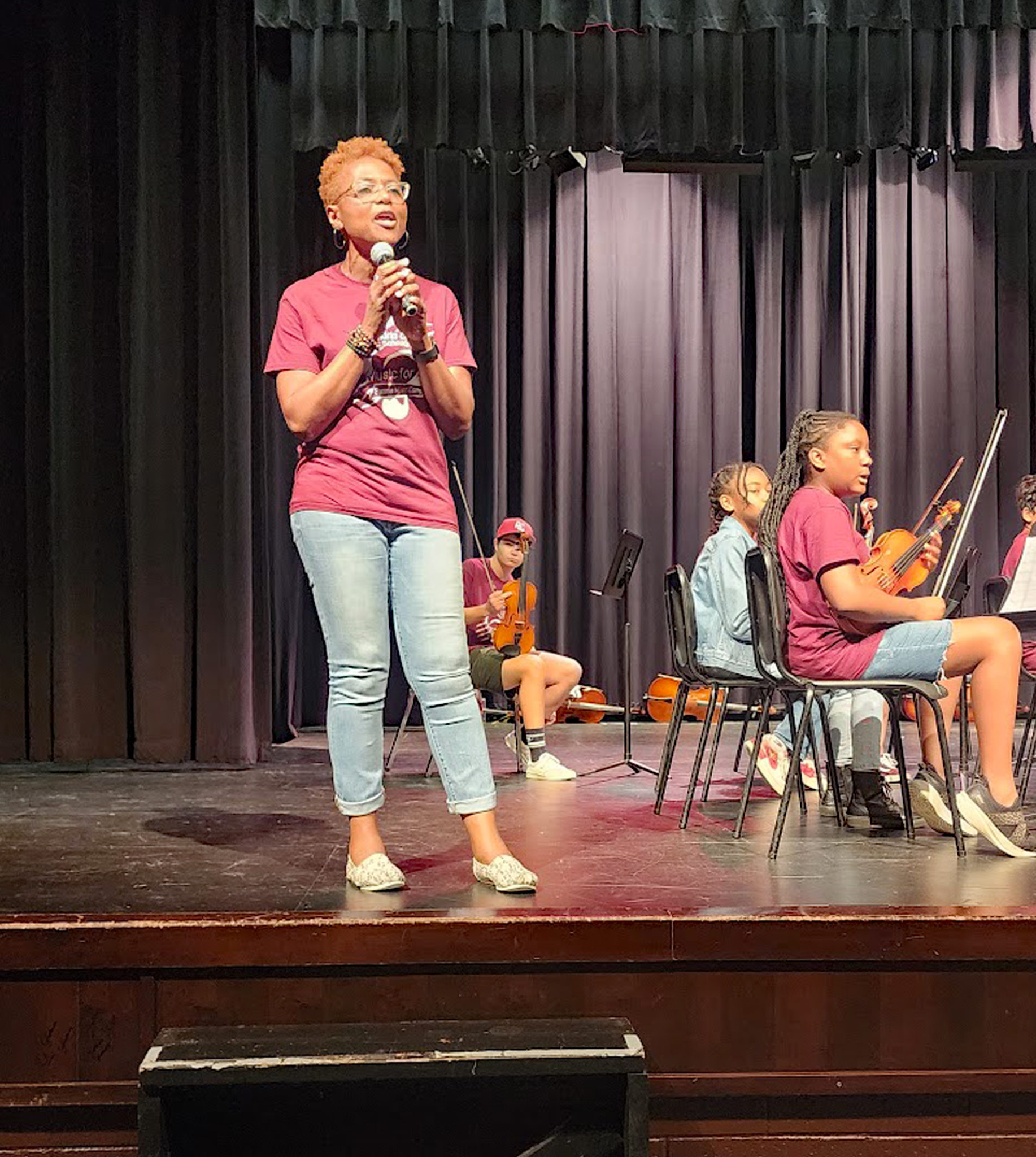 Meagan Carrick is the K-12 Fine Arts Instructional Specialist. "We are lucky to offer orchestra and band starting in 4th grade, which is earlier than most of our surrounding Northern Virginia districts," Carrick noted. "This summer camp is an opportunity for our students to continue their music education in a more focused wrap-around way."
Carrick pointed out that they only had 50 students last year, so this is a huge jump. "Post COVID, people are ready to get back into performance spaces and community music making."
Carrick continued, "We are offering this program to the younger set because we want to encourage them to continue this vertical trajectory and enroll in our programs in high school as well. "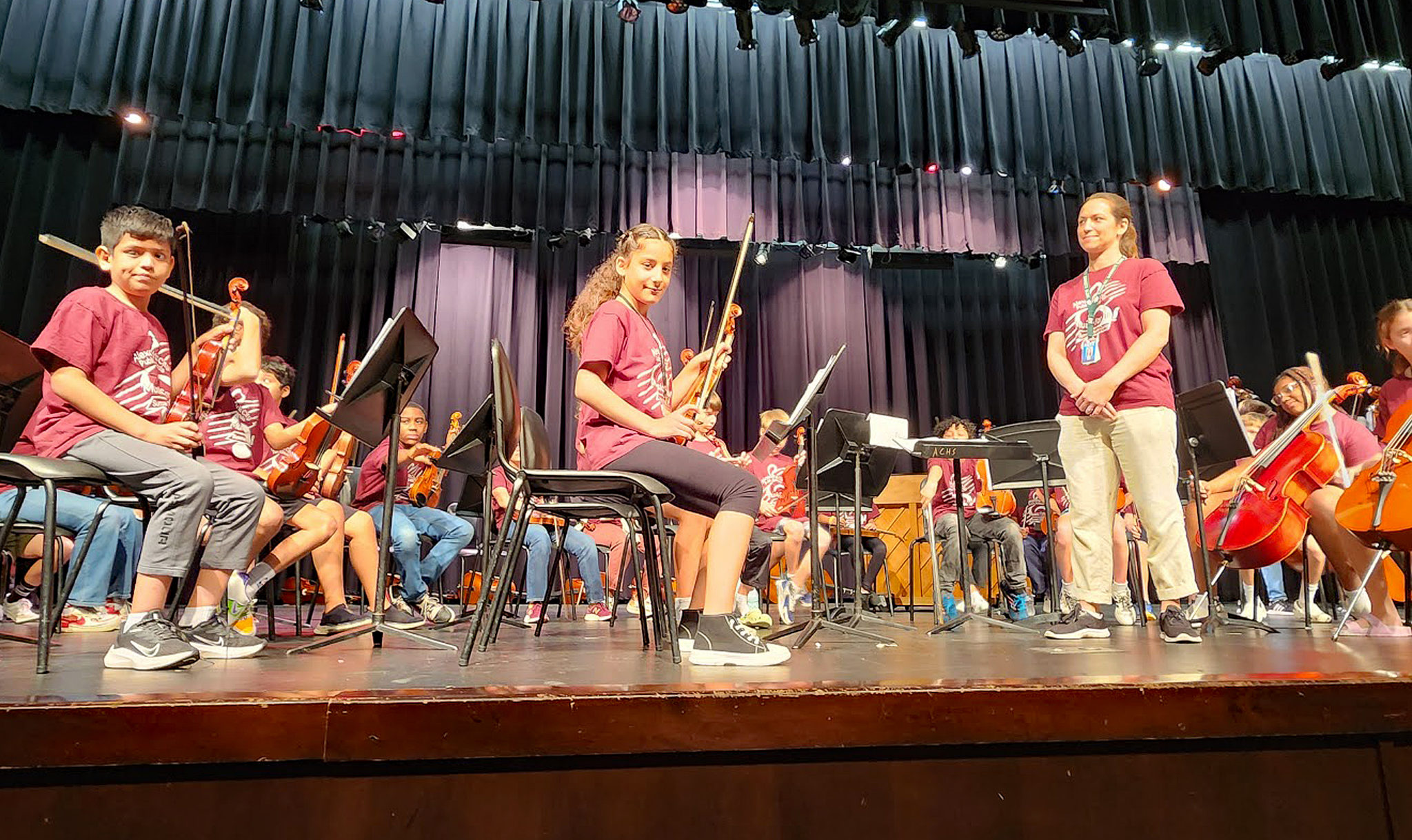 Camp Coordinator Jackson talked about confidence building that will carry over to academic studies and all the other extracurriculars these children take on.
"Two weeks ago, we asked, who wants to perform in the talent show? The students were hesitant. Yesterday we were in here for an hour and a half, listening to kids perform because their confidence is boosted, they are feeling more empowered. Confidence building is what we educators want to see. I know this is a newspaper, but I wish you could see the joy on my face!"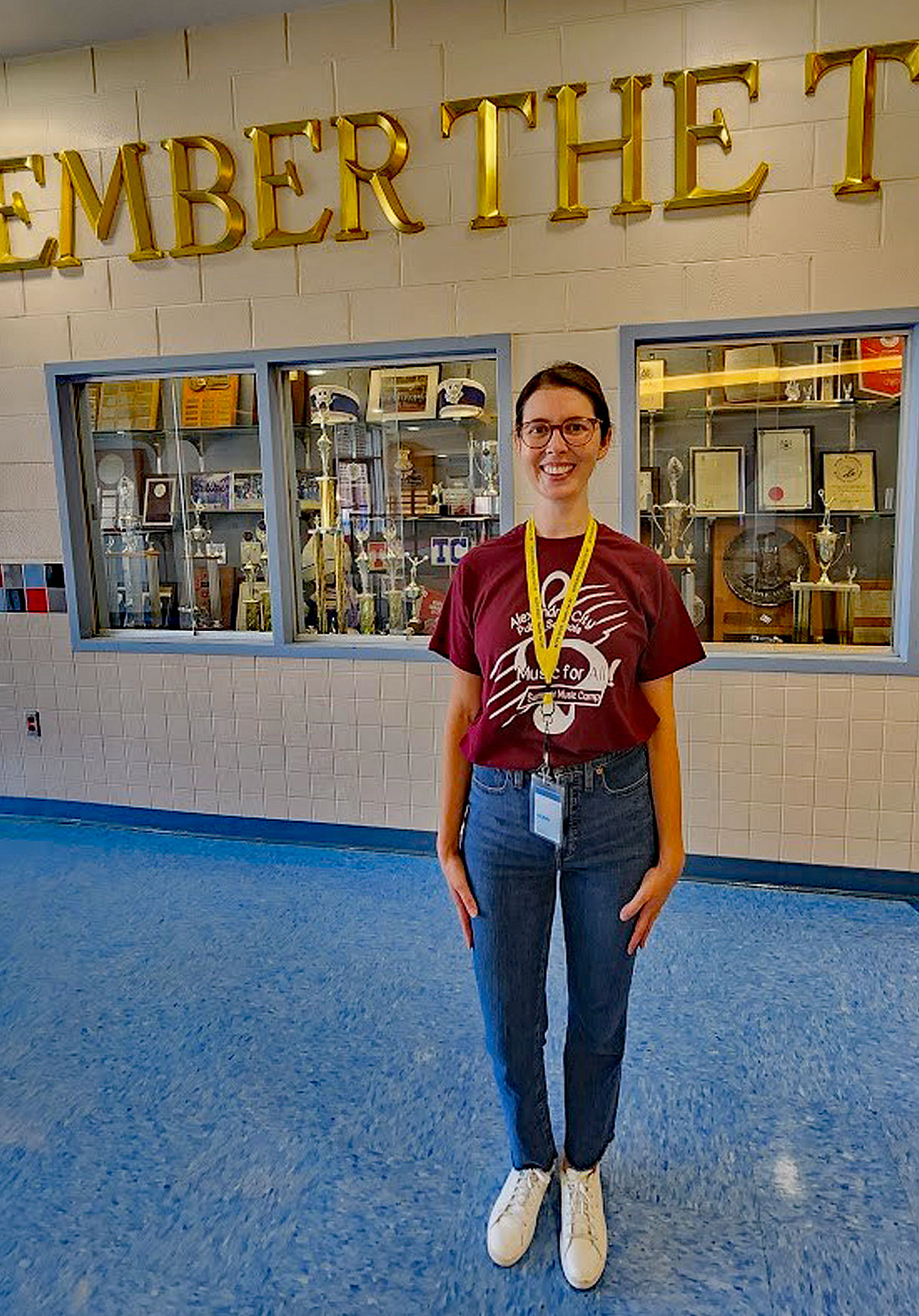 And now it was time for the grand finale. The children assembled on stage, ready to show off their honed music skills. The 90-minute concert featured six groups, two bands, four orchestras, and a rousing rendition of "We Will Rock You" by Queen.
ICYMI: City-Wide Food Drive Collects Over 33,000 Pounds of Food for Alexandria's ALIVE!