Seniors
Alexandria Senior Services Speaker Series, October 19: "How to Stay Safe in Your Home"
Seniors Staying Safe: Home Safety, Fall Prevention, Stroke Awareness & Prescription Drug Interactions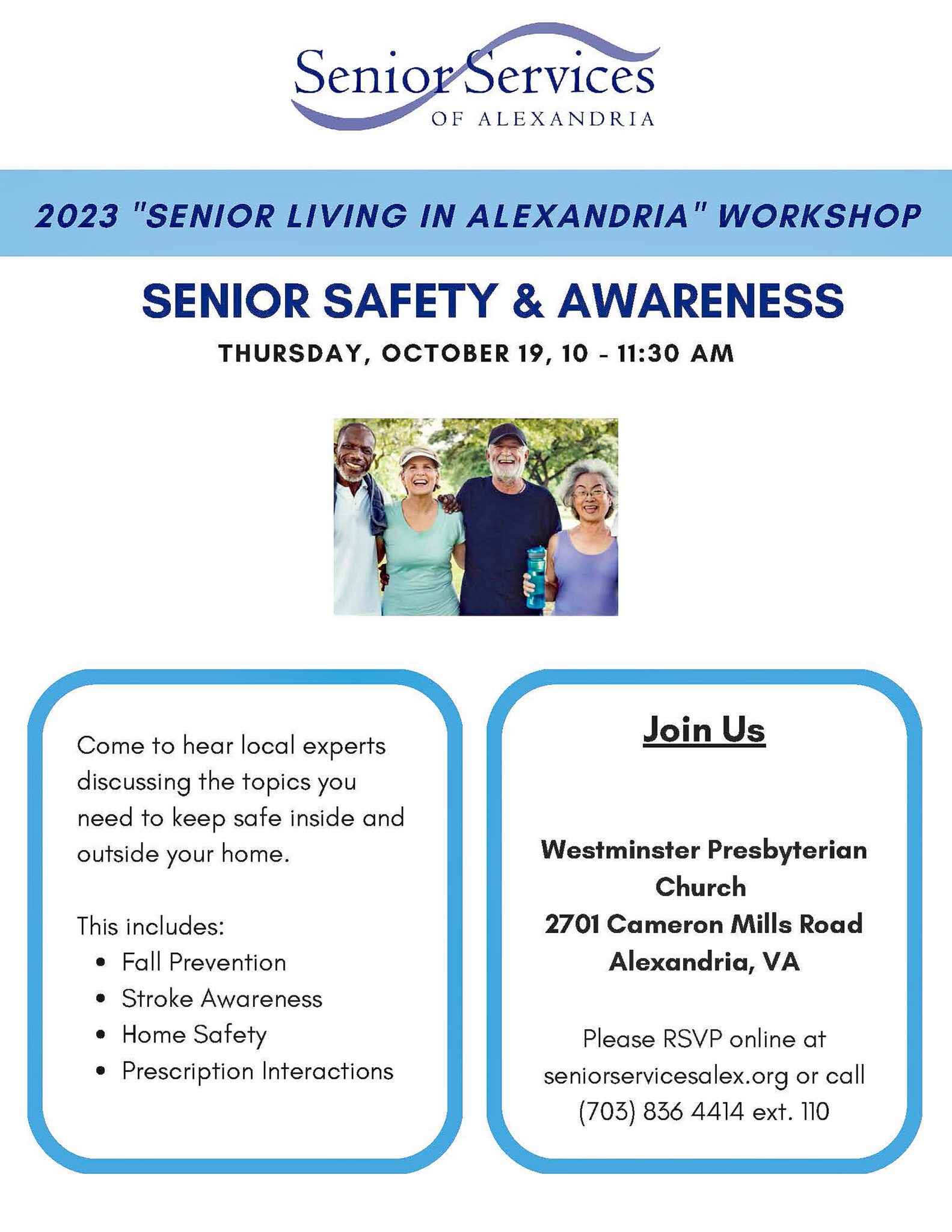 Alexandria, VA – Senior Services of Alexandria (SSA) is kicking off its 2023-24 "Senior Living in Alexandria" Speaker Services with an important topic that impacts older adults who are aging in place in their own homes or continuing care communities—how to stay safe.
Local experts will highlight important topics, including making your home as safe as possible as you age. Peter Crouch, Associate Broker with McEnearney Associates, will share several simple modifications to make your home safer.
Fall Prevention is another topic that faces everyone getting older. Just one fall can change your life. Sara Pappa with the Northern Virginia Falls Prevention Alliance at Marymount University will guide participants through exercises to incorporate into their daily lives to help prevent falls and the correct way to fall.
Two other topics will be discussed: Stroke Awareness with Danielle Feucht with INOVA Mount Vernon Hospital and Edward Arthur and Prescription Drug Interactions with Chaz Worz, CEO of the American Society of Consultant Pharmacists. Knowing the signs of a stroke can help you decide whether you need medical attention quickly. Drug interaction is not always at the forefront of people's minds as we age.
This event on October 19 is from 10 – 11:30 am at Westminster Presbyterian Church, 2701 Cameron Mills Road in Alexandria. It is a free event with parking and light refreshments. We ask that you RSVP at www.seniorservicesalex.org or call 703-836-4414, ext. 110.
Let's kick off the fall season by learning how to stay safe as we get out and enjoy the cooler weather!
ICYMI: Senior Living in Alexandria Events Are Set for the Coming Year