Arts
Galactic Panther Hosts First-Ever Solo Art Exhibit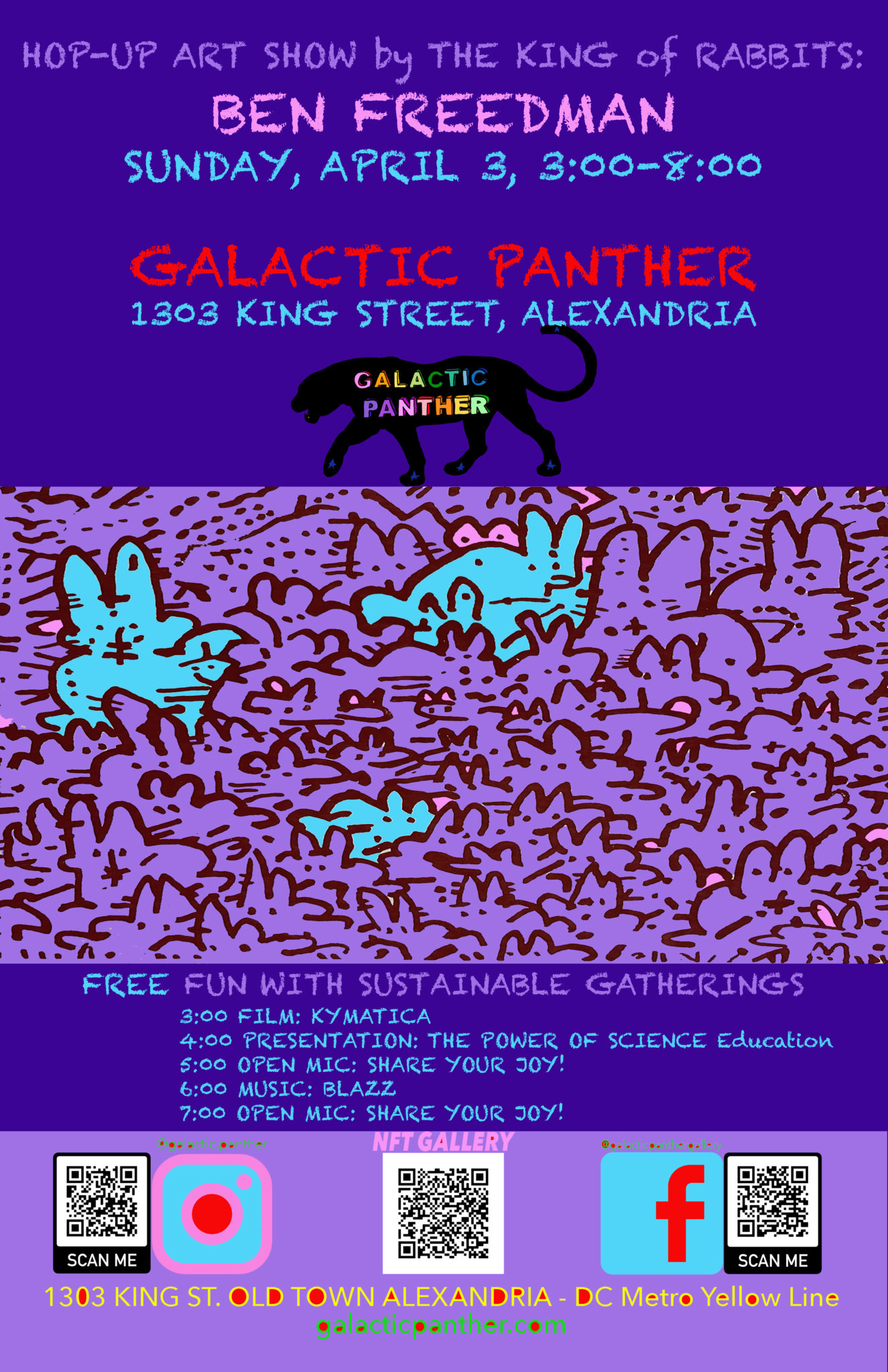 ALEXANDRIA, VA–On Sunday, April 3rd from 3:00 – 8:00 pm, Galactic Panther gallery will hold a "Hop Up" art exhibit by the King of Rabbits, Ben Freedman.
Co-owner & curator Eli Pollard states, "I've been exhibiting Ben's artwork since I was a teenager, and when my grandparents passed, I eventually adopted Ben & his wife as my new grandparents. It's an honor to continue to showcase Ben's artwork which spans the course of 60+ years."
He goes on to state, "Ben was very fond of rabbits, and they can often be found embedded in his otherwise very often abstract compositions. Ben referred to everyone as rabbit, so I refer to him as king of the rabbits."
Ben was a beloved professor of art at WVU until his retirement in 1999. His work has been displayed in galleries & museums across the U.S. & Europe. Freedman is also known for his travels, his beautiful home garden, and his world-class collection of African art & American antiques.
This exhibit will showcase Ben's prints, drawings, paintings, and mixed media works on paper. This "Hop Up" exhibit serves as an extension to the current "Juxtapose" exhibit now on view at Galactic Panther which features some of Ben's work.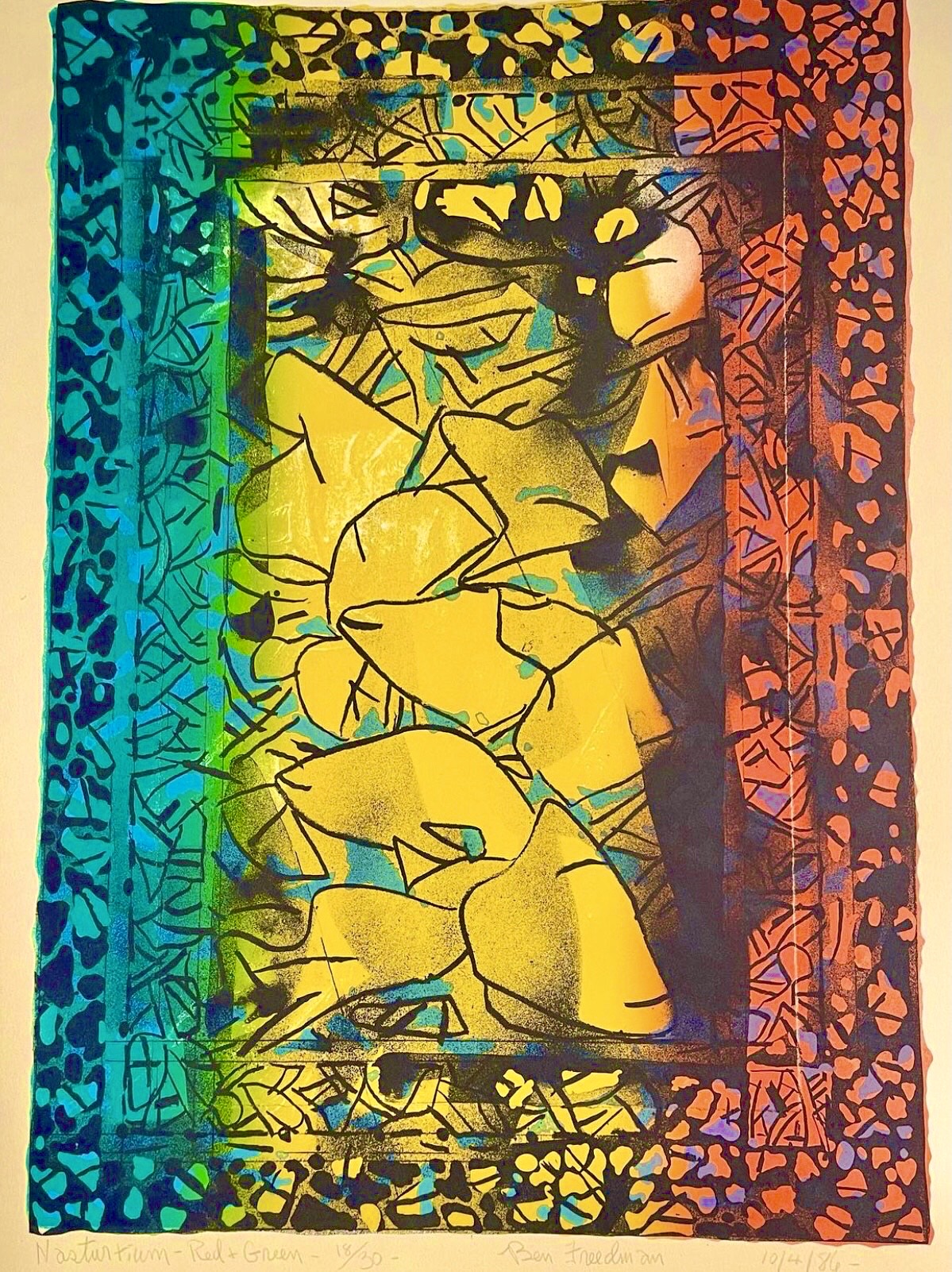 This will serve as the first solo exhibition offered by Galactic Panther. This exhibit opening will be held in conjunction with the final of a series of Sustainable Gatherings that have been held in the gallery every other Sunday for several months. The schedule for the April 3rd exhibit opening is as follows:
3:00 Film: "Kymatica"
4:00 Presentation: The Power of Science Education by Jon Eye
5:00 Open Mic
6:00 Music by BLAZZ
7:00 Open Mic
This celebration will be catered, and is free and open to the public.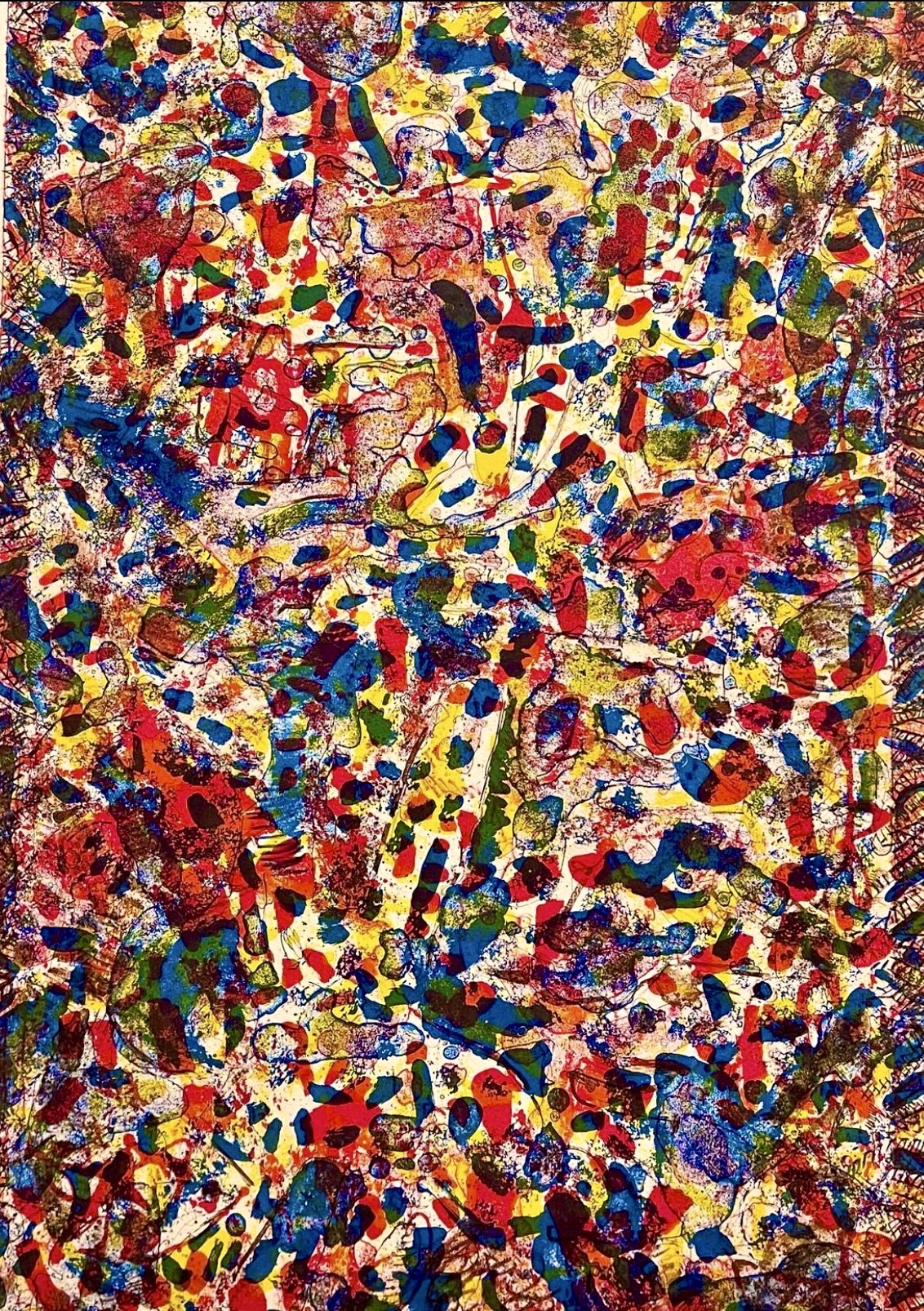 Other artists featured in the JUXTAPOSE exhibit include Rose Briccetti, Mark Mothersbaugh, Scott Espeseth, Daniel Davidson, Alison Tirrell, Eddie Harris, Siena Riley, Rodger Roundy, Jamie Lester, Bonner Sale, & Mr. Edwards.
With over 50 local, national, and international contemporary artists, and a few classics like Picasso & Holty currently represented in the gallery, this is a great opportunity to stop in and pick up a unique work of art, have a snack, listen to music, & dance!
From day one a portion of all sales from Galactic Panther has supported non-profits who offer food security for those in need.
Galactic Panther is open Thursday / Friday 11:00-5:00, Saturday / Sunday 12:00-6:00, and by appointment. Please follow Galactic Panther on Facebook & Instagram for further updates & information.