Community News
Community Invited: 126th Anniversary Of Joseph McCoy's Lamp Post Lynching To Be Marked In Alexandria, Sunday, April 23
19-Year Old Joseph McCoy, who was lynched by Alexandria mob April 23, 1897, is remembered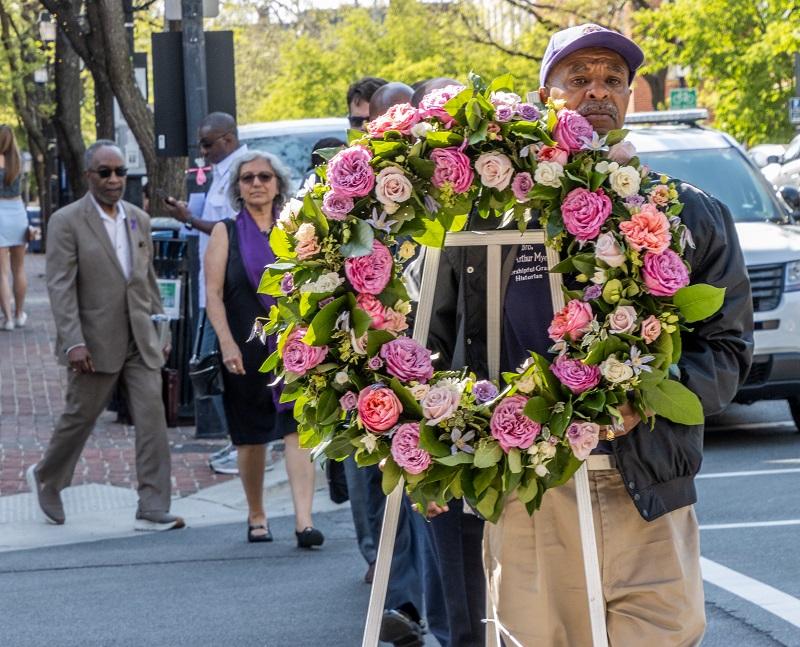 ALEXANDRIA, VA – On Sunday, April 23, 2023 at 1:30 p.m., the community is invited to join members of the McCoy family, along with city and civic leaders, in a commemorative wreath-placing ceremony to honor the memory of their ancestor, lynching victim Joseph McCoy. The event will begin in front of the Carlyle House at 121 N. Fairfax Street in Old Town Alexandria.
"Everyone is invited to attend this solemn remembrance of Joseph McCoy, the young black man who was hung by an angry white mob at the corner of Cameron and Lee Streets in Alexandria without trial on April 23, 1897," said McArthur Myers today in a phone call. Myers, who serves as the Worshipful Grand Historian for the Freemason Universal Lodge #1, the oldest Prince Hall Lodge in the Commonwealth of Virginia,  is an Alexandria Living Legend, and dedicated advocate for historical landmarks identifying the significant impacts of Alexandria's African Americans within the community.
The shameful historic event will be marked by the placing of a wreath and remarks by Myers, along with other city and civic leaders.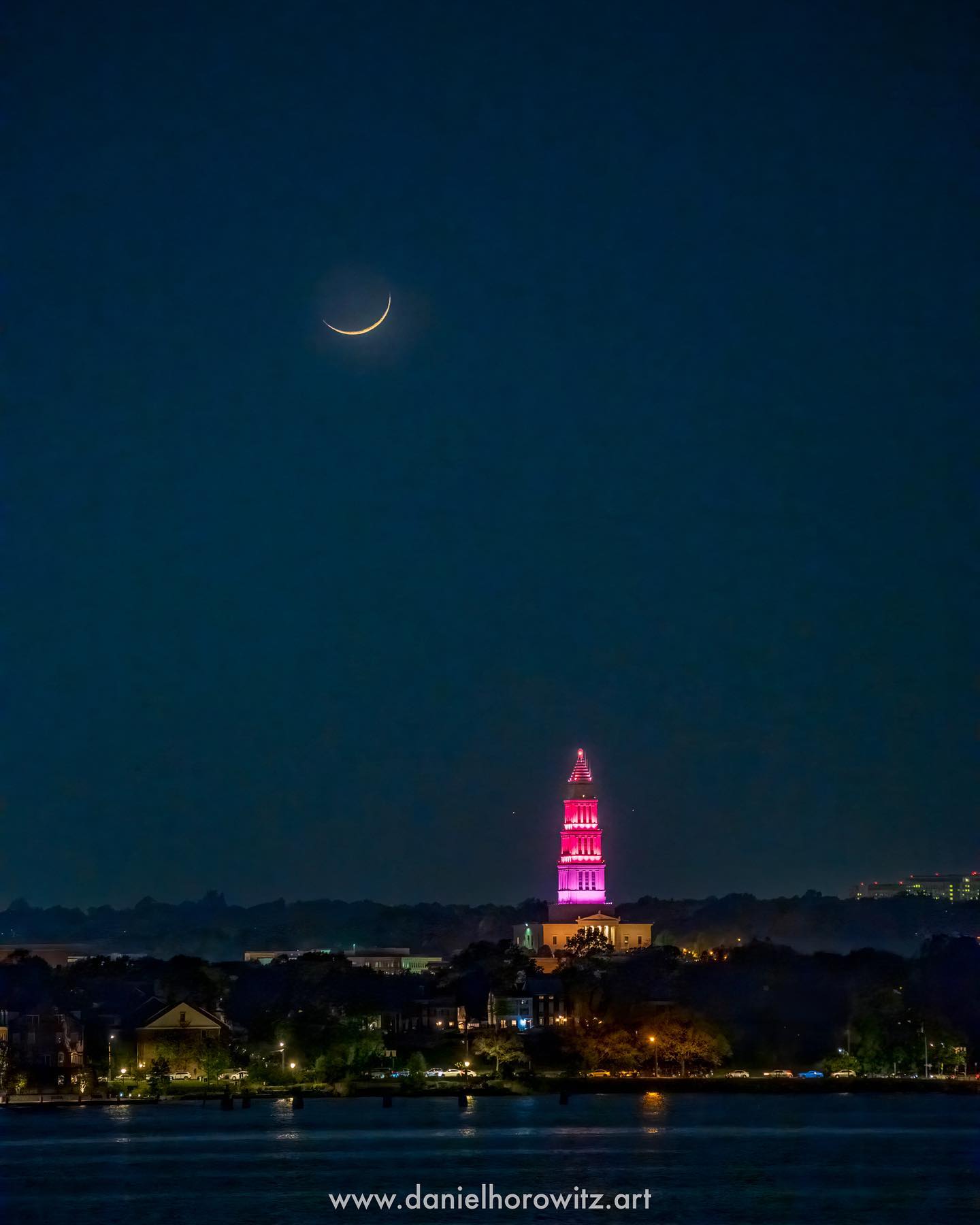 McCoy's hanging is one of two documented lynchings in Alexandria, one of 11 in Northern Virginia, and one of 100 in Virginia between 1882 and 1968. The other lynching victim was Benjamin Thomas.
Today, a remembrance marker stands in McCoy's memory at the very site of Joseph McCoy's murder. The full narrative of this event was thoroughly researched in 2020, by the Alexandria Community Remembrance Project (ACRP). ACRP is a city-wide initiative dedicated to helping Alexandria understand its history of racial terror hate crimes. ACRP conducts research, education, programs, and events that remember Joseph McCoy and Benjamin Thomas and explores the long-term impacts upon Alexandria's African American community.
The narrative of the lynching and the biography of McCoy can be found here. 
The McCoy family history goes back more than 50 years before Joseph's life was taken from him. Cecilia McCoy, Joseph's grandmother, was born a free woman in Alexandria. She raised a family of four children, who then had children of their own. Joseph, the youngest of five siblings, lost his mother, Ann, soon after he was born. So he and his two sisters and two brother went to live with Cecilia, and they began working right away to help support the family.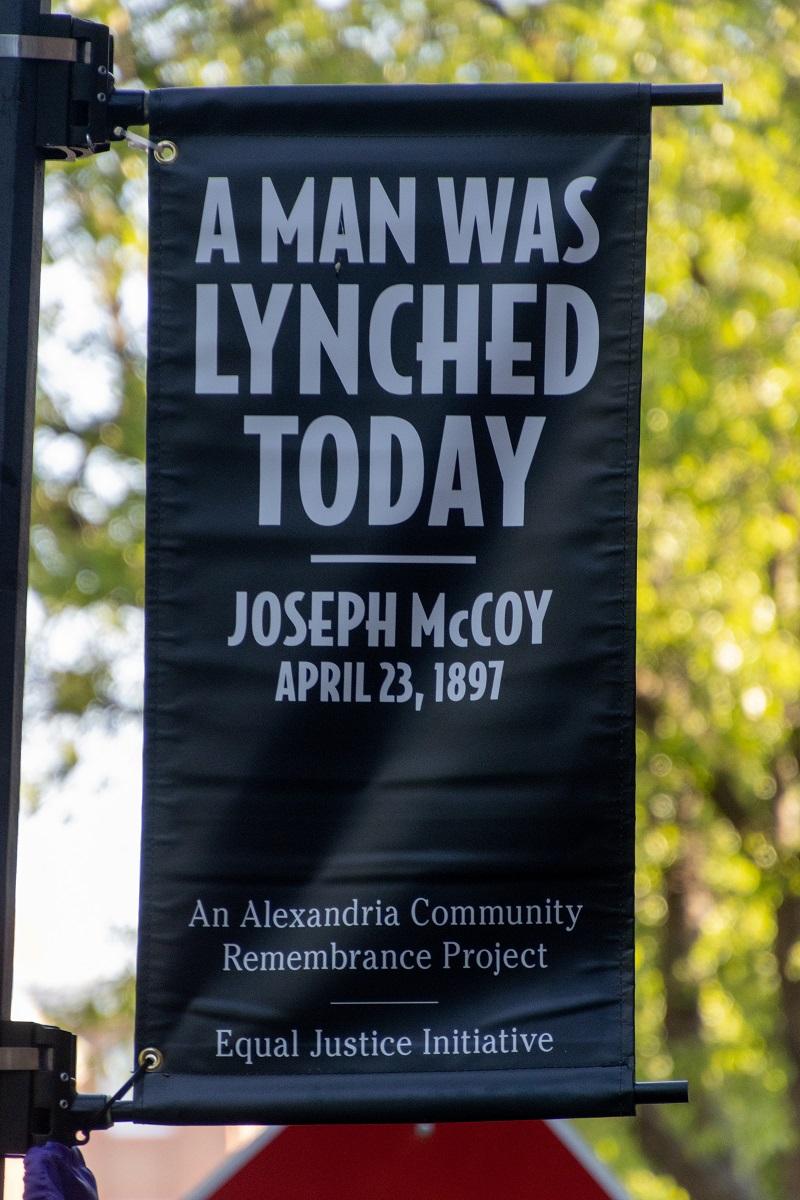 Banner that reads A Man Was Lynched Today, Joseph McCoy, April 23, 2023. (Photo: Jeff Hancock for City of Alexandria)As Cecilia was a washerwoman, so were her children and her children's children employees of the domestic realm. Joseph was employed by the Lacy family, all the way up until 1987.
On April 22, Richard Lacy accused Joseph of sexually attacking his 16-year old daughter. Joseph was subsequently arrested. Then, in the early hours of April 23, Joseph was dragged from his cell, shot, bludgeoned, and hanged from a lamp post, which stood on the corner of Lee and Cameron Streets. Joseph was only 19.