Volunteering
Join the VolALX Food Drive To Benefit ALIVE! All This Month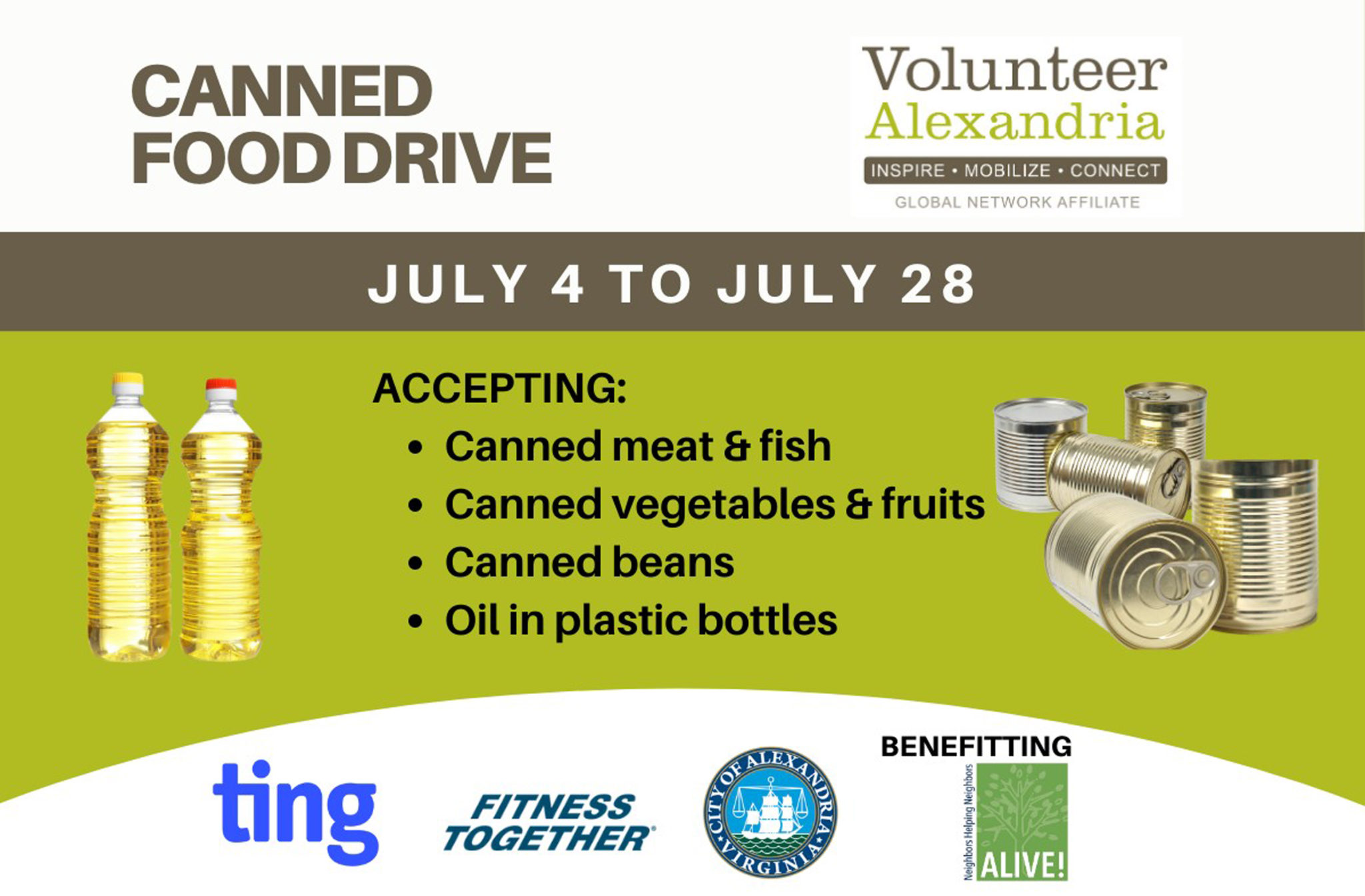 Alexandria, VA – Due to an urgent need for food this summer, Volunteer Alexandria is hosting its first community-wide food drive to benefit ALIVE! Our goal is to collect 30,000 pounds of food for 2,000 area families. Your support is needed!
While food donations are down, the number of families in need has increased ten times over the past three years. Currently, the shelves at ALIVE's food pantry are becoming alarmingly bare.
Please ONLY donate one or more of these items:
Canned meat and fish
Canned fruits and vegetables
Canned beans
Oil in plastic bottles
Drop Off Places: Barrett Library | Beatley Library | Burke Library | City of Alexandria/City Hall | DCHS | Department of Beer and Wine | Duncan Library | Fairlington Presbyterian Church | Fitness Together | Old Town North Community Partners | the goodhart group | Venue Condominium | YMCA Alexandria | Zweet Sport
Visit VolunteerAlexandria.org/food for a complete list of drop off places.
Help Us to Help Others and Donate at www.volunteeralexandria.org.
Volunteer Alexandria (VolALX) is the premier organization in Alexandria, connecting people to service and mobilizing thousands of residents and local businesses to get involved in the community providing tangible benefits to local area nonprofits, individuals, and families in need. Our vision is to engage all Alexandrians to actively make a difference through volunteering, and to inspire and mobilize our community to build a stronger Alexandria with a higher quality of life for everyone. We host numerous events to engage people of all abilities, age, gender, sex, race, religion, and backgrounds in service.
Engagement Opportunities –
Check out these volunteer opportunities, compiled by Volunteer Alexandria (VolALX) – YOUR connection to helping others! Register online: VolunteerAlexandria.org or scan QR code.
Be A Food Drive Team Captain — Volunteer Alexandria is seeking team captains for its summer food drive. Team Captains would coordinate with sites to pick up food and drop it off at the ALIVE Food Warehouse.
Deliver Boxes to Ensure a Successful Food Drive — Volunteer Alexandria is seeking volunteers to deliver boxes to food drive sites between Tuesday, June 27 and Friday, June 30. Must have a valid driver's license.
The City of Alexandria and the 1st Agape Baptist Church are seeking volunteers to assist with bagging items, grocery distribution, and assisting people with carrying items to their car on July 14.
UNCUT Youth is seeking vvolunteers to support their monthly food distribution on July 15.
The Alexandria Sheriff's Office needs volunteers to provide translation services for incoming residents.
Skills Connect Projects (Visit https://www.volunteeralexandria.org/skillsconnect/volunteers to sign up use your skills to help an agency with a short-term project):
At Home Alexandria is looking for a skilled volunteer to design a monthly newsletter.
The Alexandria Music Makers Scholarship Fund needs assistance updating their website and enchasing their search engine optimization.
ICYMI: Alexandria's DASH to Increase Zero-Emission Bus Fleet