Community News
Brenman Award Winners Honored at Oct. 26 Alexandria City Council Meeting
The award recognizes those who work to conserve the city's archaeological sites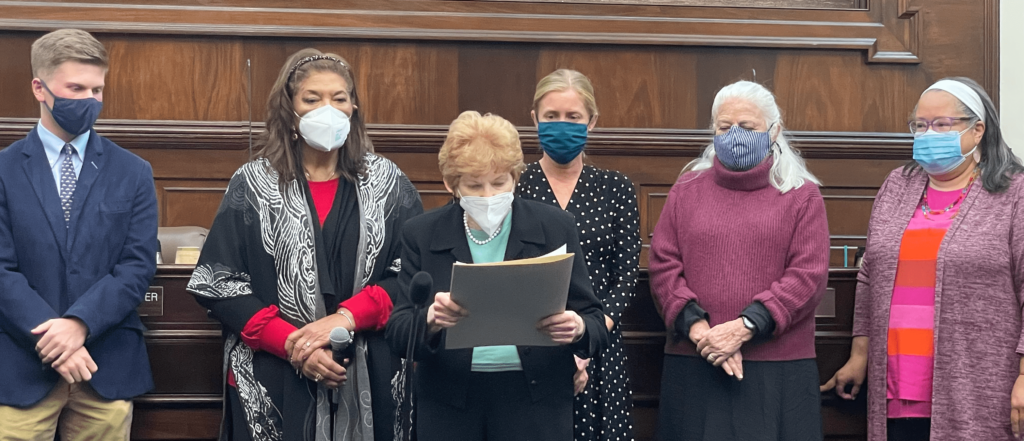 ALEXANDRIA, VA – During the Oct. 26 City Council meeting, Mayor Justin Wilson presented the Bernard "Ben" Brenman Archaeology in Alexandria Award.
This year's honorees are:
Griffin Burchard: Outstanding Preservation Advocate, for his contribution to the stewardship of Douglass Cemetery, one of Alexandria's historic Black cemeteries; for planning and implementing his 2019 Eagle Scout project at Douglass Cemetery including the creation of a new interpretive historical sign at the site; for raising awareness about these sacred and fragile sites and the recognition that preserving Black cemeteries means preserving the history of Black Alexandrians; and for immeasurably enhancing the quality of life in Alexandria by caring for the final resting place of those buried here.
African American Heritage Trail Committee (Councilman John Chapman, Susan Cohen, Gwen Day-Fuller, Elizabeth "Indy" McCall, Maddy McCoy, Krystyn Moon, McArthur Myers, and Ted Pulliam, founding and current members): Outstanding Community History, in recognition of their dedication to researching and highlighting the contributions of African Americans to Alexandria's historic waterfront and throughout the city; for their leadership in the community history movement that engages residents and visitors with new ways of telling Alexandria's unique history; and for their commitment to instilling a sense of collective ownership of the past for all Alexandrians.
About the Alexandria Archaeological Commission
A City of Alexandria commission, the Alexandria Archaeological Commission (AAC), was the first of its kind established in the U.S. The AAC established the Brenman Award in 2007 in honor of the late activist and retired U.S. Army colonel. Brenman had devoted himself to finding, preserving, and sharing Alexandria's rich and diverse heritage, and was a founding member of the commission.
The 15-member AAC is appointed by the City Council and develops goals and priorities for Alexandria's archaeological heritage. The commission works closely with residents, government agencies, developers, and teachers to promote archaeology in the city.
About the Brenman Award
The Brenman Award recognizes businesses, organizations, families, professional preservationists, volunteers, students, and other individuals who have demonstrated work or efforts in archaeological investigation, research, site protection, education, public interpretation, open space design, collections, or conservation.
Commercial Kitchen Intends to Move Into Old Generous George's Building on Duke Street