Community News
The Hunt for Alexandria's Murals
Can you find them all?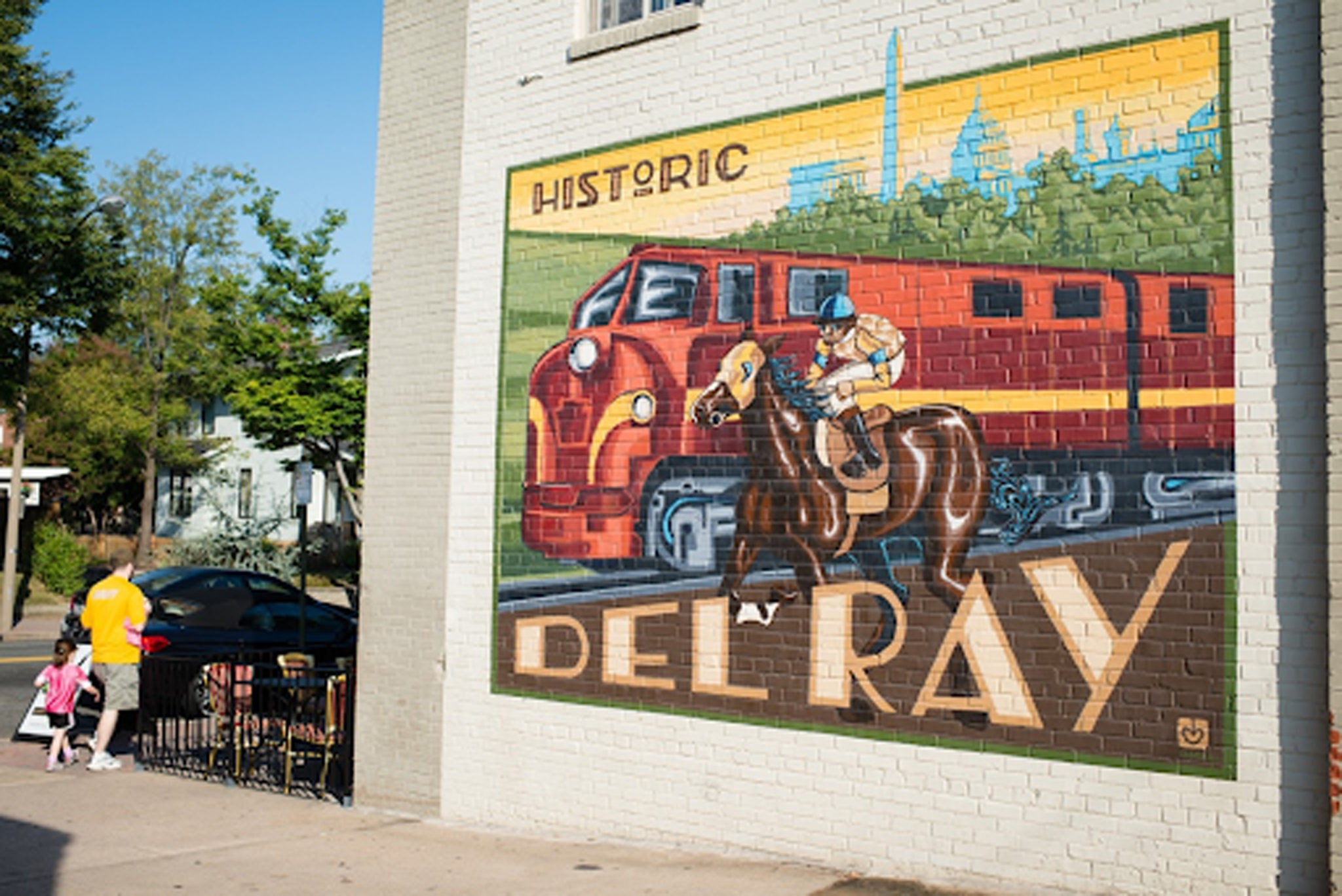 By Fiona Hagan
Alexandria, VA – It is officially spring, and warmer weather is on its way. If you find yourself out and about on a beautiful day, you may want to tour the murals of Alexandria. And you might just find one we haven't!
Historic Del Ray
This mural outside Cheesetique, a wine and cheese shop located in the heart of Del Ray, features vivid colors and highlights the man riding horseback next to a vibrant red train. This mural's background showcases historic Washington, DC landmarks, including the Capitol and the Washington monument.
Jim Morrison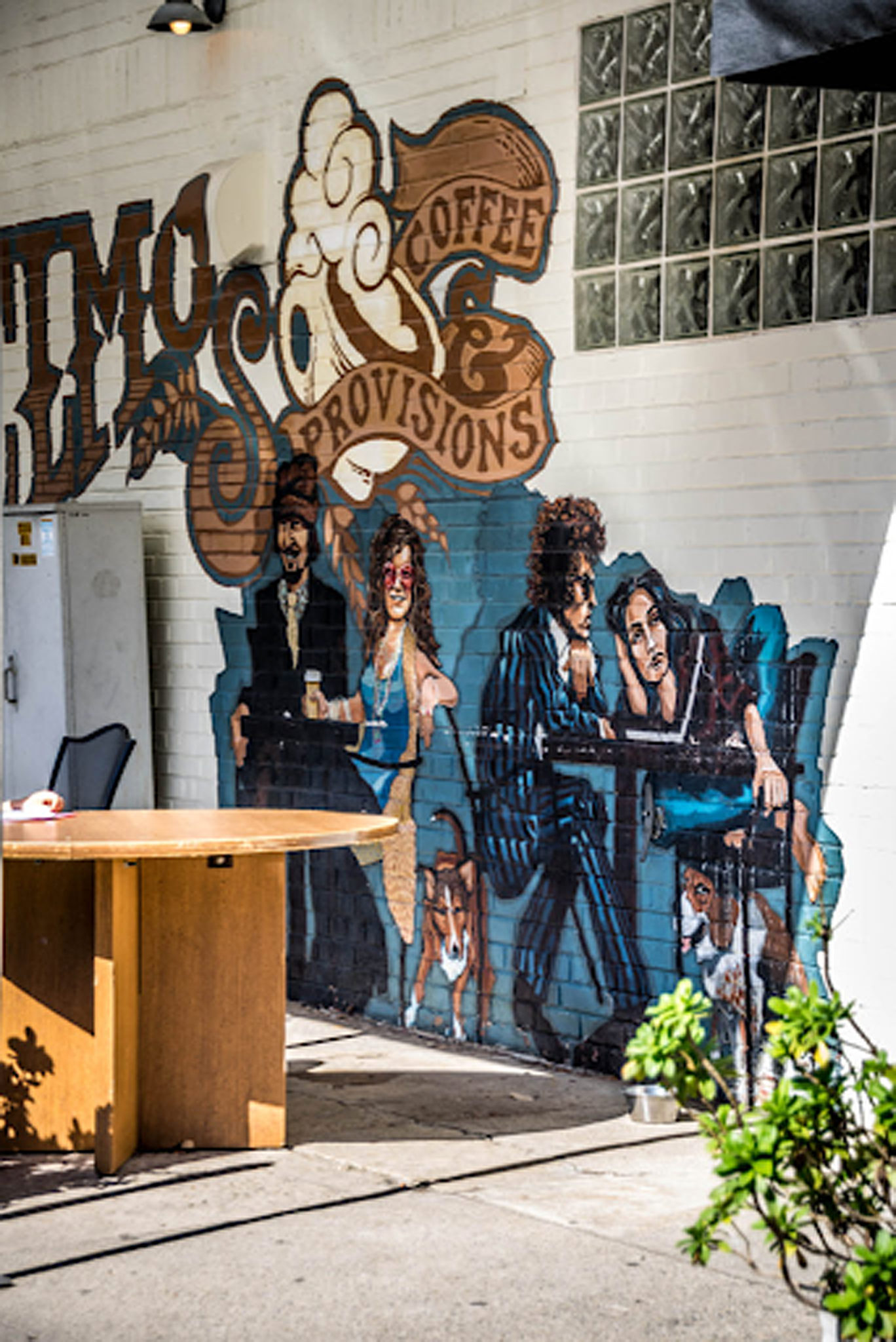 Rock n' roll icon and former Alexandrian Jim Morrison grabs coffee in this mural on the wall of St. Elmos on Mount Vernon Avenue. The retro design style and moody color palate is a fun addition to the atmosphere of the Del Ray-based coffee shop. (Laura Hatcher Photography)
Fibre Space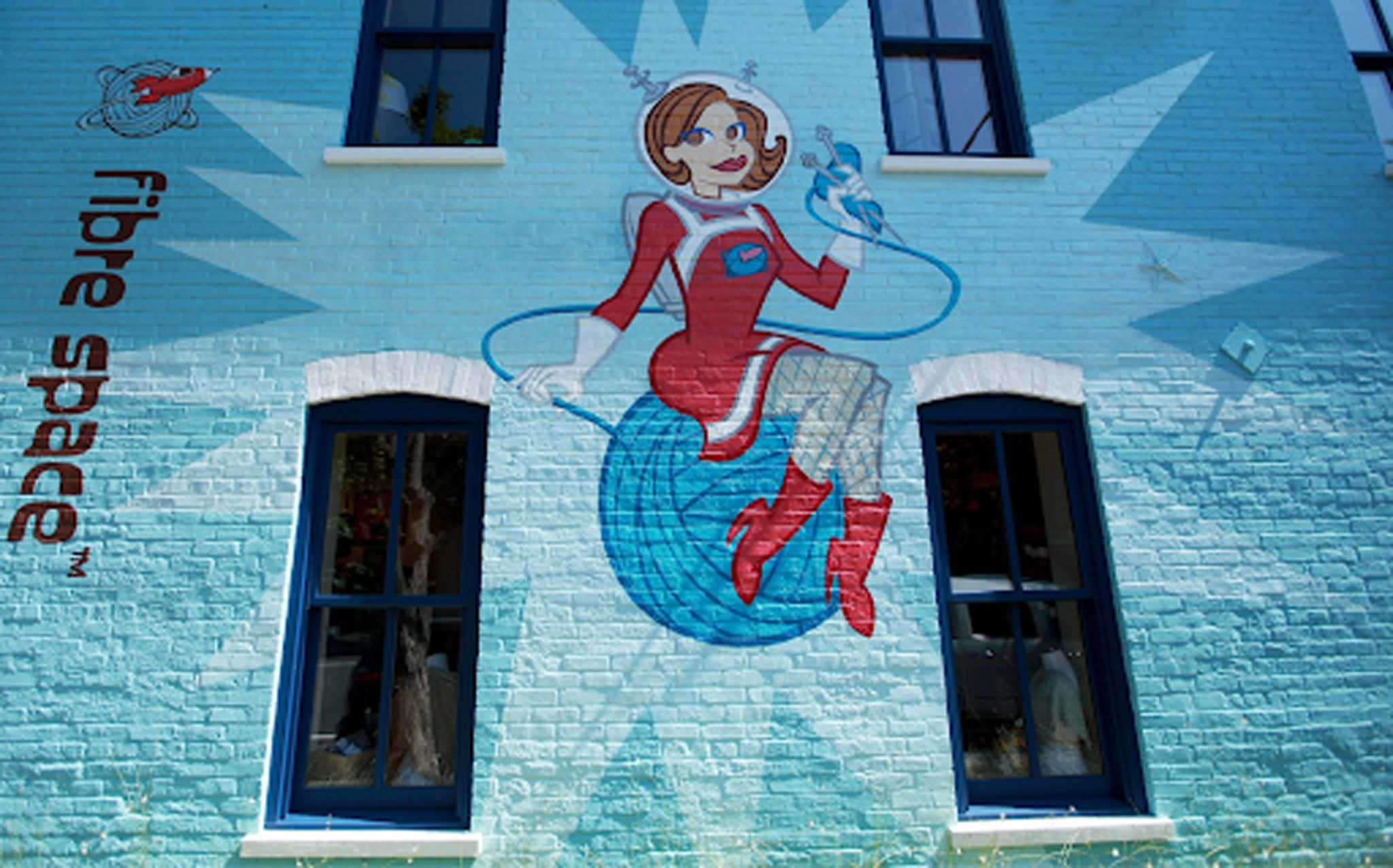 Fibre Space, a yarn store on Prince Street, features this futuristic two-toned mural with "fibre girl" as its centerpiece. Fibre girl "fights the stereotype of an old lady in a rocking chair knitting, which is so far from the actual present-day knitter or crocheter," according to Fibre Space owner Danielle Romanetti. The mural was designed by Laura Spofford and painted by Matthew McMullen. (Photo The Zebra)
The Butterfly Effect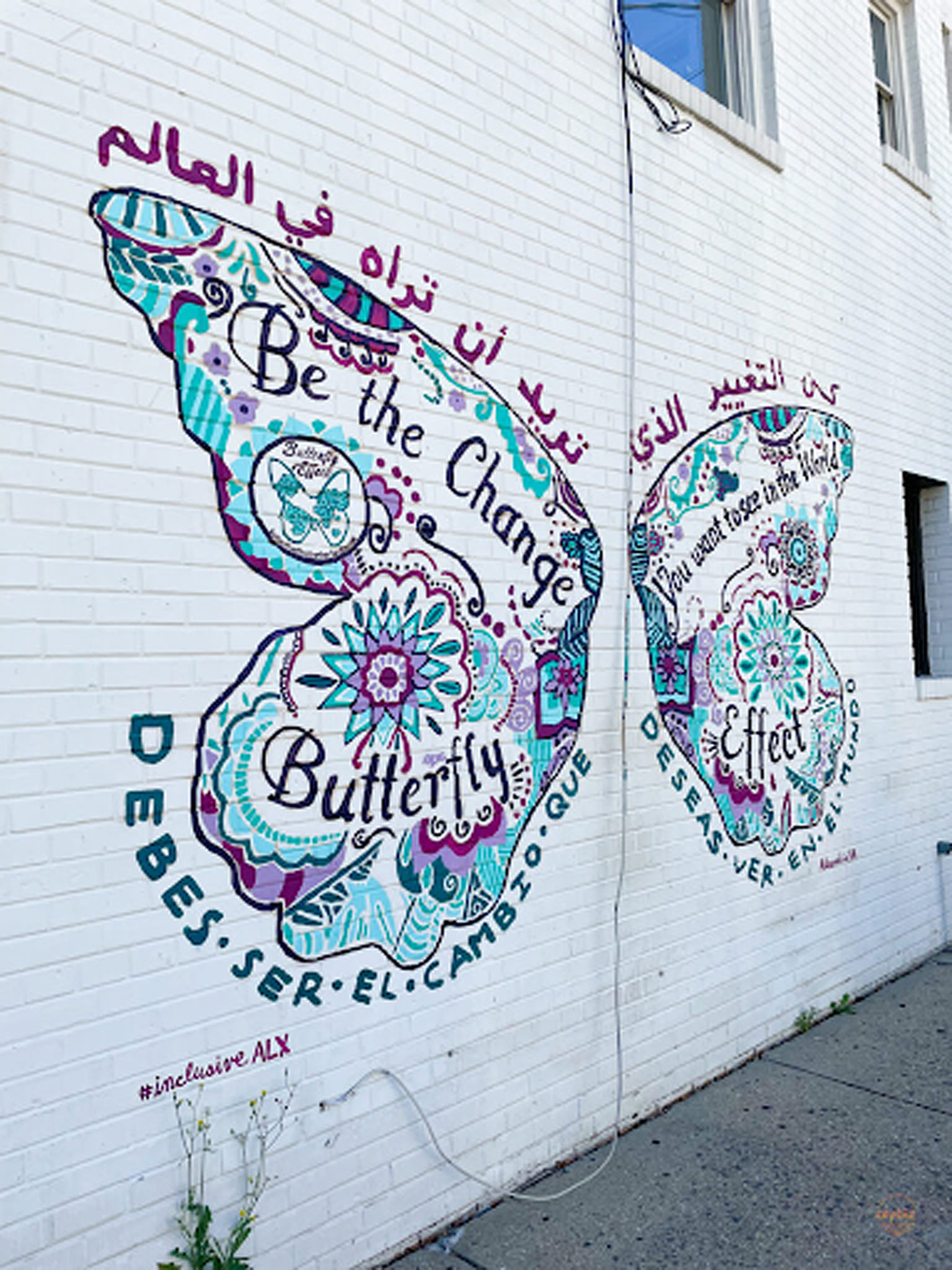 After former Vice Mayor Elizabeth Bennett Parker learned about The Butterfly Effect, a grassroots movement that creates butterfly installations in different cities, she applied to have a mural brought to Alexandria. A key component is the phrase "Be the change you want to see in the world" in English, Spanish and Arabic. The mural was painted by volunteers. It is located outside of Bloomers in Old Town. (Photo alybiz.com)
Creation of Adam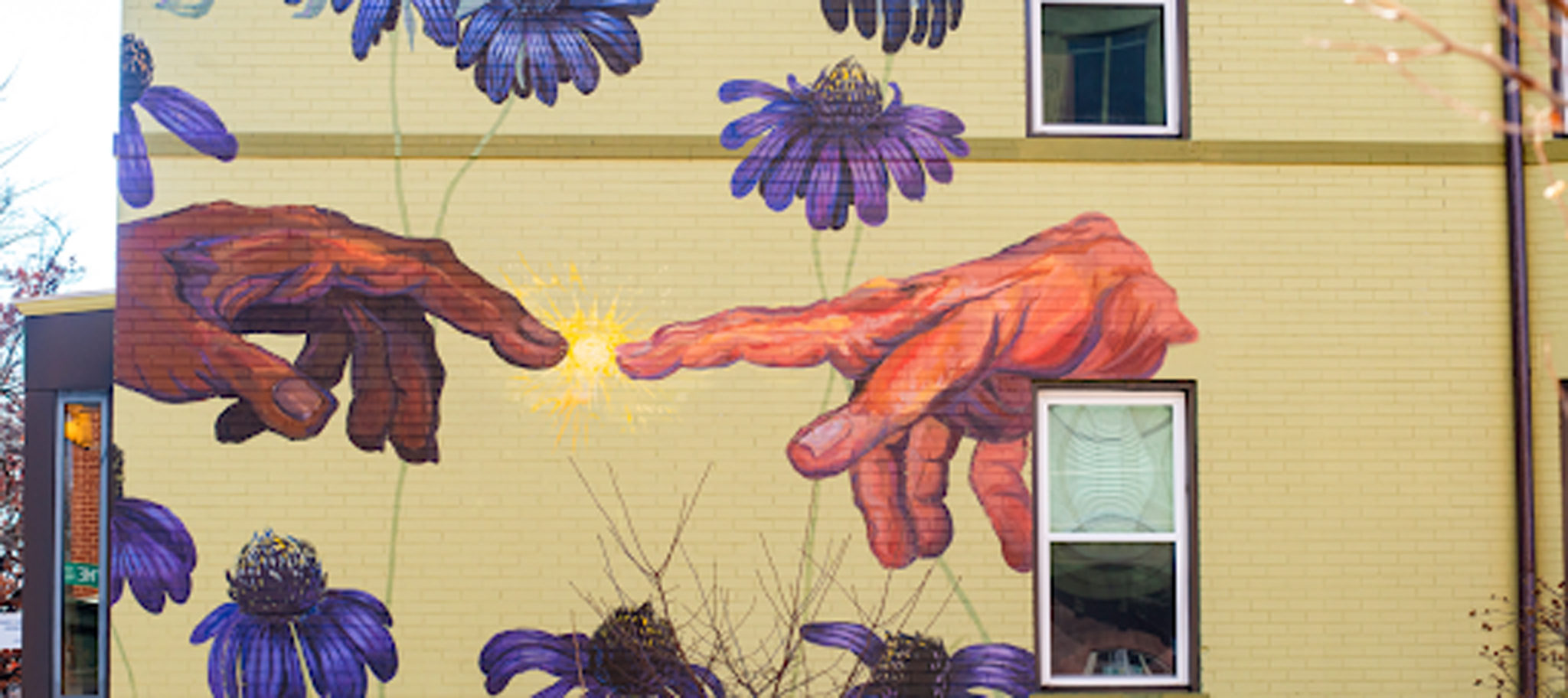 Painted by art students Shelby Bavin and Caroline Mitchell in the summer of 2020, this work was inspired by Michaelangelo's Creation of Adam and created in support of the Black Lives Matter movement. The artists said, "The mural stands as a symbol of unification in our community, which is incredibly important in times of uncertainty." This mural is on the side of Rubini Jewelers in Old Town. (Photo visitalexandriava.com)
Old Town Rainbow Door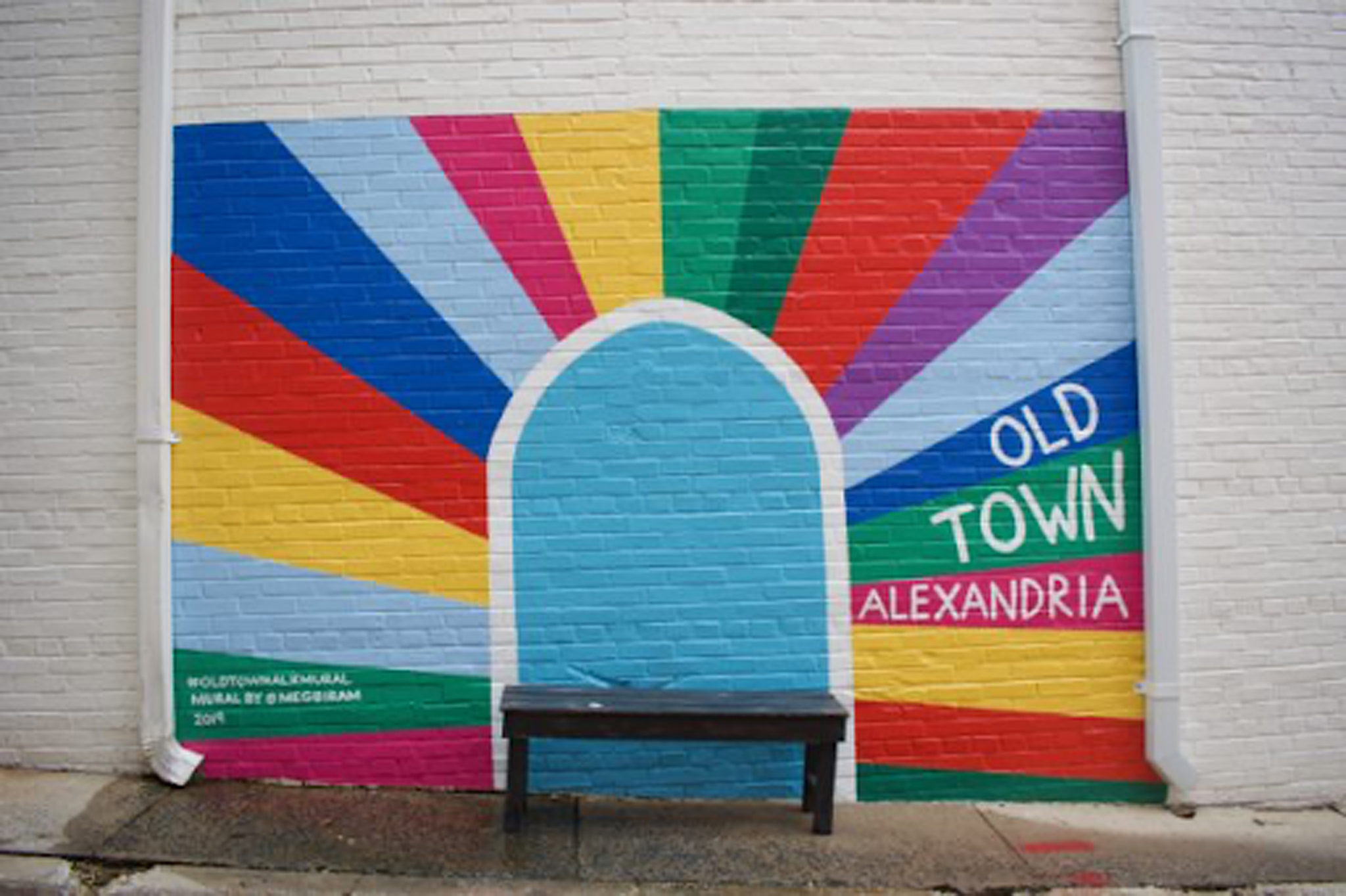 In a picture-perfect spot in Old Town, this vibrant mural has an array of rainbow colors and a convenient bench to sit and have your picture taken. Created by artist Meg Biram, the mural represents Old Town's inclusive and unique qualities. The center's carved-out monotone blue portion creates a perfect photo opportunity. (Photo alxcommunity.com)
The Fox at ESP Tea & Coffee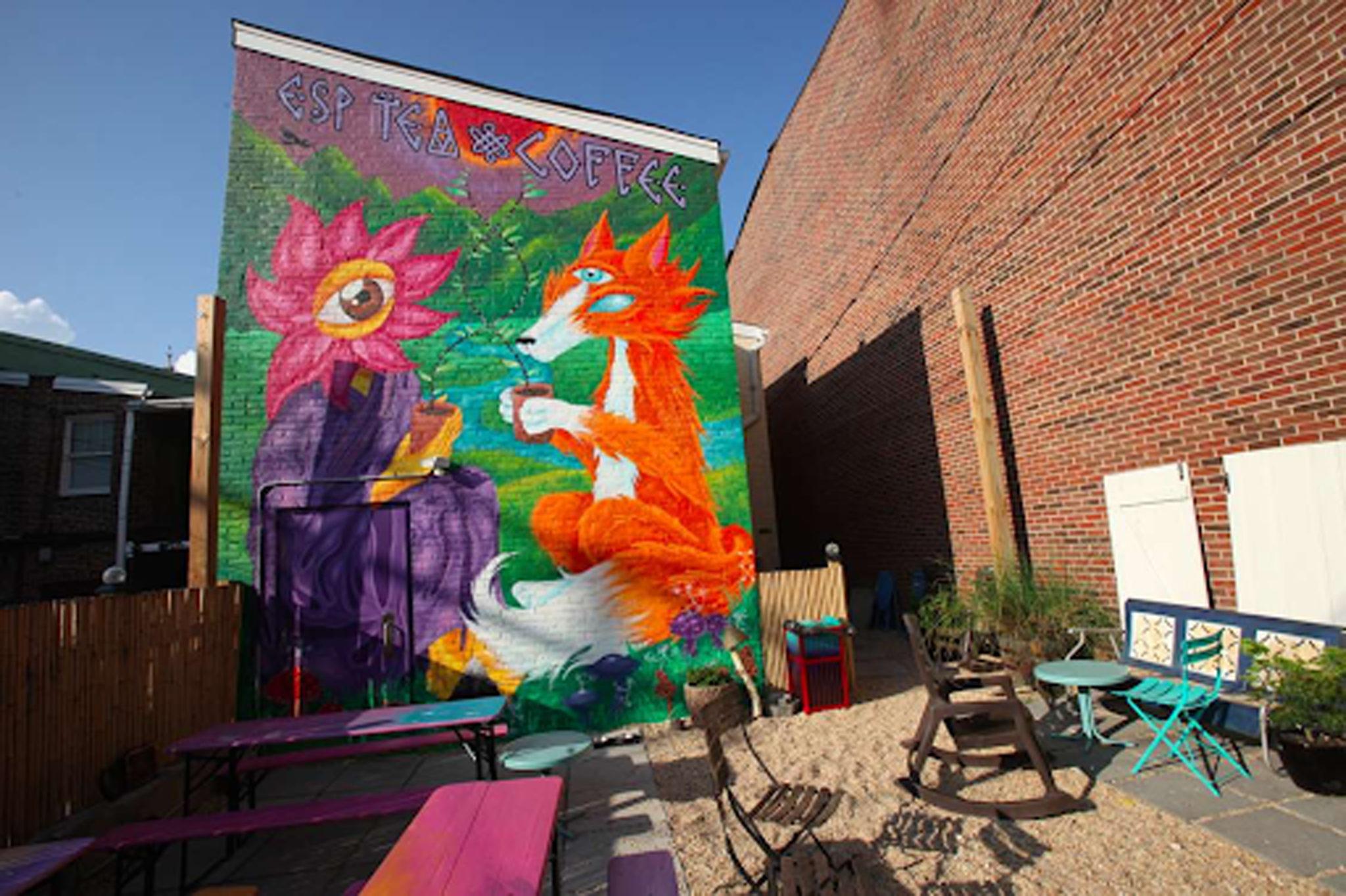 ESP Tea and Coffee's King Street-based coffee shop demonstrates its funky and eclectic atmosphere through this colorful mural. ESP owner Erik Muendel hired Zen Xaria to create this mural. "The flower is our logo for ESP, which stands for extrasensory perception, and the eye represents the third eye," says barista Cordelia McGale. (Photo alxnow.com)
The Linder Academy – Amanda Gorman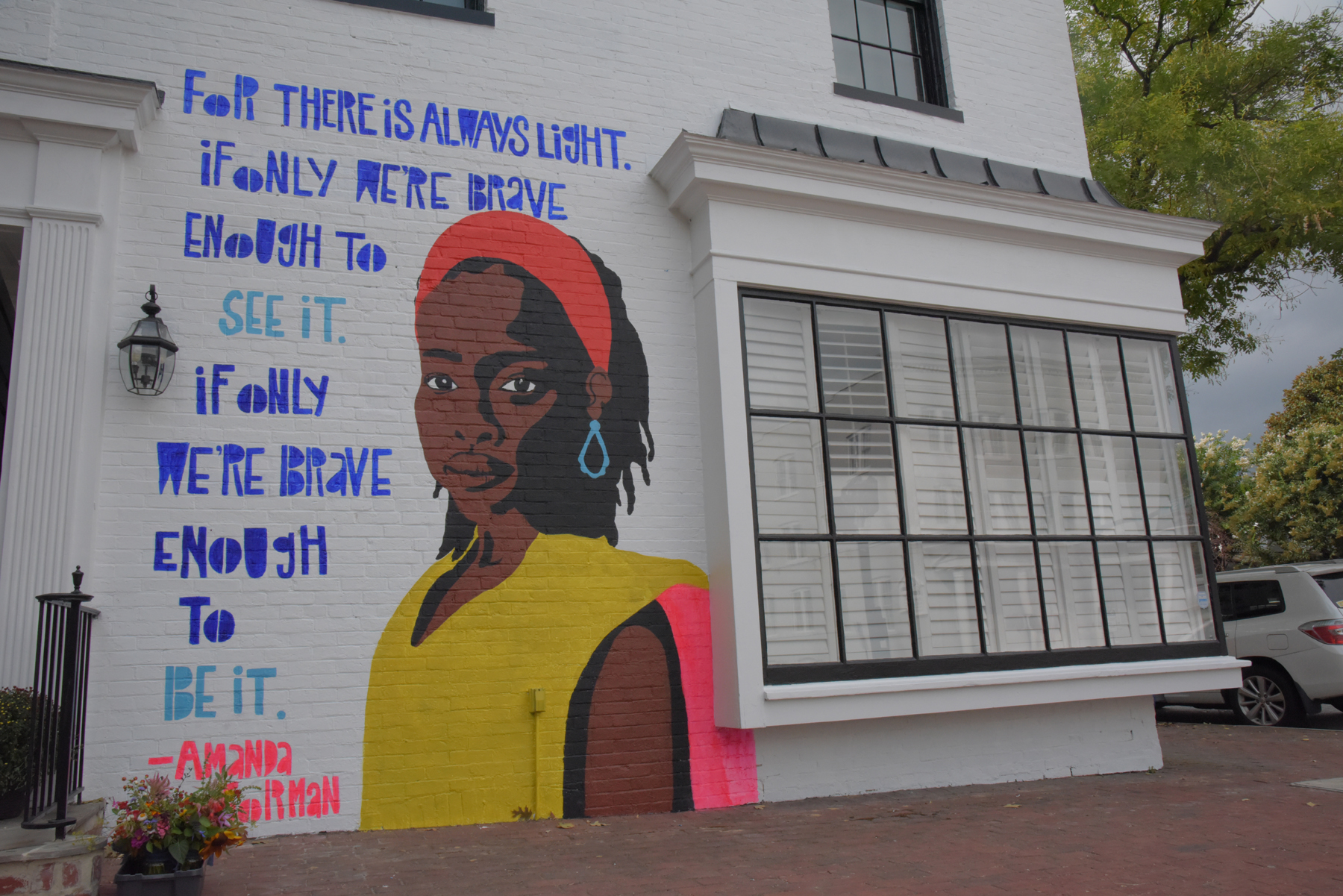 Inaugural poet Amanda Gorman is portrayed here with a quote from her poem read at President Biden's 2021inauguration: "For there is always light. If only we were brave enough to see it. If only we were brave enough to be it." Jo Edwards painted the mural outside of the Linder Academy in Old Town. (Photo Grace Billups Arnold)
The Linder Academy – John Lewis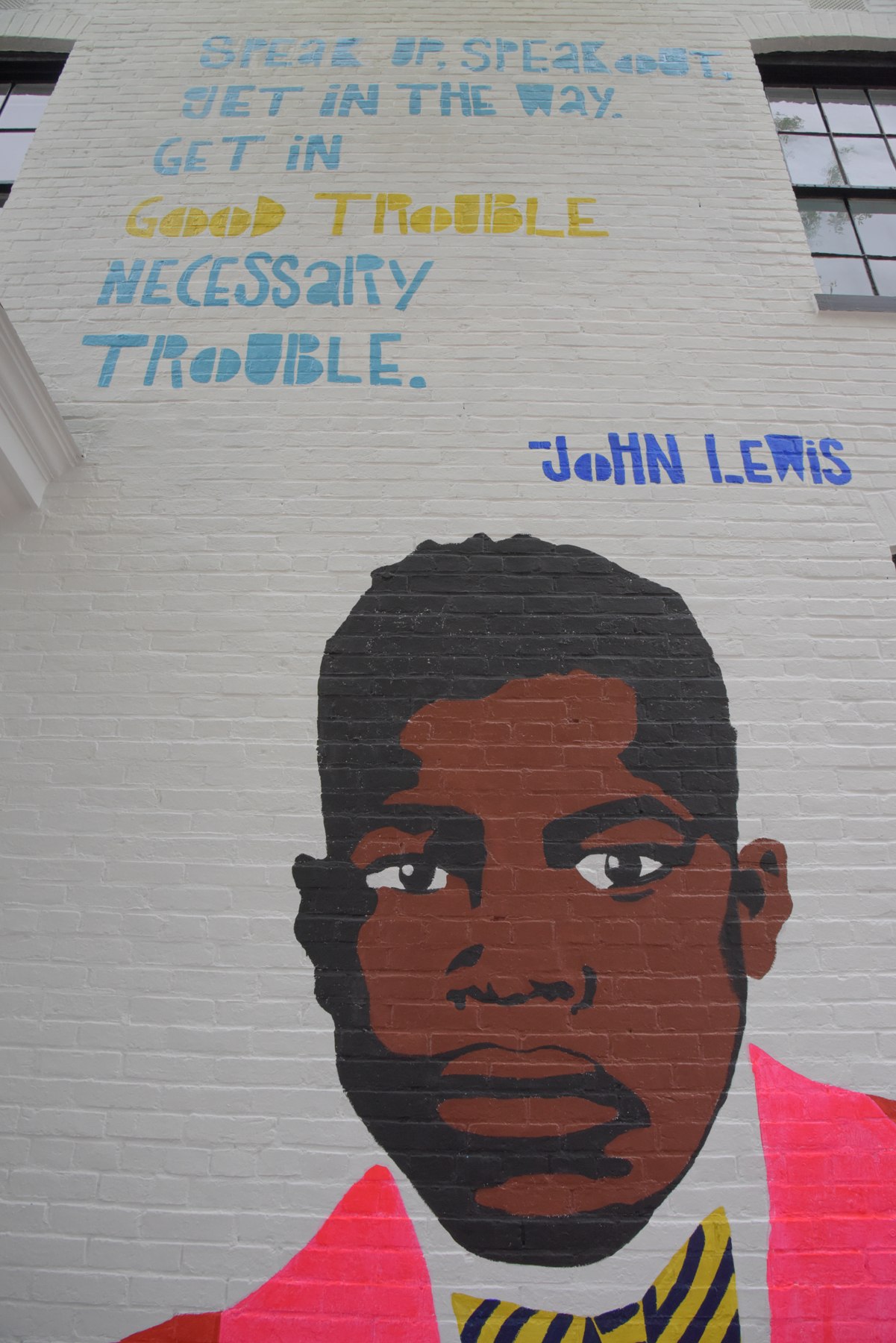 The late politician and civil rights leader John Lewis is portrayed in vivid pinks and reds. Lewis served 17 terms in the House of Representatives until his death in 2020. The mural background displays one of his most famous quotes: "Speak up, speak out. Get in the way. Get into good trouble. Necessary trouble." Also painted by Jo Edwards, this mural is a great pitstop for any walk around Old Town. (Photo Grace Billups Arnold)
The Linder Academy – Ruth Bader Ginsberg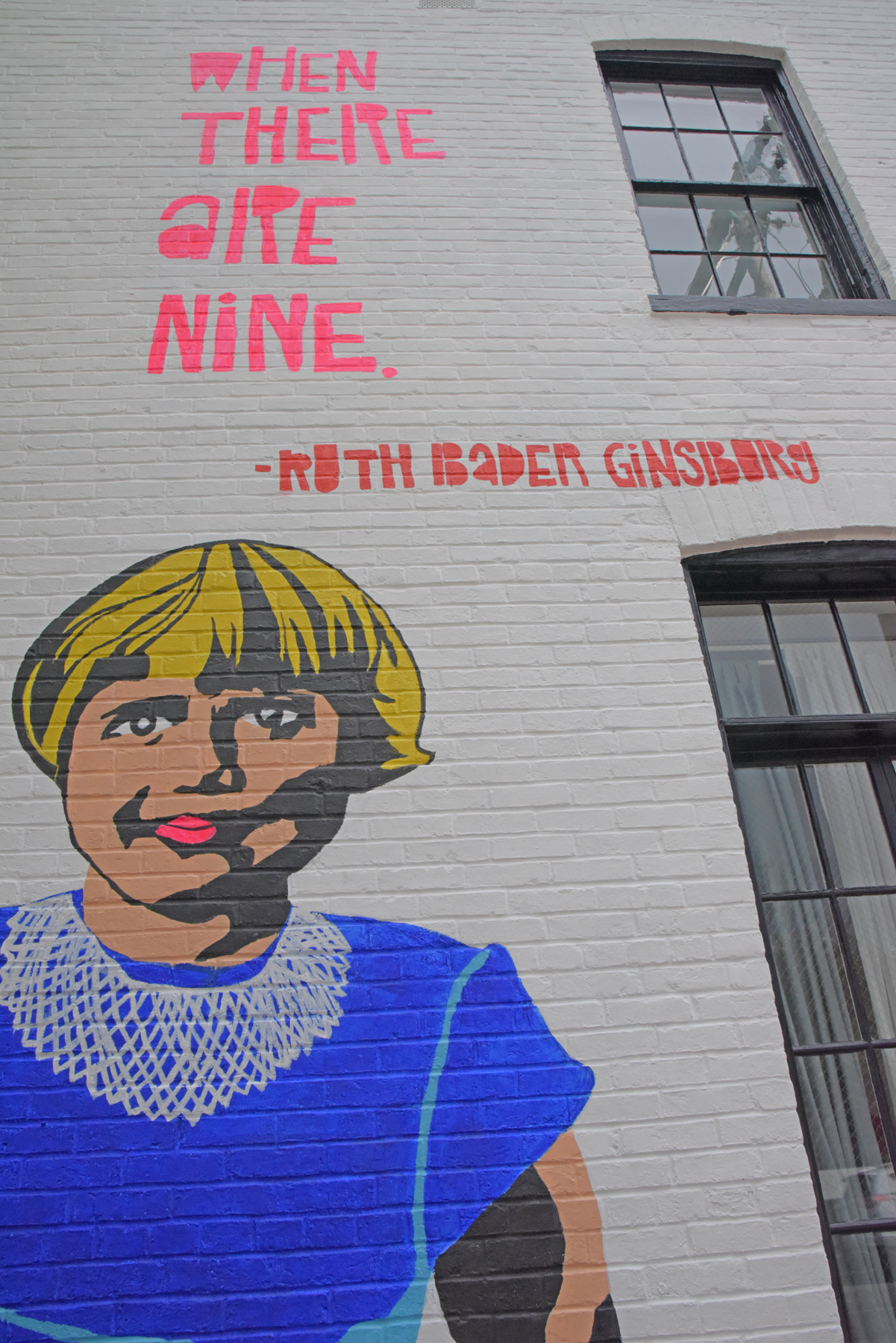 Murals Tour-Linder 5: The Ruth Bader Ginsburg mural includes her famous quote: "When there are nine." During a speech on women's equality at Georgetown University in 2015, RBG responded to people who asked when there would be enough women on the (nine-seat) U.S. Supreme Court. "When there are nine," she said. (Photo Grace Billups Arnold)
ICYMI: As Seen Through the Camera's Lens: New Art League Exhibits Showcase Power of Photography