Cover Story
Knocking on Doors: Alexandria Neighborhoods Explored
How a Cover Story Becomes a Series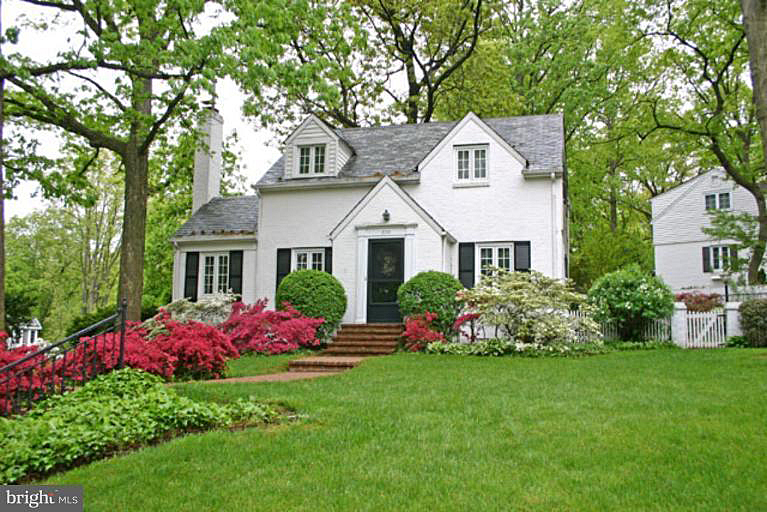 By Grace Billups Arnold, Kris Gilbertson, and Mary Wadland
Alexandria, VA – For the first time in our 12-year history, we think we better explain how our cover story has instead become a launchpad for an ongoing series. You see, this edition was scheduled to be a signature, all-encompassing annual real estate issue, filled with lively thumbprint graphics with easy-to-read facts and figures explaining all the ins and outs of Alexandria's neighborhoods.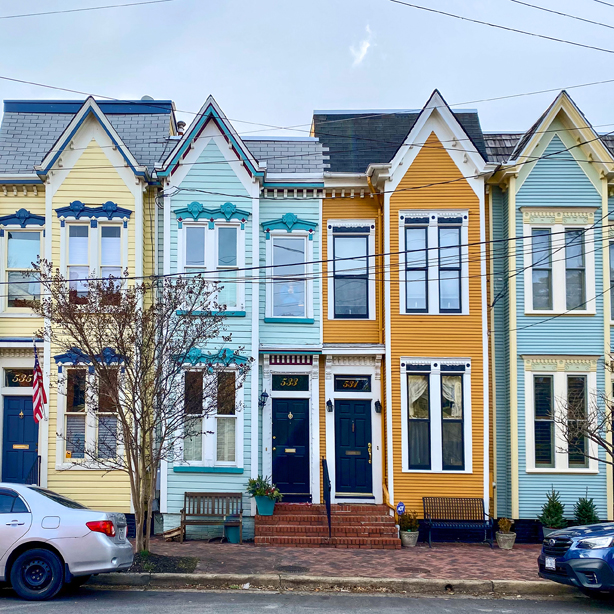 We envisioned a quick, light-hearted tour of our Port City neighborhoods, talking to people who live here and there and telling stories about what makes each neighborhood unique, in addition to showing boundaries, showing median real estate home sales, and which metro stops are where. We hoped it would be the definitive Alexandria neighborhood guide, but we discovered how wrong we were to think we could do it all in one quick pass.
Setting out with great enthusiasm, we were stunned to discover there are at least 78 distinct neighborhoods in the City of Alexandria and Alexandria in Fairfax County. Some are small and considered part of a larger neighborhood, but for the people living there, they stand alone.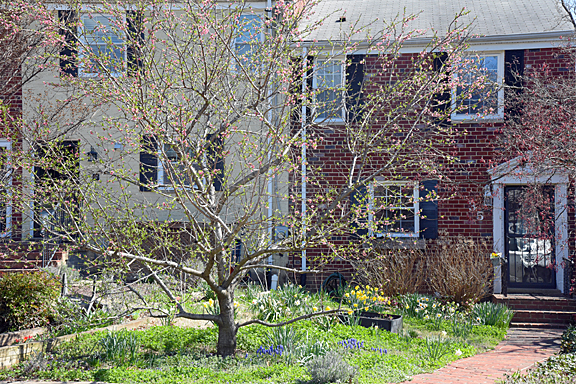 This raises the question, what is a neighborhood? Is it an official area with established boundaries recognized by city or county government? Or is it defined by relationships that residents build with each other, interactions and caring that bind over time, quirky individual acts that become local legend? Take Old Town's Hollensbury Spite House, for example. One man's act of defiance nearly 200 years ago is forever woven into Old Town's story. [See the sidebar.]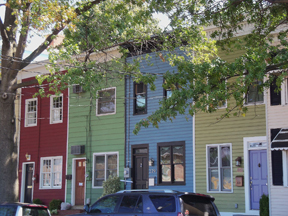 Alexandria is more than its well-preserved history in Old Town. Port City comprises neighborhoods that grew up to meet changing times and continue to grow. Alexandria is older and larger than that city across the river because it has not been constrained by unmovable boundaries.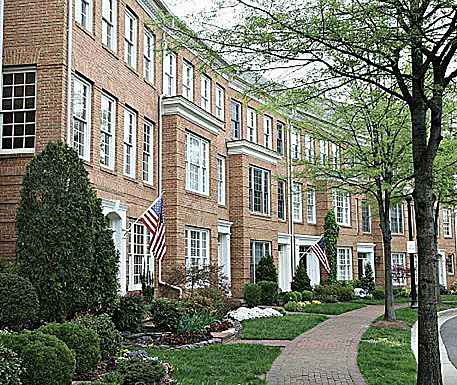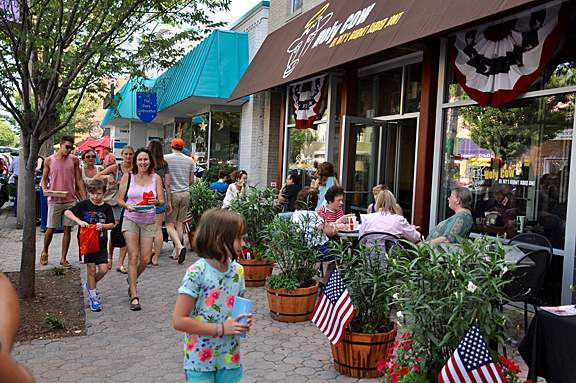 What we envisioned as a single Zebra issue needs and deserves more. This month the traditional feature-length cover story gives way to this introduction to an ongoing series of discussions with anyone who wants to share the story of the neighborhood they call home. This series will be for all of us and for the many visitors who come to discover the complexity of Alexandria. Get ready to join us each month as we dive in deep, and explore Alexandria's neighborhoods.
A Tiny, Beloved Home That Was Built for Spite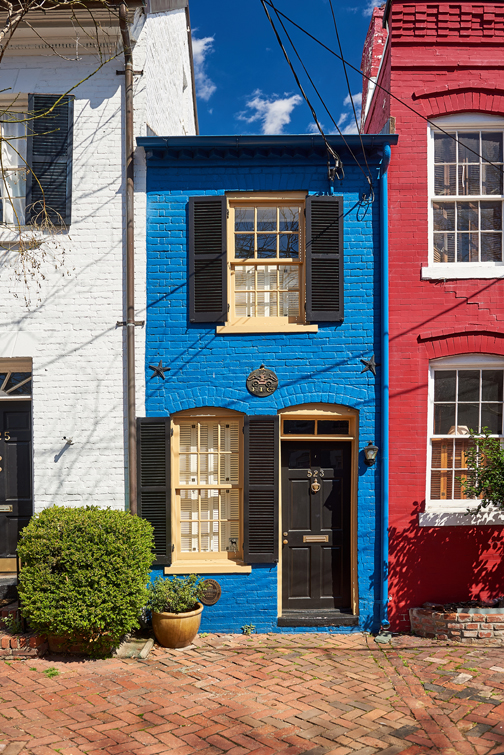 The Hollensbury Spite House, 7.5 feet wide and 25 feet deep and 325 square feet in two stories, is located at 523 Queen Street in Old Town. The lot measures 356 square feet, including the 350 square-foot, two-story house and a walled rear garden and patio area, measuring 7-feet wide and 12-feet deep. John Hollensbury, owner of one of the adjacent houses, built it in 1830 to keep horse-drawn wagons and loiterers out of his alley.
Structurally, Spite House is more an enclosed alley than a house, although it contains all the amenities for a tiny one-bedroom home. The brick walls of the houses on either side form the painted walls in the living room, which are reported still to have gouges from wagon-wheel hubs. (New York Times/Wikipedia)
But did you know Alexandria has three other narrow "alley" homes?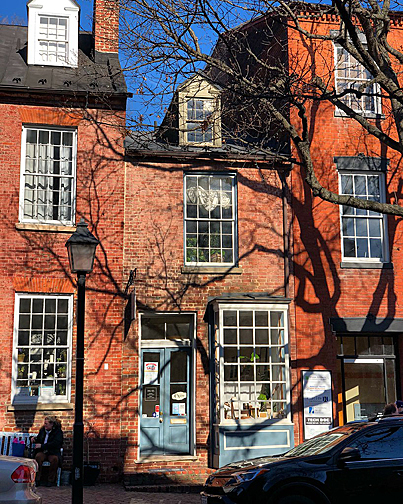 205 King Street: What is fun about this alley house is that you can actually go inside it because it currently houses the She's Unique boutique. It is 11-feet, nine inches wide, and city documents suggest it was built around 1812.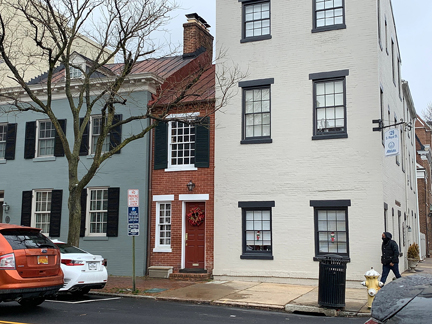 403 Prince Street: Only 8 feet wide, this tiny 608 square foot brick house was built sometime before 1883, according to Historic Alexandria Virginia Street by Street, when owner Samuel Janney gave his son Henry the rental profits from the three-story house next door.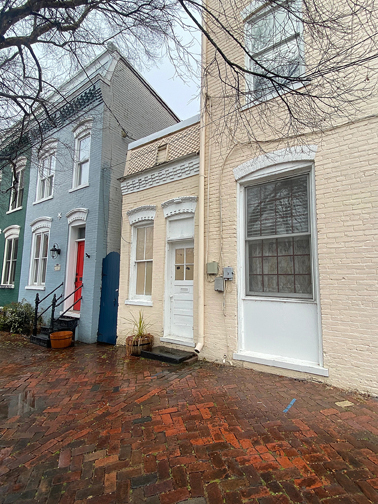 1401 Prince Street: This alley house is unique because it has only one story. At 8 feet wide, it has been made part of the house next door now, but according to the Sanborn Fire Map*, it was built around 1893.
*The Sanborn map collection consists of a uniform series of large-scale maps dating from 1867 to the present and depicting the commercial, industrial, and residential sections of some twelve thousand cities and towns in the United States, Canada, and Mexico.
Knocking on Doors: The Exploring Alexandria Neighborhoods Series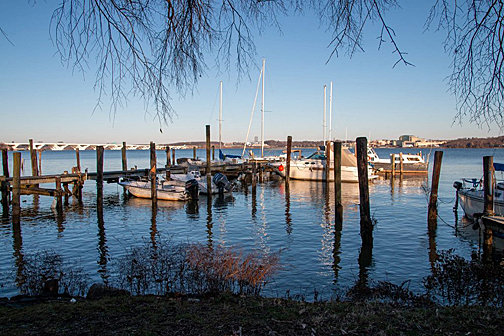 These are the 78 neighborhoods we have identified to explore. If you think we have missed any, please alert us with an email sent to [email protected].
Neighborhoods:
Alexandria West
Arcturus
Braddock Road Metro
Bradlee
Bren Mar Park
Brookland Estates
Bucknell Heights
Bucknell Manor
Burgundy Village
Bush Hill Woods
Cameron Villa Farms
Cannon
Clermont Woods
Collingwood
Del Ray
Eisenhower Ave
Eisenhower East
Fairland
Groveton Heights
Guilford
Gum Springs
Hayfield
Hollin Hall
Hollin Hills
Hollindale
Indian Run Park
Jefferson Manor
Kathmoor
Lincolnia Heights
Lincolnia park
Maple Grove Estates
Marlin Forest
Memorial Heights
Mount Hebron Park
Mount Vernon
Mount Vernon Manor
Mount Vernon Woods
Newton Woods
North Mount Vernon
North Ridge
Northeast
Oakwood
Old Town
Old Town North
Parker Gray
Parklawn
Penn Draw
Penn Draw Village
Pinecrest
Potomac Yard
Riverside Estates
Riverside Gardens
Rose Hill Farms
Seminary Hill
Snowden
Southwest Quadrant
Stratford Landing
Stratford on the Potomac
Sulgrave Manor
Sunnyview
Van Dorn
Vernon Square
Villamay
Virginia Hills
Waldon Woods
Walhaven
Waynewood
Wellington
Wellington Heights
Weyanoke
White Oaks
Wilton Woods
Windsor Estates
Winslow Hills
Woodland Park
Woodlawn Manor
Woodley Hills
Yacht Haven
Read more: https://www.city-data.com/nbmaps/neigh-Alexandria-Virginia.html